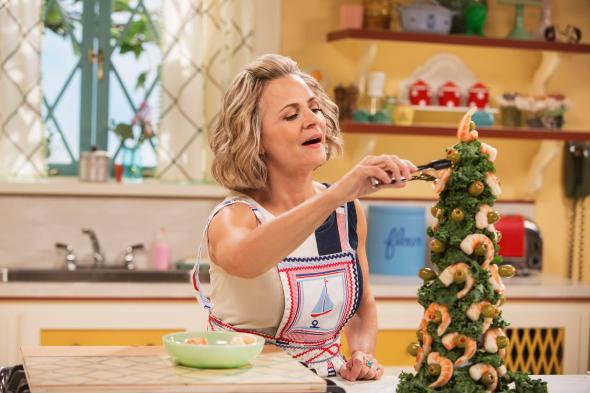 The set of Amy Sedaris' new hospitality show At Home With Amy Sedaris is filled with clever but tiny details that the audience may never even notice. The brightly colored kitchen, where the semifictional character of Amy Sedaris spends much of her time, contains fake produce—fake eggs, fake milk, fake butter—that look like they might have been pulled straight from a kids' kitchen set. They weren't—the products inside the fridge are custom-made, Amy Sedaris–branded items, complete with an illustrated logo of her face on the packaging. "My sister Gretchen did that portrait of me when she was in 5th grade and I was in 3rd grade," she says of the drawing.
There are other real-life Amy Sedaris touches around the set. Members of the art department visited her real-life home, taking pictures that served as design inspiration, recreating her craft room, and even making copies of her artwork. She brings many of the props from home each day. Each week, she'll show viewers how to perform an essential domestic task, like gutting a fish, and welcome guests that include Paul Giamatti, Chris Elliott, David Costabile, Nick Kroll, and Stephen Colbert.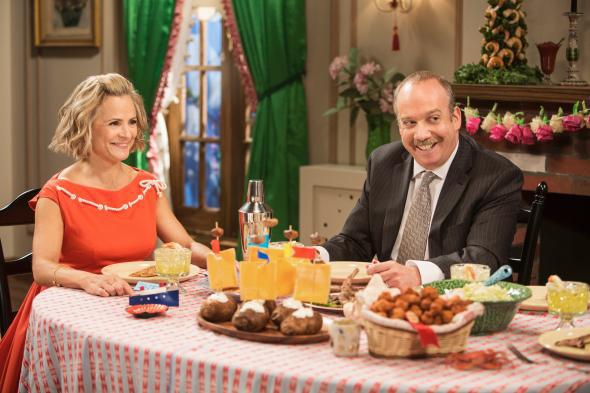 With all this in mind, the distinction between Amy Sedaris, the writer and comedian best known for Strangers With Candy and voicing BoJack Horseman's Princess Carolyn, and "Amy Sedaris," the Martha Stewart–like homemaker who cooks, cleans, bakes, crafts, and decorates, becomes even blurrier. Sedaris insists she's still playing a character. "I never play myself," she says. "You know, even when you're on a talk show, you're like 'talk show self.' It's like a heightened version."
Sedaris, who says she has always loved cooking and crafting, wasn't exactly sure what At Home With … was going to be when she pitched TruTV, where the show premieres Tuesday night. She showed the network her two previous hospitality books, I Like You: Hospitality Under the Influence and Simple Times: Crafts for Poor People, to give a visual idea of the cooking/crafting/entertaining show in her head, which was inspired not by Martha Stewart, but by older shows about homemaking, including Two Fat Ladies, The French Chef, and The Galloping Gourmet. ("I remember talking to Colbert once and he was like 'Do you know anybody recent?'," she laughs.) Sedaris had long wanted to make a show about making a home, but it was never going to be a straight hospitality show. "When you watch those shows, it's snooze-a-rooze," she says.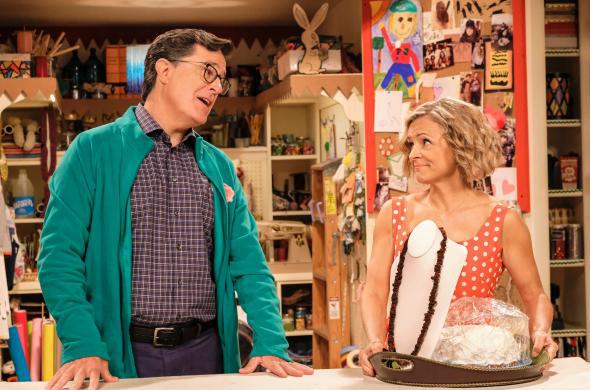 At Home With Amy Sedaris is the result of Sedaris' decision to take her domestic inclinations but "go fully comedy with it." In addition to her TV self, she plays multiple characters, many of whom she has been messing around with for years. There's a hobo with a foot fetish (Sedaris-as-hobo is hardly recognizable when I visit the set), a little old church lady, a "wine lady" (whose voice she has used on BoJack Horseman), and an energetic Southerner named Patty Hog.
Patty Hog came to her while hanging out with her family, around whom she often takes on silly characters. "Patty Hog I just do David," she says, referring to her older brother and well-known writer, David Sedaris. "We were writing in a restaurant one night with Paul [another Sedaris brother] and I just started doin' her. And he just started typing and was like 'Yeah! Let's put her in the show!' I'm still kinda making her up, developing her as we go along."
While the show is meant to be funny, Sedaris insists it isn't about making fun of anyone, least of all Martha Stewart, whom she genuinely adores. Sedaris has some insight into how hard the task of hosting a show like Martha's really is, having once been a guest on her show.
"Now that I know, to fill 45 minutes for her must be really hard," she says, on the subject Martha. "I've done her show and I'm like, 'Jesus I've been out here for 25 minutes working on this dried wreath!' And, like, she's killing time."
---