Generally speaking, corporations release news they don't want reported at 5:30 on a Friday, but President of the Disney-ABC Television Group Ben Sherwood seems to be shaking things up. At 5:33 P.M. Friday, the Disney-ABC Television Group contacted Slate with the hottest of hot tips—and they do want you to know about it! According to our anonymous tipster inside the Disney-ABC television group, American Idol threw a puppy-themed birthday party for Katy Perry in Nashville, Tennessee. Luke Bryan, Lionel Ritchie, and Ryan Seacrest were all there, and so was a photographer. And our source assures us that, in his or her words, "You don't want to miss these American Idol photos."
It's been a long night for all of us in the Slate newsroom since we got the tip—running down sources, knocking on doors, checking every fact—but ultimately this story came down to one thing, and one thing only: why would the Disney-ABC Television Group lie to us about what you don't want to miss? So here you go, I guess. Enjoy them, or whatever.
Here, a puppy is handed out of a cake with the help of an unidentified wrist-watched employee whose job it was to sit in a cake and hand puppies to Katy Perry. Lionel Ritche is delighted. In the background is a limited-run Gibson SJ 200 with a ribbon on it, retail price $4,899, plus the cost of hiring someone to sit in a cake and hand out puppies. You definitely don't want to miss this photo!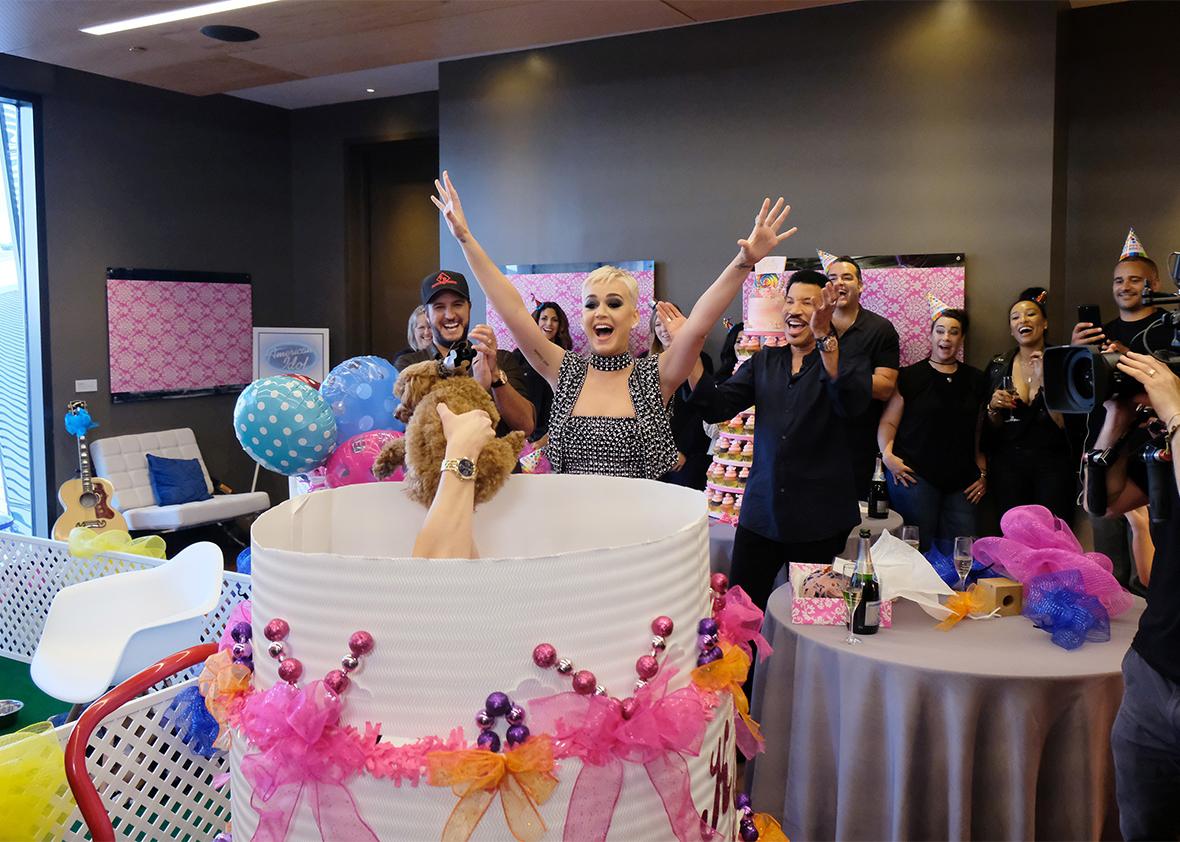 In the next picture, Katy Perry seems to be toasting her own health in the middle of a Lionel Ritchie anecdote that has captivated Ryan Seacrest and Luke Bryan. Seacrest has made the most progress on his glass of champagne, but Perry is keeping pace. In the background, a cupcake tower looms. Even further in the background, American Idol employees who are not Katy Perry, Lionel Ritchie, Ryan Seacrest, or Luke Bryan line the walls. They have apparently been asked to wear silly birthday hats, but not given any champagne or puppies. Do you want to miss this photo? No, you do not.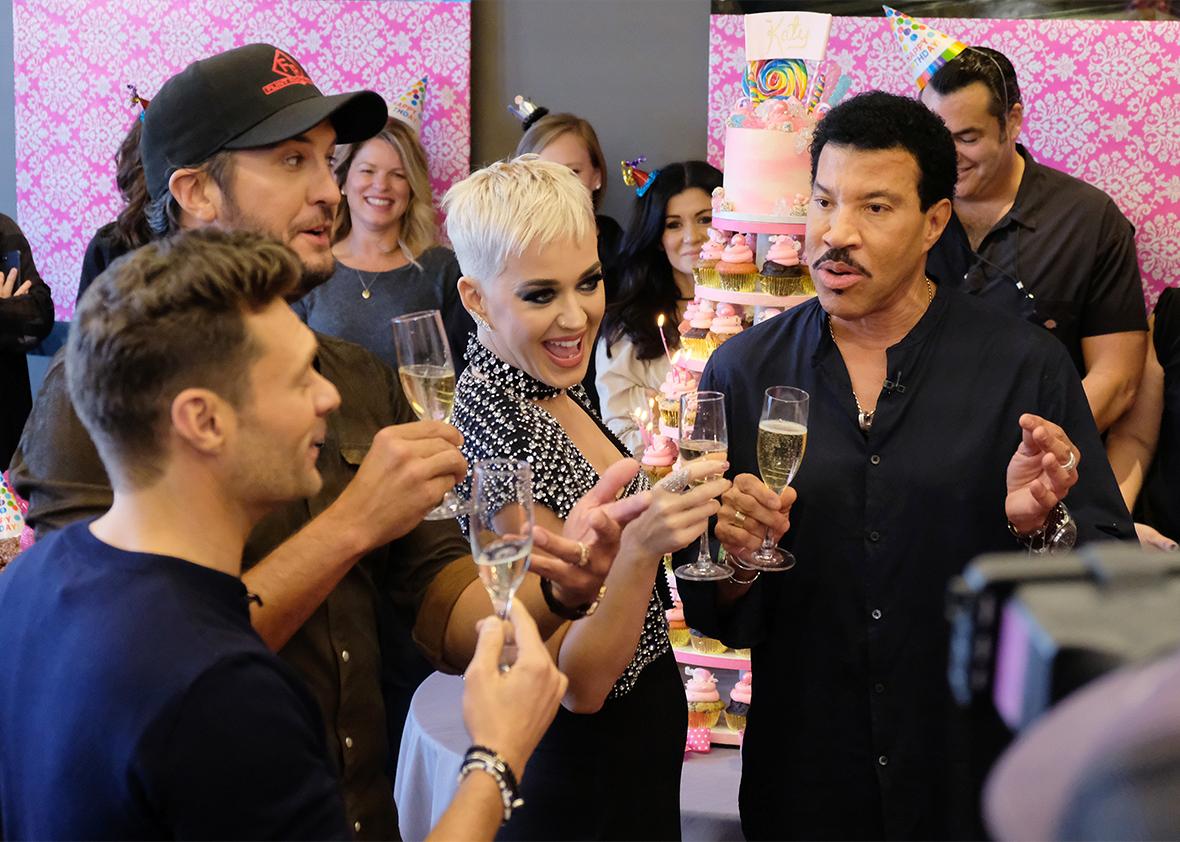 In this photo, calm returns to the birthday party as Lionel Ritchie continues to toast Katy Perry's health. The smiles on the faces of the employees lining the walls, however, are beginning to look crazed, unhappy. Perhaps they sense that none of this—not the cupcakes, not the guitar, not the puppies, not the champagne, not the photographer, not even American Idol—is for them. It's not even for Katy Perry, although she probably gets to keep the guitar. It's all for you, for you alone, and you do not want to miss it.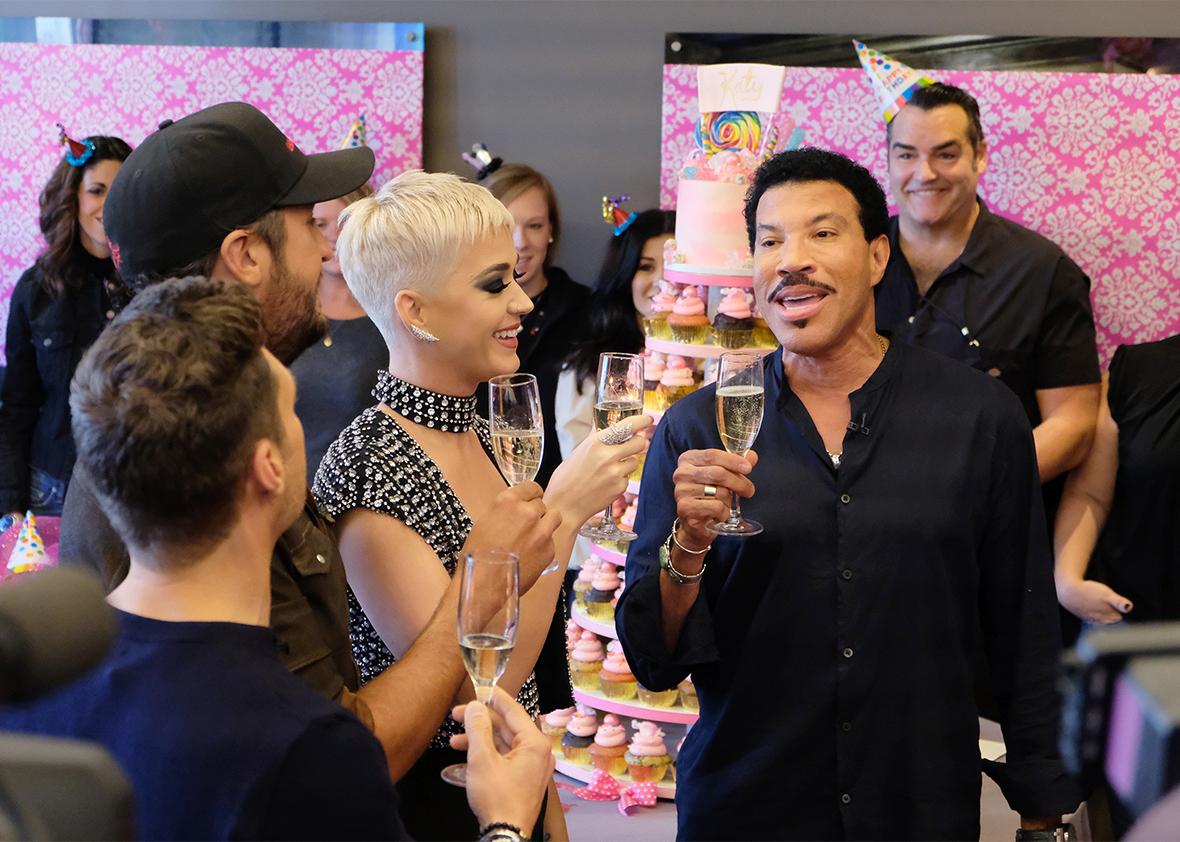 Here, Katy Perry and Ryan Seacrest embrace while a puppy wearing a crown looks imploringly at the camera. The crown, perhaps, identifies this puppy as American Idol's Lord of Misrule, happily presiding over Katy Perry's birthday festivities … at least until sundown! "Do not let this puppy-themed birthday party American Idol threw for Katy Perry with the help of Ryan Seacrest, Luke Bryan, and Lionel Ritchie be in vain," the puppy seems to be trying to say. "Earn this! You do not want to miss this photo!"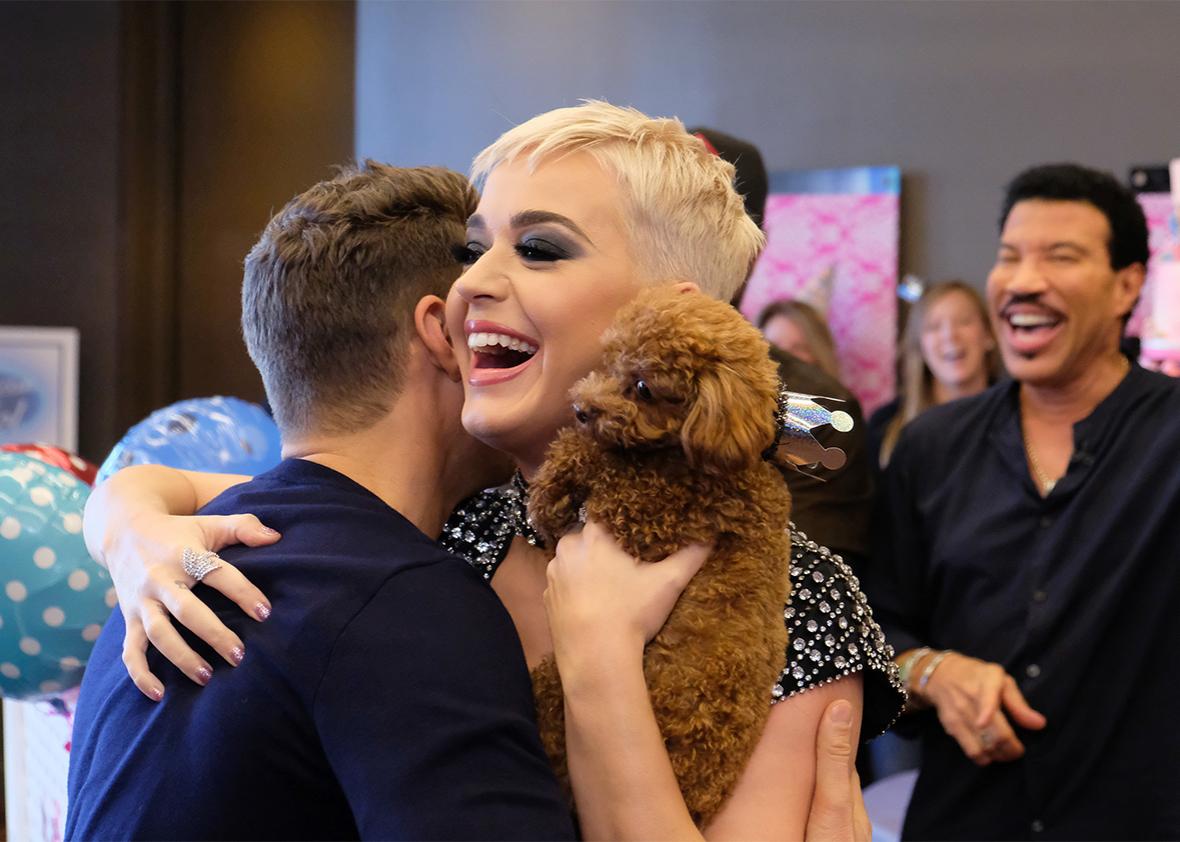 American Idol returns to ABC in 2018. Don't miss it.