Earlier this month, NFL star Michael Bennett publicly accused the Las Vegas Metropolitan Police Department of racial profiling and excessive use of force. "I felt helpless as I lay there on the ground handcuffed facing the real-life threat of being killed," the Seattle Seahawks defensive lineman wrote, describing his arrest by Vegas police last month. "All I could think of was 'I'm going to die for no other reason than I am black and my skin color is somehow a threat.' "
Bennett, who is sitting out the national anthem this season to protest racial inequality, drew support from a wide array of civil rights leaders and athletes (among them Colin Kaepernick) after going public with his allegation of police brutality. The LVMPD and the Las Vegas police union, meanwhile, have either implied or said outright that he's a liar, a publicity hound, and a potential criminal.
The statements and actions of the Vegas police department and police union in the aftermath of Bennett's accusation have been uniformly shameful. The LVMPD has praised itself for its transparency while refusing to answer reporters' questions while the union noted Bennett's "disrespect for our American Flag, and everything it symbolizes" and demanded the NFL investigate him for his "obvious false allegations against our officers"—this despite the police department not having completed its investigation into the incident. (The NFL has said it will not investigate Bennett's behavior, and Commissioner Roger Goodell said he "represents the best of the NFL.")
In an interview broadcast on ABC's Nightline on Thursday, Bennett's lawyer, John Burris, said, "Unless things change dramatically, I will file a federal civil lawsuit alleging that [Michael Bennett's] Fourth Amendment rights were violated." In that interview, Burris said Bennett was detained illegally and that the police used excessive force "by placing the firearm, a gun, at the base of his head."
The basic facts of the case are not really in dispute. In the hours after last month's boxing match between Floyd Mayweather and Conor McGregor, police officers swept through the Cromwell Hotel & Casino after getting reports of an active shooter. Bodycam footage released by the department shows cops shouting "everybody out," and instructing crowds to "move it!" As Bennett fled with the rest of the crowd amid this chaos, an officer shouted, "There's one running! There's one running!" Police gave chase and one officer wondered aloud, in apparent reference to Bennett, "Did he have a gun?" Bennett did not have a gun, and there was in fact no active shooter.
This is where accounts begin to diverge. Bennett says an officer put a gun to his head and said, "I will blow your fucking head off if you move." He also claims that another officer later jammed his knee into the football player's back while he was on the ground submitting to the arrest.
Las Vegas police have not offered an account of what happened in these moments. The department has said it is reviewing 126 separate videos of the incident and has opened a full investigation. On the same day Vegas PD announced the existence of that investigation, though, LVMPD Undersheriff Kevin McMahill said at a press conference that he'd already reached a conclusion: "I can tell you as I stand here today, I see no evidence … that race played any role in this incident."
Given that the Las Vegas police appear to have decided in advance what the evidence will and won't show, there's little reason to have confidence in their "investigation." Another reason to be pessimistic about the department's internal inquiry: Although Nevada law mandates that police officers activate their bodycams when they're pursuing a suspect, the officer who arrested Bennett did not do so. Steve Grammas, the president of the Las Vegas police union, told USA Today that the camera may not have been activated because of "malfunctions where wires come loose." When I asked the LVMPD why the officer didn't turn on his camera, the department declined to respond.
The Vegas police showed another officer's bodycam footage in its press conference, and that video backs Bennett's version of events. That footage shows the arrest for just one second before the officer with the camera turns away. In that one second, though, you can see the arresting officer holding a gunlike object, which he appears to aim at the back of Bennett's head. Bennett's attorney says the object was clearly a gun, and it looks like a gun to me. You can judge the footage for yourself by fast-forwarding to the 12:35 mark of this video.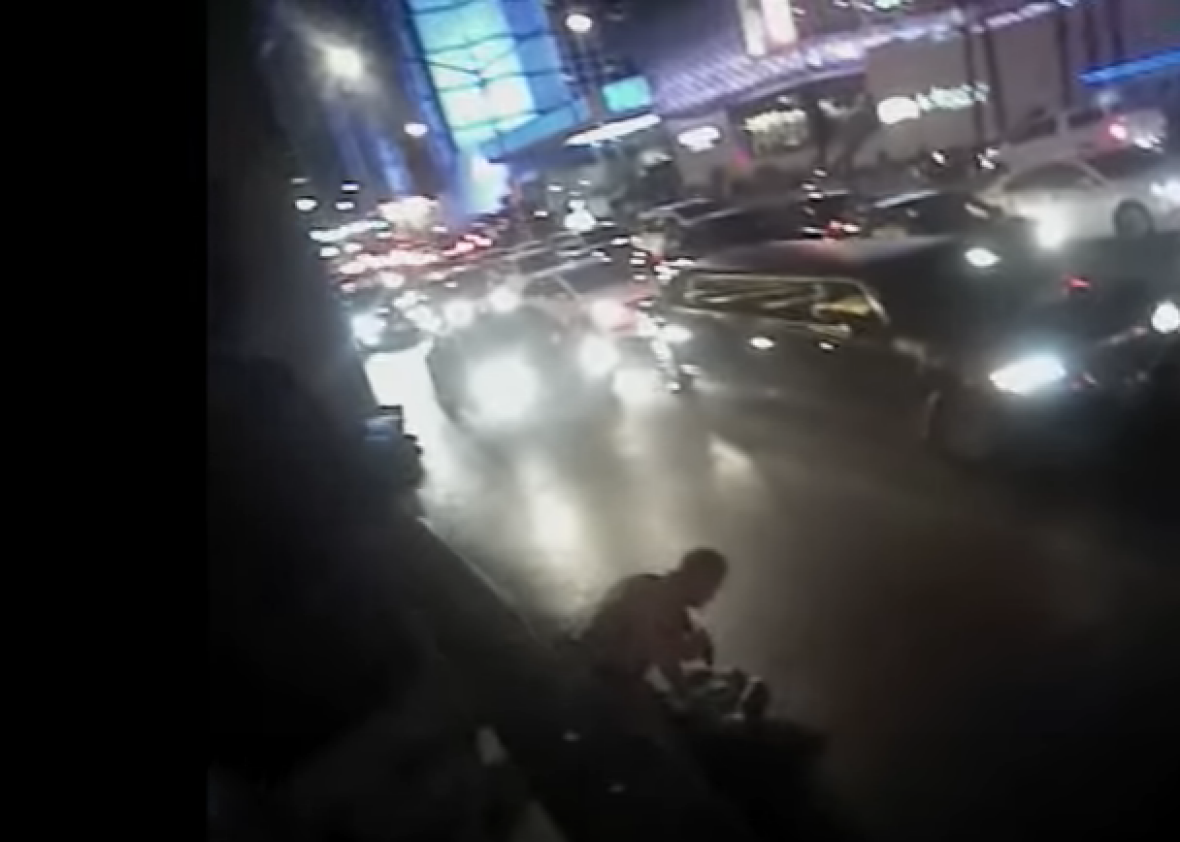 "If the investigation reveals that any policies or training were violated, those officers will be held accountable," McMahill said during the press conference. He then narrated the video as if it showed cops following standard procedure. It's not clear that they did.
Bennett's lawyer has sought any contemporaneous police reports that might indicate why the LVMPD singled out Bennett and justify its display of deadly force. "We want to know, what facts do you have at the time that supported your stop and detaining this person?" he told me. "Was he unlawfully detained, and [was] the use of deadly force or the displaying of deadly force reasonable under the circumstance?" Former Dallas police chief David Brown told Nightline that he did not believe aiming a gun at Bennett's head would've been reasonable. "There is never ever an appropriate time or appropriate action by an officer pointing a gun at the head of a person," he said.
The LVMPD policy on reasonable force and "tactical considerations" when using handguns reads, in part:
An officer's decision to draw or exhibit a firearm should be based on the tactical situation at hand and the officer's reasonable belief there is a substantial risk that the situation will escalate to the point where deadly force may be justified. Unnecessarily drawing or exhibiting a firearm may limit an officer's alternatives in controlling a situation, create unnecessary anxiety on the part of citizens, and result in an unwarranted or accidental discharge of the firearm.
The LVMPD declined to respond when asked whether it would violate department policy to point a gun at the head of a surrendering suspect who is on the ground with his hands behind his back.
In the department's press conference, McMahill consistently blamed Bennett for how the incident played out. "Due to Bennett's actions and the information officers had at the time, [officers] believed Bennett may have been involved in the shooting and they gave chase," he said.
As of last week, the Vegas police department was still treating Bennett as a suspect, though it would not say what he was suspected of doing. "It's fair to say the LVMPD is continuing to investigate whether Mr. Bennett was involved in the altercation at the hotel casino prior to his detention on Las Vegas Boulevard," Las Vegas Metropolitan Police Department spokesperson Larry Hadfield told USA Today last week. When I asked him which altercation he was referring to, Hadfield declined to comment on the record.
To Bennett's defenders and his lawyer, this looks like a smear campaign, one meant to discredit one of the NFL's most vocal critics of police brutality after he was allegedly subjected to such brutality. "He wasn't involved in any altercation," Burris told me. "If they really were honorable on this point and they were conducting an investigation, they wouldn't say that publicly. By doing it this way, they are essentially creating negative inferences about Michael, trying to reflect upon his character."
Burris has good reason to believe the Vegas PD is not acting honorably. On Sept. 6, the day Bennett put his public statement on Twitter, Undersheriff Kevin McMahill said, "Like the rest of you, the LVMPD learned of Mr. Bennett's allegations just this morning and an internal investigation has been opened." Burris says Bennett's representatives in fact made "repeated efforts to contact the Las Vegas Metropolitan Police Department about the incident." Burris' office sent me a copy of a public records request for video footage that they sent LVMPD on Aug. 29. When asked about that apparent inconsistency, the LVMPD again declined to comment.
The LVMPD's treatment of Michael Bennett and its handling of Bennett's allegations demonstrate what police officers view as normal behavior.
It's considered normal to single out a black man in a crowd of fleeing people. It's considered normal to point what appears to be a gun at the back of a man's head as he's on the ground submitting to arrest for a crime he didn't commit, and that didn't even occur. It's considered normal to flout a state body camera law that's supposed to ensure that police officers are accountable for their actions. It's considered normal to fail to keep the public informed, and to clam up when asked about police regulations. And it's considered normal to call a man a liar when he questions a police department that behaves in a way that none of us should accept as normal.