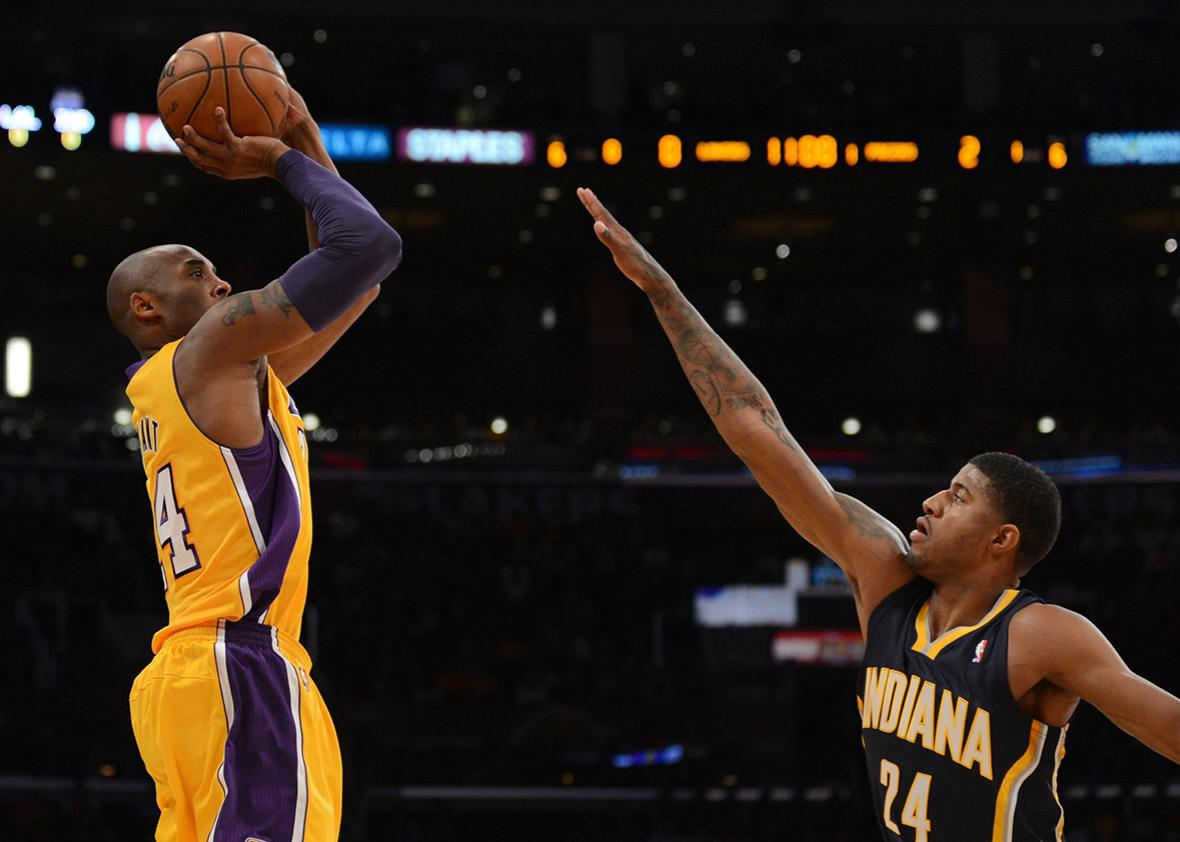 If the Lakers don't sign Paul George next summer, it won't be for a lack of trying. Last week, the NBA announced that the team had made illegal contact with the All-Star small forward while he was with the Indiana Pacers. (The Pacers have since traded George to Oklahoma City, where he will play out the final year of his contract before becoming a free agent.) The Lakers were judged to have violated the league's tampering rules and fined $500,000.
The fine itself won't make a dent. The Lakers will recoup that money through the sale of team-branded car flags and dog beds before preseason even begins. The fiscally meaningless penalty shouldn't mean anything symbolically, either. The league's tampering rule is ineffective and pointless. The best solution would be to abolish it completely.
The NBA combats tampering much like a condominium association combats lawn ornaments: with vague bylaws. According to Article 35A of the NBA constitution, "No person may, directly or indirectly, entice, induce, persuade, or attempt to entice, induce or persuade, any Player who is under contract to, or whose exclusive negotiating rights are held by, any other Member of the Association." The big hunk of blue cheese in that word wedge salad is indirectly, and it gives the NBA commissioner discretion to punish teams for a wide range of allusions, gestures, and literary devices like metaphors, parataxis, and irony.
I am not being facetious. In 2010, Steve Kerr, then the president of basketball operations for the Phoenix Suns, mused on a radio show that he would try to sign free-agent-to-be LeBron James to a deal using the midlevel exception, which would make for a comically small contract. He was, in other words, making a joke. Even so, because James was still under contract with the Cavaliers, the NBA fined Kerr $10,000 for his goofy aside.
Article 35A ostensibly exists to maintain competitive parity, as the league wants good players to stay with the organizations that drafted them. One way it does this is by allowing teams to offer existing players contracts that are loaded with financial incentives. The other way is by threatening to punish those who try to lure these players away. It's telling that both these strategies protect ownership rather than the players. The NBA doesn't want George to fully consider his future while he is under contract, and it will police his (or his agent's) interactions to ensure he won't. Players are making long-term life decisions worth tens of millions of dollars. Why should we expect them to wait until the free agency bonanza's midnight starting gun to feel out the market?
That being said, the tampering rule exists primarily to keep up appearances. In light of the recent Lakers fine, Bleacher Report's Ric Bucher spoke to a handful of general managers, all of whom told him the same thing: Everyone tampers. "It has zero effect," an anonymous Western Conference GM told Bucher regarding the Lakers' punishment. "The whole league is built on [tampering]," said an Eastern Conference GM, which is actually a much better NBA slogan than "It's FAN-tastic!" Everyone knows everyone in the NBA. Players share agents. Coaches share agents. It's hard to distinguish tampering from a normal conversation until someone complains and a fine is issued.
The big surprise is not that Lakers officials tampered with George or that the league levied such a heavy fine. It's that Indiana reported the incident in the first place. By the sound of it, Pacers ownership lost its cool and, for lack of a better term, tattled. When asked about the situation, Dallas Mavericks owner Mark Cuban commiserated with Indiana. "It's just the way it works," he said. "You do have your feelings hurt, you do get a little mad, and you do want to react and create some kind of retribution, but usually you calm down."
NBA ownership is a fraternity of very rich men, and they keep their shenanigans a secret so long as the funny business is distributed evenly, just like the profits. This is why tampering punishments are typically issued only when team officials make public overtures, as in the case of the aforementioned Kerr interview. The Paul George contretemps falls under this rubric, as the Lakers originally came under scrutiny when team president Magic Johnson made some winking comments on Jimmy Kimmel Live in April. (The Pacers' complaint sparked a league investigation, which found evidence implicating Lakers GM Rob Pelinka, and not Johnson, for more direct tampering.) 
The tampering bylaw is a silly feint, and only good things would happen if it were to be rescinded. Sure, LeBron James would have to field hundreds of phone calls and text messages a day from desperate team executives. Then again, he'd also be permitted to publicly acknowledge these conversations and, as the kids say, put these thirsty dudes on blast. Rather than hide beneath layers of oblique assumptions and unwritten agreements, all those secret negotiations would be thrust out in the open. Team owners would be pitted against one another publicly, which is really how it should be.
While NBA old-timers love to chide modern players for being overly friendly, it's the owners who are too chummy. Racist slumlord and all-around creep Donald Sterling was allowed to run the Los Angeles Clippers for 33 years because his fellow owners didn't speak out against him, even though his behavior was well-known by all. It wasn't until TMZ published a recording of Sterling making racist comments that he was finally forced to sell the Clippers.
Sunlight isn't just a great disinfectant. It's also a pretty intoxicating balm. Just imagine how fun a tampering free-for-all would be. I, for one, would love to see NBA executives publicly de-pants the Orlando Magic–owning DeVos family (preferably figuratively) as they make their pitches to Aaron Gordon before he becomes a free agent in 2018. Billionaires only care about what other billionaires think of them, so it might actually hurt their feelings! If enough bad blood is fostered, we could even avoid a work stoppage when it comes time to negotiate the next collective bargaining agreement, as the owners will be too busy spitting in one another's faces to bilk the players.
Think about it, Adam Silver. Your league has been dominating the summer sports doldrums thanks to player movement and drama. Just imagine what a good old-fashioned aristocratic cat fight would do for publicity. Scrap Article 35A and fans will be treated to the greatest soap opera imaginable. Who are you to tamper with our joy?
---