This post originally appeared in Genius Recipes on Food52.
Remember when frozen yogurt was just a sweet, low-fat ice cream substitute that we all resented? (The carob chips probably weren't helping.)
To be fair, we didn't know what we wanted our frozen yogurt to be—yet. In digging deeper into our national relationship with froyo, one of the earliest mentions I found was from 1978, when The Country Gentleman advised, "In desserts, the tartness (lactic acid) [of yogurt] can be overcome with honey or fruit."
It took Pinkberry's world takeover* in 2005** to help us realize how much we love—really, really love—frozen yogurt that actually tastes like yogurt.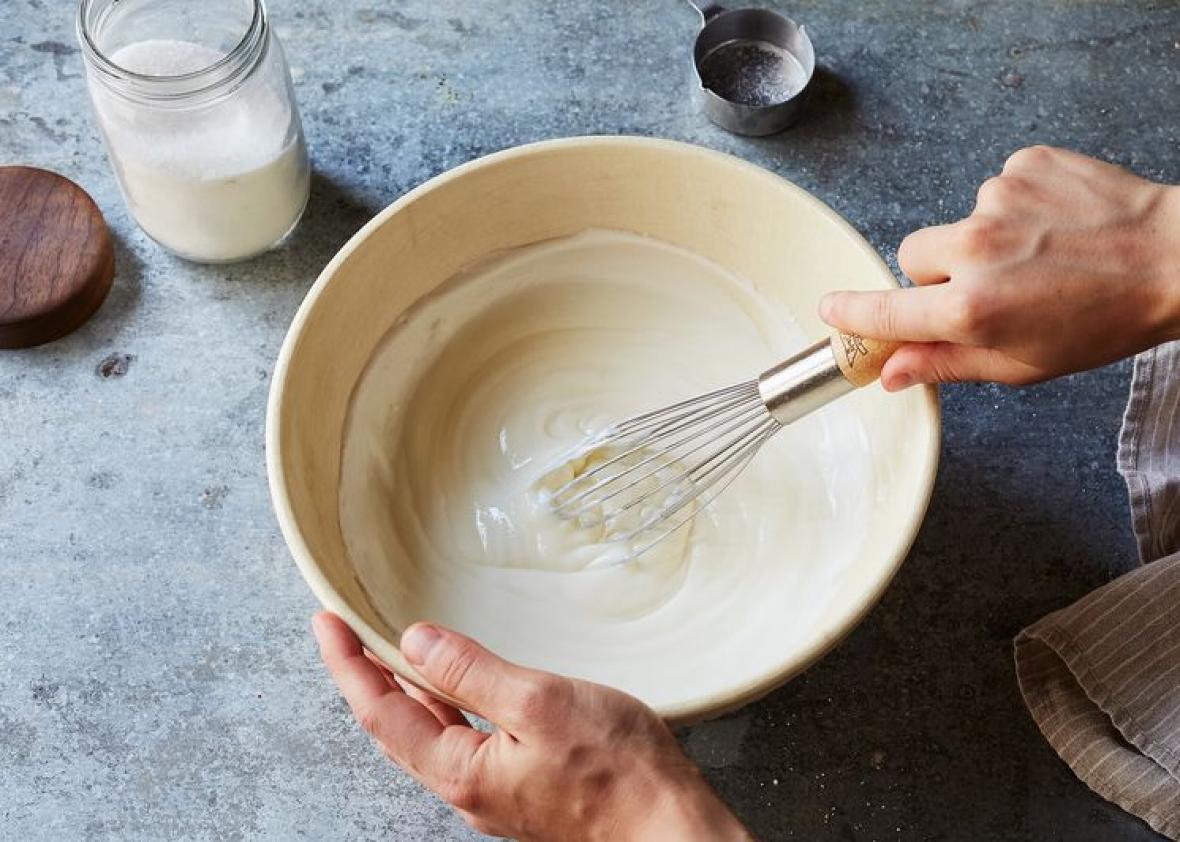 That bright, undeniably yogurt-y flavor should have been our first clue. Because, as it turns out, making tart, sweet, creamy, soul-rebirthing-on-a-hot-day frozen yogurt at home is literally as simple as sticking yogurt in an ice cream maker, along with a little salt and a little more sugar.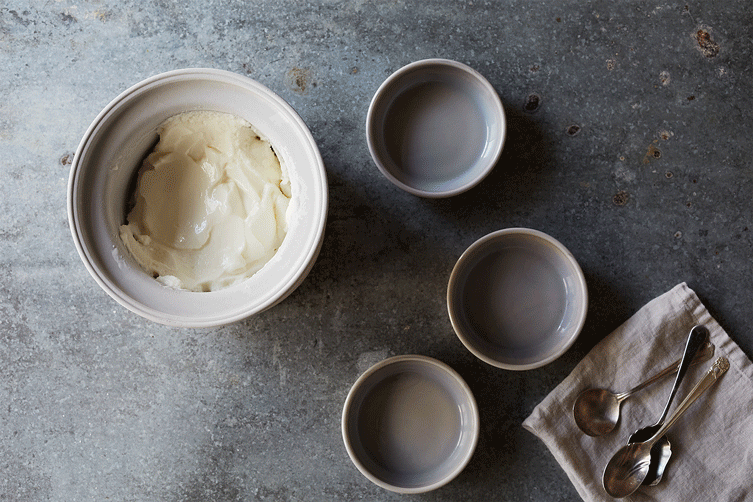 You can eat it like soft serve (like Pinkberry) straightaway, but even if you pack it up in the freezer, it will stay creamy and scoopable, not icy or grainy—particularly if you use this formula, developed and stress-tested by Max Falkowitz, self-identifying ice cream whisperer, executive digital editor at Saveur, and co-author of the forthcoming Dumpling Galaxy Cookbook.***
But how? Why don't you need to make a custard base or outsmart ice crystalswith doses of invert sugars and starches, like homemade ice cream recipes typically do?
For one thing, think of frozen yogurt more like a sorbet than an ice cream, as Falkowitz and pastry chefs do: "It illustrates one of the most elegant heuristics about sorbet (and frozen yogurt, despite the dairy, behaves basically like sorbet): You want about 4 parts liquid to 1 part sugar by volume for something scoopable," he wrote to me. After looking up heuristics, I agreed.
That said, frozen yogurt still holds onto a lot of richness in the form of dairy fat, so it's creamier than sorbet, too. I might even say it has a balance between sparkly-crisp and milky-comforting similar to my signature ice cream float from second grade—lemon-lime soda over scoops of cookies & cream—but I don't expect you to agree with me.
But the real genius is this: Once you realize that you can put yogurt in the ice cream maker, you can do anything you want! When she first reported on this technique last summer, our own Sarah Jampel flavored hers with Nutellaand sprinkled raspberries and chocolate bits on top. Falkowitz developed these six other kinds, including a bizarre and delicious version with dry white wine. Cécile from the blog Royal Chill recently sent me a recipe for her chocolate version, which I also found very easy to eat.
To pre-empt your questions: Don't substitute non-fat yogurt (or don't say I didn't warn you). Yes, you can use Greek yogurt, but you might want to cut it with a little liquid to keep it from being too creamy, like in the white wine version linked above. Yes, you can play around with different sweeteners and mix-ins and infusions (Max's tips are here). If you don't have an ice cream maker, do the things that people tell you to do. But also, did you know they cost approximately $50 and will do the stirring for you?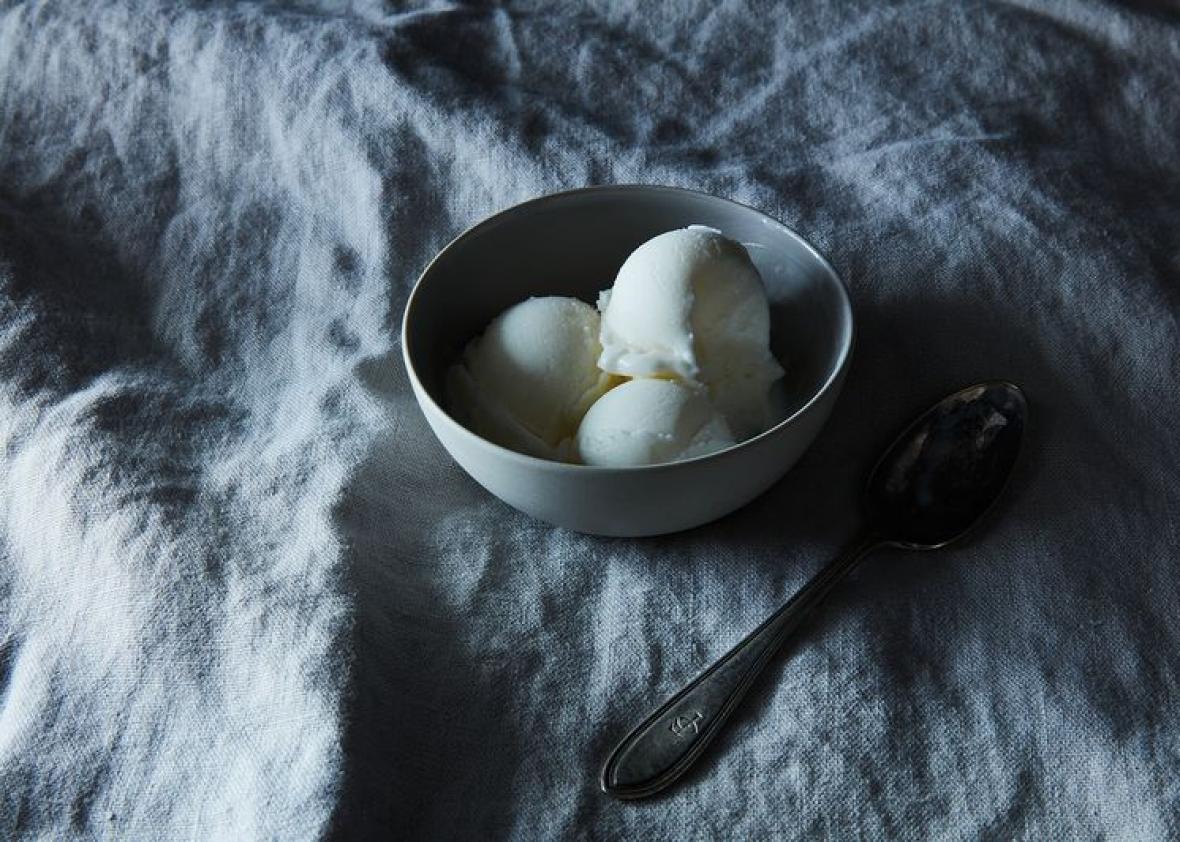 And yes, once you can get going, you can call yourself a frozen yogurt machine. Just not world's first frozen yogurt robot—I'm afraid that's taken.
*There are now Pinkberry stores in 21 countries, including Venezuela and Bahrain.
**Note that this 2007 New York Times Pinkberry exposé was reported by Jennifer Steinhauer, just a couple years before she was writing about Salmon Moqueca and other weeknight diatribes for us!
***Falkowitz would want you to know that he credits Ethan Frisch, his former co-writer of the Scooped ice cream column, with the recipe on Serious Eats, and that he further tested and popularized it, and developed many variations. "Ethan's a legitimate 100% genius, in the kitchen and out of it, and when he's not doing NGO work in Afghanistan and Syria he's cooking beautiful elaborate meals in tiny kitchens," Falkowitz says.
Max Falkaowitz' Best (and Easiest) Frozen Yogurt Recipe
Makes 1 Quart
1 quart container (about 3 3/4 cups) full-fat plain yogurt (see note above about substituting for Greek)
1 cup sugar
¼ teaspoon kosher salt
More from Food52
Samantha Seneviratne's Blackberry Cuatro Leches
Julia Turshen's Angel Food Bread Pudding with Butterscotch Sauce
David Lebovitz's Cherry Clafoutis