To watch Battle of the Sexes in 2017 is to relive 2016—with a few twists. The sports biopic, about the 1973 exhibition match between the avowedly feminist Billie Jean King and the cartoonishly sexist Bobby Riggs, was conceived and began filming before the election, but the filmmakers were aware of its resonances as they were making it. As both the directors, Little Miss Sunshine's Jonathan Dayton and Valerie Faris, and its female star, Emma Stone, have acknowledged, the parallels are hard to miss, even as the outcome is all too different.
If you're planning on seeing the movie after it opens on Friday, here's what you should know you're in for.
A highly prepared, highly competent woman takes on a clown
In 1973, Billie Jean King was one of the best, most experienced competitors in her field. Riggs was an egotistical has-been and—in the film at least—a bit of a hustler who excelled above all at self-promotion while living off (his wife's) inherited wealth.
As Stone told Out magazine, "It was very interesting to see this guy—this narcissistic, self-focused, constantly-stirring-the-pot kind of guy—against this incredible, qualified woman, and at the same time be playing Billie Jean."
When she faces comments about women's inferior biology, strength, speed—dare I say, stamina?
As Billie Jean King and women's tennis advocate Gladys Heldman (Sarah Silverman) push the old male guard of tennis for equal pay, Jack Kramer (Bill Pullman) claims that women players deserve less prize money—despite drawing the same crowd—because women are biologically inferior.
When she trains while he cuts corners
The montage of these two players' divergent training regimes—in which Billie Jean King diligently practices day and night while Bobby Riggs substitutes training for vitamins and lounging by the pool—must have seemed less depressing when the cast and crew were filming it in mid-2016, when Donald Trump was mocking Hillary Clinton for being prepared for their presidential debates.
When he proves a master of cheap publicity stunts
While King takes her preparation seriously, Riggs does publicity while playing with a fry pan for a racquet or while wearing a dress. The media, and TV viewers, eat it up.
When he demonstrates a knack for catchy slogans and stupid nicknames
He frames the match, for example, as "The Lobber vs. The Libber."
When he seems more interested in fame than the larger issues at stake
When he's not performing stunts for the media, Riggs is obsessing over how he is being portrayed. In one scene, he rushes in to watch the TV media coverage, to hear what his fellow players are saying about the upcoming match.
When she gets the flu, prompting observers to suggest she'll drop out
Billie Jean King is working so hard, training long hours while continuing to compete in the women's tennis circuit, that she comes down with a serious flu, leaving her temporarily bedridden. Then she rests up and gets straight back out there.
When she faces hefty pressure to win on behalf of all women
Even as an exhausted King lies in bed with a fever, Heldman reminds her of the match's high stakes, telling her that she had better win. King even places this on herself, constantly worrying what losing will mean for women's progress.
When he trolls his critics by presenting his sexism as just a joke
Riggs gains a passionate following among men who enjoy his open male chauvinism and his disregard for political correctness. Meanwhile, lest anyone take him too seriously, he presents his most offensive comments as just a "joke."
When a male reporter acts as if fighting for women's equality is the same as fighting against men's rights
King is exasperated by a member of the paparazzi who claims she thinks women are better than men, when all she is asking for is equal recognition.
When another foe tries to claim that he respects women because he has a wife
Nobody respects women more than Jack Kramer. Nobody.
When a fan holds up a sign that says "Billie Jean for President"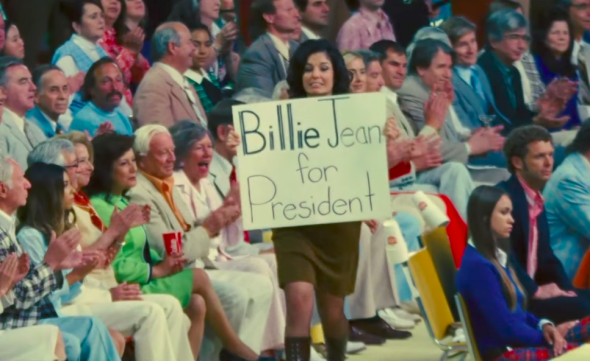 When she wins