It's been a big week for Confederate monuments, as strongholds of the Old South like Baltimore, Maryland, Helena, Montana, and even Los Angeles, California are finally removing their memorials to America's most famous white supremacist uprising. (Durham, North Carolina needed a little push from its citizenry.) But one memorial shows no signs of coming down: Jack Kershaw's hilariously awful 25-foot high fiberglass monument to early Klan Grand Wizard Nathan Bedford Forrest, which has been scowling down at drivers on I-65 since its 1998 (!) unveiling. Let's go to the photo: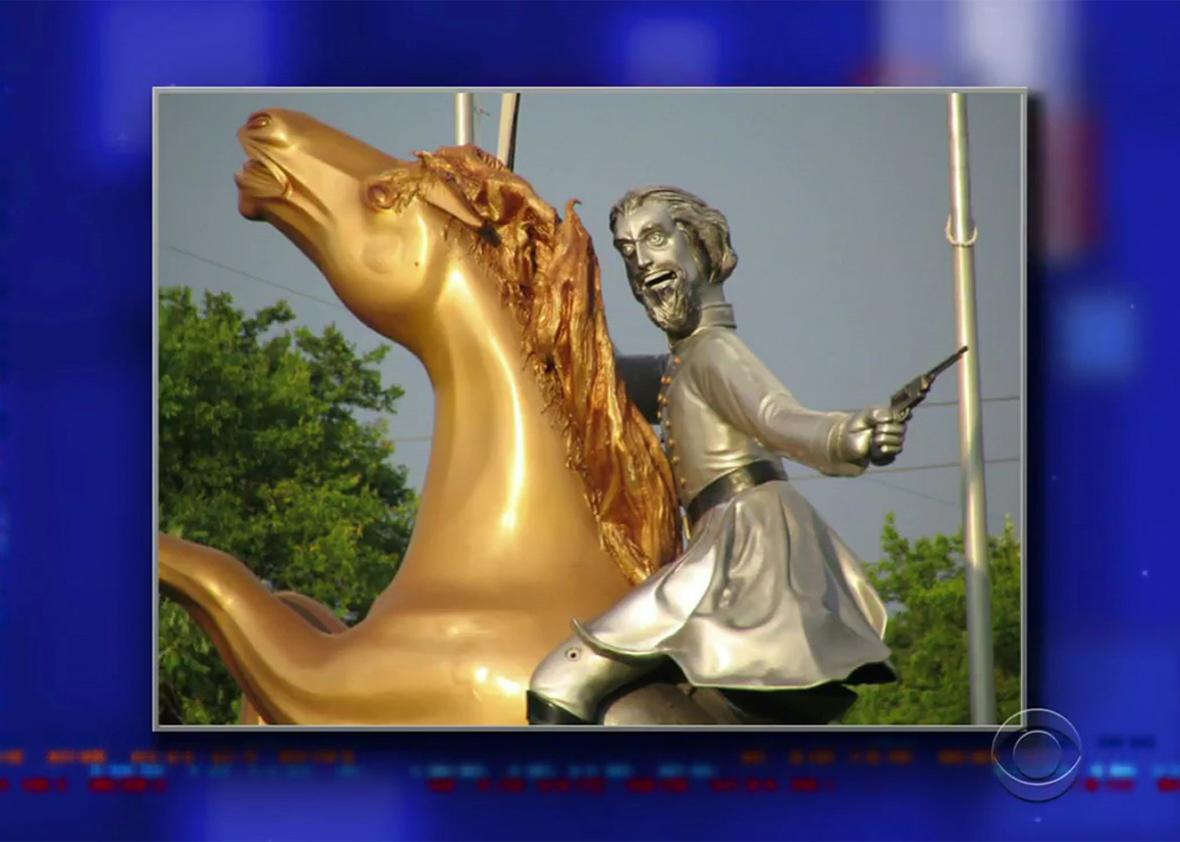 While Sam Biddle already provided a quality roast of this particular monument back in 2015, noting that it seems to be yelling, "Snap into a Slim Jim!" it feels like we've barely scratched the surface of how deeply, comically bad it is. (The sculptor was better known for being part of James Earl Ray's legal team than he was for his artwork, and it shows.) Colbert goes a little deeper into some of it, particularly Forrest's gun, but it feels like there's still a lot to say about how and why this statue went so wrong, and we're looking forward to hearing more from comedians, art critics, and people who know what human faces look like.
But besides the inherent comedy of showing a picture of Tennessee's worst sculpture, the segment is also worth watching in terms of technique. Colbert uses the camera during his monologue more than most late night hosts, charging up to it for close-ups or popping up Kilroy-style from the bottom of the frame. That tendency is in full effect here, as he prances from one end of the screen to another pretending to be the Nathan Bedford Forrest statue, then repeats the gag, mimicking Charon ferrying Steve Bannon to work across a river of blood. Using the frame this way is such an easy laugh that it's surprising other hosts don't use it more often, at least the ones who aren't desk-bound. The same goes for the music: whoever was at the piano (Jon Batiste, presumably) puts the bit over with a silent-film-style piano accompaniment. But the choice of song is a little eccentric: Although Colbert does point out that the Forrest statue looks like a nutcracker, playing "Dance of the Sugar Plum Fairy" doesn't really conjure up the glory and glamor of a slaveholding kleptocracy the way "Dixie" would. And that's sort of the point.