Disney has finally unveiled the first eight episodes in its new female-led Forces of Destiny microseries, a midyear snack designed to keep Star Wars fans sated between the franchise's feature-film releases. The introduction to each short in the series, narrated by Lupita Nyong'o as her Force Awakens character Maz Katana, emphasizes the importance of "moments, both big and small" in shaping destinies, but the episodes themselves are more focused on the small—understandable, given that each is less than three minutes long. In one, Rey fights off a Nightwatcher worm who wants to gobble up BB-8. In another, Jyn Erso saves a girl and her pet tooka from some Stormtroopers. (Obviously, this takes place before the events of Rogue One.) In yet another, Padmé Amidala prepares for a dinner party.
These vignettes don't offer any major revelations for fans, unless you've spent the past three decades lying awake at night wondering where Leia managed to find a human-sized dress in the middle of the forest in Return of the Jedi. (The answer: Ewoks are apparently very speedy tailors.) Because the shorts mostly act as prequels to or "deleted scenes" from the movies and television series, you won't find clues about Rey's identity or the fate of Ahsoka Tano here—nor, sadly, any long, choreographed lightsaber battles. Instead, the self-contained stories tell side adventures that we didn't get to see in the movies, while delivering some basic life lessons along the way: Help those in need. Be kind to others. Fight for what you believe is right.
If that makes it sound like these shorts are for kids, that's because, for the most part, they are. When Disney first announced the series and its accompanying line of merchandise, plenty of critics (myself included) noted that Forces of Destiny seemed to be trying to compensate for an overall lack of women in Star Wars by celebrating its few female characters in particular. But what's evident from watching the final product is that Forces of Destiny has a much more specific audience in mind: Not just children but young children. While there are a few cameos and Easter Eggs for grown-up fans to appreciate—"Beasts of Echo Base" takes its entire premise from a deleted scene from The Empire Strikes Back—adults are not the target demographic for Forces of Destiny, which sets it apart from previous, more sophisticated animated Star Wars series. The Forces of Destiny shorts stick to simple messages, uncomplicated humor, and easily solvable problems.
That's not to say that older fans won't still enjoy the microseries for what it is, though some might be put off by the goofy jokes or the animation style, a less stylized, more cartoon-y look than that of the Genndy Tartakovsky Clone Wars series. But what makes Forces of Destiny truly unusual for Disney-era Star Wars is the way it leans into that childishness. While for many, the name "Disney" automatically goes hand in hand with "kids," the studio's additions to the franchise since 2012 have, until now, been surprisingly adult. The Force Awakens was only the second Star Wars movie to be rated PG-13, after Revenge of the Sith, and the excellent Rogue One is essentially a war film set in the Star Wars universe. Even Star Wars Rebels, the animated series on Disney XD, has matured over its three seasons, at times delving into some pretty dark territory—though nowhere near as dark as its Cartoon Network predecessor, The Clone Wars, which not only had a pretty staggering body count but, thanks to multiple decapitations, a head count as well.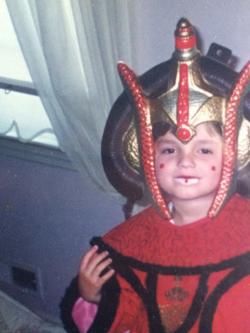 What should we make, then, of the fact that the most family-friendly on-screen addition to the Star Wars canon since The Phantom Menace is a series that focuses on the franchise's female characters? A more cynical person might suggest that it's because Disney knows better than anyone that there is profit in marketing to little girls, and that person would not necessarily be wrong. But the fact remains that the series' main characters are not just women but women of different backgrounds and abilities who are brave, kind, and smart. They stand up to Stormtrooper bullies, keep their heads during wampa attacks, and sometimes carry cool-looking swords. They are, in short, the kind of role models who are good for kids of any gender but will especially do wonders for getting little girls interested in Star Wars, because with each new female character the franchise introduces, the chances of a kid looking up at the screen and seeing someone she can identify with increases. (This critic's own interest began at the tender age of 5, after first laying eyes on the cool, aloof Queen Amidala in The Phantom Menace.) And as the franchise promises more diverse female characters going forward, its appeal will only grow.
Forces of Destiny may not break much new ground for Star Wars. But because its target audience is so young, it promises to shape the destinies of a new generation of Star Wars enthusiasts, which can only be a good thing for fans, big and small.