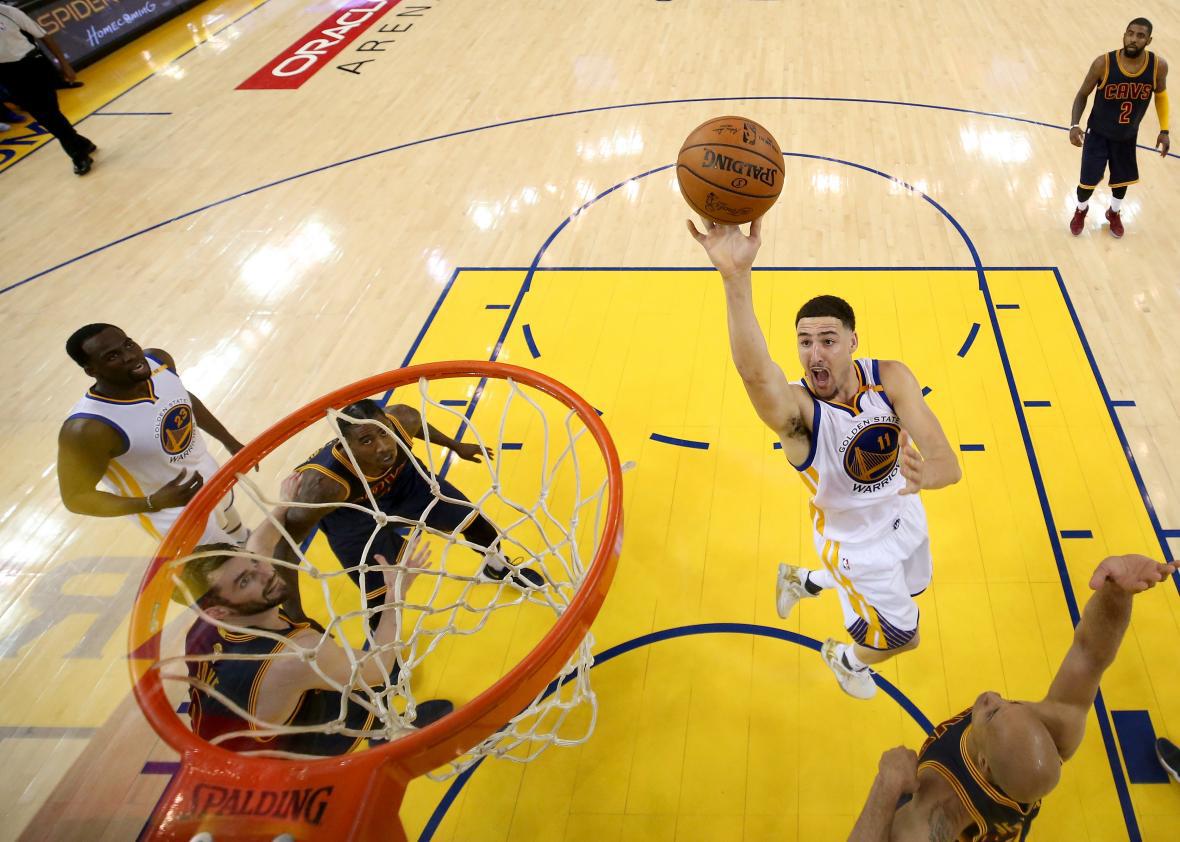 Offensively, Klay Thompson had a disappointing Game 1. The Warriors guard shot 3 for 16 from the floor. He missed a few layups. He clanked all five of his 3-point attempts. He looked sad (even sadder than usual, which is very sad). Had his 6-point performance occurred during the regular season, it would have largely been ignored. However, his ice-cold night came during the NBA Finals, when there are long stretches between games that allow for fans to examine every moment and stat with the irreproachable focus of forensic entomologists.
If you ask Thompson about it—which, of course, someone did—he wasn't too bothered. He rightly noted his defense, which was superb throughout the game. He stayed in front of Kyrie Irving and followed him through screens all night. Thompson was particularly rude when switched onto Kevin Love. Take this sequence, for example.
Had the shot and game clocks been turned off, Love would still be jab-stepping at the elbow trying to shake Thompson, desperately waiting for the arena crew to shut off the lights so he could head back to the hotel and get some sleep. "Even when I'm missing shots, one thing I can control is my defense," Thompson said after the game. Better yet, he could seemingly control the Cleveland offense. Cavs players went 1–12 when guarded by Thompson.
Even if it may be unfair to nitpick, we must. This is a man who scored 60 points in less than 30 minutes this season. No one has ever done that before. When Thompson is locked in, it is downright eerie. The highlights of that 60-point game are like a haunted document—someone solved basketball, we must lock away the footage and never speak of it again.
Over the last three years, Thompson's Finals averages have been a notch below his regular season numbers. (Last year's decline was notable: 22 points per game in the 2015 regular season vs. 16 in the Finals, with a precipitous drop from 44 to 30 percent from three-point range.) He's capable of going off in June—he scored 37 points in Game 5 last year—but then again, he scored 37 points in a quarter during the regular season two years ago. And as far as these playoffs go, Thursday night was not an anomaly. Thompson is averaging just less than 14 points a game in the postseason compared to 22 a game during the regular season, and he's shooting just 37 percent from the field vs. 47 percent prior to the playoffs.
While he's clearly struggling, it doesn't seem to matter one iota to the Warriors. Golden State has gone 13–0 in the playoffs and, save for three scary quarters against San Antonio, it has been a walk in the park. Forget Thompson's shooting woes; a cunning saboteur placed within the Warriors' own ranks couldn't derail them at the moment. Fellow NBA players are overtly tweeting during games about the expendability of the Warriors shooting guard. Adding Kevin Durant is such an effective balm, it cures ailments Golden State never really had in the first place.
Thompson is cursed with a shot so great that it's conspicuous when it's absent. It's a frustrating thing to see, like an off-center bathroom tile grouted right in your sightline. I am not a shooting coach—in fact, I've shot roughly 27 percent from the field in a lifetime of pickup ball—but I found myself repeatedly asking questions about Kay Thompson's mechanics on Thursday. Is he rushing it? Are his feet set? Where's his release point? I'm not sure if I even fully understand the meanings of these terms, but to my untrained eye, a missed Klay shot is a befuddling glitch that demands answers.
During Thursday's broadcast, Mike Breen asked Mark Jackson—Thompson's former coach—if he could spot anything particularly wrong with the shooting guard's form. "They're not going in," Jackson responded. It wasn't a particularly illuminating answer, but it certainly was accurate. And if there's one thing we can learn from Thompson's Game 1 performance, it's that accuracy should never be taken for granted.
---