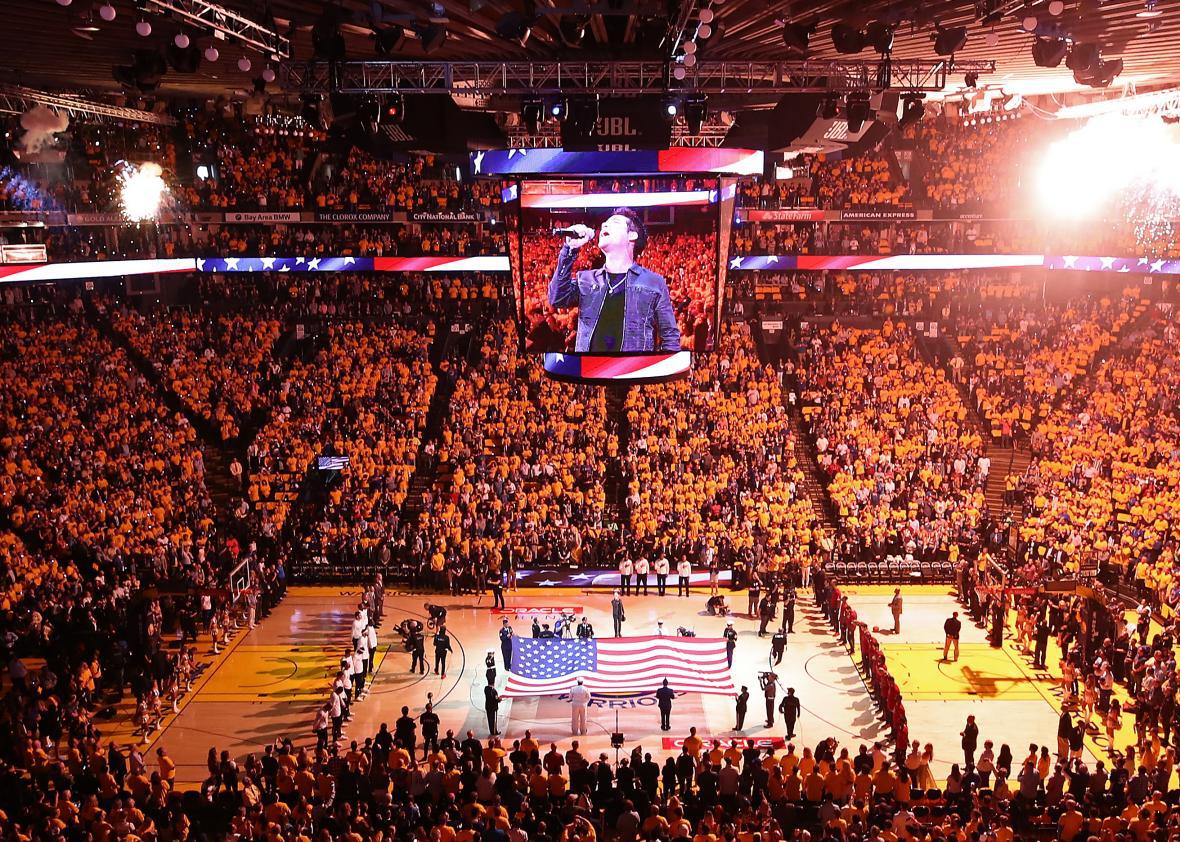 On Thursday night, Patrick Monahan of Train sang "The Star-Spangled Banner" before Game 1 of the NBA Finals.
If you keep up with the Billboard Adult Contemporary chart, Train needs no introduction. If you aren't familiar with their work, well, let's just skip that introduction.
It's easy to make fun of Train. Lots of people did it last night. But we're not here to be (extremely) mean. The Train guy got up in front of a packed house in Oakland, a city with a rich musical history, and did a pretty good job. Monahan, who was born and raised in Erie, Pennsylvania, was called on to establish the tone for a marquee event. It was likely one of the last NBA Finals games Oakland will host before the Warriors move to San Francisco in 2019, and he didn't forget any of the words. Kudos to him and the entire Train family.
The NBA just announced that San Francisco legend Carlos Santana will be performing the anthem before Game 2. He's done it a few times before, and it is always very cool.
Unless this series ends with a sweep, the Warriors and the NBA will need to find someone else to perform before Game 5. Here is a list of Oakland and East Bay-based musicians who are probably free next week in case the less high-profile members of Train are busy.
Keyshia Cole
Sheila E. (The Warriors should throw Game 2 just to make sure this happens.)
Daveed Diggs
Edwin Hawkins
All three Pointer Sisters
Tower of Power
Tony! (A personal favorite.)
Toni! (Also pretty good.)
Toné! (Might be the best one.)
LaToya London
Del the Funky Homosapien
Goapele
Too Short (It'll be on a seven-second delay, don't worry.)
Green Day
En Vogue
MC Hammer (American flag Hammer pants? Yes please!)
Kehlani
Carla Bley
E-40 (Just do it. It will make a lot of people in Oakland very happy.)
Keak da Sneak
Sharon Knight
Kreayshawn (Sure, why not.)
David Murray
Ray Obiedo
Pharoah Sanders
Sly Stone (Will need to check in with the remaining members of the Family Stone.)
Shock G
tUne-yArDs
Zendaya
---