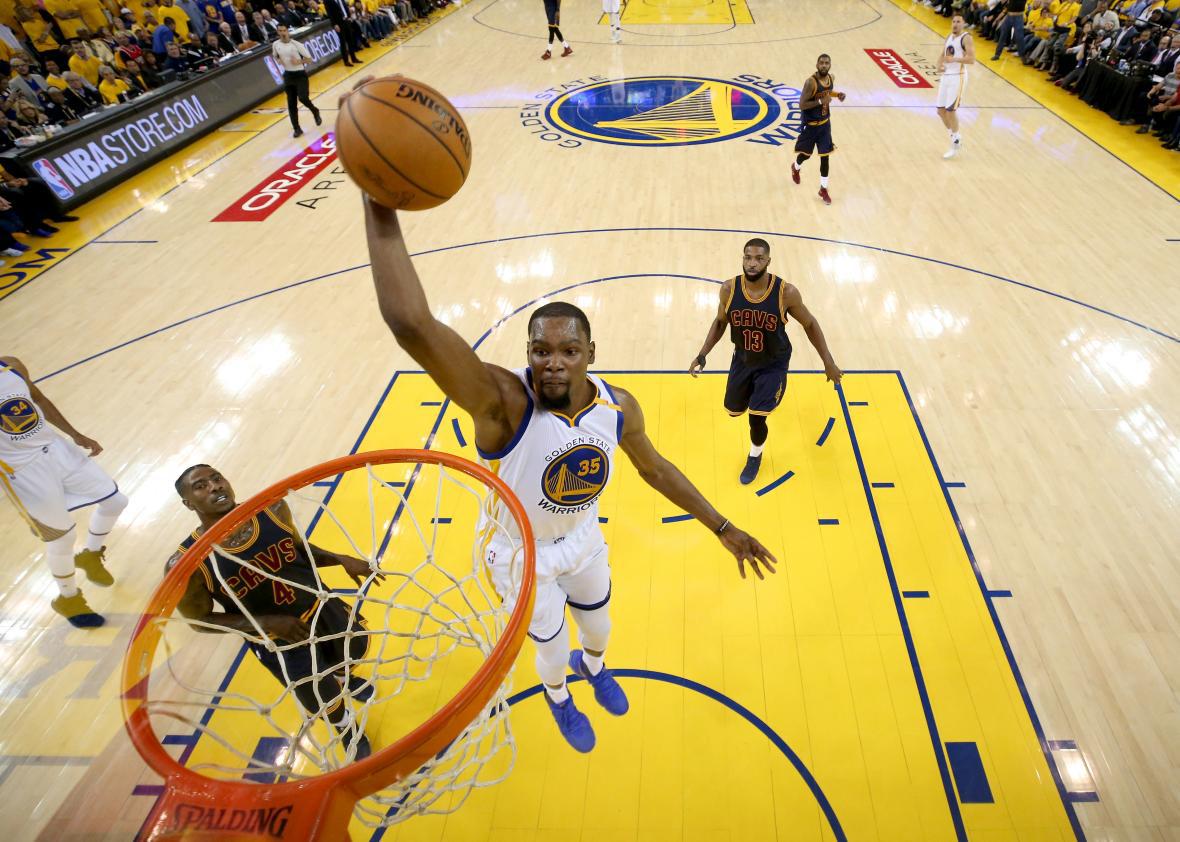 Game 1 of the 2017 NBA Finals had the kind of sloppy start one would expect given that both teams hadn't played an important game since Game 7 of the 2016 NBA Finals. But hey, that's the punishment they get for destroying the rest of the NBA with such brutal efficiency. While Golden State took control in the third quarter, this game should have been over much earlier. The Warriors missed 15 layups in the first half. Once they decided to stop being so coy around the rim, Golden State pulled away. The final score was 113–91, but it felt much gorier than that.
Cavs fans shouldn't think about walking into Lake Erie to accept the cold embrace of inevitability just yet. Remember last year? Cleveland lost Game 1 by double digits, but the Cavs picked themselves back up and … hmm, shouldn't someone guard Kevin Durant here?
Where was I? Ah, yes: Hope! There is much to be hopeful about. Back to Game 1 of the 2016 Finals. The score was 96–76 at one point in the fourth quarter. This year's Game 1 had the identical scoreline with 8:56 to go. Things looked similarly bleak for the Cavs a year ago, but they came back to …
Well then. Let's think this through. A 3–1 lead! The Warriors blew a 3–1 lead! Anything is possible. This is not new territory. The Warriors will always have the shadow of—crap, that's not Harrison Barnes open for three, it's Kevin Durant.
Cheer up, Cleveland. It's just one game. The Cavs still have the best player in the world, LeBr-
Kevin Durant ended up with 38 points. Uh, maybe he won't show up for Game 2?
Update, June 2, 2017: LeBron James with some trenchant postgame analysis:
---