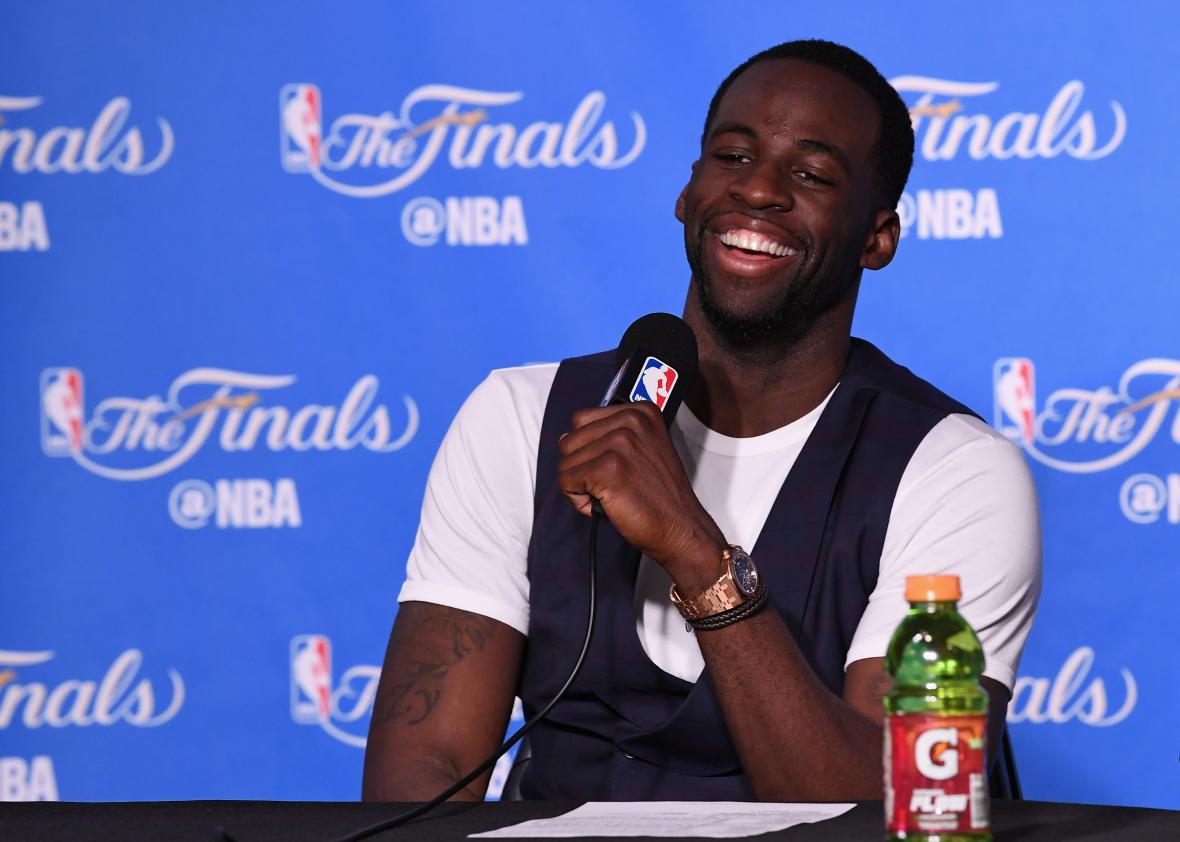 During the press conference after Sunday night's Game 2, Draymond Green had an exchange with a writer that, if you only read the transcript, would seem pretty heated. When asked to expound on how he has been able to "restrain [himself] emotionally" during this year's finals, Green had a somewhat perturbed response.
"You act like I'm just this troubled guy who's been in a bunch of trouble and can't control myself, and, you know, Jesus Christ," Green said.
The writer, Mark Purdy, seemed tantalizingly close to willing a beautiful narrative into reality. Could this year's NBA Finals follow last year's script? Will a dominant Warriors team come undone thanks to a brief moment of madness from Draymond Green?
Purdy pressed on and asked, "You've avoided going over the line, right?" It was a little on the nose. He might as well have inquired whether Draymond was planning to take a swing at LeBron's groin in Game 4 again this year, or if he was looking to go for the testes punch a bit sooner—you know, to switch things up. (Purdy wrote an interesting column about the exchange, saying that he asked Green the question because he noticed the Cavs were unable to "goad" Green into "cross[ing] the line into psycho territory" during Game 2.)
Kevin Durant, who was sitting next to Green, interjected, "You're waiting on him to go across the line."
We're all are waiting for this, Kevin! Thanks to you, these finals have been a lopsided affair, the natural extension of a dull and predictable NBA postseason. If competitive balance is to be restored, we need some sort of force majeure. Last year, it came during the waning minutes of Game 4, when Green took a needless swipe at LeBron's lower Cuyahoga Valley. A one-game suspension followed, and the Warriors' insurmountable 3–1 lead was thrown into peril. (If you are just joining us, the Warriors blew that 3–1 lead).
As this year's finals head back to Cleveland, the script feels familiar. In a recent interview with ESPN, Green reflected on the infamous groin swipe, saying, "If it happened again, I would do the same thing." Wile E. Coyote has strapped on his rocket-assisted roller skates, and we're just waiting for him to overshoot the Road Runner and sail off a cliff.
There are plenty of reasons the finals won't follow that script. Green was suspended last year due to an accumulation of flagrant foul "points" over the course of the postseason. (He had received a Flagrant 1 in the first round for tossing Michael Beasley to the ground, and he got a Flagrant 2 in the Western Conference Finals for kicking Steven Adams in a manner that proved to be a painful bit of foreshadowing.) Green has yet to pick up a single flagrant foul in these playoffs, so even if he does let his enthusiasm boil over, it most likely won't result in a suspension.
More important, however, is Golden State's ability to endure Green's absence. He got into foul trouble early in both games of these finals, but the Warriors hardly flinched thanks to the cover provided by a radioactive Kevin Durant. Oh, and having Steph Curry healthy helps a great deal as well. A hobbled Curry wasn't able to get separation during last year's finals, meaning Green had to take responsibility for engineering much of the Warriors offense. Green did an outstanding job on that score, posting a cumulative plus/minus of +23 throughout that series, far better than any other Golden State starter. (Steph Curry's plus/minus was -7, and Klay Thompson somehow managed to post a staggering -43 over seven games).
In other words, a lot was riding on Draymond. This brings us back to Sunday night's press conference. If you watch the video of the exchange, you'll find it's not nearly as tense as the transcript makes it seem:
There are giggles. Green is smiling, and his exasperation borders on facetious. He eventually delivers a few lines of polite athlete-speak—"When you've got great teammates like I do …"—and the whole thing is over just as soon as it began.
"Going over the edge isn't going to win me a championship," he concludes. That's terrible news for fans of narratives and storylines. It's great news for the Warriors.
---