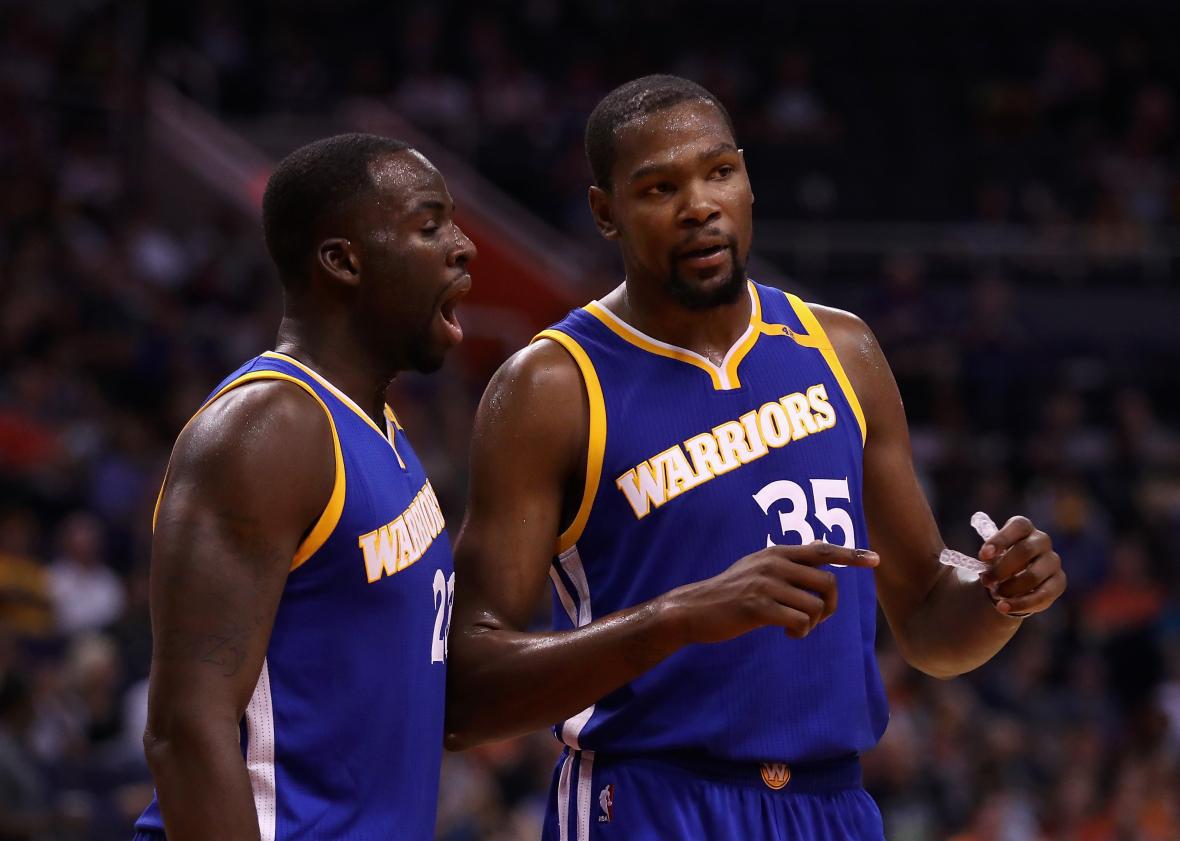 When it comes to the NBA Finals, knowledge is power. We've compiled a definitive list of facts and figures to help you truly understand this year's matchup between the Cavs and Warriors. Strap yourself in and get ready to be fired head first into the advanced stats revolution.
$587,211: Box office haul for Thunderstruck, the 2012 film starring then–Oklahoma City Thunder star Kevin Durant and Jim Belushi. According to noted film critic Draymond Green, "I've seen it multiple times. … I thought it was bad before, but now that we're really close I can really voice my opinion on it. It was bad, man. It was really bad."

8: Relatives of Cavs shooting guard Kyle Korver who also have first names that begin with the letter K: Kevin (father); Klayton, Kirk, and Kaleb (brothers); Knox and Kyra (children); Kris (uncle); Kari (cousin). (There may be more, but those are all the K-named relatives we could find.)
498: Years since Ferdinand Magellan began his circumnavigation of the globe, a journey made possible by the spherical nature of our planet. Cavs point guard Kyrie Irving, who has been outspoken in his belief that the Earth is flat, willfully ignores the empirical evidence provided by Magellan's 16th-century voyage.
80: Number of practices Cavs guard J.R. Smith allegedly skipped over a four-month period while playing for the Chinese Basketball Association's Zhejiang Golden Bulls. Smith signed a $2.88 million contract with the team during the 2011 NBA lockout, but they paid him only $1.82 million because of his truancy issues. The Zhejiang Golden Bulls failed to make the playoffs during Smith's tenure.
100 percent: Online allotment Under Armour reportedly sold of its infamous "Chef" Curry Two Lows. Despite being mercilessly roasted on the internet, there was sufficient demand for the sneakers among nurse's assistants and old men who use the motorized shopping carts at Publix.
0.3: The approximate length in miles of Tyronn Lue Boulevard in Mexico, Missouri. The Mexico City Council renamed Walnut Street to honor the hometown hero in 2015, back when he was still just an assistant coach for the Cavs. (It still doesn't show up on Google Maps.)
2,065: Yards LeBron James tallied as a wide receiver during his high school football career despite sitting out his senior year. Current Ohio State football head coach Urban Meyer tried to recruit James in the 1990s when Meyer worked as Notre Dame's wide receiver coach.
35: Number of Beach Boys songwriting credits Cavs forward Kevin Love's uncle Mike Love received after suing bandmate Brian Wilson in 1994. Wilson fans will argue that Love's contributions—e.g. piping up with "Goodnight, my baby, sleep tight, my baby" during the fade-out section of "Wouldn't It Be Nice"—were minimal and never warranted credit in the first place.
7 minutes, 25 seconds: The length of this Javale McGee "Shaqtin' a Fool" compilation blooper reel. Shaq's incessant ribbing of the Warriors center took an overly personal turn this year, ruining the fun for everyone.
27–1: The Warriors' record since Klay Thompson signed a fan's toaster. (The lone loss came in a game Thompson sat out.) That peculiar autograph session resulted in this NBA season's best photo.
---