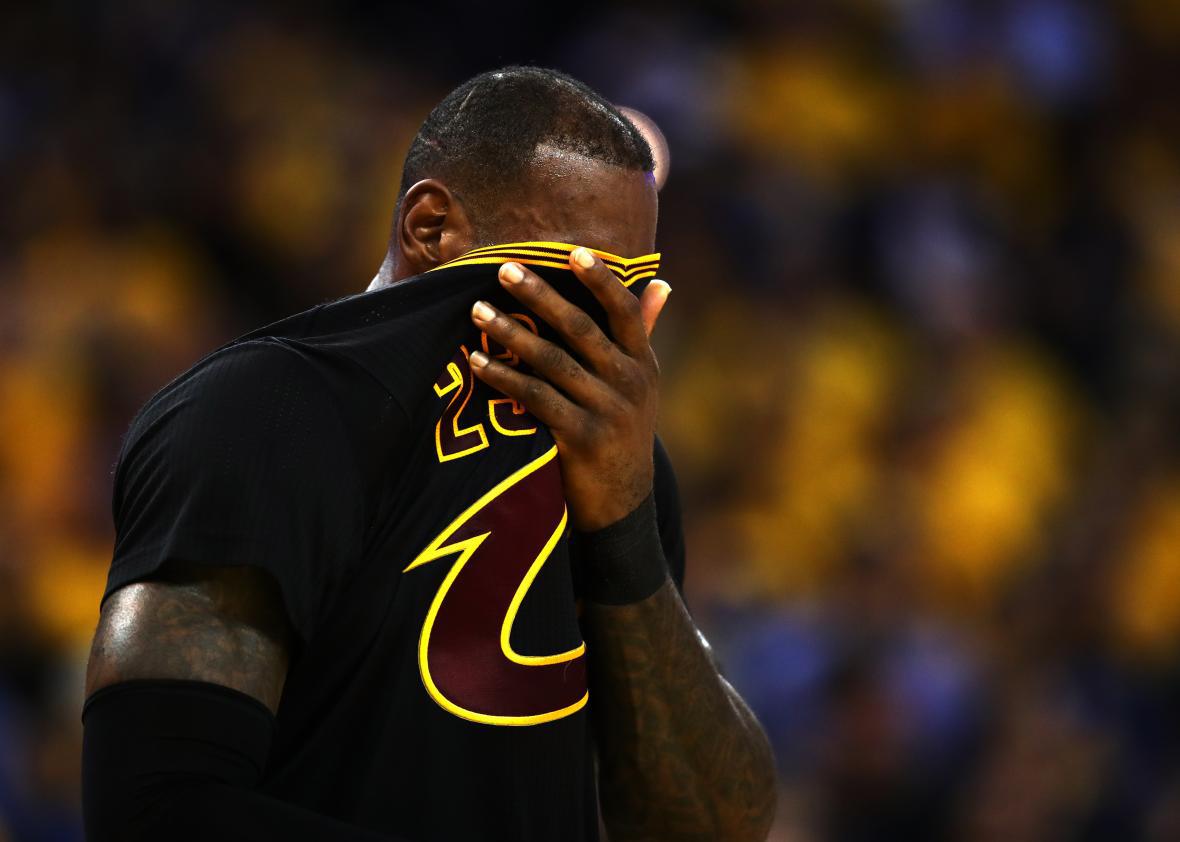 In the middle of the third quarter of Sunday night's Game 2, LeBron James picked up Steph Curry at the three-point line. For roughly 11 seconds, the Warriors guard performed what appeared to be some form of merengue before laying the ball in.
With those two points, Curry gave the second game of the 2017 NBA Finals its defining moment. You will be seeing that video a lot. ESPN will edit it into highlight reels. The NBA will feature it in commercials. The video will become sentient and run for mayor of Oakland, and it will win with 65 percent of the vote.
But allow me to nominate a different Game 2 moment for the time capsules, one that came about eight minutes after that mano-a-mano showdown. With about 1:30 left in the third quarter, LeBron grabbed a rebound off a Warriors miss. It was his 10th board, and with it he secured a triple-double. Wasting no time, he sprinted up the floor to initiate the offense. The ball ended up in Deron Williams' hands, and the backup point guard promptly fizzed an airball off the glass. Kevin Love—who did score 27 points on Sunday—proceeded to brick the follow-up after crashing into his own teammate's skull.
It's fitting that this Williams airball was immortalized in a vertical Twitter video an Australian sports commentator captured by filming his TV. This is the exact level of cinematography that this play deserves. But this airball was as defining a moment as anything else that's happened in the first two games of the NBA Finals. This was the moment during Golden State's 132–113 win when it became clear that James' herculean performance would yield only Sisyphean results. It portends what this series will become if the Cavs can't get more than two guys to play well simultaneously.
Cleveland's role players should play better at home—role players tend to do that. And you'll recall that the Cavs were down 2–0 in the 2016 Finals before they came back to win the series in seven. (Did the Warriors blow a 3–1 lead? They did blow a 3–1 lead.) But even if they do win Game 3, Cleveland still has a mighty boulder to push uphill, one that LeBron James isn't strong enough to shove all by himself.
---