As a single, heterosexual college-educated black woman in my 30s, I've never thought of myself as a "bachelorette." Even before the female-led spinoff of The Bachelor launched in 2003, and long before the franchise considered casting a black woman as protagonist, in my mind "bachelorettes" were white women who were brides-to-be or bridesmaids in their best friends' weddings, throwing parties to celebrate the end of their spinsterhood. Black women were just single and waiting.
The first time I saw The Bachelor, in 2003, it was playing in the background of the Tampa, Florida, apartment I had just moved into while I considered the implications a second graduate degree would have on my then nonexistent love life. It would be years before I read the statistics claiming black women are undesirable partners for black men, unwilling to consider interracial partnerships, and therefore unlikely to marry. I had a feeling that the more accomplished I became while remaining single, the more years I let elapse without prioritizing a relationship, the more difficult it would be to find a so-called suitable mate. So I was easily seduced into watching a show about falling in love.
I remember seeing a well-dressed white man with a perfect smile stand next to a bed of radiant red roses, facing a wall of women lined up like pageant queens. The genuine pain of not being chosen was a feeling I recognized, and I turned up the volume in time to hear the rejected women tearfully express their disappointment. I felt at once ambivalent and empathetic. But over the next few weeks, as willing white women in their 20s were whisked away to exotic locations for shared dates with a man they professed to want to marry, I realized how unrealistic the extravagance of love and courtship afforded them felt. To me, the love-at-first-sight storyline came to seem like a white-washed fairy tale. I, like most of my other black female friends, had been single all of my adult life. I didn't even know if I wanted a husband; I just wanted a boyfriend. And so I stopped watching. Black women were not bachelorettes.
The Bachelor's fraught relationship to race is a cloud that has hung over the franchise for more than a decade. Season after season, it has introduced black contestants only to swiftly eliminate them, dispatched before they could be fleshed out as memorable characters, lingering in viewers' memories only as cartoonish tropes. The franchise reinforces the patriarchal premise that heterosexual men want to be with women who "need" them, and heterosexual women desire men who can "take care" of them—a dynamic that is complicated by race and class, and has particular implications for women of color who can take care of themselves or don't have the luxury of waiting to be rescued. The Bachelor doesn't account for women who are intentionally and blissfully single, couples who reject the legalities of marriage, and women of color who are often overlooked because they don't meet cultural whiteness standards. The image of the desirable white woman is one who is polite, quiet, and malleable, while black women are socialized to speak our minds and not take any mess, especially from men. The white bachelorettes and occasional token women of color on The Bachelor were pseudo–sister wives who knowingly shared a man with the expectation that the "best" one would win. The scripted dates and scenarios were straight out of romance novels, chick flicks, and Disney movies—historically some of the whitest pop cultural depictions of love imaginable.
The show has failed to directly respond to mounting criticism about the lack of diversity, instead absorbing the critiques of tokenism, featuring occasional women of color as never-viable options for the white bachelors. The one exception came during the 17th season of the show, when bachelor Sean Lowe courted six women of color, four of whom were black, and a woman of color—Catherine Giudici is half-Filipina—was chosen as the winner of that season. But it was not until this past season that a black woman, Rachel Lindsay, was a finalist. And now, 15 years after The Bachelor premiered, Rachel Lindsay will star as the franchise's first black protagonist in the new season airing Monday night—surrounded by an entourage of suitors who could have stepped out of a United Colors of Benetton ad. It's hard to know what to feel about this news: whether it's merely a cynical network publicity grab or a form of real progress. Most of all, how will it be possible for a show that has whiteness woven into its very DNA, that has spent so many years caricaturing and diminishing blackness, to convincingly represent black love?
* * *
After I tuned out of The Bachelor, I turned to Flavor of Love, which became my respite and guilty pleasure. A blackened spoof of the original ABC show, Flavor of Love implied that romantic black love was only possible in satire. The show featured a "black" bachelor—then 46-year-old former 1990s hype man Flavor Flav—who encapsulated the worst stereotypes of black men (lazy, deadbeat, recovered drug addict). The lucky contestants were presented with their emblematic bachelor, a black man with six children by two women who had little apparent intellect or self-restraint. Flavor of Love ghettoized the possibility of black love by encouraging flagrant representations of black women as angry, loud, lascivious, promiscuous, and desperate, erasing the very real desires and fears black women have about finding true love and being chosen. And yet for years, I kept watching, for the simple reason that, as farcical a spectacle as it was, I wanted to see black women try to fall in love.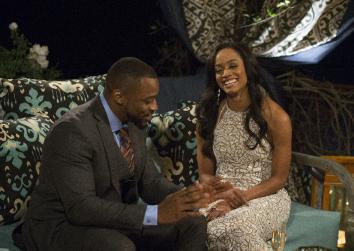 The whole reality TV–scape of the early 2000s implied that black love was only possible or believable for a black woman if she was a 10 and her beloved was a 1, or vice versa. (The cultural narrative around this conundrum finally shifted when the Obamas became the new Huxtables, but by then the problem was too many Michelles, not enough Baracks.) Helping black women find romance was just not a priority for network television, so over the next decade or so, cable networks filled in the gaps with a few seasonlong shows about black women looking for relationships—unsuccessfully. On VH1, there was Let's Talk About Pep in 2010, which chronicled the dating life of Sandra "Pep" Denton, of the hip-hop group Salt-N-Pepa, and her middle-age homegirls as they searched for love after failed marriages and successful careers. I Love New York, in 2007, a sequel to Flavor of Love, followed the popular and controversial Tiffany "New York" Pollard as she searched for romance after being rejected twice by Flavor Flav. FYI channel's #BlackLove, which ran from 2015 to 2016, featured single, professional black women who, through coaching and counseling, attempted to understand why love eluded them.
Over the past decade, since Flavor of Love went off the air, I have watched everything from Bravo's Real Housewives of Atlanta to VH1's Basketball Wives. These days I am a faithful (though conflicted) viewer of all seasons of Love & Hip Hop. Like its distant cousin Flavor of Love, the series depicts black love through a lens of infidelity and indiscretion (at the expense of black women). But I've been so hungry for TV representations of black love that I keep watching. As a viewer, I've sometimes felt like a female star on one of these shows, a victim of my own low standards—something is better than nothing.
* * *
As a prospective Bachelorette, Rachel Lindsay could hardly have been more crowd-tested. On the 21st season of The Bachelor, she was given the first-impression rose by Nick Viall, which, based on previous seasons, often predicted the winner of the show. Her blackness, however, was regularly erased and glossed over. Nick insisted during his one-on-one date with Rachel that his interest in and attraction to her had nothing to do with her race. And while he admitted that he had never pursued a serious relationship with a black woman, the show wanted to tell us that Rachel was different. Rachel transcended race. Her intelligence, professionalism, and humility made it possible for Nick to accept the fact of her race without it being a factor in their courtship. This feint toward colorblindness allowed Rachel's credentials and social class as a lawyer and daughter of a judge to absorb her blackness. As long as she didn't "act black," they didn't have to talk about her "being black."
For most of the season, it seemed that her race was merely a convenient prop to prove the newfound diversity of the franchise. The other black contestants, whose racial performances were more easily read and interpreted in stereotypical ways, were summarily dismissed. Rachel, meanwhile, was not black until she went home. During the "hometown" episode, when Nick met Rachel's family, he was confronted for the first time with her race and the implications it could have on a relationship. At her house, he participated in a traditional black family meal, attended a black church, and had "a talk" with a protective black mama. He shared in an awkward confessional that being the only white person at Rachel's all-black church was intimidating. Until then, Rachel's background and demeanor had allowed her to be a bachelorette who happened to be black, not a black bachelorette. It was her family, including her white brother-in-law, who insisted that Nick be prepared for the challenges of marrying a black woman as a white man in the real world. Rachel was eliminated two episodes later.
As the new season premieres, I have questions. Is being black enough to make Rachel relatable to black women, if the show is determined to peddle a myth of colorblind love? What will it mean for the rest of us if she fails at finding love? What will happen if she succeeds? What if Rachel's performance of blackness, which was digestible and safe during her season on The Bachelor, is made more visible and recognizable when she goes from being around mostly white people to being around more people of color? It is not Rachel's responsibility to be a representative for blackness and black women, but I do think that, as the first black Bachelorette, she will ultimately either rebuff the myths around the unsuitability of black women for love and marriage or reinforce the assumed ratchet respectability of all black women, even those with money and an education. That hometown visit last season was the first promising flicker that the franchise might actually be capable of depicting the single, black female experience with something verging on honesty and nuance.
On The Bachelor's live after-show, Rachel met four of her suitors, and we got another early glimpse of how the racial dynamics of the series could shift with a black woman at the center. Host Chris Harrison said: "You could meet your husband right here, right now." Rachel's nervous energy was palpable as the first suitor, a black man named DeMario, walked out with tickets to Vegas and an engagement ring. She seemed genuinely flattered. And then came Blake, a white man who kept demanding hugs and photo ops. Then Dean, another white guy, approached her and said: "I'm ready to go black and I'll never go back." You could sense Rachel's discomfort behind her forced smiles and reluctant hugs. But the fourth suitor immediately seemed to put her at ease. Eric, a black man from Baltimore, broke out in an impromptu dance, and Rachel instinctively joined him. They swayed their hips and flailed their arms to a beat only they could hear while the requisite "heeeeeeeeeeeeeey" echoed between them. It was the blackest thing I had ever seen on the Bachelor franchise. They fell into a brief embrace before he walked away, and it low-key looked like black love at first sight.
The previously composed, racially neutral, respectable Rachel did a black-girl two-step on national television with a black dude from Baltimore?? I smiled at the familiarity of it all. And I decided right then and there that I would tune in to the premiere, if not the whole season. It's hard to say what will happen to The Bachelor's bread-and-butter demographic of predominantly white, heterosexual women. Will they tune in to watch a black woman dating mostly black men? How will the show manage to perpetuate its fairy tale without glossing over the real complications of interracial dating? It could be that ABC traded one race problem for another. But it's also possible that black women can be bachelorettes-turned-brides after all. I was never invested in the Bachelor franchise because it wasn't a representation of black love, and I didn't see myself in the contestants. Now, I might.