It's been over a month since 13 Reasons Why made its debut on Netflix, but the discussion around the teen drama shows no signs of dying down. The 13-episode series, based on the young adult novel by Jay Asher, has been tweeted about more than 11 million times since March 30, more than any other show in 2017, and a second season now seems all but assured. 13 Reasons, which is narrated by Hannah Baker (Katherine Langford), a high school student who kills herself and leaves behind a series of cassette tapes singling out the people she considers responsible for her decision, has been critically acclaimed for its compelling performances and received praise for its unflinching take on bullying, assault, and the ripple effect of small, seemingly minor actions on the teenage psyche. It has also been lauded for "starting a conversation" about suicide, which is the second leading cause of death among teens.
But the premise of the show, which treats Hannah's death as something caused by the actions of other people, ranging from the ex-friend who blamed her for a breakup to the senior who sexually assaulted her, goes against everything we know about suicide, its causes, and means of prevention. It places the responsibility for a person's suicide on the survivors of suicide loss, creates a false illusion that a suicidal person can be in control after her death, and offers up no alternatives for Hannah besides killing herself. Paired with a graphic depiction of the act itself and the show's wild popularity, 13 Reasons Why now has mental health advocates and suicide prevention organizations doing damage control.
13 Reasons Why flouts the established guidelines for depicting suicide, including the widely accepted Recommendations for Reporting on Suicide, which exist to reduce the likelihood of suicide contagion, or "copycat suicides." While the recommendations are geared more toward media coverage than fictional portrayals, they use data from more than 50 studies showing that certain ways of depicting suicide can present a risk of contagion. For example, coverage that sensationalizes or glamorizes suicide, that shows grieving loved ones or memorials, or that explicitly describes the suicide method can be dangerous to people who are already at risk.
13 Reasons breaks several of these rules, but its most talked-about departure is a scene in the show's 13th and final episode, in which Hannah's suicide is shown in graphic detail. In a deeply personal essay for Vanity Fair, Nic Sheff, a writer for the series, said that the scene was included "to dispel the myth of the quiet drifting off" and recalled how he once changed his mind about killing himself while remembering another survivor's account of her own suicide attempt. But it's critical to remember that Sheff's essay, while emotionally compelling, is based on a single example—his own—and his claim that it would be "irresponsible" not to show the suicide is contradicted by numerous studies showing the harm that exposure to graphic depictions of suicide can do.
"Research indicates a vivid description, real or fictional, of a suicide can contribute to and perpetuate sensationalism and glorification, which may lead to copycat suicide behaviors or contagion," said Phyllis Alongi, the clinical director of the Society for the Prevention of Teen Suicide and a licensed professional counselor. Alongi also identified other problems with the show, including a scene in which students take selfies in front of a memorial on Hannah's locker, as well as the series' failure to meaningfully address mental illness, which plays a role in 90 percent of suicides. A set of "considerations" about 13 Reasons Why created by the National Association of School Psychologists recommends that vulnerable youth not watch the show, as "its powerful storytelling may lead impressionable viewers to romanticize the choices made by the characters and/or develop revenge fantasies." It also emphasizes that people do not turn to suicide simply because they have been bullied; rather, it is typically the result of a combination of "treatable mental illness and overwhelming or intolerable stressors" and a lack of adequate coping mechanisms. Even the notion that a suicide could have been prevented by "loving someone back to life"—or at least trying, as the show suggests—can be damaging to survivors of suicide loss, who may already experience guilt.
13 Reasons' creators seem at least passingly aware of the gravity of the issues the series presents. Its release on Netflix was accompanied by half-hour documentary, Beyond the Reasons, which refers viewers to a website with helpline information and features commentary from mental health professionals, actors, and producers. In the documentary, executive producer Tom McCarthy explains, "At the end of the day, we're telling stories. We're storytellers, and our job, probably more than anything, is to entertain. But when you get a piece of material like this that's actually about something? You take that seriously and you really hope the discussion begins and will continue." Sheff echoed that sentiment in his Vanity Fair piece: "I'm proud to be a part of a television series that is forcing us to have these conversations, because silence really does equal death. We need to keep talking, keep sharing, and keep showing the realities of what teens in our society are dealing with every day. To do anything else would be not only irresponsible, but dangerous." One of the show's stars, Kate Walsh, said she thinks it should be "mandatory in schools."
If the goal was just to get people talking, then 13 Reasons Why has succeeded, although having school districts around the country issue letters to parents cautioning them about the potential risks of letting their children watch was presumably not what its creators had in mind. At least one superintendent has even reported an increase in at-risk behavior in his district, including acts of self-harm and threats of suicide, with the students involved citing 13 Reasons Why while discussing their behavior. In light of the backlash, Netflix released a statement to ABC News defending the series by pointing to its TV-MA rating, content warnings that precede three of the episodes, and the accompanying documentary and website, writing that, "Our members tell us that 13 Reasons Why has helped spark important conversations in their families and communities around the world." (Update, May 1, 12:55 p.m.: Buzzfeed reports that Netflix plans to update its existing content warnings with stronger language and links to the show's resource website, as well as include an additional warning before the first episode "as an extra precaution for those about to start the series." The changes are expected to take effect as early as this week.)
It's understandable why the people involved in the show might think that starting any kind of conversation about suicide would be a good thing, considering that the topic is so often stigmatized. But the dicussions we are having now are focused on the way that the show, as it stands alone, could do more harm than good by ignoring established messaging guidelines and presenting an unrealistic and romanticized portrait of a teenager in crisis. Of course people are talking about the series—it would be irresponsible for parents and educators to let the show's messaging stand on its own. 13 Reasons Why dropped a bombshell into homes and schools, and it now has mental health and suicide prevention professionals doing damage control. More often than not, school counselors are the ones picking up the pieces.
* * *
The Jed Foundation, which focuses on preventing suicide in teens and young adults, received an invitation to preview 13 Reasons Why before its public debut and give feedback, with the added possibility that the foundation might even consider promoting the show. (While Netflix consulted other mental health professionals during the making of 13 Reasons, Jed was not approached until after production was complete.) But the foundation had reservations about how the show portrayed suicide, according to Jed's clinical director, Victor Schwartz, who explained that while he believes the show's producers intended to create a responsible, positive platform for discussing serious issues, there were several aspects that caused concern.
"There are some pretty well established messaging guidelines around media reporting around suicide, such as from the Action Alliance for Suicide Prevention," said Schwartz. "[The guidelines] are maybe not so black and white in the context of fictional coverage, but it's pretty clear that it's not a good idea to be showing explicit, specific images of the suicide taking place. The more detailed and the more specific and lurid it is, in some ways, the more worrisome the content."
Those concerns were serious enough that Jed partnered with Suicide Awareness Voice of Education to issue a set of suggested talking points timed to the show's release and specifically aimed at parents, counselors, and educators. The talking points are careful to emphasize that 13 Reasons Why is intended as a cautionary tale, not a typical way of handling problems, and to dispel specific narratives that the show might unintentionally reinforce. "With teens and even young adults, sometimes that line between fiction and reality can be somewhat blurred, especially with people struggling with mental health issues," said Schwartz. "Given the fact that there are large numbers of young people watching it anyway, I think school counselors need to think about how to be prepared to talk about it."
Phyllis Fagell, a school counselor at an independent K–8 school in Washington, D.C., was already familiar with the book through her own daughter, as well as from conversations she'd heard between middle schoolers. As a parent, she made sure to watch along. "Because there are graphic scenes—there is a suicide scene in it, a sexual assault scene—I've tried to be somewhat lurking in the vicinity, to be able to handle anything that came up."
Fagell said that the show's format, including Netflix's decision to drop the entire season at once, can impact the way students are watching. "One of my students stayed up until 5 a.m. to watch all of it. A friend's daughter watched one or two episodes a night, so she went through the whole series very quickly, all 13 episodes. I think it impacts kids differently when they're seeing it so intensively like that, without a week off in between. There's no reflection. They're just going through it. And it's a lot to digest for a kid that age."
Alex Moen, a licensed school counselor who works with high schoolers in Minneapolis, shared her concerns about the entire storyline surrounding Clay (Dylan Minnette), the show's protagonist, who had a crush on Hannah and spends the duration of the show confronting the people she named on the tapes. While Moen thinks teenagers will be able to connect with the show's portrayals of peer pressure, toxic masculinity, and slut-shaming, she criticized the basis of the story as "essentially a fantasy of what someone who is considering suicide might have—that once you commit suicide, you can still communicate with your loved ones, and people will suddenly realize everything that you were going through and the depth of your pain," she said. "That the cute, sensitive boy will fall in love with you and seek justice for you, and you'll be able to orchestrate it, and in so doing kind of still be able to live. Especially when you're a teenager, your brain doesn't do a very good job of reminding you of the truth that, in fact, you will be dead, and that's really the only outcome that's important."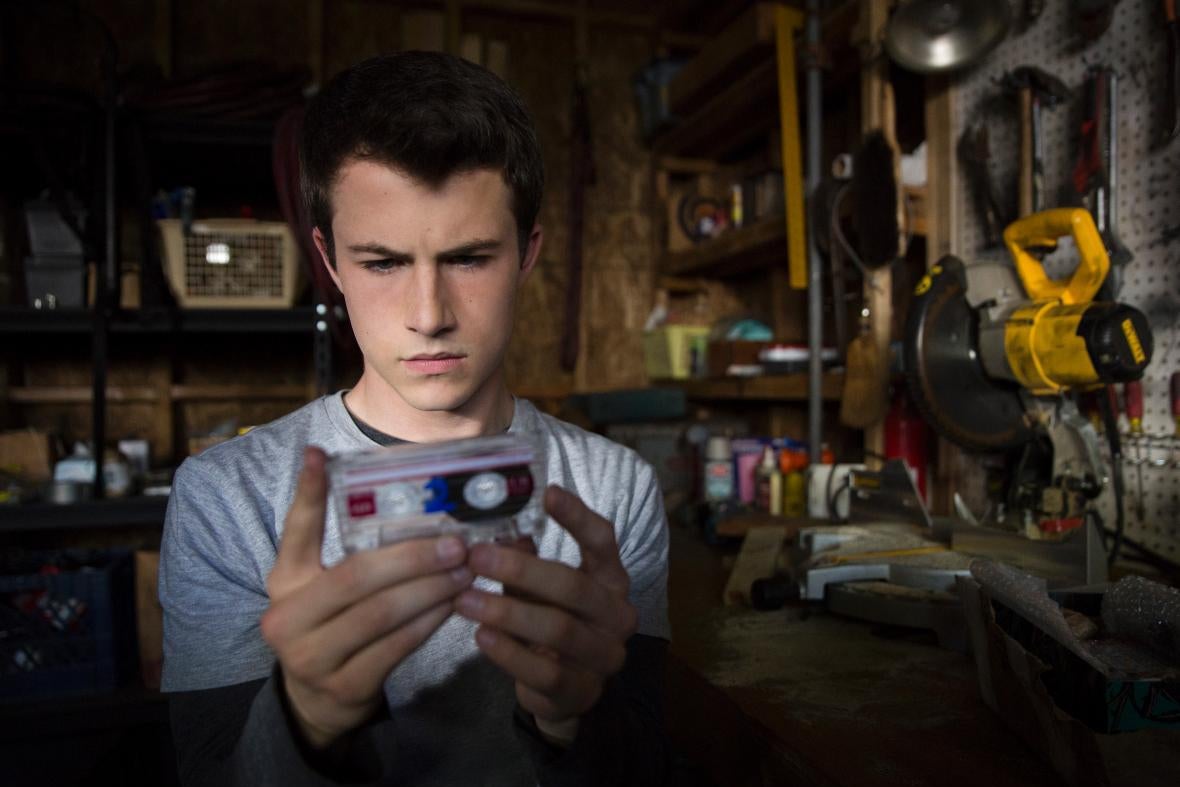 Anne Henry, a professional school counselor who works with both middle schoolers and high schoolers in Prince William County, Virginia, binge-watched the series in a week and has since had parents approach her for advice. "I've had people who've asked me, 'My kid is watching this right now, what should I do?' I'm not going to tell you to stop your child or teenager from watching it, but I think it's important for you to be watching this, then, and for you to have conversations with your child about all sorts of things after this, talking about how it depicts suicide and challenging Hannah's perspective and choices sometimes. And talking about mental health in there, because if the series isn't going to mention it, it's important for parents or anyone watching this series to have that discussion."
A major problematic aspect of the show is its portrayal of the response Hannah receives when she actively seeks help from adults on two separate occasions, first, by submitting an anonymous note to her Peer Communications teacher, Mrs. Bradley (Keiko Agena), and then later in a sit-down with her school counselor, Mr. Porter (Derek Luke). The show's editing deliberately undermines the possibility that Hannah might get help in the case of Mrs. Bradley—as she begins to list resources a student experiencing suicidal ideation might turn to, she is immediately drowned out by Hannah's own narration, rendering that lesson useless for both character and audience. (Mrs. Bradley apparently never follows up on the note, even though it clearly shows that one of her students is in crisis.) The second interaction, with Mr. Porter, is even worse.
Unsurprisingly, the school counselors I spoke to had the strongest reactions to Mr. Porter, who is also the 13th "reason" identified on Hannah's tapes and thus a major player in the show's finale. The school's overburdened and apparently only counselor, Mr. Porter seems somewhat mystified throughout the show by the problems faced by suburban high schoolers. He appears distracted and uncomfortable as Hannah reports that she has been assaulted and then fails to note the warning signs that she is considering suicide. "I went 'ugh,' as soon as I saw that," said Henry.
Hannah never uses the word rape in their session, but what she's describing can clearly be identified as one. "When a student is assaulted, I'm required to go to the police," Mr. Porter tells her, "but I need to know exactly what happened and who did it." And when she refuses to identify her assailant out of the fear of having to face him again, a troubling exchange follows:
MR PORTER: If you don't want to give me a name, if you don't want to press charges against this boy—if you're not even sure you can press charges, then there really is only one option.
HANNAH: What is it?
MR PORTER: I'm not trying to be blunt here, Hannah, but you can move on.
HANNAH: You mean, do nothing?
MR PORTER: Is he in your class?
HANNAH: He's a senior.
MR PORTER: That means he'll be gone in a few months.
Moen found the depiction inaccurate and disappointing but not all that surprising. "I think counselors are used to being portrayed really poorly in media; almost any time you hear about a counselor in a movie, in a book, or whatever, they're ineffective or they're just terrible." But in the case of Mr. Porter, she found his failure to be not just a moral failure but also unethical, unrealistic, and even legally dubious. "[School counselors] are mandated reporters, meaning that if we learn that someone has been harmed or may be harmed, we have a duty by law to report it. In the show, he kind of hints at this, but for some reason, the show has him saying that in order to go to the police, he would need all of the information. It's ridiculous! Counselors are not police. We don't have to launch an investigation. We bring whatever information we do have to the police or to parents or Child Protective Services, depending on the circumstances."
Alongi says that depictions like these send the message to teenagers that adults, even mental health professionals, don't know what to do in a crisis. "It looks like a dead end for someone who's struggling, like, Oh yeah, that's what happens when you go to a counselor. Which is not true. School counselors spend a bulk of their education and their time with their finger on the pulse of what's going on with adolescents. I think that depiction of him was a big disservice to the mission and the quality of school counseling." SPTS has been involved for years in ensuring that all educators, not just school counselors, are trained in recognizing the signs of suicidal ideation, providing extensive resources on their website and pushing for legislation that mandates suicide prevention training. 13 Reasons Why's counselor, Alongi emphasizes, was written to be deliberately ineffective and does not represent a typical encounter. "I cringed when I saw that. It's Hollywood, it's not real, it's fictional. We just need to keep reminding kids that, because school counselors really do care, and they know what to do."
* * *
In spite of the backlash against 13 Reasons Why, counselors say that fiction can be a valuable asset for approaching discussions surrounding difficult subjects. Since students are already talking about the show, Fagell has used 13 Reasons Why as an informal tool to deal with some of its other themes, like bullying, and says that students often feel more comfortable approaching those discussions when they're about fictional characters. "What a show does, what a book does, is it gives you an easy way to tackle very personal topics with some distance," she said. "And it's a launching point for kids to talk about something together."
But when it comes to talking about depression and suicide specifically, Schwartz said that 13 Reasons Why has too much baggage to serve as a useful entry point. "There are better constructed, less complicated vehicles to use," he said, suggesting HBO's animated documentary My Depression as a possible alternative. When I asked counselors what other television shows or movies could be used  to talk about issues that overlap with those of 13 Reasons, their answers ranged from the British series My Mad Fat Diary to The Edge of Seventeen to even Mean Girls.
Henry singled out The Perks of Being a Wallflower, which, like 13 Reasons Why, addresses mental health issues, sexuality, substance abuse, and suicide, "but does so in a way that has less potential for contagion and damage of trust," she said. "It depicts a crisis of mental health as something extremely difficult but survivable with help, rather than leading to inevitable suicide and revenge. It's so much more empowering in its tone."
Alongi, for one, has plenty of suggestions for how 13 Reasons Why could improve its message for its now inevitable-seeming second season, after the first ended with multiple cliffhangers, including another student who tries to kill himself and the foreshadowing of a possible school shooting. For starters, Alongi suggested that the show model successful help-seeking behavior this time, as well as provide actual resources for help within the show (rather than in a separate documentary that kids might not even watch). She also recommended including a follow-up panel of experts discussing the issues addressed and debunking the "Hollywood" aspects.
In the meantime, she is seizing on the debate that 13 Reasons Why has started in order to steer that conversation in a healthier direction. "[Suicide] is the second leading cause of death ages 10 to 24. We know that in our lives, in a room of 10 people, someone has either been touched personally or professionally by suicide. It's a sensitive subject, it's a scary subject, and it's not easy to talk about," she said. "[13 Reasons Why] fell short of being the tool that it could have been, but we have to say, 'It is what it is. It was not responsible, but let's talk about what's not responsible about it.' I feel—I don't want to say grateful, but teen suicide and suicide prevention need to be talked about. Prevention works and teen suicide prevention is everybody's business."
"So something like this, bringing it to the forefront again? OK. I'll take it."
If you need to talk, or if you or someone you know is experiencing suicidal thoughts, text the Crisis Text Line at 741-741 or call the National Suicide Prevention Lifeline at 1-800-273- 8255.