Jonathan Demme, who died last week at age 73, was best known to American audiences as the Academy Award–winning director of The Silence of the Lambs and Philadelphia, but to those who knew him in Haiti and the Haitian diaspora, Demme was an ardent and unwavering advocate of human rights and democracy in Haiti.
For many foreigners, Haiti is an obscure object of intervention and salvation, onto which they project hopes, fantasies, and despairs. For Demme, however, Haiti mattered concretely. He promoted the rights of people in Haiti and of Haitian refugees and detainees in the United States, working with groups including the National Coalition for Haitian Rights and Americans for Immigrant Justice, whose director, Cheryl Little, last week recalled that he "didn't just talk the talk, he walked the walk." Demme did this work with humility, openness, and wonder, without fanfare or ego.
But Demme, an avid collector of Haitian art, knew and loved Haiti beyond the headlines, beyond human rights abuses and crisis. He promoted Haitian talent—Haitian directors, actors, writers, musicians, visual artists, and journalists. (Haitian music appears in The Silence of the Lambs, Philadelphia, Beloved, and Rachel Getting Married—and if you look carefully, Hannibal Lecter's equally sadistic nemesis, Dr. Chilton, has Haitian paintings hanging in his office.)  
During his first trip to Haiti in 1987, shortly after the fall of Jean-Claude Duvalier, to make the documentary Haiti: Dreams of Democracy, Demme met Jean Dominique, the director of Radio Haïti-Inter, and Dominique's professional partner and wife, Michèle Montas. Demme would recall that Jean Dominique was "the most charismatic man I had ever encountered. I couldn't believe this guy! … He just oozed charisma, and confidence, and cool. And when he spoke, you wanted to hear more." His decadeslong friendship with Dominique and Montas would prove to be one of his most enduring engagements with Haiti. From the dawn of Haiti's democratic movement to its unraveling, through exile and assassination, this friendship resulted in one of Demme's most personal films, The Agronomist. This documentary would be instrumental in the struggle against impunity in ways neither man could have foreseen.
The archives of Radio Haiti, now at Duke University's Rubenstein Rare Book and Manuscript Library, contain little-known material—including audio, video, and letters—testifying to Demme's long commitment to Haiti in general, and to Radio Haiti in particular. Much of the video was filmed during Radio Haiti's second exile, during the 1991–1994 coup years, when Jean Dominique and Michèle Montas were living in New York. Dominique was adrift and demoralized during this period, far from his station and his listeners and far from a beloved homeland whose fate remained uncertain. During this time, Demme worked with Dominique on a series of projects, exploring how best to channel Dominique's personality and presence. These included a History of Haitian Cinema project. Demme, with characteristic enthusiasm, wrote to Dominique that the project, though never completed, had been filled with "true drama, exhilaration, illumination, hilarity, profundity, and many other joyful jolts." Another experiment saw Demme, Dominique, and hip-hop star KRS-One discussing music, spirit possession, and the CIA.
It was also during those years of exile that Demme recorded the majority of the footage that eventually became The Agronomist, the documentary about Jean Dominique and Radio Haiti. The uncut footage shows Demme's skill in drawing out the sometimes-secretive Dominique. Jean Dominique had interviewed quite a few prevaricators in his lifetime and could see through bullshit at a glance. Yet when faced with Demme's sincere friendship, Dominique revealed something of the man beneath the guarded public persona. Demme later recalled, "Look, the secret agenda I had when I proposed doing a documentary on Jean … was I thought this guy was going to be a movie star someday. And I'm going to get to know him, and cultivate him, and get kind of a screen test. It would be a good documentary, but mainly I'll groom him for that Oscar-winning supporting actor part in a movie of the future." But Dominique's soul was in Haiti, and as soon as democracy and constitutional order were restored in October 1994, he and Montas returned and reopened the station.
Demme was overjoyed. He imagined it as the climax of The Agronomist, "the ultimate epiphany of working toward that extraordinary moment when we actually see Radio Haiti returning to the airwaves!!"  He recruited Hollywood friends to record their congratulations: Danny Glover, Tom Hanks, and Anthony Hopkins, who delivers Haitian Creole slogans with Shakespearean gravitas ("n ap boule piti piti, anfòm nèt!"). And in 1996, Demme worked with a young Haitian American writer named Edwidge Danticat, producing a Haitian Creole–language radio adaptation of her short story "A Wall of Fire Rising."
* * *
The making of The Agronomist was neither straightforward nor painless. Neither was the two men's relationship built upon reverence and worshipful supplication (the Academy Award–winning director, the scrappy radio journalist from an afflicted land). Dominique called the shots, sometimes growing fed up with Demme's persistence (occasionally declaring, "Jonathan, you are a pain in the bounda," a pain in the ass). There were long spans in which it was not clear that the film would be completed at all. Once Dominique and Montas returned to Port-au-Prince in 1994 to reopen Radio Haiti, Dominique had much less time to devote to the making of the film. Demme, though still convinced of Dominique's star power and artistic potential, understood and accepted his decision with humility. In a handwritten letter filled with emphatic capitalization and squiggly underlining, he wrote, "I have finally come to realize for myself that rebuilding a radio station—not just any radio station, but Radio Haiti—is a daunting task of extraordinary magnitude that in its way doesn't accommodate the making of a film into the process, either. … Unfortunately, my RAMPANT enthusiasm for you, your struggle, and my desire to SHARE the magic of Jean Dominique with others has blinded me … to the greater truth that as your friend, I must stop trying to distract you from your mission with requests to sit down here or drive with a camera, etc. etc. As your friend, and as a 'fanatik Dominique,' I am now standing by ready to help you in our magnificent efforts if I ever possibly can—instead of adding to the chaos that confronts your mission."
Jean Dominique died not knowing that The Agronomist would ever be completed. He was murdered early one April morning in 2000, along with station employee Jean-Claude Louissaint, as he arrived to work at Radio Haiti. Less than two weeks later, Jonathan Demme eulogized his friend in the pages of Time magazine: "Jean remained at the microphone, perhaps quixotically, speaking with the voice of the people, for the people, to the people until the morning he was gunned down in the shadows of his studio."  It was only after Jean Dominique's death that Michèle Montas and Jonathan Demme decided to finish The Agronomist at last.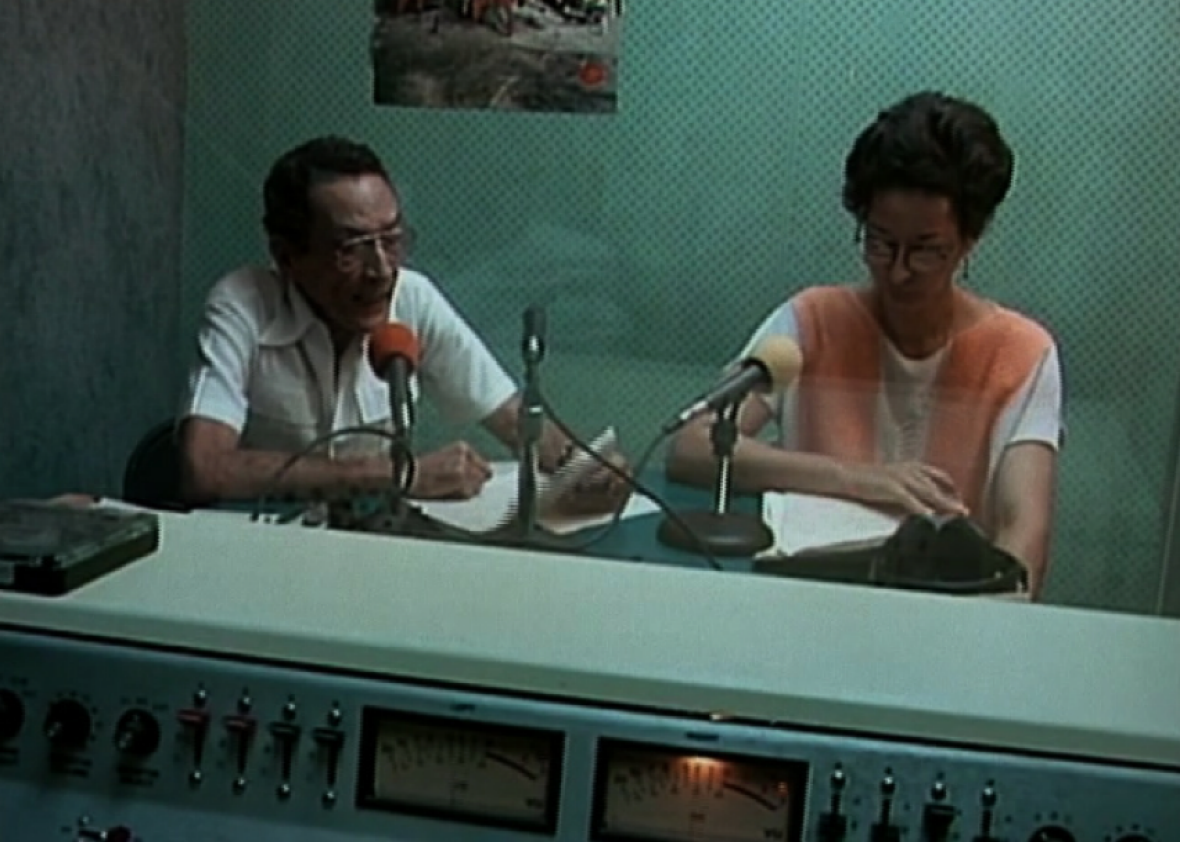 And so it was that The Agronomist, originally intended to be a showcase for Dominique's personality and intellect, was ultimately an elegy. It is not a comprehensive history of 20th-century Haitian political history, but that is not its purpose. It makes no definitive claims about the masterminds of Dominique's assassination, but it does not need to. With all the grainy intimacy of a home movie, Demme captured Dominique's disarming irony, caustic wit, and terrifying intelligence. It is a love story, or maybe two or even three love stories: the love of Jean and Michèle, the love of Jean for Haiti, and the love of a filmmaker and his friend.
On Christmas Day 2002, there was an attempt on Michèle Montas' life in which her bodyguard, Maxime Seïde, was killed. Two months later, amid escalating and untenable threats to the station's journalists, Radio Haiti closed for good. The years wore on, and the official investigation into Jean Dominique's assassination devolved into a farce of blockages, delays, and institutional malfeasance—judges dismissed and replaced, witnesses dying under suspicious circumstances, documents mysteriously disappearing from the courthouse, implicated senators claiming immunity from appearing in court.
Jean Dominique would find justice only in the court of popular opinion, and The Agronomist was central to that project. The posthumous tribute would become a weapon in the battle against injustice and forgetting. After the Haitian Creole version of The Agronomist was released in 2007, Demme quietly ensured that DVDs of The Agronomist would be distributed for free in Haiti, so that Haitian people, especially those who were too young to have experienced Radio Haiti firsthand, would have access to this history. Michèle Montas told him, "Jonathan, you just gave me a machine gun."
Jonathan Demme did a service to his friend and gave a great gift to Haiti. Perhaps Dominique never became Haiti's answer to Spalding Gray. But from a subtle place behind the camera, Demme used his talent, reputation, and influence to amplify a singular voice of dissent. In large part because of Jonathan Demme, Jean Dominique's voice goes on.