This post originally appeared in Genius Recipes on Food52.
This charming loaf may look like a pound cake and act like a pound cake—and travel well and make sweet gifts like a pound cake. But it's quite a different little number, and thanks to a slew of hidden perks—it's better.
It takes all of 15 minutes to throw together the dough. (In fact, the faster—and colder—it is when you slide it into the hot oven, the better.) You won't need to wait for butter to soften, and there is no frosting or icing to whip together, only a scruffy, sparkly, sugar-dusted top, and a side dollop of jam.
And perhaps most astonishingly, it's a cake where the sugar is measured in a few slim tablespoons, rather than cups. (Having been testing and tasting scads of desserts in the past nine or so months, I'm in awe and very grateful for the cakelike experience this recipe gives you, with much less sugar than a typical cake or even banana bread.)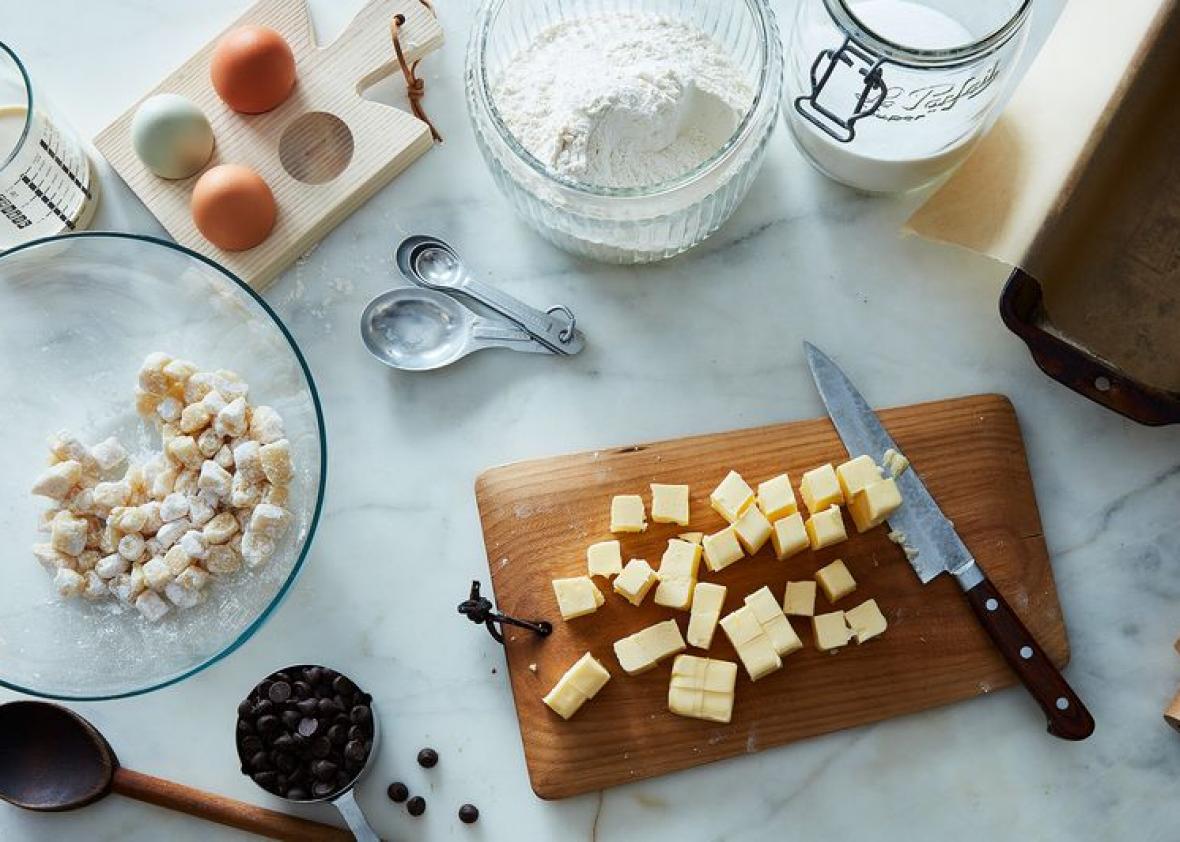 The secret to this genius loaf cake is that in its bones, it's not really a cake. It's a scone dough that just happens to bake up handsomely in a loaf pan. Baking genius Molly Yeh came up with it—loosely based on a favorite scone recipe from the Vanilla Bean Blog's Sarah Kieffer—and in doing so, smashed everything that's good about scones and cakes (and nothing that's bad) into one lovable, chocolate- and marzipan-pocketed loaf.
Yeh calls it a scone loaf, which is perfect, and much better than scloaf, which I keep doing. It's since become one of the most popular recipes in Molly on the Range, her cookbook full of novel treats, right next to her legendary funfetti cake. (Food52's own Scone Lady mrslarkin also came up with a genius layered scone bread a few years back, if you're looking for something more in the pull-apart family).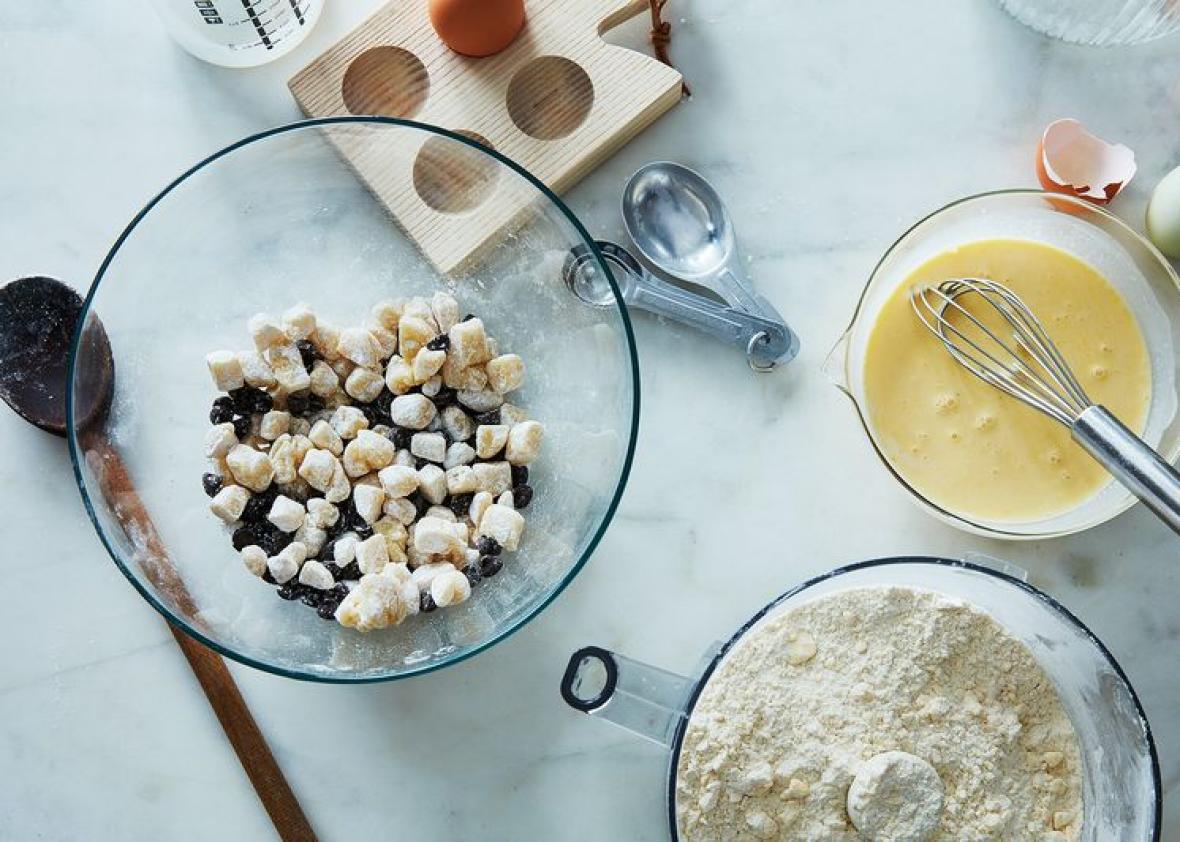 What's more: Not only is scone loaf better than a cake, it's also better than a scone! By baking all the dough at once in a loaf pan, it's less likely to accidentally get overbaked or overworked than individual scones; it's arguably easier to shape and keeps longer. (Chalk it up to less exposed surface area and a higher ratio of fluffy-soft innards.)
You can also make any lingering slices do fun tricks like griddling the flat sides in butter, or using them for French toast or bread pudding a bit more easily than the oddly shaped rounds and triangular nubs of retired scones.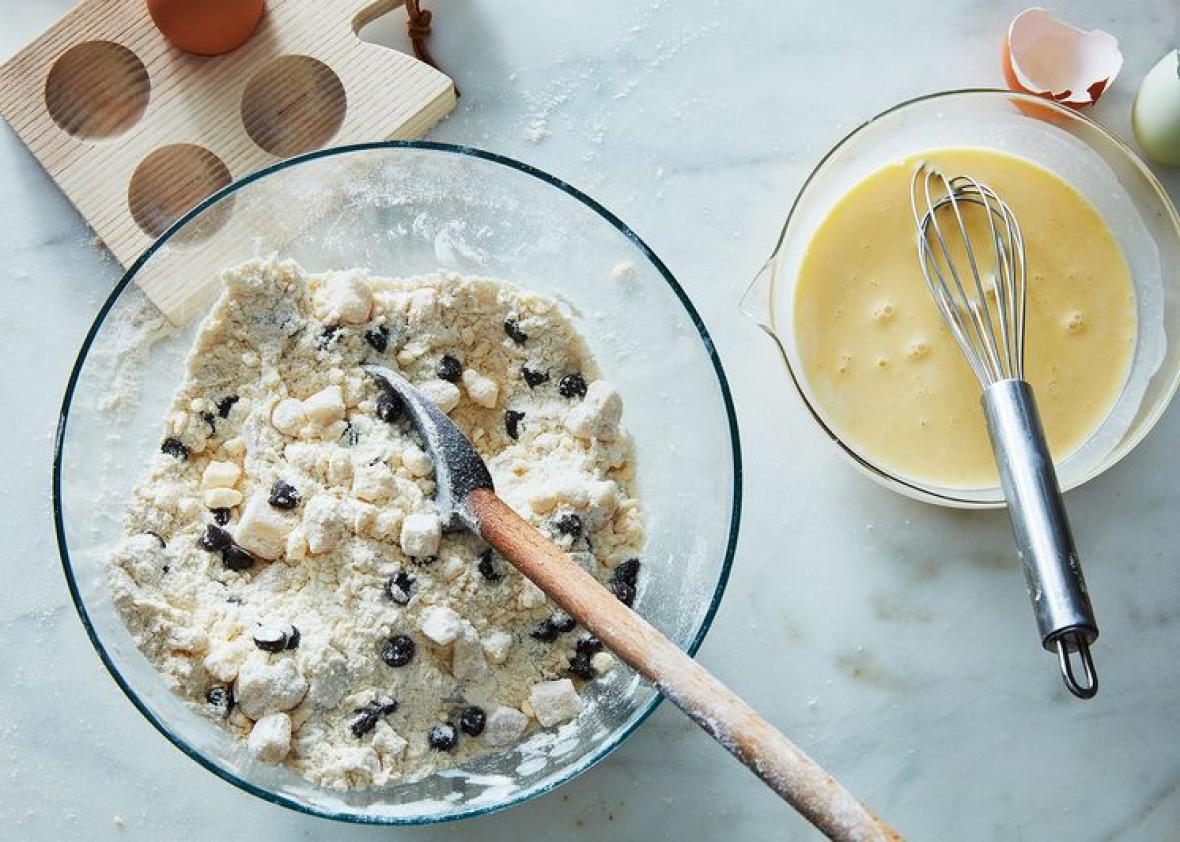 In this, Yeh's by-the-book version, she mixes in chocolate chips and sticky chunks of marzipan tossed in powdered sugar (to help keep them from sinking to the bottom). If I were near my mom this Mother's Day, I would bake this exact version for her—I learned the joys of marzipan very early in life from her, because in every box of See's chocolates, she went strictly after the raspberry cream and the marzipan, so naturally I did, too. This is also how I learned to share.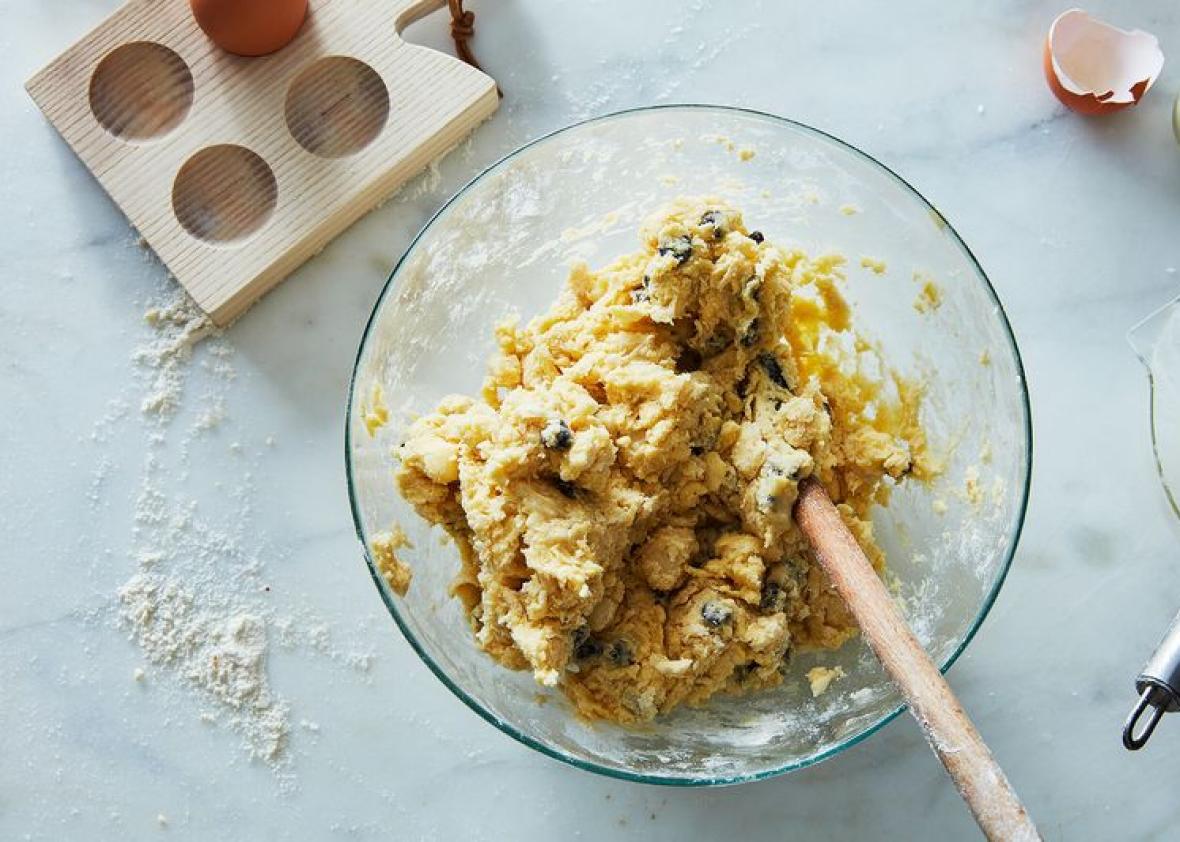 But if you don't have the same marzipan gene that my mom and I do, you could riff with any add-ins you like—rhubarb or strawberries from the spring's first crop, chopped candied ginger, orange zest, a cinnamon or cardamom sugar top.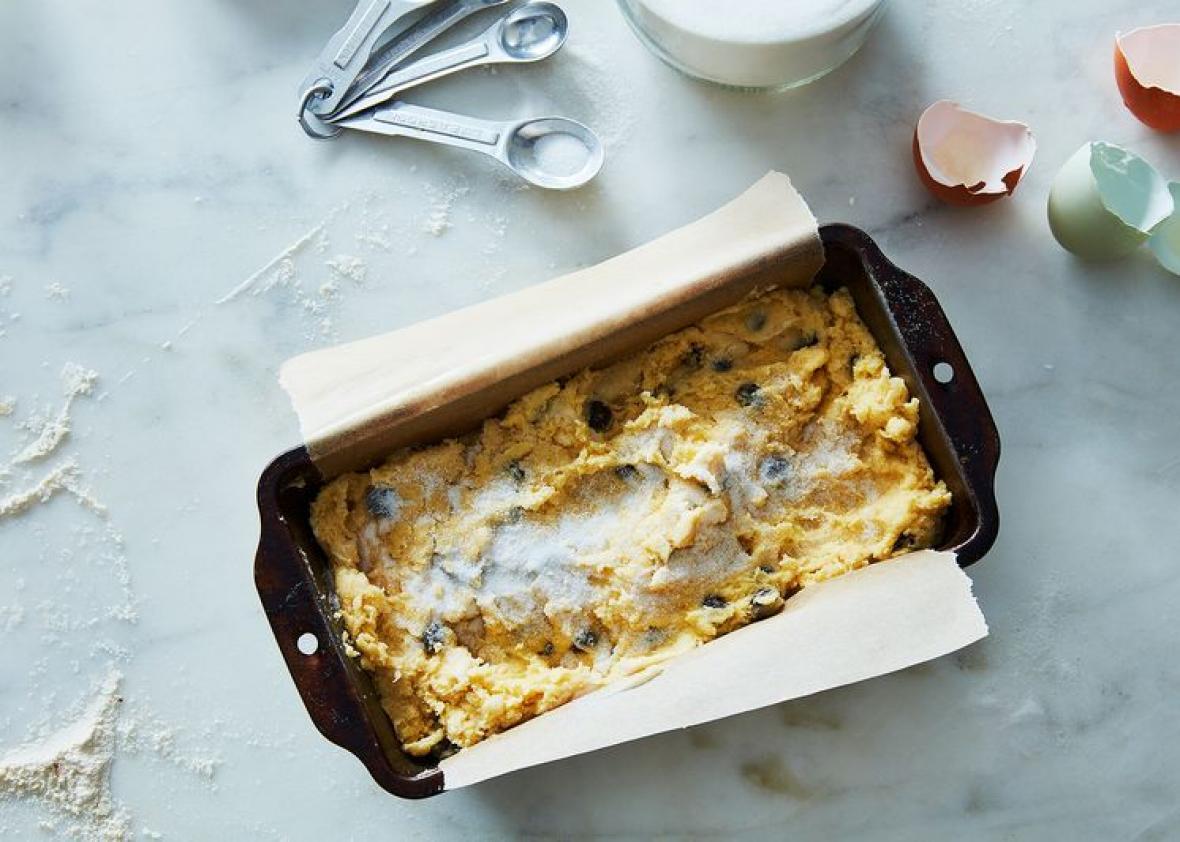 "One very big reason why I got into baking was because I grew up thinking it was completely normal to wake up to fresh scones every Sunday. My mom is a scone wizard!" Yeh wrote to me. "In our house, baking was never seen as a scary intimidating task, but a thing that you should do all day long if you have a free day, and the best way to show someone you think they're pretty swell." In honor of these two wizards, I recommend we start with a scloaf.
Molly Yeh's Dark Chocolate Marzipan Scone Loaf
Makes one 8 x 4-inch loaf
7 to 8 ounces (200 to 225 grams) marzipan, chopped into 1/2-inch pieces
1 tablespoon powdered sugar
1/2 cup dark chocolate chips
2 cups (250 grams) all-purpose flour, plus more for dusting
1 tablespoon baking powder
1/2 teaspoon kosher salt
2 tablespoons plus 1 teaspoon granulated sugar
3/4 cup cold unsalted butter, cut into 1/2-inch cubes
2 large eggs
1/2 cup buttermilk or heavy cream
1/2 teaspoon vanilla extract
1/2 teaspoon almond extract
Jam, for serving
See the full recipe on Food52.
More from Food52:
A Salty-Sweet Biscuit Sandwich Inspired by Church Potlucks and Ripe Figs 
The Keys to Pizza-Making with Kids, From a Pizza Night Pro 
Sweet, Flaky, Jam-Swirled Rolls You Can Make (and Eat) in One Hour 
The Tool French Cooks Swear By to Get Dinner on the Table—and Fast 
Can You Really Bake When a Recipe Tells You to Fry? 
What Is Avocado Hand?