In the November 2006 issue of Esquire, John Ridley published an essay entitled "The Manifesto of Ascendancy for the Modern American Nigger." Criticizing the Cincinnati Riots of 2001 for "allow[ing] the deeds of our most accomplished to be overshadowed by the antics of our least ambitious," it put forward an incendiary—and, to put it mildly, controversial—argument, juxtaposing the early achievements of Bush administration officials Condoleezza Rice and Colin Powell with the actions of "blacktivists" who, in Ridley's formulation, preferred "vengeance" to progress. He also condemned the poorest and most hapless of the black community. "Though they spliff and drink and procreate their way onto welfare doles and WIC lines," they "will tell you their state of being is no fault of their own," he wrote. "They are not responsible for their nearly 5 percent incarceration rate and their 9.2 percent unemployment rate. Not responsible for the 11.8 percent rate at which they drop out of high school. For the 69.3 percent of births they create out of wedlock." Ridley has not spoken much on the piece in the decade since its publication, during which time his profile has increased substantially, but it has, safe to say, remained a sticking point in his reputation. Historian and New Yorker writer Jelani Cobb recently called the essay an "obscenity."
The essay's shadow looms especially large at this specific moment. It's difficult in particular to reconcile the "Manifesto" with Ridley's ABC News documentary on the 1992 Los Angeles riots, Let It Fall, which will premiere on April 28. Frankly, it can be hard to believe that it's the same man behind them. Let It Fall is thoughtful, relatively sensitive, and remarkably even-handed, threading a wide assortment of character studies into a sweeping revisiting of a citywide tragedy. The documentary allows even the most "indiscriminately violent" of the rioters—to use Ridley's 2006 phrasing—to tell their story with depth and to lay out the painful social and political circumstances that led to such profound unrest. Ridley gives time and space to disgraced officers, to relatives of deceased victims, and even, perhaps most generously, to "blacktivists."
A 20-year veteran of television with several novels and a stage play under his belt, Ridley is in the midst of a late-career breakthrough. In addition to Let It Fall, his Emmy-winning anthology American Crime is having its strongest season yet, and his limited series Guerrilla—about the British black power movement—debuted Sunday on Showtime, in a prime slot for Emmys consideration. In just the past week, he's announced two more projects: No Place Safe, an FX series with Regina King, and Needle in a Timestack, a theatrical feature for Miramax.

Ridley is exploiting the creative opportunities of Peak TV at a level few can match. American Crime has emerged as the most aesthetically ambitious series on a broadcast network. Let It Fall, also made for broadcast, has scored a theatrical release (April 21)—a first for an ABC News doc. (The release of the longer, nearly two-and-a-half–hour theatrical cut is an almost certain precursor to an Oscar campaign.) And Guerrilla is kicking off a major push into limited series programming for Showtime, which has previously avoided the form. Ridley has proven impressively prolific, serving up quality television that's expanding on conversations about the role of race in politics, past and present.
Ridley has been prolific in another area as well—causing public controversy. He was chastised by his Writers Guild of America peers in 2008 when he effectively crossed a picket line by going "Fi-Core"— the most notable guild member to do so—and was "iced out to the point of rudeness" by Steve McQueen when he refused to share writing credit on the 12 Years a Slave screenplay, for which Ridley alone won an Oscar. (He was on the losing end of a similar battle with David O. Russell over the script for Three Kings more than a decade before that.) When episodes of Guerrilla had their first showings in the U.K., Ridley was accused of contributing to "the erasure of black women" by casting the Indian actress Freida Pinto in the lead role, and he found himself on the defensive again. "I'm sorry, I cannot entertain a dialogue about whether the lead character in this show should be black or Asian," he indignantly asserted at the show's premiere. "The lead character in this show should be a strong woman of color." That response only added fuel to the backlash fire. And none of this, of course, even takes into account that inflammatory Esquire essay or its fallout.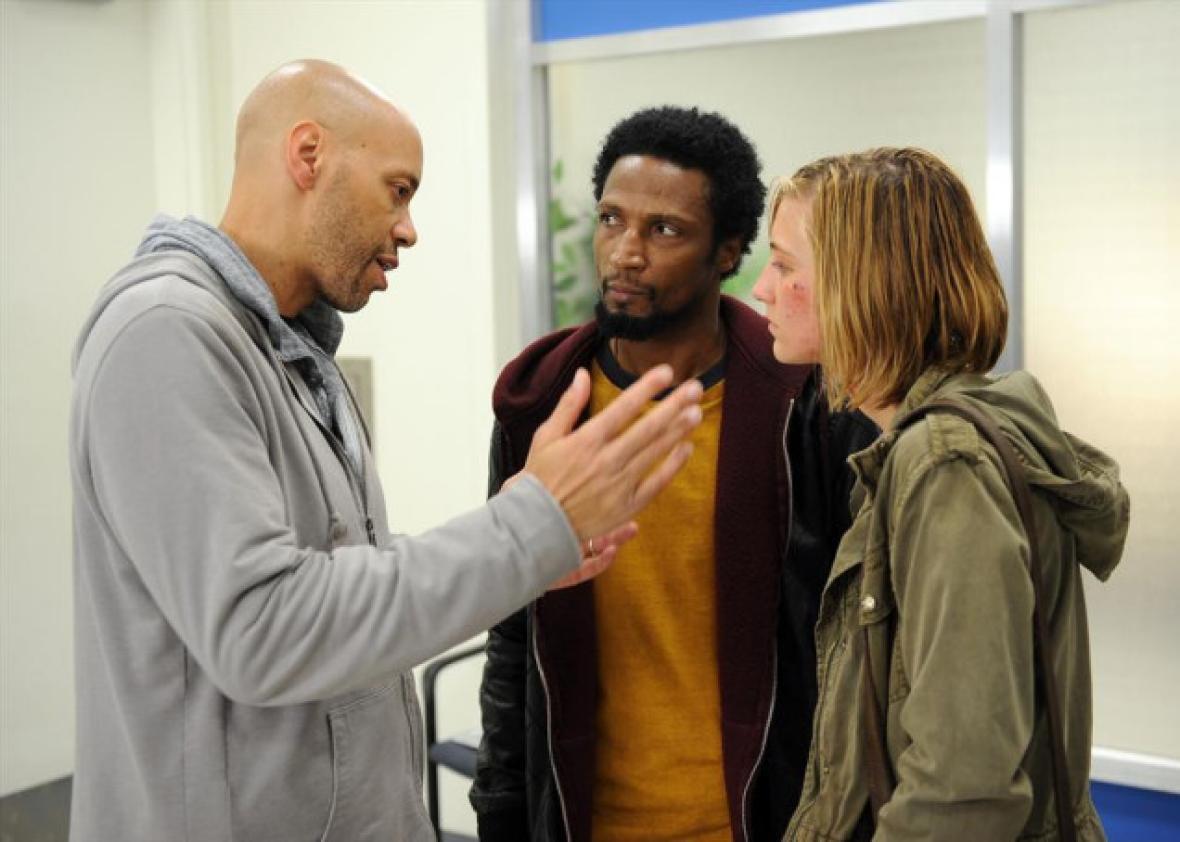 Going back to his early days as a stand-up comedian, Ridley has a long history as a provocateur and seems compelled by the power of contradiction and surprise. This is true of the material he's drawn to as not only a public figure but as an artist—his scripts tend to use starting points that disrupt the conventional wisdom, the collective imagination. The catalyst of American Crime Season 2 is a male-on-male assault, deliberately chosen by Ridley for its discomfiting implications regarding masculinity and sexuality, which most of the show's ensemble can't begin to fathom. Its third season deconstructs conversations around the opioid epidemic, dictating with moral clarity their underlying racial dynamics. Ridley's flair for the exceptional asserts itself even in 12 Years a Slave, which finds a free black man captured and sold into slavery. Ridley finds emotional power in his characters' experiences of shock and bewilderment: Solomon Northup's (Chiwetel Ejiofor) increasingly futile recitation of "I'm a free man" in 12 Years; Terri Lacroix's (Regina King) insistence that "Boys don't do that to other boys" in American Crime.
Guerrilla, too, begins by dragging its characters into the unthinkable: By the end of the first hour, its peaceful protagonists have committed murder, smuggled an ally out of prison, and gone deep underground. The show juxtaposes a troubled love story with a harrowing political reality—an armed response to police brutality and state suppression, a turn to warfare as systemic discrimination remains entrenched. Ridley is motivated here, partly, by the contemporary resonance of a story about collective, multicultural action. But instead of romanticizing rebellion and glamorizing struggle, he meticulously traces how resistance can go awry.
Guerrilla could be seen as an extension of Ridley's "Manifesto" minus the vexing rhetoric, revealing the limits and consequences of "blacktivism." But if there's one thing that's true across Ridley's work, it's that he tells stories with sharp humanistic logic, taking a kaleidoscopic view of systems and people and practically instructing us not to judge. He satisfies the hunger for issue-driven storytelling, and Guerrilla fits into that pattern. For years, American Crime has explored dire corners of American life without introducing a bad guy; whether through a grieving parent or a private school administrator or a farm supervisor, it shows how self-interest—a necessary and inevitable driving force in times of despair—can breed prejudice, ignorance, and exploitation. This year, the show's look at rural America is narratively similar to The Wire in its careful but grand approach to decline. Ridley's directorial style, whether working in documentary or fictional filmmaking, brings you up close to subjects of all stripes before directing you to look them square in the eye. His stories are racially, ethnically, economically, and politically diverse; their timeliness is elevated by their artful and representational rigor.
It is telling, even gratifying, the way Ridley checks his contrarian impulses by taking a step back, allowing his characters and milieus to subtly direct the course of story. Let It Fall, like Guerrilla, takes a carefully neutral point of view on violent resistance. It acutely focuses on the victims of the riots, like the mother of a Korean man killed in the culmination of tension between two marginalized communities. But the documentary is in keeping with the more recent Ridley tradition of not ascribing blame, not telling a tale of heroes and villains, not prescribing any remedy. Rather, through the power of surprise—the initial shocks that energize American Crime, Guerrilla, and more—he thrusts us into states of empathy and understanding.
In his 2006 "Manifesto," Ridley wrote that "just as whites … don't travel their days worrying specifically about the well-being of hillbillies from Appalachia, we need to send niggers on their way." There's a striking disregard for nuance there, incompatible with his more recent work. Yet Ridley's goal of outreach is unchanged. He remains committed to grappling with those same questions. It's his methods of inquiry that are different. Ridley may never learn or care to escape controversy, may never retract or speak on that pungent piece which so offended and confounded. But through his art, anyway, Ridley is finding the messy, complicated, painful truth. And he's got a beautiful way of telling it.