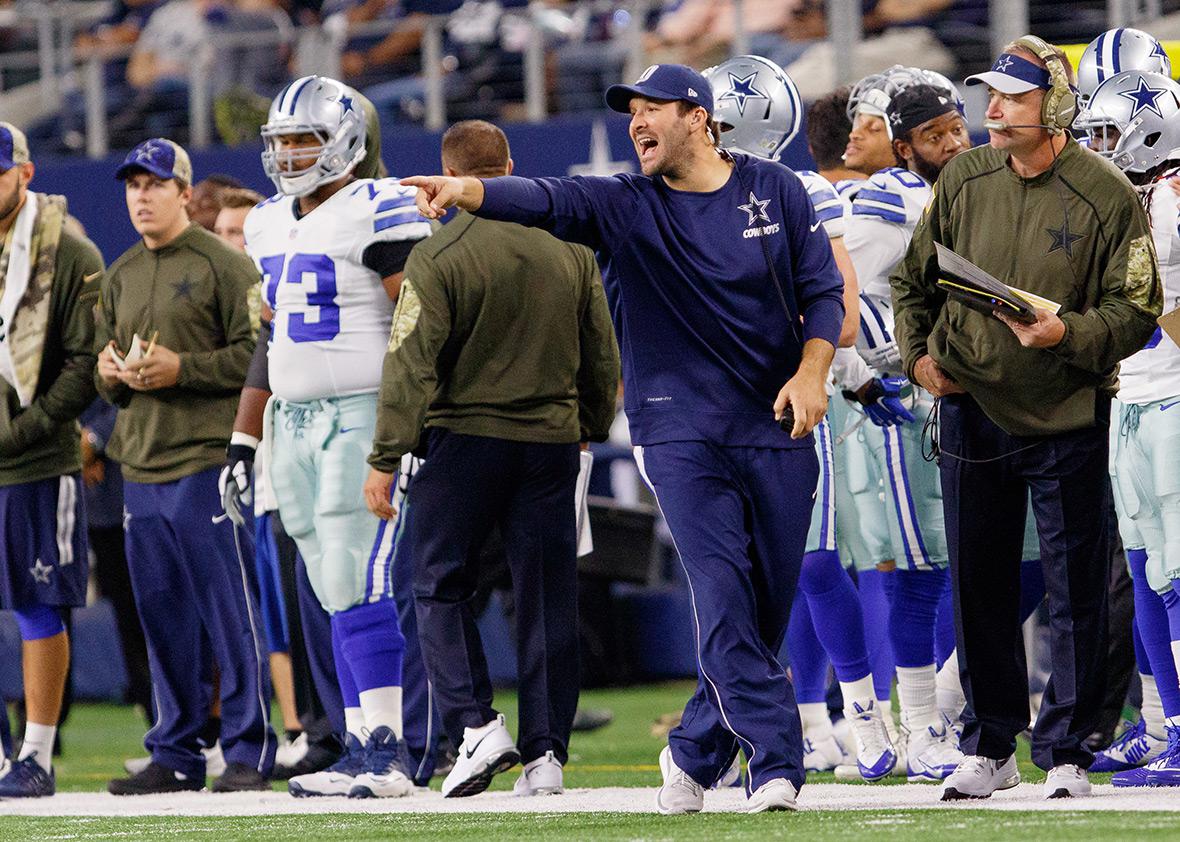 Were he to reflect upon his professional sports career from the standpoint of a trophy wife, Tony Romo could never complain of mistreatment from the consummate sugar daddy, Jerry Jones.
The billionaire Dallas Cowboys owner provided his quarterback with the ultimate playhouse, that oh-so-ostentatious Taj Mahal of the prairie that's called AT&T Stadium. He also stocked the pond with what many pundits insist is the biggest and most brutish offensive line in the annals of the National Football League, and he brought in a local radio analyst, Babe Laufenberg, to act as Romo's full-time apologist. In Babe's mind, no interception was ever Romo's fault—the receiver "didn't finish his route." While quarterbacks with names like Manning and Brady lit up the football field on Super Sunday, Romo busted his ass at the pro-am golf event at Pebble Beach. Jones never complained. Not publicly, at least.
Alas, all September-January relationships must come to an end. That day typically happens on or about the trophy's 35th birthday, whereupon he is replaced with a younger, sleeker, shinier version. Through no fault of his own, the 36-year-old Romo—tiptoeing to reach for the Super Bowl ring that seemed so near his grasp—got ousted by Dak Prescott, the new kid with the prettier smile.
If Romo didn't see this one coming, he should have. Now, instead of starting over in some less Taj Mahal–ish stadium, the Cowboys QB with the balky back is riding off to the CBS broadcast booth, where the only people who can hurt him are football fans with Twitter accounts. Meanwhile, those of us in Dallas are left to contemplate the ultimate nonending to a flamboyant and perpetually entertaining career.
By invoking the retirement option, the relentlessly cheerful Romo may have made it easier to maintain a selfless, take-one-for-the-team pose. But who knows, really? The undrafted nobody from someplace called Eastern Illinois—a place most people might have properly assumed was located at the bottom of a lake—never did let people in. "I think it burns Romo to no end that the Cowboys played so well last season and he didn't get to be a part of it," Kevin Sherrington, a sports columnist for the Dallas Morning News, told me. "I think he was dying to say, 'If you think what Dak did was impressive, you should have seen what I could have done with this team.' He'd think, and rightfully so, that the offense with him would have been far more sophisticated. I'd have guessed that Romo would have taken an opportunity in Houston or Denver to go and get the ring. But as for Tony, few people really know him. He's a closed shop."
Now the closed shop has locked its doors and hung a hand-lettered sign that reads, "Closed Until Further Notice—Like Forever." Romo's lasting playoff legacy will consist of a botched snap on a field goal at Seattle and a game-winning–turned–game-losing throw to Dez Bryant at Green Bay that got overturned by Roger Goodell's replay booth goons.
Despite the apparent unfairness of all that, Romo might now well be thinking, "Screw the ring. This is the happiest day of my life."
There are probably some cadavers at the University of Texas Southwestern Medical School that have been cut on fewer times than Tony Romo. With his back yielding relentless agonies, Romo often found sleep an elusive objective. Slightly beneath the polished surface of the swell day-to-day existence of the franchise QB—man, it must be nice to play that pro-am at Pebble Beach—is the pain of a career spent getting slammed to the turf. Romo, who's collected paychecks for more than a decade, is one of the lucky ones. In the NFL, you toe the line, pay the price, endure the sacrifices, and for what? To wake up one fine day to discover you've been traded to Buffalo.
It's hard to fault Romo's chosen career path, especially given that there's a fine tradition of trading a silver-and-blue helmet for a network blazer. Ex-Dallas quarterbacks tend to excel in the TV booth. Dandy Don Meredith, like Romo, retired from the game in what most observers felt was a premature gesture and he made out just fine.
ABC's Monday Night Football came to Dallas for the first time on Nov. 16, 1970. That night, the St. Louis Cardinals beat the Cowboys, 38–0. Late in the game, the Cotton Bowl crowd began to shout toward the press box, "We want Meredith! We want Meredith!"
Meredith was perfectly happy to stay where he was. "They're not going to get me back out there," he told Howard Cosell.
Troy Aikman, who picked up three of those cherished Super Bowl rings, has found a similarly comfortable sinecure working alongside Joe Buck at Fox. Aikman insists that he anguishes over the prospect of making an on-the-air miscue. But at least he can still remember his name the morning after.
So now, in Dallas, it's goodbye Tony and hello Dak. While the 23-year-old Prescott may not realize it yet, he too will be replaced by a newer and sexier model before he thinks he's done. A potential candidate might well have been on display last December at AT&T Stadium during the Texas high school state championship game. The winning team was quarterbacked by a kid named John Stephen Jones—Jerry Jones' grandson. If grandpa lives long enough, he'll push aside his own kin, too, as soon as the time is right.
---