Lizzie Post has the sort of table manners that, like all the best manners, call no attention to themselves. When she eats mussels, she neatly extracts the meat with a fork before placing the shells in the bowl provided. Her own parents, she assured me, heartily endorse the practice of soaking up the broth with your bread. "Break it, drop it, and sop it!" she advised (although be sure to use your fork for the last bit). After five minutes at the table with Lizzie, 35, and her cousin, Daniel Post Senning, 39, I'd lost the secret anxiety I harbored when I first sat down beside the heirs to the Emily Post empire. "We go to dinner with people," Dan said with a sigh, as if reading my mind, "and they say 'Oh, I'm so nervous,' and we're thinking, 'How do you think I feel?' " Dining with people who worry that their own table manners are being judged pains Dan and Lizzie, the great-great-grandchildren of the most celebrated etiquette authority of the modern age. As they prefer to see it these days, good manners are about making your companions feel comfortable.
The mussels that evening were locally sourced, from Lake Champlain in Vermont, where much of the Post clan has lived since the 1970s. It's a long way from the East 79th Street apartment where Emily Post ran the operation before her death in 1960—and even further from the upper crust of Manhattan society that Emily described in the very first edition of Etiquette in Society, in Business, in Politics, and at Home, published in 1922. That first edition evokes a social world about as relatable to the modern reader as Downton Abbey. It assumes that any woman following its code must be the employer of numerous servants, ranging from a butler to a lady's maid and footman. Emily dictates, in no small detail, such minutiae as the proper cadence to be used when making an introduction ("The more important name is said with a slightly rising inflection, the secondary as a mere statement of fact"). Some of the first edition's strictures observe a standard of respectability that verges on the absurd: A mother introducing her daughter to a young man should not, for example, tell him the girl's name. "The daughter's name is omitted because it is extremely bad taste (except in the South) to call her daughter 'Miss Mary' to any one but a servant, and on the other hand she should not present a young man to 'Mary.' The young man can easily find out her name afterward."
On Tuesday, HarperCollins will publish the 19th edition of that book: Emily Post's Etiquette: Manners for Today, a considerably revised version of earlier volumes written—in the years after Emily's death—by Lizzie and Dan's grandmother, Elizabeth; their aunt, Peggy Post; and Lizzie's sister, Anna. The first new edition in six years and the first in which the two cousins are credited as the sole authors, it includes updated chapters on social media ("It is definitely okay to actively unfriend someone you no longer feel comfortable being connected with") and smartphones ("Don't be upset if your text doesn't get an immediate response"), and even a section on etiquette in online gaming ("Good-natured trash-talking, cheering and even jeering can be okay if they're in line with good sportsmanship and the character of the site").
"Emily Post" still conjures up images of persnickety debutantes in twinsets and pearls. But Lizzie and Dan are as far from that mold as you could imagine. Like most denizens of Burlington, they have more than a little hippie in them. He studied mime in Paris; she drives around town with her border collie, Benny, on the passenger side and has the fur-coated seat cover to prove it. He resembles a less beaky version of the young John Updike; she is a tall, ebullient woman with a honey-blond mane. "I don't like being pegged with the image a lot of people associate with etiquette," Lizzie said, an image she sums up as "Stepford wives." Yet, here they are in 2017, charged with the task of shepherding the Post brand into a cultural moment that can seem downright hostile to the very idea of good manners.
* * *
Lizzie greeted me in the Emily Post Institute's offices in Burlington last month in an embroidered peasant tunic, with Benny by her side—he accompanies her to work every day. Dan offered me a tour. The institute, despite its imposing name, rents a small suite of cozy offices in a former schoolhouse in a residential Burlington neighborhood. Founded in 1946 by Emily and her son Ned, the institute, among other things, now serves as a speaker's bureau for Post family members, provides training workshops and seminars to corporate clients, and produces podcasts and web videos.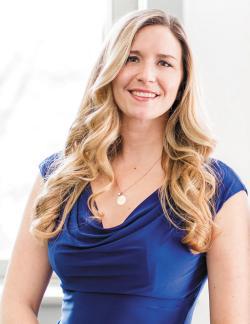 Framed covers of dozens of Post-authored books (Emily Post's Wedding Parties, Emily Post's Table Manners for Kids) line the exposed brick walls. Dan ushered me into a room that has been converted into a makeshift video studio, complete with a green screen. In front of the screen, a petite table covered by a white cloth displayed a single model place setting for a formal dinner party. It will star in a forthcoming video that's part of a new Post initiative: e-learning, educational shorts illustrating just the kinds of things people have always turned to Emily Post's Etiquette to learn, such as how to lay out your table for a fancy dinner and which utensil to use when you sit down to eat.
Some of the obstacles facing the Post empire are familiar ones for a publishing business trying to adapt in the digital age. "Book royalties have been declining for years," Dan explained, a complaint familiar to any author or publisher of reference books in the age of Google. Good Housekeeping recently discontinued the Emily Post–branded column it ran for 45 years. Information on wedding planning and funeral procedures, mainstays of the Emily Post brand, is now readily accessible to anyone with Wi-Fi; significant competitors include Brides.com and the Knot. For-pay streaming videos and corporate presentations promise a more reliable revenue stream. Dan hovered over the table for a moment, eyeing the place setting. "Talk about branding ambitions: Try to find a contemporary tableware set that has a salad knife," he said. "We have some old family silver that does, but it's too ornate for this shoot. I'd like to see Emily Post–branded tableware some day." Across a whiteboard in Dan's own office, the question was scrawled: "Where will the money come from?"
But there's also the challenge of promoting etiquette at this particular moment in American history—a time when jeering, insults, and other forms of impoliteness emanate in a steady stream from the highest office in the land. "It's not easy," Dan said, wincing. They both expressed exasperation at having to regularly field requests to comment on the disintegration of manners in the White House. Lizzie in particular resists the public's desire to rope her into the role of finger wagger–in-chief. "I don't need to comment on Kellyanne having her feet up on the couch," she said. "Etiquette is not something we use to judge other people, but something we use to better ourselves." (It was pretty clear what she thought of Conway's behavior anyway.) It can sometimes feel like they're fighting against a public that expects them to be the old-timey schoolmarms of manners even as it derides them for it. "Every now and again," Lizzie said, "someone calls the institute, and you just know they are going to run right back to the other person and say, 'I called the Emily Post Institute, and they said this.' We try very hard to never answer questions in a way that would allow them to go do that."
The early days of Emily Post were in some ways a simpler era. On the way back to the conference table, where the Posts had assembled a pile of old family albums in cracked leather bindings, we passed an oil painting of a beautiful young woman dressed in the peak of Gilded Age fashion. "That's Emily," Lizzie said. "That's where it all started."
* * *
Emily Post, former high-society debutante who divorced her husband after a blackmail trial revealed that he'd been keeping a mistress in a Connecticut apartment, always wanted to be a writer. She started out with romantic novels, and when those flopped, she turned to articles for women's magazines. In 1915, she wrote a travelogue, By Motor to the Golden Gate, about driving cross-country with her son Ned. Dan, who admires this little-known, adventurous side of his great-great-grandmother, showed me the scrapbook Emily made about her travels. A photograph taken with some old friends Emily met up with in the Midwest reveals her in early middle age, dressed like Margaret Dumont playing a dowager in an old Hollywood movie. She brought her social secretary along for the trip.
On the threshold of the Roaring '20s, a publisher approached Emily with the idea of writing an etiquette guide. She intended it to be a fresh, simplified, sensible update to the elaborate high-society protocol manuals from earlier in the century, something to suit a less formal era. Despite this vaguely democratic intention, the book had a voyeuristic appeal. Etiquette in Society, in Business, in Politics, and at Home owed much of its success to Emily Post's use of punchy anecdotes in which characters with such invented names as the Worldlys, the Oldnames, or the Toploftys dealt with such etiquette challenges as how to avoid "picking up" unwanted acquaintances while traveling by ocean liner. (Have all your meals served in your private cabin, of course.) The book's dedication revealed that these figures were Emily's friends, "veiled in fictional disguise," so that in addition to its helpful tips on how to handle the elaborate cutlery at a banquet, Etiquette offered its middle-class readers what amounted to a mild form of high-society gossip.
In an economic boom time, at a moment of unprecedented immigration and social mobility, the 1922 edition of Etiquette promised its readers that they could learn to fit in among intimidating elites, or just emulate the American upper crust within their own circles. When the newlywed Joan Holloway on Mad Men throws her first fancy dinner party for her husband's boss, she consults Emily Post to make the seating arrangement (and the series itself consulted Dan to get the period-correct protocol). "I won't have their wives think you have a wife who doesn't know how to set a table," Joan said.
The success of Etiquette surprised everyone, but Emily Post was as much a journalist as she was a socialite, and she soon adapted her approach to meet the needs of a broad middle-class readership. She created a new character, Mrs. Three-in-One, who served as her own cook, and maid, as well as hostess. She thought cannily about how to merchandise her brand. Lizzie fished a faded box from among the piles of old books and albums heaped on the Emily Post Institute's conference table and handed it to me. It was labeled the "Emily Post Friendship Kit." Inside there was a book where birthdays, relatives' names, and other important details could be recorded and a set of notecards to send out on various occasions.
Emily had two sons, one of whom died young, and the survivor, Ned, while doting, had no interest in following in her footsteps. But one of her grandsons married a woman, Elizabeth Post, who did. Elizabeth is Lizzie and Dan's grandmother; they call her "Mud." Mud ran the Emily Post Institute as a one-woman business for decades, even as the cultural landscape changed drastically around her. (It was only with great reluctance that she accepted the rise of fill-in-the-blank wedding response cards instead of the once-obligatory handwritten answer.) In the mid-'90s, when Mud announced her retirement. Peter Post, Lizzie's father, took over. By then, much of the family had moved to Vermont, far from the haunts of Manhattan elites. And it's hard to imagine two more improbable etiquette gurus than Lizzie and Dan.
* * *
Daniel Post Senning spent his 20s in Southern California, performing as a modern dancer and founding a "guerrilla" organic farm. He talks about "embodied practice" and taught contact improvisation in China as a guest of the Beijing Modern Dance Company. He lived, for several years, in a trailer Lizzie describes as "about the size of this table." While showing me around the institute's offices, Dan handed me a photo of one of his performances. It featured a group of dancers in flame-colored gauze lifting their arms to the heavens while a muscly Dan executes a maneuver with a black metal folding chair. He sometimes sounds wistful when recalling his artsy years.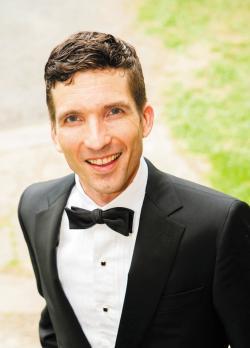 But when he was about to turn 30, he returned to the fold. "I said to myself, 'I'm ready to make a change, but I'm not going to try to direct it too much. I'll look for signs, see what starts to emerge if I open myself up to possibilities." Within a week, an email circulated among the extended Post clan announcing an entry-level admin position at the institute. (Post family members get first shot at any new opening.)
Lizzie, meanwhile, joined the business right out of school. The painful self-doubt she has felt about this belies her confident exterior. "I have never had a corporate job outside of my family company," she confessed. "I feel like everyone is just going to claim nepotism and pat my little head." She wonders if her job hasn't been a drag on her personal life. "Hey, I'm still single," she said with a laugh. "You try dating and saying to someone, 'I'm an etiquette expert.' "
It was Peter Post and his sister-in-law, Peggy, who first realized that if the Emily Post brand was going to survive in the post-counterculture era, it would need a major revamp. Above all, the Posts would need to persuade themselves that etiquette amounted to something more than the niceties that distinguished the members of what Emily called "best society" from the unmannered riff-raff. Their version of etiquette would have to be more idealistic. In 1994, the family, along with its publisher, HarperCollins, commissioned a brand survey. They hammered down the Post philosophy to three "core principles," a formula that could be applied to any sticky situation no matter what social changes rock the world: consideration, respect, and honesty. It was also a framework that cast etiquette as a moral enterprise.
But it's Lizzie and Dan who have had to think through how the Post brand should operationalize those principles in the fraught, fractured landscape of today. Peter is now semiretired; Dan and Lizzie were named co-presidents of the institute in December. They're the fifth Post generation to lead their family business since Emily's Etiquette spent those first, remarkable 18 months on the best-seller list that made her a household name. They both fortify themselves by conceiving of etiquette not as a stodgy set of protocols but as, in Dan's words, "a combination of manners and principles." And they've worked to update that "consideration, respect, honesty" credo to apply to a far wider swath of Americans. For the current edition, they opted to emphasize "diversity, equity, and inclusion." Sections of the new book describe major Jewish and Muslim holidays and how members of those faiths observe them. This issue has personal resonance for Dan. In 2015, he married Puja Gupta, a mental health counselor, in a joint Hindu and Christian ceremony, and they recently welcomed their first child, a daughter. The new book tackles questions like how to respond when someone mangles the pronunciation of your last name or when it's appropriate to ask, "Where are you from?"
After dinner, outside their favorite local restaurant in a converted farmhouse just outside Burlington, Lizzie paused to check a message on her smartphone. She was ironing out a malfunction in the serving of advertisements to the podcast she has co-hosted with Dan since 2014. Awesome Etiquette tackles such listener questions as how germaphobes can politely decline to shake the hands of unkempt business contacts (they can't, at least not politely, and should resign themselves to washing up afterward) and chestnuts like the best way to get acquainted with new neighbors. Instead of just communicating through hefty tomes, Lizzie said, "We can communicate changes just as soon as they happen." When "Mx" was accepted in the Oxford dictionary as a gender-neutral honorific, Lizzie and Dan discussed it immediately on the podcast.
"No, no!" Lizzie cried as I climbed into the passenger seat of her car. "I have a secret method!" I got back out so that she could roll up the detachable seat cover, tuck it into the gap between the cushions, and present me with a car seat purged of Benny's accumulated hair.
On the long drive back to town, she told me about a vacation she'd taken on her 30th birthday, to a working cattle ranch in Colorado. Much to her delight, at the end of the trip, she was offered a job in the ranch's administration offices, a tribute that, for once, had absolutely nothing to do with her family name. That job didn't work out—too office-bound for her tastes—but she had never seen her father so proud of her. She pulled out her phone to show me a photo of her grinning in front of a vast, unbroken horizon, a cowboy hat jammed over her wind-scrambled hair.
For now, there are podcasts to record, software glitches to iron out, seminars to teach, fine china to arrange in front of green screens, a book full of newly forged etiquette norms to promote. But both Lizzie and Dan hold out hope that the family business won't dominate their working lives forever. "You ask me what I would be doing if I weren't doing this," Lizzie said. "Well, I'd want to be a rancher's wife." Dan, meanwhile, dreams of opening up a dance studio in Burlington, maybe in his 50s. Who knows? That might still happen. After all, Emily herself was 50 when, having given up on writing fiction, she wrote a manual that set out to reduce the whole world of upper-class etiquette to a "few simple rules."