This post originally appeared in Genius Recipes from Food52.
If pho is largely defined by its meaty origins—an otherworldly broth sprung from unwanted bones and off-cuts—then how on earth do you make pho without meat at all?
Cookbook author Andrea Nguyen's answer was to do it with plenty of care and respect for tradition—and a totally nontraditional, equally resourceful surprise ingredient.
As Nguyen explains in her new book, The Pho Cookbook, the earliest phos in Northern Vietnam were beef—likely born as a clever use for the bones and scraps left behind from French occupiers' demand for steaks. Even the introduction in 1939 of chicken pho was resisted by purists. (What these purists would have thought of "chicken" pho we can't know for sure.)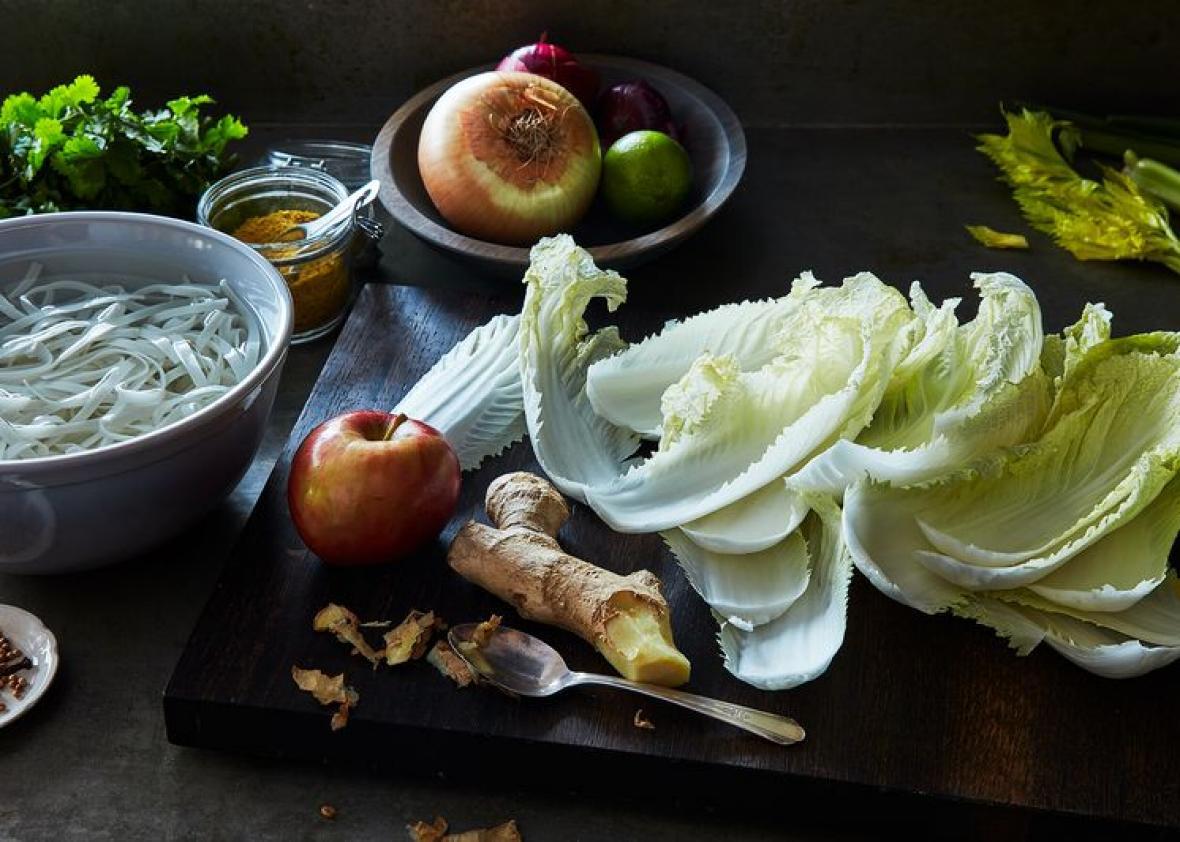 But Nguyen isn't preoccupied with purity. As she wrote for NPR last year, "I'm glad that this soup that forms such a rich part of my cultural identity is gaining new fans, and I welcome all into the kitchen to cook it."
In her new book, Nguyen has developed a best-case pho method for pretty much anyone, while still respecting the history of pho as it's moved through the world: There are quick recipes using store-bought stock, fast-scratch versions in the pressure cooker, along with long-simmered paeans to tradition—and not one but three thoughtful vegan broths.
This one, her "chicken" pho, has a precisely tuned broth—starting with the essential toasted spices and singed onions and ginger and then a pile of vegetables (and fruit!) in delicate balance.
And there's a secret ingredient to bring it all home: nutritional yeast—lovingly called "nooch," it's the vegan answer to giving everything from popcorn to cashew ricotta a salty slug of umami. This is what makes the vegetable-based broth skew toward "chicken." But because just shaking in the nooch would create a cloudy broth, Nguyen dilutes it first in hot water, lets the particles settle, then pours off the clear, golden liquid, like clarified butter. "Discard the khaki sludge," she says.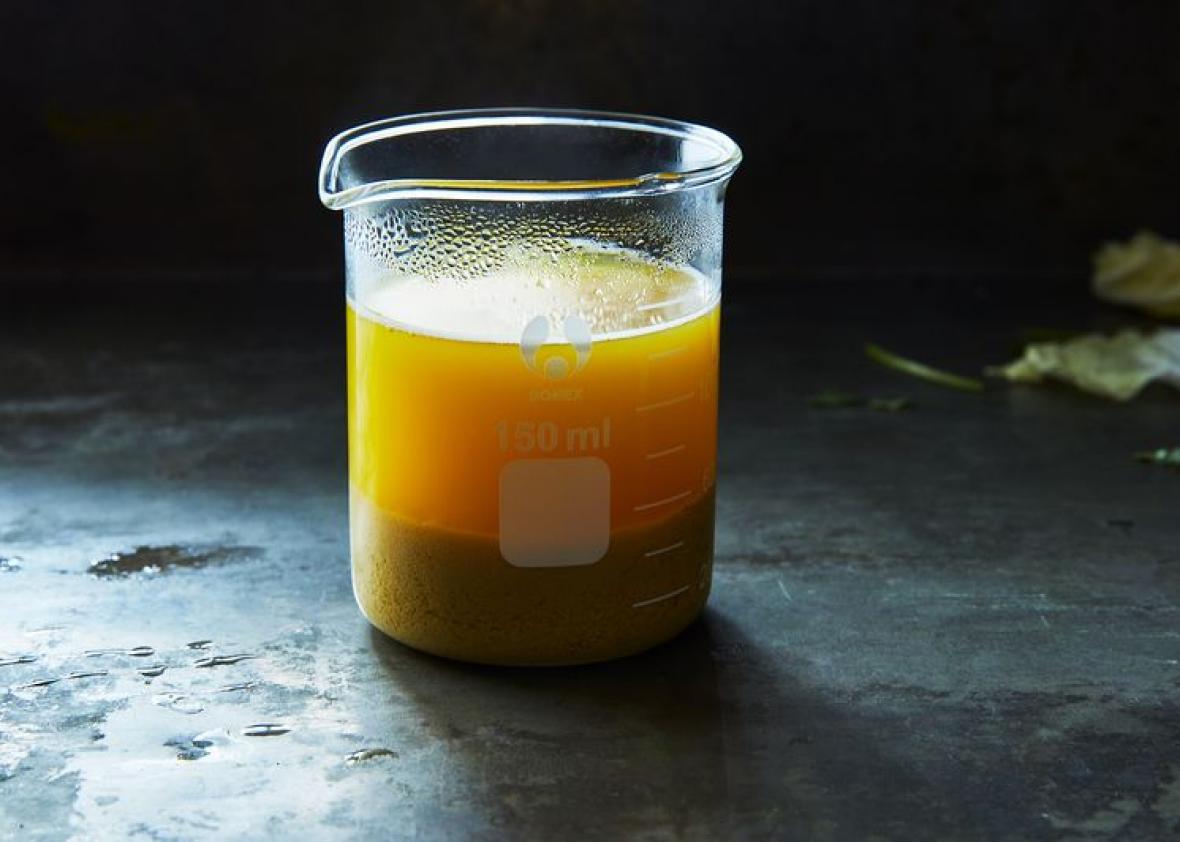 Nguyen meticulously recreated the characteristics that make other pho broths swirl with that delicate teeter-totter of deep comfort and sweet spice—but that doesn't make it fragile. You could take these techniques, particularly that nooch trick, and apply them to other vegetable broths.
When Nguyen wants the version of pho she knows to be the best and most true to her memory, she still goes all the way, simmering beef bones and charred aromatics for hours—because there isn't a perfect one-to-one replacement. But in this book, she's opened up a world of well-thought-out alternative paths that can be appreciated for their own merits, to bring the strength and calm of pho into more kitchens and more bellies.
Andrea Nguyen's Vegan "Chicken" Pho
Serves 4
Broth
1 whole clove
1 brimming teaspoon coriander seeds
Chubby 1-inch (2.5 cm) section ginger, peeled, thickly sliced, and bruised
1 medium-large (9 oz/270 g) yellow onion, halved and thickly sliced
7 cups (1.75 l) cold water
1 small (4 oz/115 g) Fuji apple, peeled, cored, and cut into thumbnail-size chunks
2 medium celery stalks (4 oz/115 g total), coarsely chopped
1 large (6 oz/180 g) carrot, cut into thick rounds (scrub and use unpeeled, if you like)
1 pound (450 g) napa cabbage leaves, halved lengthwise then cut crosswise into large pieces
1 cup (0.9 oz | 25 g) coarsely chopped cilantro sprigs
2 teaspoons fine sea salt, plus more as needed
2 1/2 tablespoons nutritional yeast powder or 3 1/2 tablespoons nutritional yeast flakes (0.5 oz/15 g total)
2/3 cup (150 ml) hot water
About 1 teaspoon organic sugar, or 2 teaspoons maple syrup (optional)
Phở Bowls
1 (14 oz/420 g) block extra-firm tofu
1 tablespoon regular soy sauce
About 1 tablespoon canola or other neutral oil
10 ounces (300 g) dried narrow flat rice noodles
1/2 small (2 oz | 60 g) yellow or red onion, thinly sliced against the grain and soaked in water for 10 minutes
2 thinly sliced green onions, green parts only
1/4 cup (0.2 oz/5 g) chopped fresh cilantro, leafy tops only
Pepper (optional)
Garnishes like bean sprouts, sprigs of mint, Thai basil, lime wedges, sliced fresh hot chiles
See the full recipe on Food52.
More from Food52:
Yes, I'm Making My Own Pig's Ear Dog Treats. Here's Why. 
Nine Recipes Based on Nine of This Year's Oscar-Nominated Films
How to Meatloaf … Anything! 
The Tragicomedy of a Doomed Recipe One Baker Just Couldn't Quit
Hello? Is That You, Deep-Dish Pizza? 
Behold the Magical, Money-Saving Powers of Sam's Club