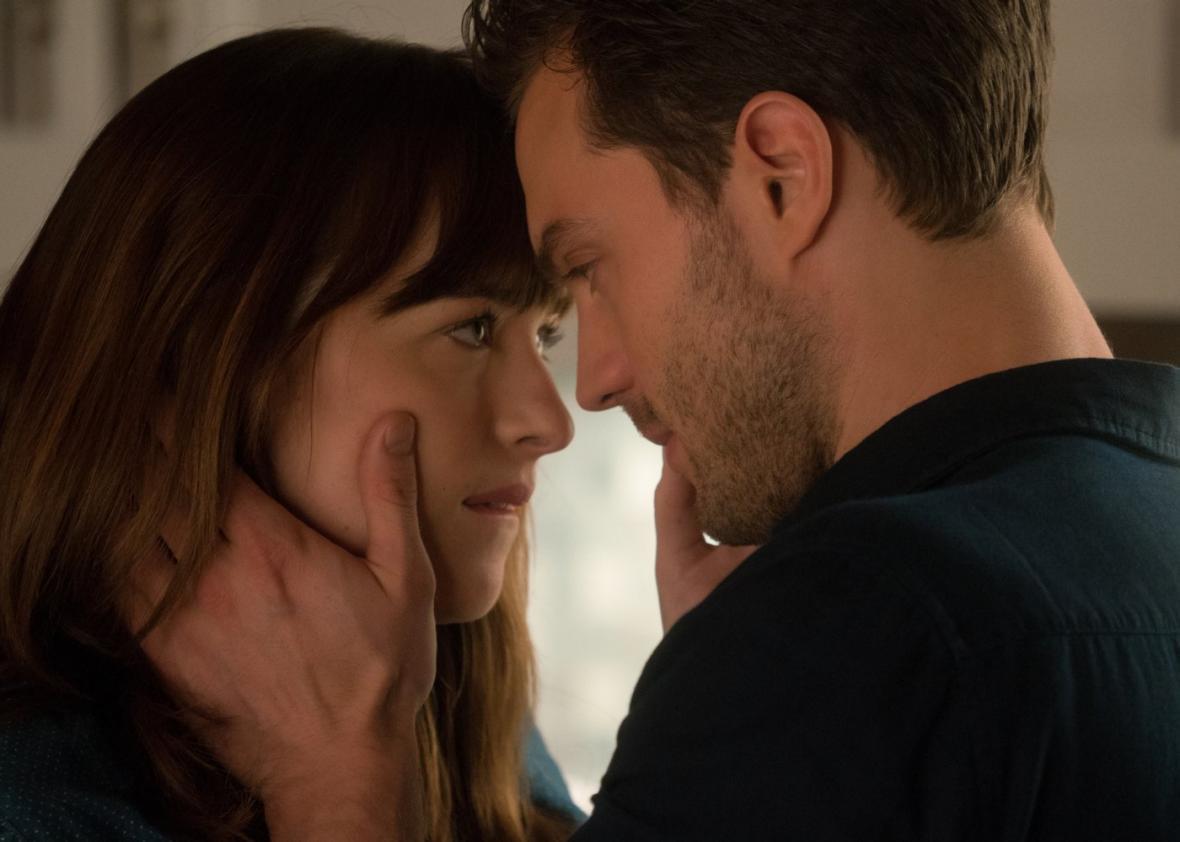 Midway through Fifty Shades Darker, heroine Anastasia Steele (Dakota Johnson) and her brooding beau Christian Grey (Jamie Dornan) slip away from an elaborate masquerade ball at Christian's home to faire la bête à deux dos in his childhood bedroom. Later on, they lounge on Christian's bed, talking about his difficult past, or his relationship with his mom, or something—I really don't remember, because at the screening I attended, the entire conversation was drowned out by peals of laughter. You see, as Christian and Ana bask in the afterglow of some of their "kinky fuckery," looming over Christian's shoulder, you can clearly make out what is surely the greatest prop in the entire movie: a framed Chronicles of Riddick poster, hanging right there for the world to see, on Christian's wall.
Riddick isn't the only poster up to grace those walls—one for the Ultimate Fighting Championship is also prominently displayed—but boy oh boy was it the one that caught audiences' attention:
It's hard to imagine Christian Grey, who spends his days doing Important Business Things and his nights tying up women for his sexual gratification, being a fan of the inarguably dorky Vin Diesel sci-fi franchise that spans three movies, a straight-to-DVD sequel, video games, novelizations, and more. Blessedly, Fox 5 reporter Kevin McCarthy had both the foresight and keen journalistic instincts to ask Jamie Dornan about his character's Riddick poster in an interview for the film, and it turns out Dornan personally approved the decision:
There was sort of a limited discussion with the art department about what would be up there, and they ran some stuff by me and some stuff I just thought would be kind of funny to get up there. It's also a film that was made by Universal and the timing was right, so that sort of played into it a little bit as well.
Christian is 27 in Fifty Shades Darker, which means he would have been around 10 years old when the first installment, Pitch Black, was released and that his teenage years would perfectly align with peak Riddick. And so, let it be known by all that Christian Grey—gazillionaire, sexual sadist, helicopter pilot, and the man singlehandedly keeping gray-tie manufacturers in business—is also, canonically, a huge nerd.