This post originally appeared in Genius Recipes from Food52.
When you call Dorie Greenspan to say you're coming over, this is what she bakes. "It takes longer to preheat the oven than to put these cookies together," she wrote to me. "I love them for a million reasons, but chiefly because they're a simple pleasure that can be shared on the spur of the moment."
Dorie learned the recipe from Martine Collet, one of her oldest friends in Paris, and couldn't quite believe it. There are only three ingredients: egg, almond, and sugar, simply stirred together—and in very uncookielike fashion, no flour or butter.
It's not entirely clear how these three ingredients become a cookie, but between the handy glue of egg and sugar, the architectural advantages of sliced almonds, and the crispability of all of the above, they do. "It's a miracle of a recipe in that it's delicious, of course; beautiful, in a higgledy-piggledy never-perfect way; and a snap to make," Dorie says.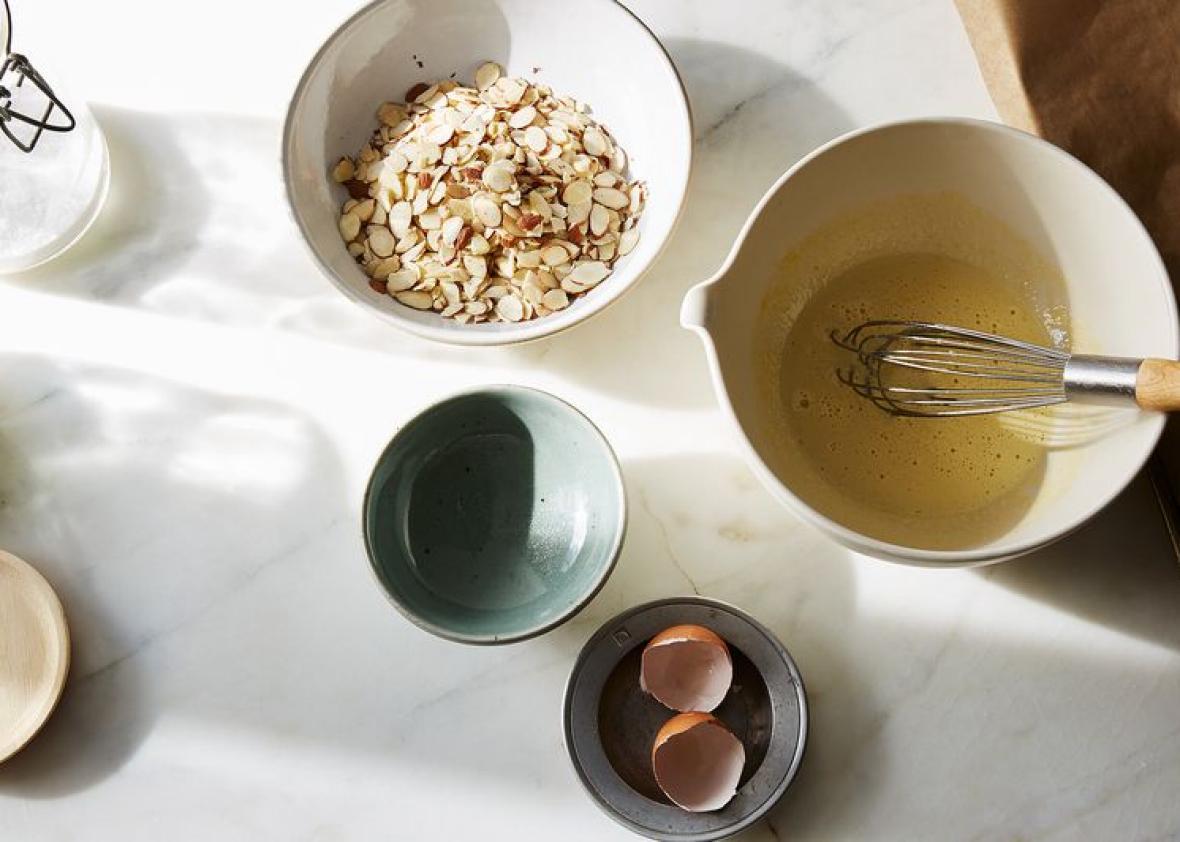 But beyond the fact that this exercise in minimalism just happens to work, it tastes like so much more than just these three ingredients and this carefree technique; there are warm, toasty caramel notes and a sweet vanillalike scent.
There's a wild array of textures: the shattering, airy crunch of meringue at the edges and the softer one of toasted almonds with rolling bubbles and pockets skittering across the surface. They're more relaxed than a Florentine, more lightweight than a brittle. And they're altogether really lovely over a cup of coffee with an old friend.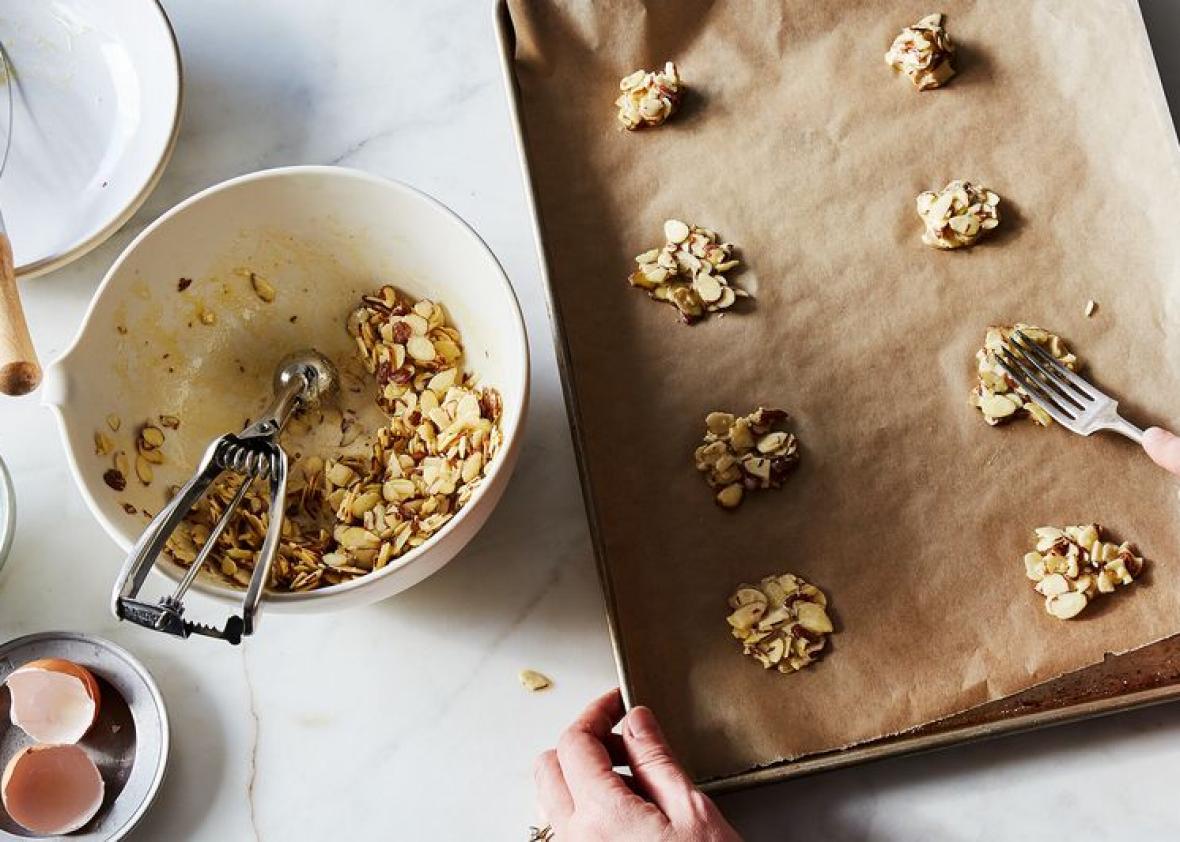 Beyond this come on over! scenario, Dorie also recommends these first for someone who's never baked before. "They're an easy treat for anyone to share in an act of #cookiesandkindness. And who doesn't love—and need—a lot of cookies and a little kindness now?"
Once cooled, I've found they also travel and store extremely well (if it's not too humid, that is); I'm still taste-testing the last of a big batch I baked three weeks ago, just to explore their magical powers further. So bake and share them freely, with your Valentine, your office, your kids' teachers, your mail carrier, your barista, your dentist.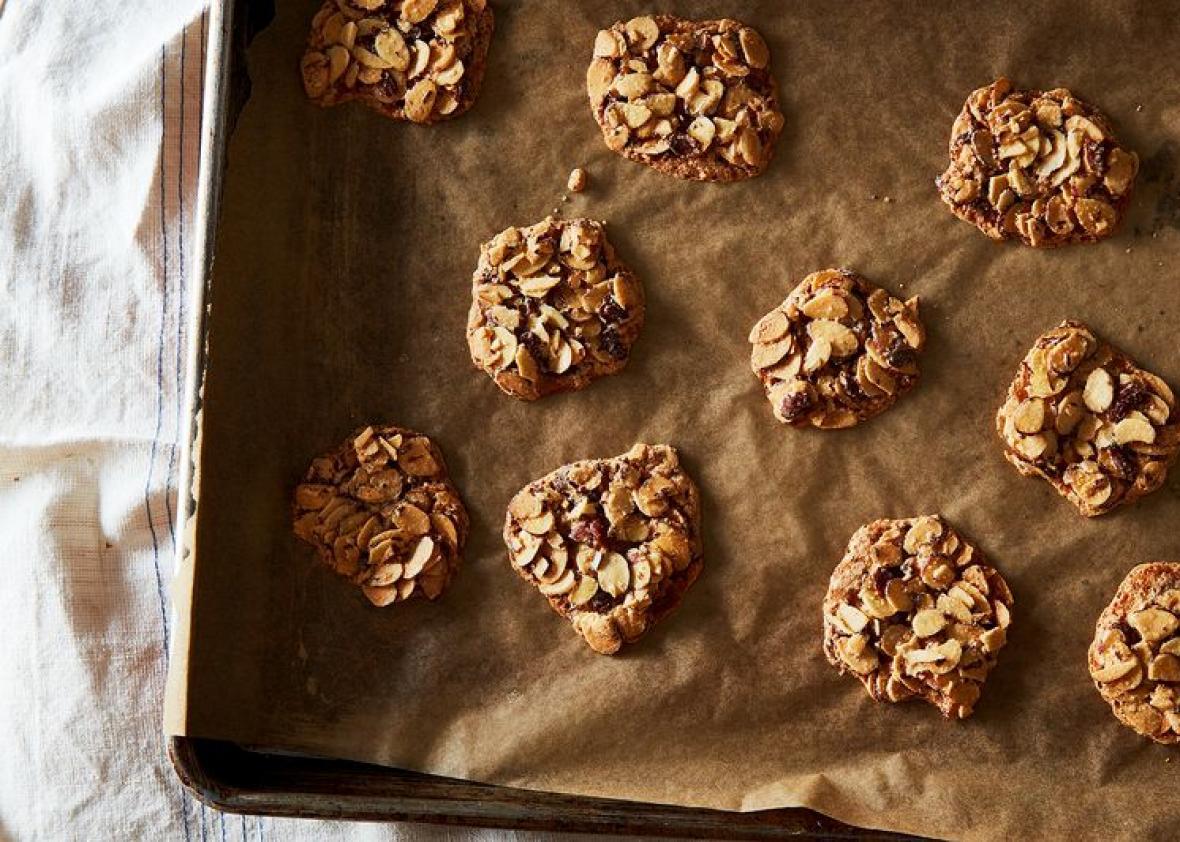 Oh and here's a little tip, whether you're an old fan of Dorie's or a new one: If you want the next 34 minutes of your day to be immediately brighter, go watch Dorie talk cookies on our Facebook Live. Bookmark it. But first, turn on your oven, and get out the almonds, eggs, and sugar. And call a friend.
Dorie Greenspan's Three-Ingredient Almond Crackle Cookies
Makes 20 cookies
6 tablespoons (75 grams) sugar
1 large egg
1 1/4 cups (125 grams) sliced almonds (blanched or unblanched)
See the full recipe on Food52.
More from Food52:
If What's on TV Bores You, At Least You'll Have These Cheese Dips 
40 Bright Recipes for Purple Produce Season (What Beige?) 
The One-Pot, One-Blender, One-Hour Vegan Comfort Food We've Made All Winter 
The Surprising, Unorthodox Ingredient for Loftier, Fluffier Biscuits 
Put a Cookie on Top of a Cream Puff And … 
How to Rid Your Stainless Steel of That Pesky Chalky Residue