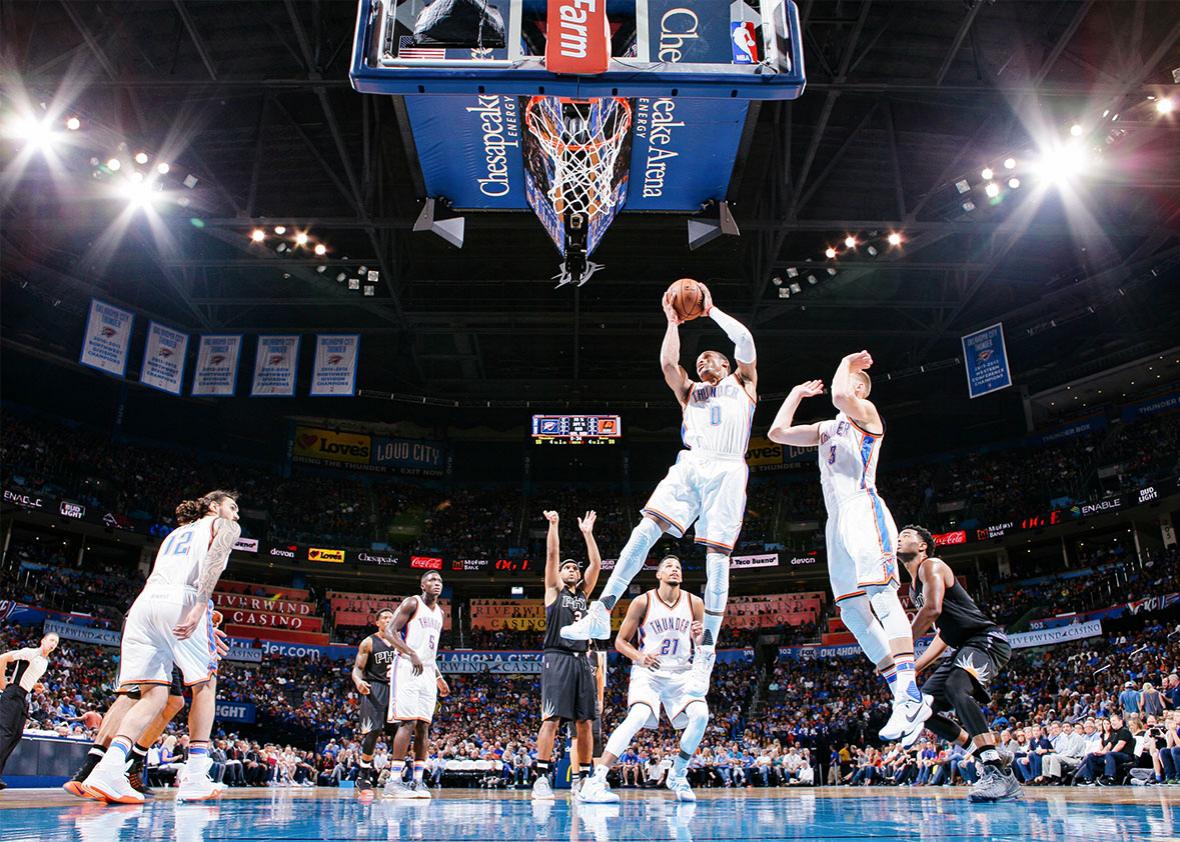 Russell Westbrook is having one of the most extraordinary seasons of all time. As the star player on an otherwise mediocre team, the Oklahoma City Thunder point guard has accrued an absurd collection of box score numbers. Some of those stats, though, are more absurd than others. Westbrook is averaging 30.8 points per game, which is very impressive, but plenty of guards (33, to be exact) have matched that kind of production over a full season. As the main distributor on his team, he's also piled up 10.2 assists per game. That figure is also spectacular, but far from unprecedented on its own. What makes Westbrook's season so extraordinary are his 10.6 rebounds per game. If he finishes the year with more than 10 boards per contest, he'll be one of only four guards to hit that mark. And if he finishes the year averaging double figures in points, assists, and rebounds, he'll match an achievement that's been accomplished only once before, by Oscar Robertson in the 1961–62 season.
Given the relative lack of talent around him, it would be hard to argue that Westbrook is hurting his team by averaging a triple-double. It is possible, though, that he's padding his stats, especially his rebounds. Those rebounds are the astounding part of Westbrook's season, the missing piece of the triple-double that guards almost never achieve. Rebounds require height, wingspan, and proximity to the basket, making them difficult for guards to haul in by comparison with their taller and more rim-adjacent counterparts. Westbrook, who is listed at 6-foot-3, defies that notion. He's taking in 17 percent of his team's available boards, the highest for a guard with more than 20 games played since 1971. (Next on the list: Wiley Peck of the 1979–80 San Antonio Spurs, at 15.6 percent).
It seems logical that Westbrook is grabbing more rebounds this season. Since Kevin Durant left, the Thunder has predictably fallen to sixth in the Western Conference, and Westbrook has had to play heroically to keep his team from dipping even further in the standings. But while one could imagine Westbrook making a heroic effort to supplement the rebounding abilities of his less-talented teammates, there's little evidence that's what's happening. According to play-by-play data, the Thunder scoops up just more than 1 percent more of the available rebounds when Westbrook is on the floor compared with when he's on the bench. Altogether, that amounts to an extra rebound or two per game when he's on the court, a margin similar to what he produced last year.
Westbrook isn't achieving his insane rebound totals at the expense of the Thunder's opponents. He's grabbing all those rebounds from his own teammates. As a Reddit user recently pointed out, most of the increase in Westbrook's rebounding this season comes on uncontested defensive rebounds—those for which no opposing player makes an attempt at the ball. Westbrook leads the league in that stat, coming in ahead of big men like Anthony Davis, Andre Drummond, DeAndre Jordan, and Hassan Whiteside.
If several Thunder players can grab the ball, why is Westbrook always the one who does? It may be a matter of scheme or coaching rather than selfishness. Whether they've been told to clear the runway for Westbrook or not, Westbrook's teammates are certainly on board. "We'd rather it be him [getting the rebound]," Steven Adams told ESPN's Royce Young earlier this year.
Might this be a smart strategic choice? Westbrook is an offensive dynamo, so getting the ball in his hands as quickly as possible could help create fast-break opportunities and open shots. The numbers, though, don't suggest that Westbrook's defensive boards are especially valuable. In general, we know that uncontested boards are worth about half as much to an NBA team as contested ones. With regard to Westbrook specifically, the Thunder averages 1.079 points per possession after he grabs a defensive rebound. When someone else on the team gets the rebound with Westbrook on the floor, the team gets 1.065 points per possession. That's a difference of a little more than 1 point per 100 possessions—small enough to be inconsequential. And if you look at other indexes of offensive success (like turnovers or shooting percentage), there is no ironclad statistical evidence that Westbrook grabbing the defensive board helps the Thunder offense in any way.
Then again, there's no sign that Westbrook's vulturing of all those uncontested rebounds harms the team, either. Westbrook, then, is stat padding in the sense that he's vacuuming up boards that might normally go to the team's big men. But it's with their permission, and it doesn't seem to be doing any damage—if anything, it seems to help the Thunder, albeit in an extremely minimal way.
In combination with his questionable defense and penchant for turnovers, Westbrook's insane stats present a quandary for MVP voters. They must weigh Westbrook's gaudy (if inflated) traditional accomplishments against his advanced numbers, which look much less glowing. (Westbrook ranks fourth in ESPN's Real Plus-Minus, for example, behind superior defenders Chris Paul, Kyle Lowry, and Jimmy Butler). If Westbrook does average a triple-double, that achievement will be very hard to ignore. But voters should recognize that, like many such accomplishments, such a feat will require a lot of skill, a little bit of luck, and some help from his teammates.
---