It would be easy either to despise pop star the Weeknd or to adore him for all the wrong reasons, if you took his drugging-dogging-and-showboating lyrical persona too seriously. Plenty of people do. And too often on his overextended new album Starboy, that includes the man behind the Weeknd, Toronto-born Abel Tesfaye himself.
By this time last year, the Weeknd had triumphantly expanded his domain to every day of the radio and streaming week, thanks in part to his hookup with the behind-the-scenes king of 21st-century pop, producer Max Martin. His singles set chart records, and that Jackson-esque thriller of a love song to cocaine, "Can't Feel My Face," got so culturally pervasive that Tom Cruise could be found numb-gumming it on The Tonight Show. Here and there on Starboy, the once-anonymous mixtape-making outsider ("it just seems like ni–as tryna sound like all my old shit" he observes) goes out of his way to mock the snuggles he's receiving from the mainstream. He sings on the opening title track that he's reveling in his wealth and luxury rides "just to hurt you." On "Reminder," he chides that "I am not a Teen Choice … I am not a bleach boy" (shots fired at fellow Canadian Justin Bieber), while defiantly pouring doses of codeine into the gold cups of his pop trophies.
In reality, the prompt delivery of Starboy, an 18-track follow-up to last year's Beauty Behind the Madness, confirms the impression he leaves in person, and in interviews, of a focused and ambitious young man whose main addiction is to work. He canceled part of his summer tour with Rihanna to complete it, which makes sense: Though still developing as a live performer, Tesfaye loves the studio, where he creates audio mini-movies about his more outrageous alter ego. He is most transparent about it on "Ordinary Life," which opens with an automotive-erotic fellatio scenario straight out of The World According to Garp and includes references to both David Carradine and James Dean in the first verse. It proceeds into a fantasy about either ascending to some kind of rock-star Valhalla (much as Iggy Pop does on his latest album) or being condemned to a Hollywood hell via Mulholland Drive (clearly of David Lynch's design).
The title Starboy is partly a tribute to the late David Bowie (the "Starman," of course), but "Reminder" and "Ordinary Life" are among scant moments in which Tesfaye shows off wit and imagination that's anywhere near Bowie-level. One of his co-producers, Doc McKinney, said recently that the studio crew refers to Tesfaye as "the Machine" for his productivity, but too much of Starboy leaves the impression the process was running on autopilot, stamping out a couple of hooks in place of a fully realized song. And too many of those hooks, like "woke up with a girl, I don't even know her name," or "she loves to lay, I learned the hard way," or "you're only looking for attention," for instance, offer nothing but more gilding of the Weeknd's dyspeptic-bedroom-king routine.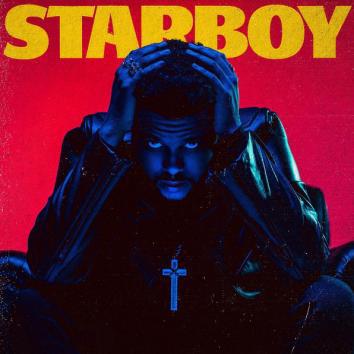 They're all produced at the highest levels of 2016 pop competence, with plenty of electronic tooth and grain, and Tesfaye has one of the most seductive voices in the field today, so they always sound sweet and chewy at least for the first minute. But for an album that runs over an hour, there's a heap of empty calories.
Both the length and the resentful egotism make Starboy reminiscent of Tesfaye's patron and compatriot Drake's summer album, Views—and while critics (including me) received that album with a similar weariness, that hasn't prevented Drake from dominating the rest of the year. Packing an album with excess songs helps boost its streaming numbers, which are counted track-by-track rather than as a clump, and that is also how most fans tend to listen in 2016. Beauty Behind the Madness was exhausting, too, in its own way—mostly for straining too hard, rather than not hard enough—but that hasn't marred the memory of the Weeknd's 2015. His victory lap here, however rushed and uneven, will likewise probably get plenty of cheers.
As an album experience, Starboy is held up by its two glinting end poles forged with those neodisco cyberstarmen Daft Punk, "Starboy" and "I Feel It Coming"—the first already a hit, and the second surely deservedly on its way there, with its winning marriage of vintage MJ and Daft Punk's own beloved "Get Lucky." In between hangs a slackened clothesline on which Tesfaye's various superhero costumes are strung, some crisper and some soggy. My attention perks up whenever the hues change from his usual high-pitch black-and-blue, as on the shouty chorus of "False Alarm," the huskier baritone he uses for the New Wave exercise "Secrets," or his sketchy but genuinely sexy dalliance with Lana Del Rey (his counterpart in cinematic self-creation) on "Stargirl Interlude."

His other main dance partner here is Future on "Six Feet Under" and "All I Know," but neither track gels for me (Tesfaye's weak on the first, Future on the second). But Kendrick Lamar is as face-smackingly agile as usual on his feature on "Sidewalks," and Tesfaye meets him with a more candidly passionate and self-searchingly autobiographical vocal (complicated by a camouflaging layer of autotune). I'm drawn into the general slinky feeling of both "True Colors" and "A Lonely Night," and while the jealous harangue of the first becomes too draining, the second sustains intrigue with its vaguely "Billie Jean"–like scenario and includes an uncharacteristically gallant, "If I led you on, I apologize." He's outright romantic on "Die for You," but the accompanying fake-orchestral music is way too on-the-nose.
Tesfaye's relish for playing the bad guy in his musical theater is plumb in line with what rappers have done for decades—it just startles people when it's sung with sensuous melodies. I'm not inclined to moralize about it. But as Tesfaye reaches his late 20s and the dubious ethics combine with lazy repetition and too many plays for sympathy, the immaturity starts to bore. In the video for "Starboy," Tesfaye makes a production of cutting his trademark bird's nest of dreads and symbolically killing off his old self. Starboy the album doesn't complete that transformation, but if its musical confidence is enough to carry you deeper into its second half, you'll more and more sense that urge to self-reinvent. Perhaps by this time in 2018, he'll be making everybody eager to sound like his new shit.