HBO's The Young Pope stars Jude Law as an angsty Italian-American cardinal who ascends to the highest position in the church despite his youth and American-ness. Like a modern-day Borgias or a House of Cards with catechism, the series follows Law's character, Lenny Belardo, as he navigates the treachery of the corrupt Catholic Church while waging a war on "rampant liberalism." It's a compelling premise:
But with each new trailer for the series, it becomes more and more apparent that these sneak peeks, while they do highlight the intrigue of the clergy and Law's talents as an actor, have an ulterior motive: to show off Law's incredible papal wardrobe. The Catholic Church is known for its assortment of funny hats, and Lenny's are, in addition to being stylish, symbolically significant, so let's examine them one by one, shall we?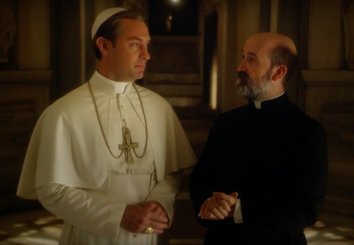 First up, we have the zucchetto, a small skullcap suitable for daily wear and casual Vatican life. Lenny wears the zucchetto while looking out from balconies onto Vatican Square, as well as while striding down corridors, a trail of cardinals in tow. The zucchetto is great for when a pope just wants to go about his business without an enormous crown weighing him down.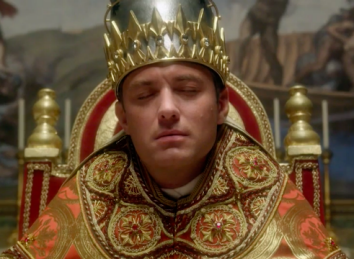 Speaking of which, here we see Lenny adopting a papal tiara, an accessory that popes in the past century have rejected for its perception as "a symbol of the temporal power of the Popes." Not suitable for daily wear, because of the whole "makes you look like a tyrant" thing and because, hey, those things are heavy. They are, however, appropriate for threatening to wage a war without end against your enemies, so well done, Lenny!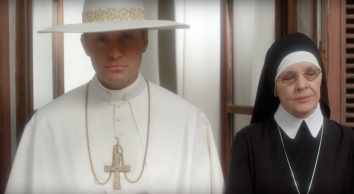 But the real star of the show so far seems to be this dapper cappello romano (literally: Roman hat) also known as a saturno, so named for its brim's resemblance to Saturn's rings.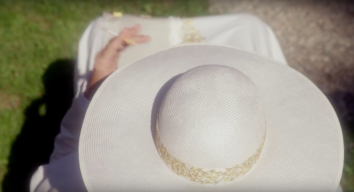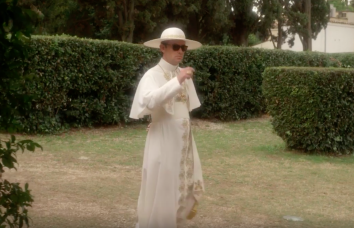 Perched just so, this hat says, yes, I'm a bloodthirsty ruler with one-fifth of the world's population under my leadership, but when I'm not dramatically kneeling at the bottom of a swimming pool, I like to look sharp, even a little playful. Just watch as I pair it with sunglasses and a cigarette—you'll find I'm not like a regular pope. I'm a cool pope.
The Young Pope begins airing in the U.S. on Jan. 15.