The death of Carrie Fisher Tuesday brought a torrent of reactions from grief-stricken fans all over the world. But for Atlanta-based sugar merchants Cinnabon, the opportunity to promote the Cinnabon® Classic Roll was too much to resist. So the company mourned Carrie Fisher … the Cinnabon Way!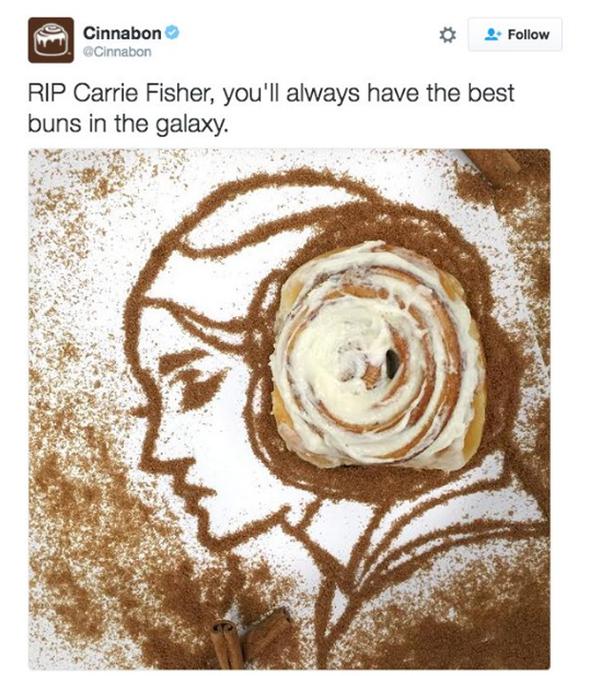 It immediately became clear that this tweet was going to be an all-time classic episode of Everybody Hates Interacting With Brands, one that will no doubt live in infamy alongside "A Very Spaghettios Pearl Harbor," "Remember 9/11? AT&T Does," and "US Airways Presents: Cavalcade of Model Airplane Pornography." Cinnabon deleted the tweet shortly after posting and late on Tuesday night tweeted an apology:
That's probably the best way to manage this sort of social media crisis, short of not trying to use a tragedy to promote your goddamned brand to begin with. But Cinnabon's apology, sincere though it may be, still leaves many of the questions raised by the original tweet unanswered. Specifically, 24 of them:
Did anyone look at the tweet and say "maybe not" before you sent it?


When you said Carrie Fisher had "the best buns in the galaxy," were you talking about her butt?


Did you know Carrie Fisher hated the Star Wars hairstyle depicted in your tweet, referring to it as a "hair prison for the fat" in her cheeks?


Have you considered renaming your signature Cinnabon® Classic Roll a "Dough Prison® for the Fat" in memory of Ms. Fisher?


Did the "dankyougene" guy write the tweet for you?


Do you think a "global multichannel food service brand" can experience sorrow?


Were any of Focus Brands' other global multichannel food service brands (e.g., Auntie Anne's or Schlotzsky's) as sad about Carrie Fisher's death as Cinnabon was?


Shouldn't you have put a period after "Fisher" and capitalized "You'll?"


Is the pile of cinnamon on Fisher's left shoulder meant to indicate the left shoulder of her dress is dirty, or is it a fourth wall–breaking pile of cinnamon, like the cinnamon sticks?


Where did you find an artist willing to work in the medium of "piles of cinnamon and a Cinnabon® Classic Roll?"


Do you have other "piles of cinnamon and a Cinnabon® Classic Roll" portraits of celebrities ready to go, like prewritten obituaries?


If so, do you have one of Henry Kissinger?


If so, could we see it? We promise not to post it.


The first time you tweeted this portrait of Carrie Fisher, back on May 4, you wrote "Here's to the princess with the second-best rolls in the galaxy." Today, you wrote that Fisher "will always have the best buns in the galaxy." Did death somehow improve Carrie Fisher's hair and/or butt, depending on what you meant by "rolls" and "buns?"


Do you think dead people have more attractive "rolls" and "buns" than the living? Is that sort of Cinnabon's "thing?"


Given the way the spice trade drove imperial conquest in Indonesia, do you think Princess Leia, no fan of empires, would have enjoyed the "sweet, luscious flavor that is exclusively known as Cinnabon® Makara® Cinnamon" you import from Indonesia?


Whose idea was it to trademark the phrase Ooey-Gooey, as in "the Ooey-Gooey™ topping of Cinnabon® cream cheese frosting?"


Do you think sprinkling the ® and ™ symbols all over your menu as though they were Cinnabon® Makara® Cinnamon makes your food seem more enticing?


Have you ever done testing to see whether more people would order the "Oreo® Chillatta™" or "Cinnapack® Caramel Pecanbon® MiniBon® Rolls" if they were just called "Oreo Chillattas" and "Cinnapack Caramel Pecanbon MiniBon Rolls?"


What about simply calling them "Liquid Diabetes" and "Ooey-Gooey™ Diabetes?"


Is the video on your website showing someone preparing a food item called the "Cinnabon® Waaaay-Over-The-Top Grilled Cheese," in which a Cinnabon® Classic Roll is sliced like a bagel, covered with brie, strawberries, and balsamic vinegar, then grilled, supposed to be a horror movie?


What about the one where someone prepares "Cinnabon® Sundae Cups Made With Cinnabon® Classic Rolls?"


Did your cooks specifically plan to tempt your customers into committing all five of St. Gregory's species of gluttony (time, quality, stimulants, quantity, eagerness) when developing the recipe for the 1080-calorie, 75-grams-of-sugar Caramel Pecanbon®, or was it just a happy accident?


Seriously, no one looked at that tweet and said, "maybe not," before you sent it?