According to Digital Music News, Apple's major emoji expansion for the iOS 10.2 upgrade will feature an assortment of professional looks: a firefighter, a chef, an astronaut, a judge. Yet curiously, grouped among them is a rock star emoji—and even more curiously, the inspiration and model for it is the late, great David Bowie.
This new emoji—yet to receive an official push, since iOS 10.2 is still in beta—features Bowie's trademark thunderbolt war paint, with the default in purple and variations available in blue and red. (It appears to be drawn most directly from the art for his 1973 album Aladdin Sane.)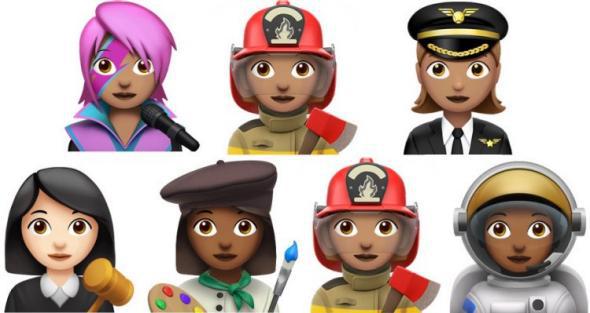 Certainly, it's a nice, well-intentioned tribute to the musical icon. But it does raise some questions about how Bowie ought to be commemorated (his look, after all, was ever shape-shifting, never static as it's presented here) and more broadly, about how his image fits in with the rest of the new emoji line. The inclusion of a rock star among more typical occupations feels inherently unorthodox, and while a painter emoji, complete with a brush and a beret, also appears to be featured, it's generically realized, seemingly in line with the rest of the group. This Bowie-like emoji, on the other hand, is too specific to call to mind anything other than Aladdin Sane himself.
In any case, there's a public beta of the iOS 10.2 upgrade you can participate in here.