Before Jennifer Weiner was a mega-author and No. 1 New York Times best-selling mega-brand, before she started a feud with Jonathan Franzen, before she became the subject of umpteen think pieces, she was one of my favorite novelists. Weiner's latest book, Hungry Heart, is her first work of nonfiction, but I got into her 10 years ago when I was a college student in Philadelphia, because that's where she lives and many of her stories are set—the movie version of (the underrated!) In Her Shoes, based on one of her novels, came out during that period. This was the tail end of the chick lit era, when the genre kicked off by Bridget Jones was still considered controversial, which is rich considering how Twilight and 50 Shades of Grey would eventually make those books look scholarly by comparison. I remember liking Weiner's novels because they felt smarter to me than the books with brand names in their titles (Prada, Bergdorf) and shopping bags on their covers. I also liked that the heroines were imperfect, not the kind of women men necessarily flocked to. I had missed the memo that lonely college girls are supposed to be reading Lorrie Moore.
The experience of reading Hungry Heart was not unlike getting reacquainted with an old friend after drifting apart. It had been a few years since I'd picked up one of Weiner's books, though of course I'd heard about her comings and goings in the intervening years. Sometimes the stories I read about her made me cringe: She criticized the New York Times for paying to much attention to Jonathan Franzen and ignoring women's commercial fiction, then appeared in ads for one of her books wearing a vest to parody the vest worn by another male literary establishment author, Jeffrey Eugenides, in one of his ads. She picked fights on Twitter. In calling out sexism in the literary establishment, she could sometimes make the story about herself. But her memoir Hungry Heart (subtitled "Adventures in Life, Love, and Writing") helped me remember why I found her so likable in the first place. I was skeptical as she launched into her family history—must we do this, the Philip Larkin poem, her whole family tree, the fact that both her grandmothers were named Faye? But she goes on, discovers reading, and through her teen trip to Israel where she was dubbed the "fat Jennifer" and her tales of fighting the patriarchy at Princeton—she publicly pressured the remaining all-male eating clubs to admit women!—and her early years as a newspaper reporter, she wore me down, charmed me. Much of the book reads like a sprightly, girl-talk-ified version of Stephen King's On Writing, the tale of one writer's coming of age.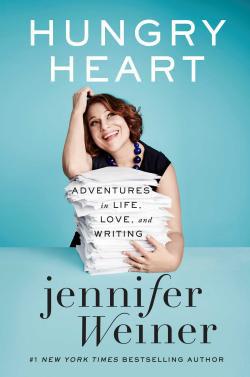 Though billed as a book of essays, Hungry Heart switches midway through from chronological autobiography to essays about disconnected topics. This allows Weiner to almost entirely skip her romantic life aside from passing references to boyfriends and dates. I confess to being disappointed in this.  Unrequited crushes and unlikely love stories are unabashedly the bread and butter of the genre known as "women's fiction" and certainly a big part of Weiner's own books. Also, key to the charm of this memoir is that it almost feels like Weiner is a character is one of her novels, and yet she breezes past her own relationship drama, despite the fact that "love" is right there in the subtitle. OK, she tells us about the bad boyfriend who inspired the bad boyfriend in her first novel, but how did she fall in love with her first husband, and how did they fall out of love eventually? She throws us a bone in a late chapter on men and dogs—post-divorce, she reconnected with a boyfriend from her 20s. Now that sounds like a story. But she held back, pulled punches. For someone who has already called out the entire publishing industry, what's one more burned bridge?
In fact, Weiner glosses over quite a bit. When I first read Weiner's novels, I found her commitment to full-figured heroines pretty revolutionary. At that point, there were hardly any pop cultural examples of female protagonists who were fat and stayed that way, and even got a happy ending without losing the weight. But Weiner doesn't spend much time discussing how her body affected her dating life, either. Maybe it didn't at all, but in light of the many times she's written about body image in other forums, it's something I would have loved to read about here. I wanted to read more about Weiner's decision to get weight-loss surgery in 2006, after falling into a postpartum depression that left her about 100 pounds heavier. It's a fraught decision for a woman who built her brand as a plus-size author, and though she writes a bit about how she reached that choice, this part of the book is short and skittish. Weiner told the New York Times that her first draft of the book was "less candid" than the finished book, and I believe it: "There was a chapter about weight that didn't talk about my weight-loss surgery, and a chapter about my father that went into far fewer specifics," and she did some rewriting "to go to those dark places, to pick up the rock and catalog the pale, squirmy things underneath," she said. Still, it seems that she's left quite a few squirmy things unexamined.
Her family story is actually pretty dramatic—her parents had a messy divorce, after which her mother came out as a lesbian and her father had two more children, went to jail, at one point had a terrible incident involving his scrotum, and eventually died from drug abuse. Weiner mostly plays her mother's story for laughs and avoids talking about her father's. She promises several times throughout the book that she'll get there eventually, but when she does, she addresses it quickly and without her usual flair—it's obviously not her favorite topic in the world. It seems that when Weiner encounters real struggle, she prefers to turn it into a lighthearted riff or tweet about The Bachelor instead. Of course it's understandable that Weiner would pick and choose the aspects of her personal life she's most comfortable exploring. But this is a woman whose public persona is all about communicating a certain authenticity and openness to her fans, who pours her insecurities into social media no matter how unflattering they may be, who has been a rallying force for other women who struggle with similar strains of vulnerability or self-doubt. And yet in her memoir, theoretically the deepest cut into Weiner's psyche yet, she holds back.
A month or so ago, in an incident I'm sure Jennifer Weiner would like to forget, she wrote (and then deleted) a Facebook post lamenting that Hungry Heart wasn't chosen as a selection for Oprah's book club but that a similar-sounding memoir did get the nod. So when Hungry Heart arrived, I couldn't help but note its murderer's row of blurbs from Cheryl Strayed, Mindy Kaling, and Curtis Sittenfeld. Lady, this book will fare just fine. But Weiner's habit of comparing herself to other women turns out to be a consistent theme in her life and her writing, and one I'm not sure even she has really figured out.
When she wrote about her experience growing up Jewish in a predominantly Christian town in Connecticut, I wondered, could it really have been that bad? It was the '80s, not the 1930s, after all. Did she really have no friends growing up, not even one? At one point, Weiner acknowledges, "I suspect that my teenage years have a lot in common with the episode of 30 Rock when Liz Lemon goes to her high school reunion, complaining that nobody was nice to her and learning that, in fact, she wasn't nice to anyone." Part of me wants to read the version of this book where Weiner really digs into that aspect of her personality and wrestles with what it is about her that makes her so ready to see herself as an outsider, to speak out even if it earns her no friends.