During the World Series, Chicago Cubs fans began writing messages on Wrigley Field's brick walls and the surrounding sidewalks with chalk. Some of these are vanity graffiti, with fans writing their own names. Others are boasts. ("We Did Not Suck.") Many are tributes to loved ones who spent their lives rooting for the Cubs but died without seeing them win a championship. Game 7 wasn't just a victory for a baseball team. It marked the end of generations of longing, passed down to children by parents who, in many cases, weren't around to experience the fulfillment of their hopes. Here are the stories of Wrigley Field's wall chalkers.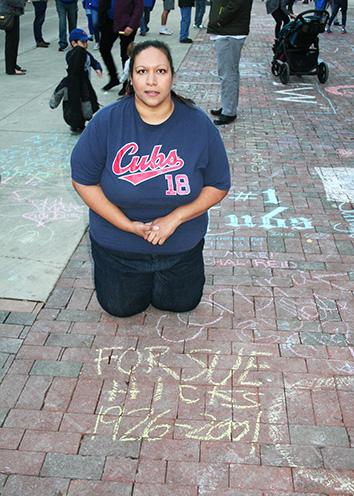 Aesha Williams, 37
It's for my partner Gary's mother. She was born in the suburbs—I think it was Homewood—and she moved into Chicago, and she was one of those Chicagoans who never had a car, and would bring her kids out here when she had the opportunity, and it was just something that bonded their family. Gary mostly talked about the day games and sitting in the upper deck. He has really fond memories of just coming down and picking up tickets the day of, and the ivy, the smells, and hanging out with his mom. We didn't go to the World Series. I would have taken money out of my retirement fund if I'd won the drawing. It's a once-in-a-lifetime thing.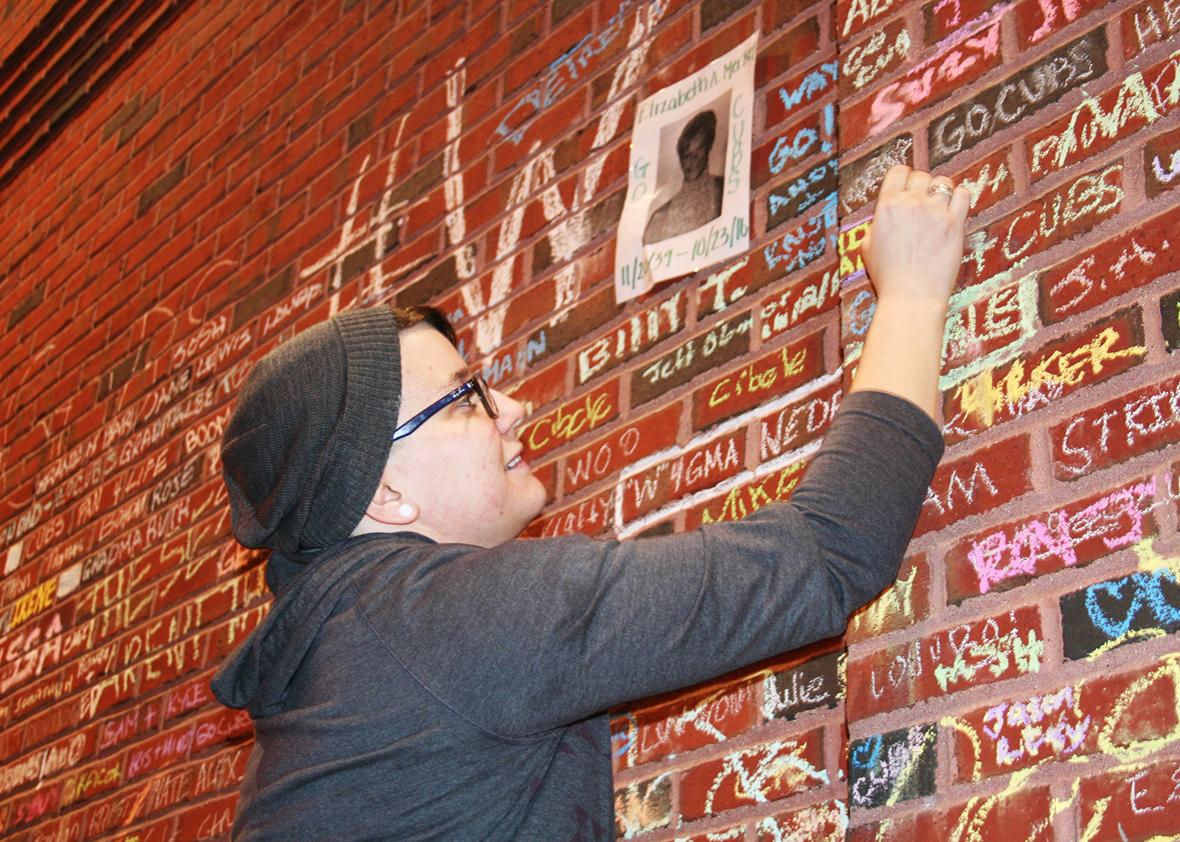 Allie Serd, 28
My Grandma Grace passed away five years ago, and she was a huge Cubs fan. When she passed away, she wanted to pass away with her Cubs blanket on her. My brother wrote a letter at her funeral: "I'm sorry you didn't get to see the Cubs win the World Series," and we all cried. Growing up in Danville, we would watch all the games with her. When they won, I cried because of her. It was her No. 1 thing. She's smiling down in heaven; you know she's happy. It would mean so much to her. I can imagine her in her recliner, being "Oh, my God, they're tied." I moved here three years ago, and I went to my first Cubs game last year, and I thought of her. I don't think she ever saw a game at Wrigley Field. She wasn't a traveler.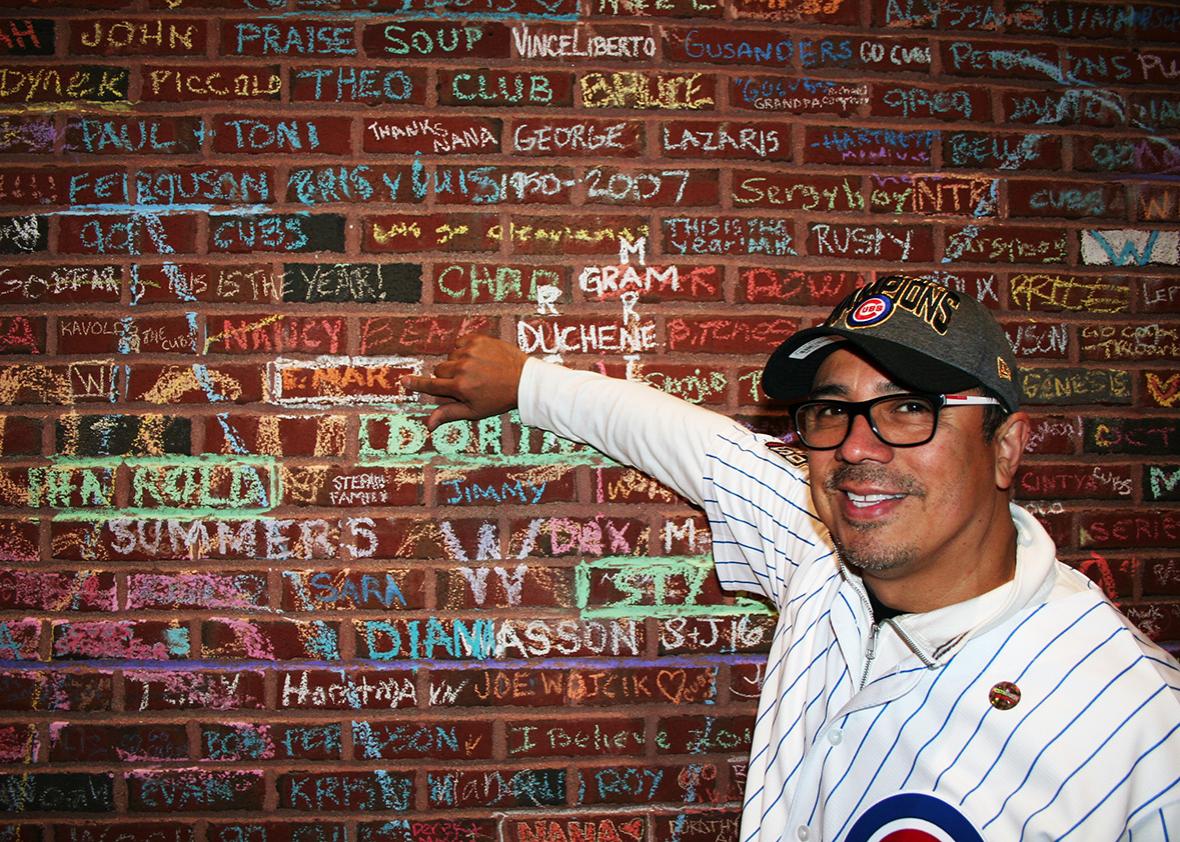 Marco Mar, 54
I wrote E-Mar, for my father, Eustorgio Mar, who died last month. He played all the sports, but baseball was his favorite. He coached baseball here in Chicago, in Humboldt Park. This past year, he had a lot of medical issues, so he wasn't aware of how the Cubs were doing. As soon as they won, I kissed my hand and reached toward the sky, and said, "This is for you." He always hoped. There was always that hope and that aggravation year after year, and his m-f-ing them all the time. He knew all the stats. Seeing them win is bittersweet. I feel great, but just a month short of his passing. Maybe it was God's plan. What they put us through in this series, the way my heart was pounding, I don't think his heart could have stood it.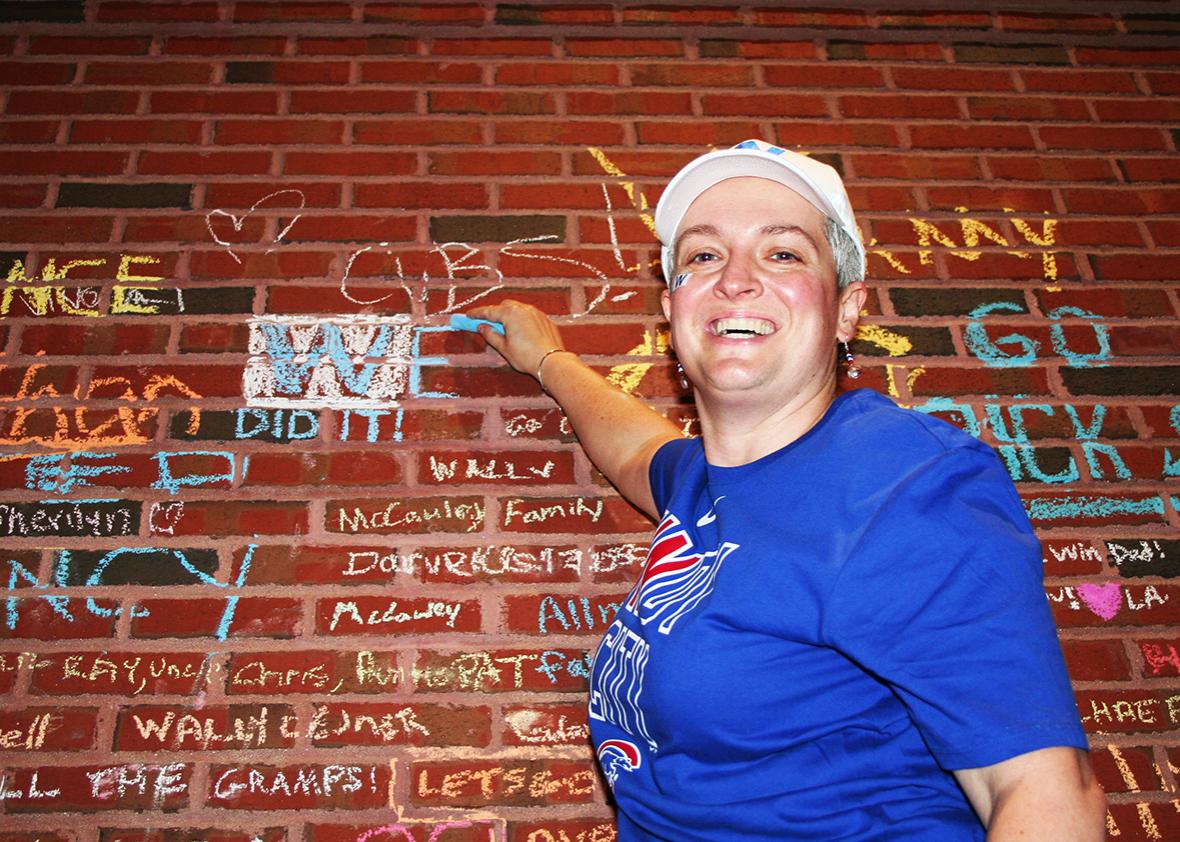 Gretchen Gscheidle, 46
I still remember very vividly my very first game: July 6, 1979, here at Wrigley, and all the details associated with it. … I was in the 500 aisle for my seats with my dad and my grandfather and a co-worker of my dad's, and I can remember the souvenirs I bought that day: a jersey, a helmet, a button of Bill Buckner, and it's just been a love affair ever since. I've been a season ticket–holder here since '96, many lean years. I've made it to all the playoff games here and the World Series here. Now that they've won, I don't anticipate that I will get quite the sympathy from co-workers and fans that I normally do. In fact, they were checking my wrists a couple weeks ago after the early loss to the Giants, and I said, "I have my faith." They see that now. You found me up on the ladder, but my feet haven't touched the ground in 24 hours.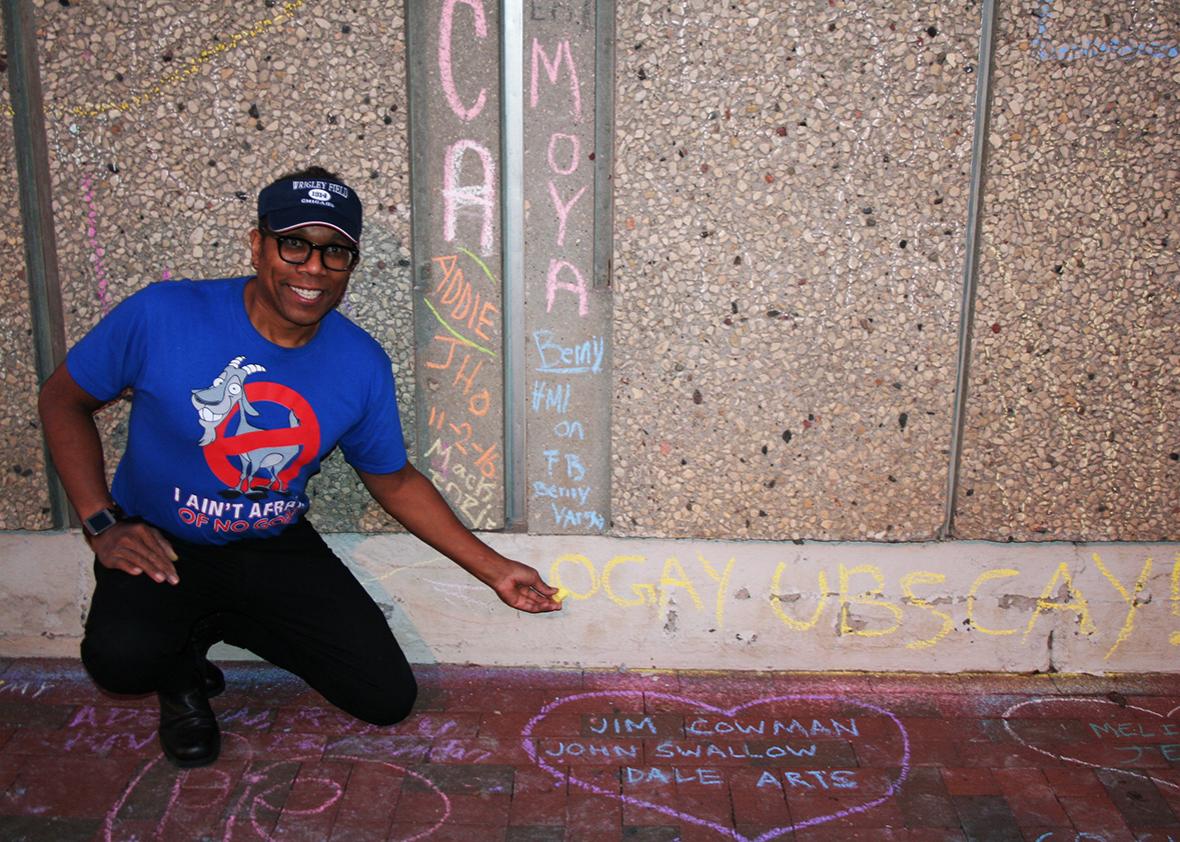 Calvin Parks, 57
Pig Latin is old school. It's in honor of something that when I was a kid, it was kind of a playful thing. My girlfriend Ann and I live four blocks from here. We've been living over here for almost 13 years. Every day during the summer is just a celebratory environment, and people are so nice, and it's a neighborhood. Literally, if you were in our backyard you wouldn't know that this is four blocks away, and all this energy's here. We've just felt really blessed to be able to be part of the neighborhood. We're home and we're bored Tuesday night, and we're like, "Let's just walk over to the Cubs' park." Sometimes … come three innings in, because we live so close. It's a place where everybody comes, and we're here all the time. For all the major wins, we were standing outside the park.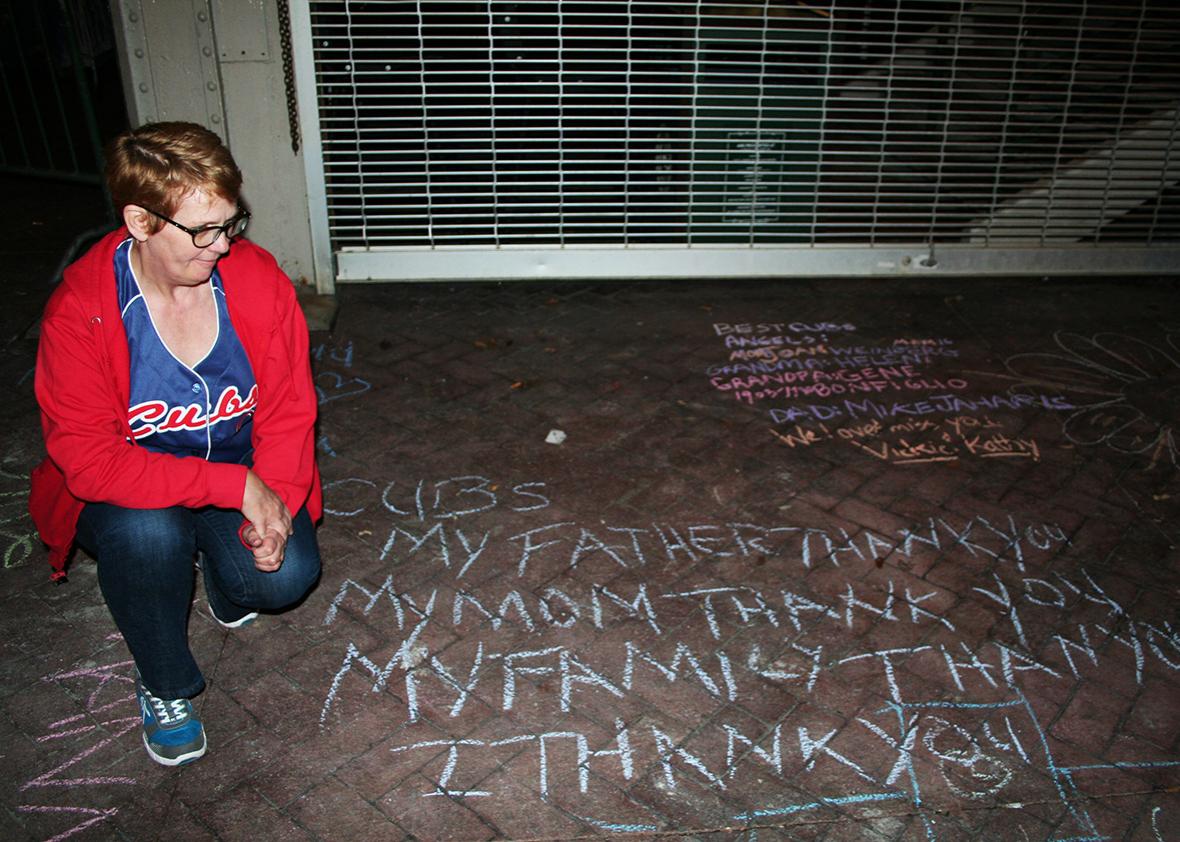 Joan Vandenbosch, 56
I grew up at Irving and Western. I was a 9-year-old in 1969. I watched my father lose his mind. That was my initiation into Cub-dom. In 2003, my son was 12 years old, and we were watching Game 6 [of the National League Championship Series]. I was a nervous wreck. My son said, "Mom, it's the eighth inning, five outs to go. Mark Prior is on the mound. What could possibly go wrong?" That was my son's initiation into Cub-dom. My mom is 90, so she was 17 during the 1945 World Series. My whole family was together for Game 7. My mom had the time of her life. Unfortunately, a very dear friend of ours passed away about a week ago. She was our angel in the outfield. Now we're loud and proud. I don't know what we are now. We're not lovable losers anymore. I'd love to be the Yankees for a decade or so.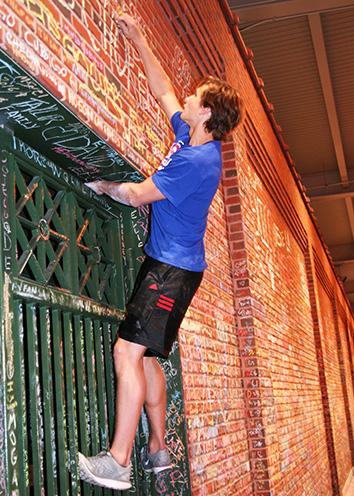 Chris Troyke, 16
I wrote names of friends and family that couldn't be here, that are not still with us. It's a sport that we followed our whole lives and a goal that we thought was impossible. I'm so lucky to be able to experience this, and all the people who have waited longer than me, they so deserve this, and so do the Cubs.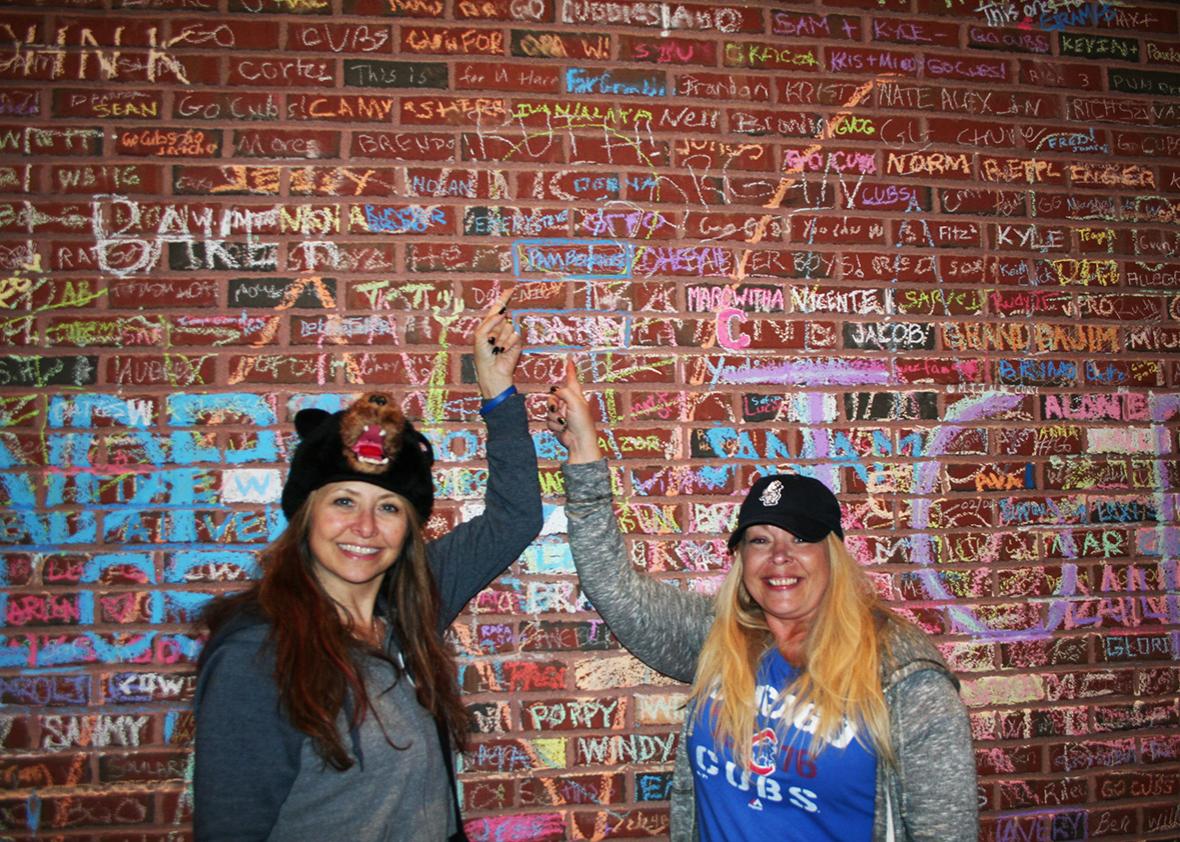 Pam Behrhorst, "too old to say how old I am," with her friend Darcy Delf, 52
We were in one of those rooftops for Game 5. We were extremely overcharged and they didn't upscale anything. It was $1,300. We walked out here and people were cheering and slapping high fives and waving flags. Then we noticed that people had been writing on the wall, and we picked up a little piece of chalk and wrote our names. My grandparents were Cubs fans, so I became a Cubs fan. I grew up in South Bend and my grandparents always watched WGN with the antenna. The picture was snowy. I have a brick on Waveland with their names: Herman and Mary Smith. My grandpa was 92. It's been more than 10 years since he died. He never saw the Cubs win the World Series. I have this pin on my hat that says, "If It Takes Forever." I just realized this morning that forever is now.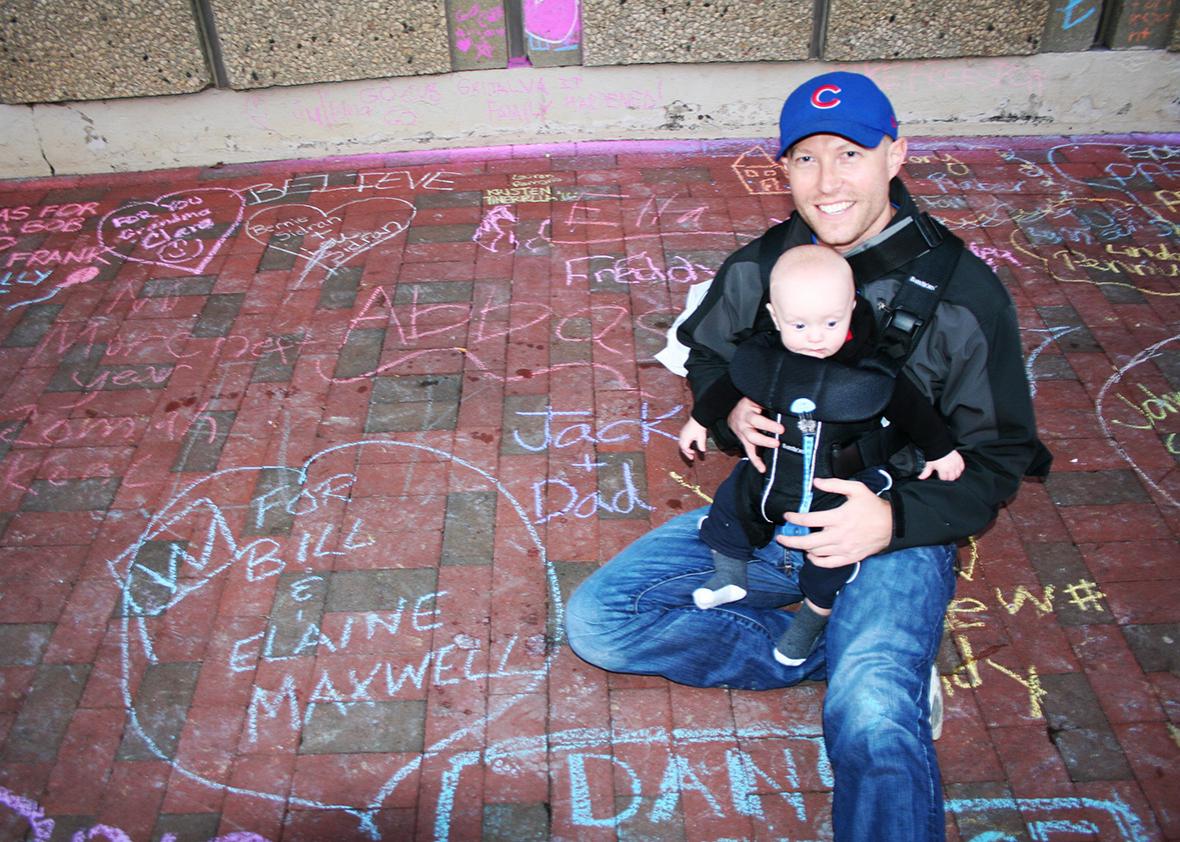 John Milner, 35
My son Jack is 6 months old. His middle name is Dawson after Andre Dawson, my favorite Cubs player. We tried to stay up and watch all the games. I let him stay up past his bedtime. I fell asleep right before the 10th inning [on Wednesday] night. I woke up to seeing them celebrate, so I just missed all the excitement. He's here for the first year, he's named after one of my favorite Cubs of all time. He's not going to remember. That's why we're here. We're taking pictures, videos. My dad DVR-ed the game, so he'll be able to watch it and say, "That's the year I was born." He'll have a story to tell. My first child was born and the Cubs won the World Series in the same year. Does it get any better than that?
Correction, Nov. 11, 2016: A photo from this gallery has been removed because the names of the people in the image could not be verified.