Outside the northeast gate of Cleveland's Progressive Field, a handful of longtime Chief Wahoo protesters assembled Tuesday evening to assume the same formation, and in many cases wield the same signs, that they've assumed and wielded for decades. "The Real Cleveland Indians," read one placard, depicting images of local Native Americans in traditional garments. "People Not Mascots," declared another. In recent years, when protesters have gathered here on opening day, passersby fueled by booze have been eager to engage, hurling invective and obscenities in between their war whoops. Before Game 1 of the World Series, though, most Indians fans shuffled past the protest without saying much, their eyes on the prize of the Indians' first championship since 1948.
There were notable exceptions—middle fingers extended, heads shaken, Native cred proclaimed. "I'm half Indian and I could care less!" cried one fan, Wahoo-jacketed against the wind. The evening's most unusual interaction came at 7:15 p.m., a little less than an hour before the first pitch, when a wobbly middle-age woman approached the protesters—there were about 10 of them—placed her hand on her heart, and solemnly professed, "Chief Wahoo is my beloved man." She looked to be on the verge of tears. "I. Belove. Him."
"Him?" One protester asked, astonished. "But he's not real."
"Oh, yes he is," the woman shouted as she scurried off. "Yes he is!"
While Indians fans appeared unmoved by this most-recent push to erase the racist caricature, baseball Commissioner Rob Manfred did say this week that he and Indians owner Larry Dolan will "have a conversation" about the future of Chief Wahoo after the World Series. That announcement has been met with managed expectations by anti-Wahoo activists. "I think it's a wait-and-see good sign," said Robert Roche, a Chiricahua Apache and Native American activist who's best known for his confrontation with a fan in red-face on opening day in 2014.
The sense of optimism is tempered by the fact that the Indians have worn Chief Wahoo on their caps every game this postseason. That's despite the fact that just six months ago, at the beginning of this season, co-owner Paul Dolan (Larry's son) said the team planned to de-emphasize the buck-toothed, red-faced logo (the first version of which was created in 1947) in favor of the "Block C."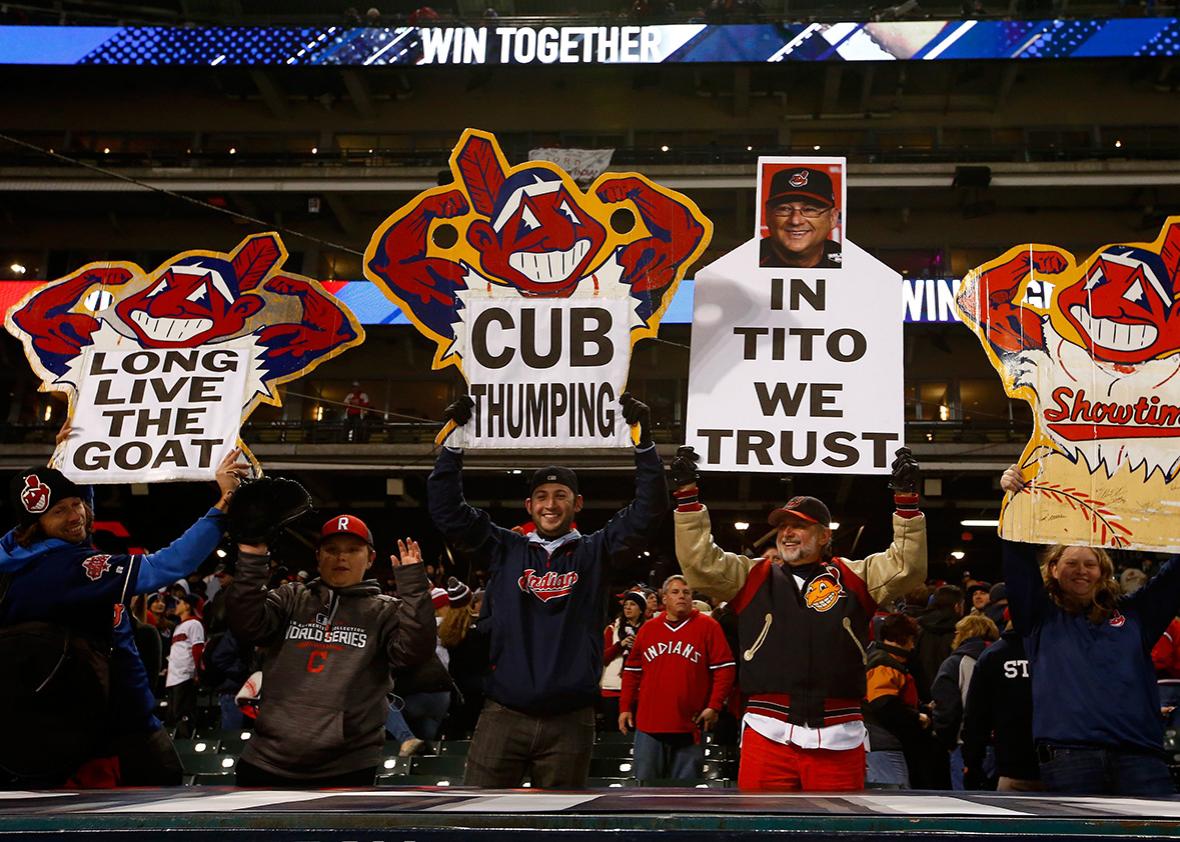 Roche, Sundance—the executive director of the American Indian Movement's Cleveland chapter—and others have long sought meetings with the Indians' front office to no avail. The last time the Dolans participated in any kind of meaningful exchange about Chief Wahoo came in 2001, in a conversation at Oberlin College. "I firmly reject that Wahoo is racist," Larry Dolan, a trustee at the college, said to students and professors. "I think I understand racism when I see it."
The wording of that statement calls to mind Washington NFL team owner Daniel Snyder's interview with USA Today in 2013 when he talked about his team's "great tradition and what it's all about and what it means." In that interview, Snyder said, "We'll never change the name. It's that simple. NEVER—you can use caps." History suggests owners like Snyder and Dolan usually get their way. It's unlikely this week's abundance of awareness-building Chief Wahoo coverage will accomplish much at all. In fact, given the current climate of Cleveland sports fanaticism, increased pressure on the Indians to eliminate the chief might actually be counterproductive.
Here in Cleveland, we've seen this all before. The arguments now getting probed and postulated in the national press have been likewise probed and postulated in the pages of the Plain Dealer, the Scene (the alt-weekly I work for), and other publications in the region. Whenever the Scene publishes a piece on Chief Wahoo, untold trolls awaken from their slumbers to decry it as PC nonsense.
"It really is insane," said Cleveland City Councilman Brian Cummins, a left-leaning progressive who's worked for years with activists in town. When Cummins posted an anti-Wahoo message on Facebook recently, he was inundated with attacks. "I had a woman, a neighbor of mine, just trash me completely," Cummins said by phone. "As an elected official, I'm frustrated. It's disappointing that a vocal part of the fan base has no room for any empathy on the issue."
What Cummins calls a lack of empathy is merely the default setting in Cleveland, one that's defended as "affection for a cartoon" or "nostalgia" or "Cleveland pride." Chief Wahoo, the thinking goes, is a benevolent symbol that represents a benevolent franchise. It'd be difficult to overstate just how pervasive and deep this thinking goes. Wahoo is tattooed not only on Clevelanders' arms and hearts, as Scott Raab noted in a 2014 plea to retire the logo, but on the region's whole identity template. Larry Dolan's comments during the Oberlin session in 2001 are representative ones. "I look on [Wahoo] as positive," he said. "I have a warm, affectionate attitude toward Wahoo."
One of the essential characteristics of diehard Wahoo supporters is that they believe all their warmth toward Wahoo invalidates the idea that, for many people, Chief Wahoo has been and continues to be a painful and dehumanizing image. What the protestors outside Progressive Field want, at the very least, is to make supporters think about what they're supporting. That's what happened with Pedro Rodriguez, the red-faced fan who confronted Robert Roche in 2014. Roche told Rodriguez in person that he "[did] not feel honored" by the garish costume. And voila, Rodriguez no longer wears red-face to Indians games, though he continues to wear a Wahoo hat.
But huge and vocal swaths of the pro-Wahoo crowd would prefer to dismiss the Wahoo issue out of hand. They tend to see the increased media exposure as a kind of call to arms—as a sign that Chief Wahoo, Cleveland's beloved "him," is under attack. And the best way to defend the chief, in a war with so much at stake, is to buy as much Chief Wahoo merchandise as possible.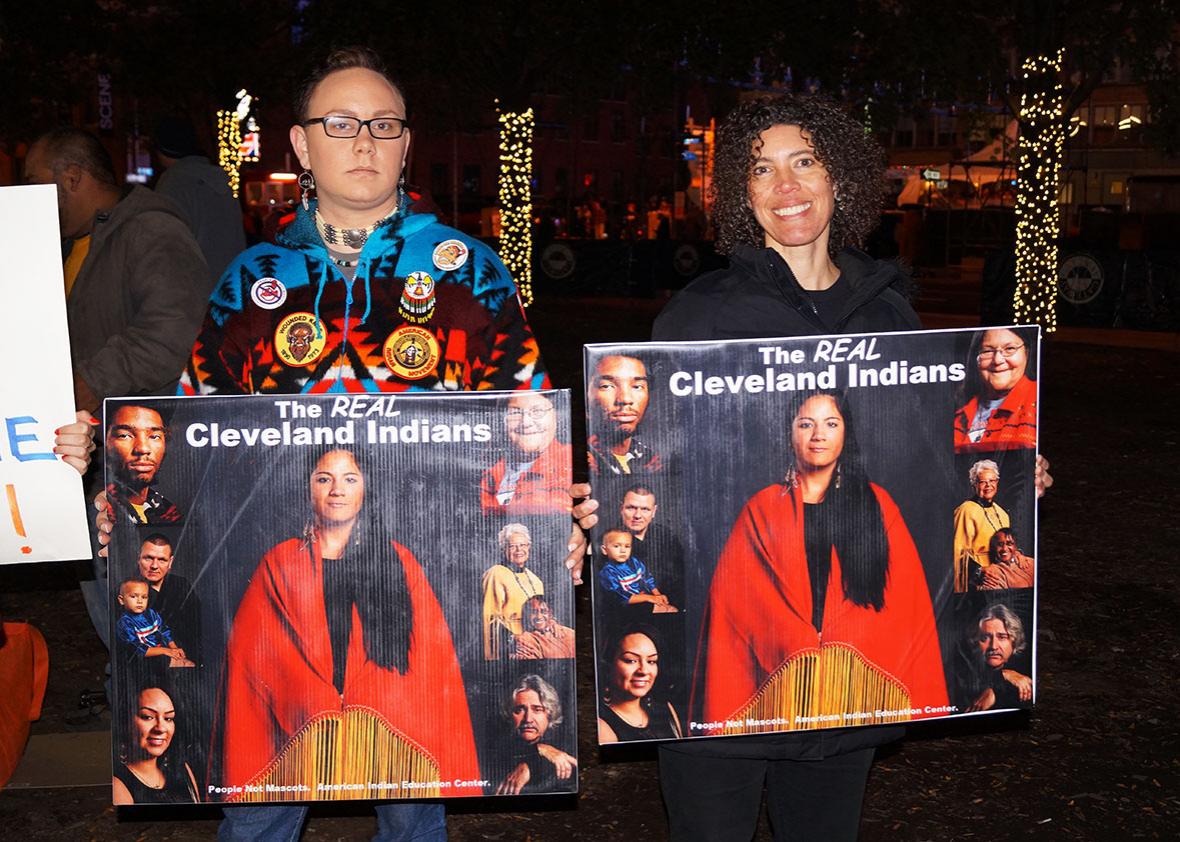 In 2013, ESPN reported, three of the four top-selling baseball caps in the Indians team shop did not feature Chief Wahoo. Writer Steve Wulf deployed that stat to demonstrate that the Indians' "phase-out" of Chief Wahoo appeared to be working. (Wulf was advocating a clean break.) The phase-out began, at least in part, in 2009 at the urging of former team president and GM Mark Shapiro, who recently admitted that he was "personally bothered" by the Chief Wahoo logo. In 2011, the team excised the chief from the caps it wore on the road, and the red-faced caricature got nixed from the Indians' batting helmets in 2013. "We built equity in the 'Block C,' " Shapiro said in a recent interview. "We gave that alternative for people and I think that we established that as an important logo and now the primary logo for the Cleveland Indians." He added: "I think there will be a day, whenever that is, that the people that are making decisions here decide that Chief Wahoo is no longer fitting. But people in this city—over 90 percent of them—are deeply, deeply passionate about Chief Wahoo and want him to be part of their team."
They sure do. They'll even pay for it. Shapiro's comments hint at Wahoo's financial impact. It's easy to surmise that Shapiro's abstract future date when "Chief Wahoo is no longer fitting" will be precisely the day on which it becomes more financially attractive to get rid of him than to keep him.
It just so happens, though, that Chief Wahoo is currently on a hot streak. Though the franchise hasn't offered any explanation for why the Indians have worn Chief Wahoo caps in every one of their postseason games in 2016, the results at the cash registers are clear: The three top-selling caps in the team shop bear the Wahoo image. Clevelanders love splurging on postseason merch, so Cleveland will soon be flooded with Chief Wahoo gear.
In 2015, after the Plain Dealer came out against Chief Wahoo, a Wahoo cap once again became the top-selling headwear in the team shop. Though there have been no official reports on sales figures, there are three possible explanations for Wahoo's return to dominance:
When the Block C arrived, it was trendy and cool—even Wahoo supporters wanted Block C hats. The popularity Wulf noted may have just been a temporary spike.
Cleveland fans might have been concerned about a complete Wahoo phase-out after the Plain Dealer editorial and growing national opposition to Native American nicknames and mascots. They wanted to get Wahoo gear while there was still time, just as gun sales increased when presumed firearms-confiscator Barack Obama got elected president.
As hypothesized above, the public debate on Chief Wahoo functioned as a call to arms. The pro-Wahoo side doubled down and bought even more gear to certify their support of the Chief.
The third explanation is further evidenced by the rise of pro–Chief Wahoo apparel, courtesy of local designers eager to cash in on the controversy. As the debate became hotter and more contentious in 2014, a local T-shirt company released a "Keep the Chief" shirt that has become one of its best-selling items. "One of the most famous and most recognizable logos in all of sports belongs to Cleveland," reads the product description. "So let's embrace it and fight for it to stay as a part of Cleveland History. This is not meant to offend anyone. … We understand both opinions but ours is to keep the logo that has been around since the 1940s and therefore we wanted to design something cool for those who share the same opinion."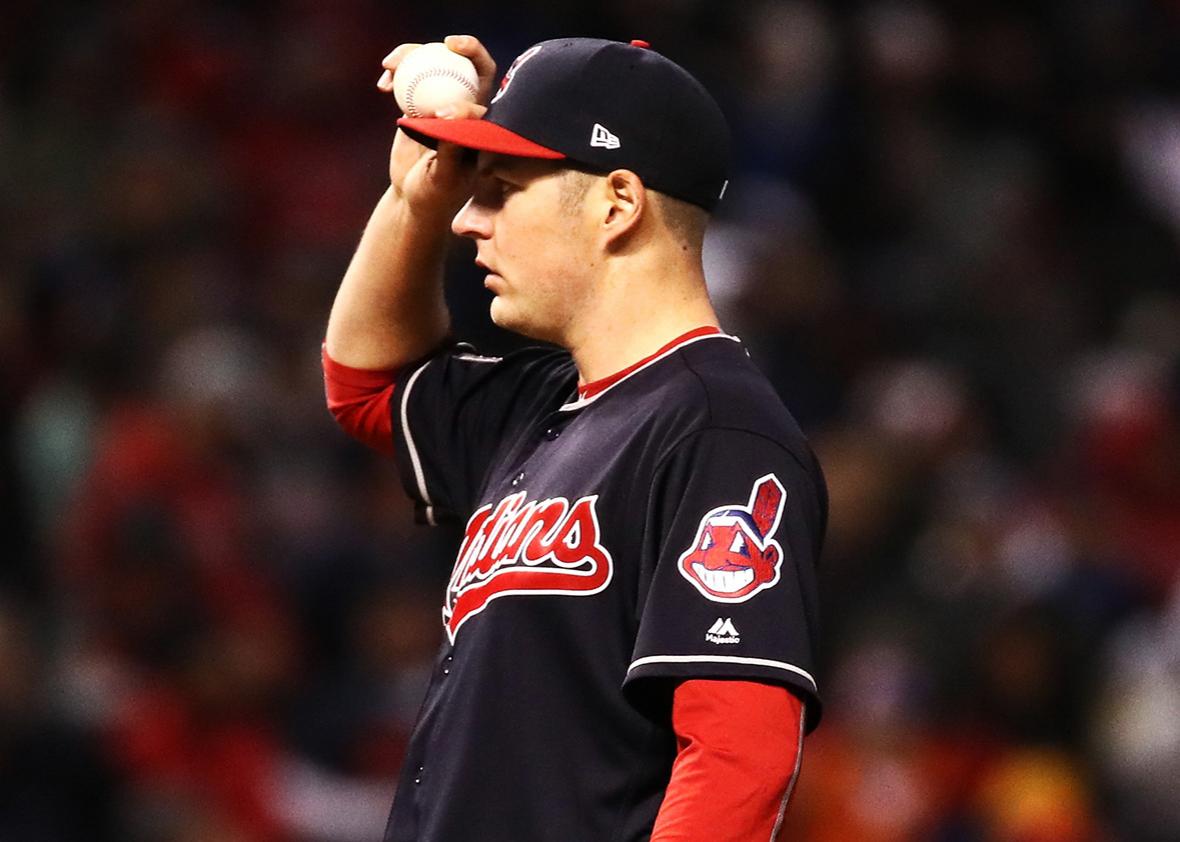 As far as the team is concerned, having two logos—not unlike having primary and alternate jerseys, to say nothing of throwbacks—just means more products to sell. And if one of those products is a logo fans feel strongly about, then all the better.
The doubling down by Wahoo supporters, if in fact that's what's going on, has historical precedent. Consider the story of Dick Jacobs, who owned the Indians from 1986–1999 and was the namesake of Jacobs Field, since renamed Progressive Field. ("I still call it the Jake" shirts are another example of how nostalgia is commodified on the shores of Lake Erie.) Cartoonist Derf Backderf, an icon of Cleveland's literary underground, wrote in a blog post in 2014 that Jacobs, after he and his brother bought the "moribund franchise" in 1986, promised to revitalize the team by "embracing Indians history."
In the early 1990s, Derf wrote, around the time the team was preparing to move out of the industrial Cleveland Municipal Stadium, Wahoo was on its way out, "quietly fading away much like the Cleveland Browns mascot, the Brownie, had a generation earlier." But in the face of opposition from Native American groups and a few sharp local critics—among them Derf himself, who published a series of anti-Wahoo cartoons in the now-defunct Cleveland Edition—Jacobs "threw a temper tantrum. Nobody told this plutocrat what to do! Not the mayor, not the voters and certainly not some fucking poet and a guy who draws funnies!"
In 1993, Jacobs announced that after careful consideration, he'd decided to keep the Chief. "When Jacobs Field opened in April 1994," Derf wrote in 2014, "that grinning red abomination was everywhere. He's been the appallingly racist face of the franchise ever since."
Jacobs' 1993 defense of the Chief created the template for the Dolans' public statements and for the defensive, it's-not-racist-because-I-like-it responses of most Cleveland fans. "I believe Chief Wahoo is a likable character that helps the fans identify with the team and creates excitement," Jacobs said. "When I look at the logo, I don't think of American Indians at all, I think of the team." When asked how he felt about protests, the owner shrugged the whole thing off. "What's a day without getting booed and jeered by somebody?"
Despite his hatred of Dick Jacobs and Chief Wahoo, Derf was a season ticket–holder when Jacobs Field opened in 1994—he just loved the Indians too much to stay away. The number of season ticket holders, incidentally, is expected to increase next year after the Indians' impressive postseason run. And even after all the national disbelief and opprobrium, betting odds are that in 2017, most of the fans who pack into the ballpark on opening day will be sporting the "grinning red abomination" on their caps, their jerseys, and their freshly tattooed skin. As they make their way into the stadium, they'll shuffle past the same old handful of protesters. Emboldened by victory, they may feel even less guilty about not giving the Native Americans in their midst a second glance.