In February, the American Girl brand, beloved for its expansive (and expensive) line of books, toys, and clothing, made an announcement: A new doll in its collection of historically themed characters, a black girl growing up in Detroit in 1963, was on her way.
Though it wasn't noted in the press release, the significance of the news wasn't lost on parents of American Girl enthusiasts or women like myself who grew up with the dolls. Melody Ellison is only the second black doll that is currently for sale from American Girl's line of historical dolls. (Her immediate predecessor Cécile Rey, a girl from a well-to-do family in 1850s New Orleans, was introduced in 2011 and "archived" in 2014.) And, perhaps more important—unlike American Girl's only other available black doll—she wasn't born a slave.
For almost two decades, generations of young black girls turning to the American Girl series for stories about characters who looked like them only had one choice: Addy Walker, a 9-year-old girl born into slavery who (in the accompanying books) eventually escapes to freedom alongside her mother. Ever since she arrived as the fifth doll in the company's incredibly successful collection of mail-order dolls, Addy has been a polarizing figure, revered by many as an inspiring character and an important educational tool and criticized by others as a vehicle for wallowing in black suffering. Much has been written about the painful memories she conjures up—I've had my own difficulties wrestling with how Addy made me feel as a child. A lot of these feelings are rooted not in a disdain for Addy herself but for the clear-cut lack of choice: While my white peers could pick from any number of varied characters made in their likeness, I could not.
The debut of Melody, who first appeared in stores this August, marks an occasion to reflect upon the decades-spanning history of her controversial predecessor, from her creation at the hands of a team of marketers, scholars, illustrators, editors, and writers, headed by American Girl founder Pleasant Rowland, to her reception in the hands of millions of American Girl fans of all races, many of them eager and others resentful.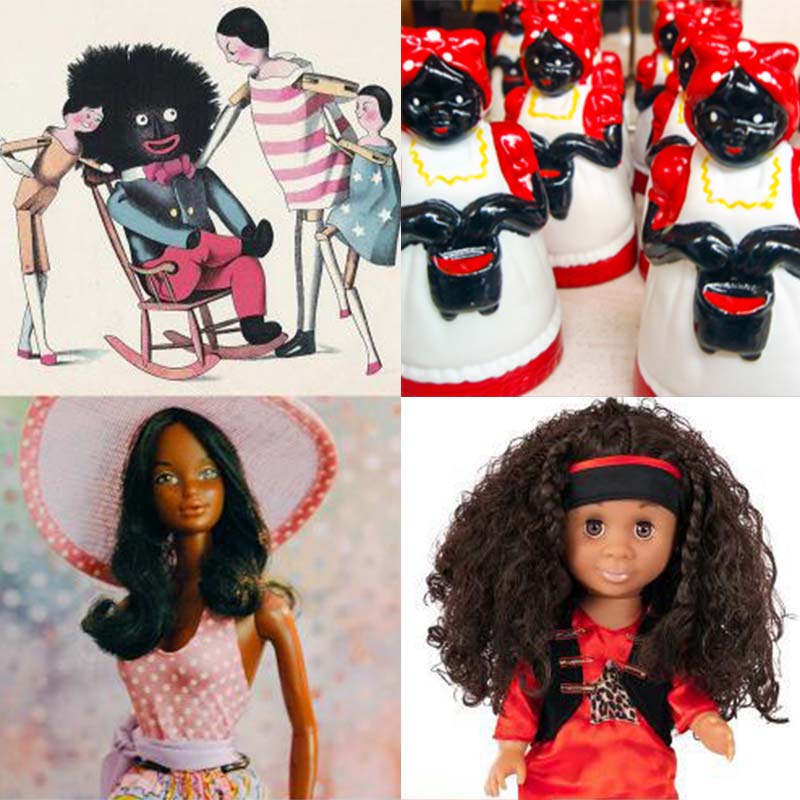 Though Addy may have been American Girl's Jackie Robinson, she was far from the first black doll. America has a long history of manufacturing black dolls, many of them "pickaninnies" and "Sambos" and "mammies" and "golliwogs" marketed at white children—racist caricatures that spread hateful stereotypes and idealized plantation life. (Shirley Temple calls one of these grotesque dolls her own in 1936's Poor Little Rich Girl.) For black Americans, the dolls held a different value. As Brit Bennett pointed out in her powerful 2015 essay on Addy and the history of black dolls in the Paris Review, Booker T. Washington advised black parents to give their children "dolls that have their own color and features, and which will have the effect of instilling in Negro girls and in Negro women a feeling of respect for their own race"—a sentiment that Marcus Garvey echoed when he asked mothers to "give [their] children dolls that look like them." In 1968, Mattel ostensibly provided black mothers a chance to do so when it debuted the first black doll in its Barbie line, Christie, and indeed she was much more glamorous than your typical black doll, but she was basically just Barbie painted brown.
By the early 1990s, America's major toy companies, all of them run by white CEOs, had become hip to the notion that there was a hunger and a market for a wider range of more culturally specific black dolls. In 1991, Mattel introduced the Barbie-esque new character Shani, whose dolls were promoted as having "African-American souls and a strong identification with their culture." Along with her friends Nichelle and Asha, Shani was sculpted with attention to facial features commonly found among black people, including a wider nose and fuller lips, without caricaturing them. Around the same time, Tyco released the cherubic brown-skinned Kenya dolls, and Hasbro teamed up with black-owned toy company Olmec to produce the Kids of Color rag dolls, which wore clothes made of Kente cloth. Even Pleasant Company (as American Girl was known prior to being sold to Mattel in 1998) produced nonwhite dolls before the arrival of Addy in 1993, as part of the more culturally diverse, lesser-known Our New Baby collection.
But the face of the brand was undoubtedly the megapopular American Girls Collection, which paired historical fiction about young girls with dolls created in their likeness. Pleasant Rowland, a former elementary school teacher and textbook author, launched the mail-order dolls in 1986 in response to her disappointment with the offerings available to girls. Originally, there were three characters, all white: Kirsten (a Swedish immigrant who settles out West with her family in 1854), Samantha (an orphan living with her wealthy grandmother in a fictional New York town in 1904), and Molly (a Midwestern girl coping with the effects of World War II in 1944). In 1991, a fourth girl was added, also white: Felicity, a plucky tomboy growing up in colonial Williamsburg.
Rowland, who is retired and no longer speaks with the press, declined to talk to me for this story, but according to interviews she gave at the time of Addy's release, she had intended to include a nonwhite doll in the original lineup but decided against it for commercial reasons. "I felt that the company initially needed to get established financially, before we could take the risk that may be inherent in presenting a doll via direct mail into the African American market," she told the Washington Post, "Because typically, middle-class black consumers do not purchase much from direct-mail catalogues." (Demographic experts were "split over whether this is true," the Post noted.) But in 1990, Pleasant Company posted nearly $50 million in sales, according to a 1991 Wall Street Journal profile, and it was around that time that it began developing Addy.
According to several of the people I spoke with for this piece, Pleasant Company in the early '90s was overwhelmingly white. Perhaps because of this, Rowland put together an advisory board of black scholars and historians to advise on Addy's creation. This was an unusual step: While all the historical dolls have been developed with the assistance of outside experts to ensure accuracy, Addy was the first doll to have a "more formalized advisory board," American Girl representative Susan Jevens told me. The board was an impressive assembly of black intellectuals: Lonnie Bunch, who then served as an educator and long-time curator at the Smithsonian; Cheryl Chisholm, who was a film producer and director of the Atlanta Third World Film Festival; Spencer Crew, who was also a curator and historian at the Smithsonian; Violet Harris, an expert on children's literature and black American children's literature in particular; Wilma King, a historian and expert on American slavery; June Powell, then of the National Afro-American Museum and Cultural Center in Ohio; and Janet Sims-Wood, who was a librarian and scholar at Howard University and specialized in the stories of black women.
According to Polly Athan, who served as Pleasant Company's in-house research coordinator, it was the board that made the decision to set Addy's story amid the end of slavery and the Civil War. Though the board also discussed placing her in other periods, including the Harlem Renaissance, the members' thinking was that slavery was the foundation for everything that came after it and must be tackled first in order for children to understand more recent history. "They wanted Addy's Civil War–era story to show the struggle and survival of African-Americans as a major human accomplishment," Athan told me.
Athan's job was to make sure everything, from Addy's hoop earrings down to her black lace-up boots, was historically accurate, and the board spent more than a year critiquing the prototypes of the dolls as well as book manuscripts. According to Harris, the group met periodically for all-day meetings, usually in Washington, D.C., to "hash out" content and make suggestions, each bringing their own knowledge and background to the project. Rowland was involved in every step of the process and present at every meeting.
The board also advised on the selection of the author of the books, reading samples from multiple writers. Harris recalls that they were "committed" to having that person be a black American. Pleasant Company book editor Bobbie Johnson, who joined the company in the fall of 1991, reached out to children's authors such as Mildred D. Taylor (Roll of Thunder, Hear My Cry) and Joyce Hansen (Yellow Bird and Me). Eventually, Johnson came across a New York Times review of Connie Porter's debut novel All-Bright Court, read it, and recommended Porter to Rowland and the board.
"I was not at all familiar with American Girl," Porter wrote me of that time. The company was still fairly new, its fan base built through word of mouth and catalog marketing, and Porter didn't yet write children's literature, nor was she a mother. But she had recently published a sprawling, acclaimed novel about a black family living in a working-class Buffalo, New York, neighborhood. All-Bright Court featured both elements of historical fiction and a young boy as one of the protagonists. According to the author, it was her rendering of the boy's voice that most impressed Johnson.
Porter says that at first she "dodged" Johnson's repeated attempts to contact her about the books, as she was traveling to promote the novel while teaching at Southern Illinois University at Carbondale. Eventually, Johnson made contact and offered to send her some of the American Girl books for consideration. After reading them, Porter agreed to meet with Johnson, who flew from American Girl headquarters in Wisconsin to meet the author and delivered what Porter called "the best pitch I've ever heard in my life," with a prototype of the Addy doll in tow.
Porter signed on and began her research by reading dozens of books (including the rest of the American Girl books, to get a feel for the brand's storytelling style) and going with Johnson and Athan on a trip to Philadelphia, the city where Addy and her mother would make their home after escaping slavery. It's there that they visited Mother Bethel A.M.E. Church, the basis for Addy's church.
Porter had some creative freedom but was required to adhere to the American Girl formula, which suggested a six-book structure for each doll: an introductory book followed by five successive installments centering on school, Christmas, a birthday, summer, and winter. For Porter, Meet Addy was the most difficult book in the series to write, because there was so much to accomplish: "Not only did it have to introduce Addy and her family," Porter said, "it had to introduce slavery, set the initial plot line for six books, and I had to keep in mind that Pleasant Company had multiple tie-ins. There were the books but some of the products being created were also featured in the books—the clothes, accessories, furniture."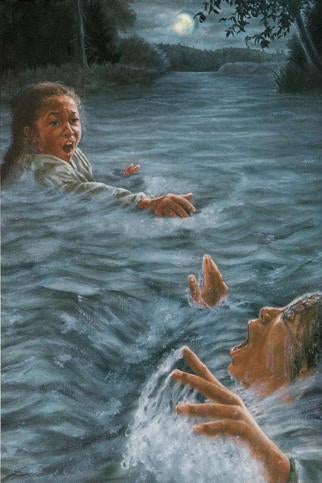 The advisory board was a valuable resource. If Porter questioned the veracity of a scene or wanted to gain more background on a detail she was including in the book, she could turn to them. Each of the board members I spoke with emphasized how important it was not to play fast and loose with the facts, even in a fictional narrative. In one of the more obsessive bits of fact-checking, someone went as far as pinpointing a particular week in 1864 when there was a full moon, to coincide with Addy and her mother's escape North to freedom, underneath the light of the full moon that is described and illustrated in the book.
Porter and the board also stressed that the story should be one of empowerment, even if it began in slavery. "Everybody agreed that it had to be a story of a self-authorized flight to freedom," Chisholm said. "We were all very concerned that the experience of slavery not be white-washed."
One thing Chisholm recalls "crusading" hard for was Addy's cowrie-shell necklace. The cowrie shell, as she points out, holds "ritual significance" among some West African cultures and is worn by Yoruba river goddesses such as Oshun. For Chisholm, that small accessory served as a symbol of a resilient culture that "didn't get [completely] snuffed out" by forced migration and systematic subjugation. Meanwhile, Harris recalls that the gap between Addy's front teeth, a fairly common physical trait among black people, was suggested by another of the board members.
Addy's hair was perhaps the most delicate balancing act the advisers and Porter faced in terms of the doll's overall appearance—hardly surprising, considering the long history of black women's hair as a center of controversy. At the time, most black dolls, even those manufactured by black-owned toy companies, seemed to be intimately acquainted with the hot comb, favoring long, silky straight locks over kinky or textured natural strands. But Addy was different—her hair would be textured. As far as one board member was concerned, if Pleasant Company wasn't willing to give Addy wavy hair, then it would have to wade into less child-friendly territory to explain why: "She can have straighter hair if you want to," Chisholm remembers thinking at the time, "but then we have to deal with the rape of black women during slavery."
In the end, Pleasant Company was still a business, and Addy was a commodity—Chisholm told me that the company also wanted to make sure little girls would be able to easily play with the doll's hair the way little girls are wont to do. Eventually, after some back and forth between the board, Porter, and Rowland, they agreed upon a hair type that was neither superkinky nor bone straight. "We thought we did a really good job selecting hair that was black hair, and which little girls could play with," said Chisholm. (Still, customers have frequently complained about Addy's hair in language that is racially loaded, saying it's "difficult," "challenging," and not "manageable.")
There was another sensitive subject that the board debated carefully: the inclusion of the word nigger in the books. Initially, there was some disagreement between the board and Porter. "I thought it belonged in the book, had put it in the book, was convinced it belonged in the book," she said. But the board was concerned about the effects that seeing the word would have on such a young target audience, especially considering the many other troubling aspects of slavery that they would already be processing. Beyond that, they had to consider the environments in which the book would be read—they thought about the black child in an all-white school, the white teacher at an all-black school, and so on. Harris said she worried whether schools that assigned the book would be prepared "to lead those discussions in a fashion that could be both honest and empathetic." Bobbie Johnson held similar concerns—"It's different with kids" as young as 7 and 8, she told me. Plus she worried that the word would keep the book out of school curriculums and on lists of banned books alongside The Adventures of Huckleberry Finn. Ultimately, Porter came around and was convinced that the other language she used to convey the dynamic between Master Stevens and Addy and her family, accompanied by the illustrations, was sufficient to convey slavery's horrors.
While Porter and the members of the board with whom I spoke had warm memories of working on the doll, book illustrator Melodye Rosales recalled a different experience.
Rosales joined the project in its later stages after Harris, with whom she was friendly, referred her to Pleasant Company. After sending in a painting she'd done of her daughter, who was 9 years old at the time (the same age as Addy), she was hired. By the time the first three books hit the shelves in fall of 1993, she was no longer working with the company.
Rosales described her relationship with Pleasant Company as fraught from the beginning. As she recalls it, when she was flown out to American Girl headquarters in Middleton, Wisconsin, for a tour and meetings with several American Girl employees, she did not see a single person of color, save for one "high yellow chick" among the sea of women packaging dolls and books. (An American Girl representative said the company was unable to provide employee demographics from the time, though they did confirm that the racial makeup at their Middleton office reflected the demographics of the surrounding mostly white Dane County.) According to Rosales, at least one employee she met at the company was taken aback by her appearance when she arrived—Rosales is biracial, and her impression was that that person had expected someone with darker skin; she says one marketing person asked her if she was black. She says someone on the marketing team also expressed concern that Addy's books wouldn't sell—echoing Rowland's beliefs that there wasn't a market for black mail-order dolls—and suggested that they were only looking to publish three books, for now. Johnson denies this, suggesting that they had always published three books first before following up with the final three books months later. "The entire reason for doing [that] is that we just can't get that amount of work done all in one year," she said. (Neither Johnson nor Athan worked closely with Rosales, and while they both said they were aware that she and the company had not ended their relationship on good terms, they didn't fully know what transpired. "When I look back at those books, I just think [Rosales] did a marvelous job," Johnson told me.)
According to Rosales, the tension only grew as the project proceeded. She described constant battles with Rowland and the art team over the style and historical accuracy of her illustrations. One such disagreement was over Rosales' depiction of the complexions of the black characters, which portrayed the color caste system as it existed for black people at the time. Addy's teacher, Miss Dunn, and her well-to-do rival and classmate Harriet, for instance, were illustrated as lighter-skinned. According to Rosales, Pleasant Company was afraid of wading into the complexities and politics of light and dark skin.
As she did a few times throughout this experience, Rosales turned to Harris for support, relaying disagreements. Harris would in turn advocate on Rosales' behalf, and the editorial team would come around. Of this particular issue, Harris said, "We both felt that it was crucial to have a range of physical appearances so that enslavement would not be associated solely with darker-skinned blacks. We wanted to convey that light skin or biracial/multiracial heritage did not shield one from enslavement." (Complexions are specified in the text as well, with Porter describing certain characters' skin as "dark" or "light.")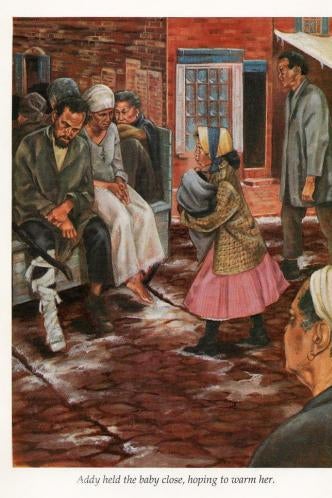 At another point, according to Rosales, an art director complained to her that a particular illustration she'd done for the third book, Addy's Surprise, was "sad." The illustration depicts a moment when Addy has gone with her mother to a pier on the Philadelphia waterfront to greet and assist the arriving newly freed blacks, and Addy gives her shawl to a weak, thin woman whose baby is crying and offers to carry the baby. Rosales says she was instructed to make the woman "smile more." Porter had some recollections of sitting in on a meeting with the board and the Pleasant Company team when this issue arose, and said she agreed with Rosales' fight against portraying happiness at such a heavy moment. "Joy might come in the morning, but it's not coming when you're tired and hungry and you've left behind family members," she told me, likening it to recent real-life images of refugees emerging from boats. "Pleasant didn't mean ill, or even the art director. It's just that they're trying to tell the story in a certain way [and are careful about what they] put out there for young readers."
Eventually, said Rosales, an angry Rowland told her, "I'm not paying you to be a historian, I'm paying you to be a pair of hands." She was sent a termination letter, and she says she was asked by the company to return the Addy doll prototype they had given to her daughter—who served as the model for Addy in the illustrations. Black illustrator Bradford Brown took on the final three books in the original series.
Rosales spoke out about her firing to the press at least once, in an Oct. 1993 Chicago Tribune article about Addy. "This is a money venture," she told the paper. "This has nothing to do with being sensitive to the community." In the same article, Rowland called Rosales' accusations "patently ridiculous." "My crime," Rosales concluded to me in a recent email, "was asking too many questions and challenging them to depart from making black history part of their saccharine sanitized collection of the perfect 9-year-old girlhood fantasy—a visual impossibility to illustrate in 1864 blackhood reality."
In September 1993, Addy made her debut at the National Council of Negro Women's annual Black Family Reunion Celebration in Washington, D.C. She was a success—Dorothy Height, the organization's president, praised the books, and Harris recalls the reactions of the children and their parents being "overwhelmingly positive."
Porter traveled across the country promoting the book, appearing at book signings. She told me of one 12-year-old black girl who sticks out in her memory. Her teacher brought her to a book signing, and Porter discovered that the girl had learned to read through the Addy books. "Addy's story of desiring literacy and coming to school at the age of 9 unable to read or write really touched this girl," Porter recalled. "She felt shut out as a reader, but seeing Addy struggle, seeing her not give up … was something this girl could relate to."
Others were less impressed. Even before the doll was released, some people were understandably wary of a white-owned doll company creating a black doll whose narrative begins with her as a slave. One children's book author, Eloise Greenfield, captured the sentiments of many critics: "It's a stereotype to continually go back to that period. It's our Holocaust … How can you compare the horror of slavery with Kirsten's mother having a baby?"
Everyone I interviewed heard these criticisms loud and clear, but they're mostly proud of the work they did. "Boy, it's an unfair peg," said Johnson, "in the sense that Addy is so much more than a runaway slave. Yes, she started in slavery, but she escaped—she's tough and smart and resourceful." Harris calls Addy a "powerful counternarrative" to traditional stories about slavery. "The prevailing imagery and trope about slavery in this country, despite the success of 12 Years a Slave, is still Gone With the Wind. It's impossible to escape that," she said. She pointed to this year's A Birthday Cake for George Washington, which Scholastic pulled after furor erupted over its depiction of happy slaves, for evidence. Said Chisholm: "Fundamentally, it starts in slavery, blood at the roots, you know? To me that was the place to start, and it had to be a story about coming to freedom."
But for years—while the company did introduce more nonwhite dolls such as the Native American doll Kaya and the Latina doll Josefina—Addy was also where American Girl ended when it came to black historical dolls. And because of this, she's continued to be a source of both love and resentment for the girls who grew up with her. When Cécile was announced in 2011, she was celebrated simply for being "not a slave."
I was 5 years old in 1993 and received the Addy doll and her first three stories that Christmas, after having obsessed over the American Girl catalogs for some time. I vividly remember being excited about her drinking gourd and cowrie-shell necklace (sold separately from the doll itself, of course). I also remember her thick, textured hair, which felt similar to my own. I had never owned another doll quite like her, and for some time, I would bring her with me everywhere I could.
My strongest connection to Addy was not with the doll, however—I was definitely more of a stuffed-animal kid—but with her stories. Though the books were probably not my first lesson about slavery, they're the first I can remember. Just after I turned 6, when I was in the first grade, my principal asked me to read an essay at the schoolwide Black History Month assembly, and someone—either my dad or I, but really probably my dad—decided that I would write about Addy, summarizing her plight and subsequent flight to freedom. I practiced over and over, memorizing my speech, which was to be the first time I ever spoke in front of an audience. I recall feeling some pride at only looking down at my typed speech once. It was also one of the first times I remember feeling significantly different from my white peers, who did not have a month singled out for them and whose ancestors had never been slaves. I'm not sure whether the word shame would be the most accurate way to describe it, but I did feel some mild embarrassment and unease.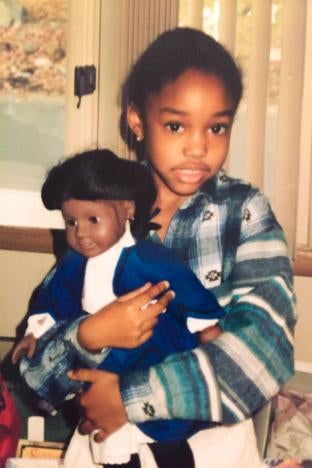 Many of the women I interviewed about their experiences growing up with Addy shared similar memories. "I remember feeling awkward talking about my doll sometimes," said Briana Byrd, 28. "And I know that my friends didn't really read anything about her. They just knew she was a slave, and they called her 'the slave doll.' "
Still, none of the women I interviewed had solely unpleasant childhood memories of Addy. Some found Addy's escape to freedom to be more exciting than the white dolls' storylines. Alexis Jeffries, 30, credits the books with sparking her desire to become a writer and to self-publish her own book when she was 9 years old. Melanie Brezill spent about four years, from 7th grade through sophomore year of high school, playing Addy in two theatrical productions at the American Girl Place in Chicago, including The American Girls Revue. (The stage shows have since closed in all retail locations.) "I always felt so proud to play [her]," she said. "Not to downplay any of the things that the other [American] Girls experienced, but one girl had a dream to be able to ride a horse, you know? That was Felicity's story. But Addy … the things that she went through at her young age—I found strength in that."
Brezill also witnessed how, for some little girls, Addy's story crossed racial lines. "I found it really eye-opening that we would have white girls that would show up with Addy dolls. And they would say Addy was their favorite story. And that wasn't, like, a once or twice thing."
In her Paris Review essay, Brit Bennett notes that white children's relationship with black dolls has often been especially violent, involving mutilation, cutting, and even burning. Sometimes, this behavior was even encouraged, as in a 1900 postcard in which a white man throws baseballs at pickaninny dolls. Even today, there remains some prejudice against black dolls, as evidenced by a video that went viral last Christmas, in which a woman records two white girls reacting negatively to receiving black dolls, with one of the girls even crying and throwing the doll, as the woman watches and laughs.
When I spoke with white women who grew up with Addy, however, their stories suggested that she has played a positive role for young white girls, as an early introduction to some of the realities of race in America. Central to this is the fact that she is a fully realized character, humanized by Porter's stories and Rosales' illustrations, and not a caricature.
"Addy's story was sad, but she was so strong," Laura Howard, 30, told me. "I wanted to be strong like that." She remembers her mother, Cheryl, telling her that "everyone has different struggles that can be difficult to realize or comprehend sometimes, but it's important to try and understand. Thinking back, it was an early lesson in white privilege." When I asked Cheryl why she bought her daughter the doll, she explained, "I grew up in St. Paul, [Minnesota,] where many of my schoolmates were Mexican American and my best friend [in] middle school through high school was African American … Those friendships helped me appreciate cultural diversity and understand the additional privileges I had simply by growing up white," she said. "I was always eager to bring a little more color into Laura's life whenever I could. That's why Addy was the American Girl doll I liked the most and bought the most clothes for."
Since Pleasant Rowland sold Pleasant Company to Mattel in 1998, both Addy and the historical doll collection overall have undergone drastic makeovers. In 2014, the collection was rebranded as the BeForever line, and of the original five dolls, only Addy and Samantha remain in circulation. The books have been condensed from a six-book series to two novel-length books containing several volumes. The dolls' outfits and accessories have been refashioned, too. Instead of Addy's simple pink calico dress from the original Meet Addy publication, for instance, she now comes with a fancier bright blue dress. (The cowrie necklace remains.) Still, the "content and essence of the stories remain the same," says American Girl publicist Stephanie Spanos, and the decision to condense them (and remove the in-book illustrations) was born to "reflect recent consumer research indicating that the level and size of books girls are reading today is increasing."
Some of the board members I interviewed were less than enthusiastic about these changes. Said Janet Sims-Wood of the Addy doll, "The hair is much straighter than what I remember us having for our dolls, because our dolls' hair was kind of kinky." The observation that newer Addy dolls have straighter or "smoother" hair is common among doll collectors, but Spanos says that while Addy now comes with a new hairstyle, the texture remains the same.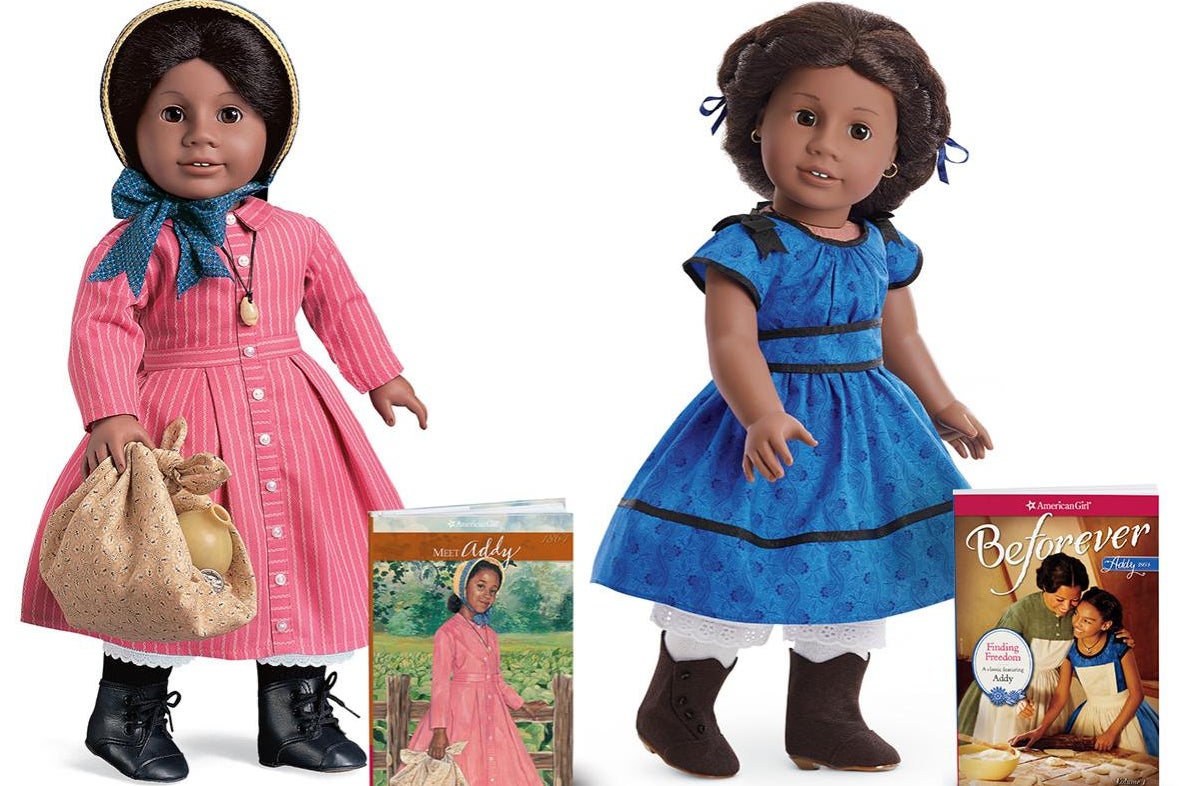 The board members are not alone in their criticism of such changes. In a 2013 article in the Atlantic, writer Amy Schiller proclaimed that "American Girls Aren't Radical Anymore," noting their "increasingly mild character development and innocuous political topics." In recent years, sales for American Girl have also dipped, with Mattel laying off 18 of their American Girl employees on one day in 2014.
But the American Girl stories maintain a hold on a segment of the public and especially the women who first grew up with them. Kerra Don, 27, who was a hairstylist at the American Girl Place in Manhattan for a few years during and after finishing up college, plans to pass on her collection of books and dolls to her 2-year-old daughter when she gets older. Chardae Davis, 29, felt the same way, saying, "American Girls have a special place in my heart, and I would love to share Addy with my kids or introduce them to other dolls in the collection."
The week that the new doll, Melody, became available, I took a trip to American Girl Place in Manhattan, where a launch event took place, complete with arts and crafts and a meet-and-greet with author Denise Lewis Patrick. It was my first time in one of their retail stores, but it was just as vibrantly pink as I had imagined. Unsurprisingly, the current star of the store, and the reason the majority of the children were there that morning, was Melody. Various Melody dolls were on full display in an array of different outfits and settings, sometimes accompanied by her fluffy dog, Bo. Elizabeth, a tall, white 16-year-old, caught my eye when I noticed her dad holding onto a black, curly-haired doll. She was here specifically for the Melody doll and told me, "I really love her story, so much that I got a Truly Me," one of American Girl's line of nearly 40 dolls with varying skin tones, hair types, and facial features, "to make her cousin Valerie." Elsewhere, 9-year-old Carli, who is black, was equally thrilled about Melody, whose story of protesting racial injustice during the civil rights movement she finds "inspiring."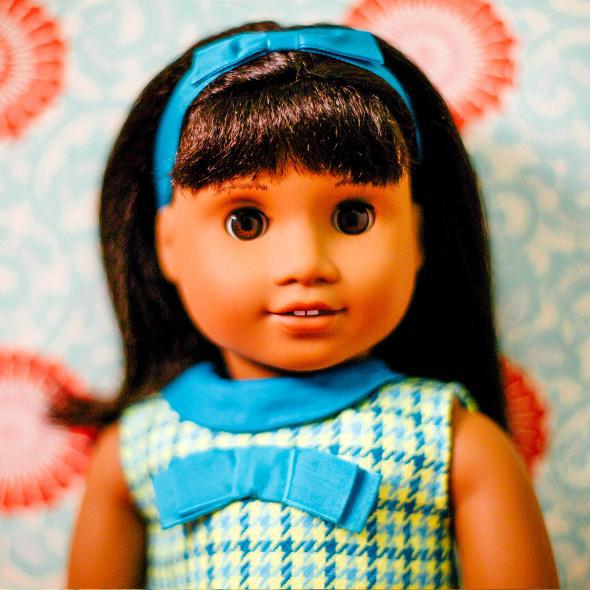 But Addy had a noticeable presence as well, modeling her updated outfits, her hair in various beautifully braided styles in different displays. (I felt her hair for myself, and it does feel less texturized than the way I remember it.) I asked Carli about Addy, who she owns in addition to Melody and several other American Girl dolls, and she said she admires her struggle for freedom.
I also encountered Sophia Tadal, who is black, and Sophia Wilson, who is white—two 7-year-old friends accompanied by their respective mothers, Imani Laners and Juliana Wilson. Said Laners of Melody, "For me, she's a multicultural doll, so it's exciting—more than exciting … it's groundbreaking. They need to see stories like that." According to Laners, Addy was sold out for Christmas two years ago, so instead her daughter Sophia got a Truly Me doll. Nevertheless, Addy's stories have resonated with her.
I asked Connie Porter how she would describe Addy's legacy, and for all of the doll's fraught history—from her birth as a slave to the debate over the waves in her hair— Porter's answer resonates with the scenes I witnessed in that pink Manhattan store and with the memories I heard from young women and younger girls, and even with my own complicated relationship with the doll who helped me realize my difference: "She is a voice, she is a face, an embodiment of the lives of our African American ancestors. She takes readers past whatever negative connotations they may put on the word slave. They see Addy being what that world didn't want people to see—a child, a human being with hopes and dreams, family, history, and the potential to live a full and abundant life—if given the chance."