Here I Am is Jonathan Safran Foer's third novel; up till now he has managed to write, between 2002's Everything is Illuminated and 2005's Extremely Loud and Incredibly Close, one-half of an excellent novel. (That may not sound great, percentage-wise, but most writers never get close to it.) The half of Everything is Illuminated told in the voice of Alex, a Ukrainian translator and guide ushering a character named after the book's author through sites of his family's persecution during the Holocaust, strikes an exquisite note of 21st-century moral queasiness. Alex is sweet, exuberant, naïve, and admiring; "Foer" can't forget that when his people were vulnerable, Alex's people crushed them, but it's also impossible to ignore how dramatically the tables have turned.
The tiresome parts of Everything is Illuminated and Extremely Loud and Incredibly Close (essentially the whole of that book) fail for the same reason: how frantically they strive to please. The characters are precocious tots and gruff but loving elders, moony romantics and folklorical shtetl inhabitants. There are splashes of cuddly experimentalism and oodles of Hallmark pathos, like the kid who, after 9/11, imagines a "special drain" under every pillow in New York City designed to funnel tears into the Central Park reservoir. Everyone's pain is picturesquely sentimental, the stuff of sighs, not screams. Foer's early work drifts dangerously toward kitsch.
Here I Am, on the other hand, worms its way closer to the squirmy kernel of Foer's talent. Its subject—marital disintegration among the cultured urban bourgeoisie—is endearing to exactly no one. Jacob and Julia Bloch, a novelist-turned-TV-writer on a Game of Thrones–type series and an architect-turned-renovation-consultant, live with their three sons in a townhouse in Washington, D.C. Once consumed by their own specialness (the family has cute, idiosyncratic rituals like wandering around the house with their eyes closed to celebrate Shabbat), the couple have become estranged for reasons not entirely clear even to themselves. Julia's discovery of the burner phone from which Jacob sexts a colleague only precipitates the collapse of their union; the fissures in it run deep. Meanwhile, Jacob's grandfather, a Holocaust survivor, needs to be moved into an assisted living facility. His father, Irv, a stridently pro-Israel blogger and political gadfly, berates him. Sam, his eldest son, prefers pretending to be a Latina girl in an online community called Other Life to "life on the crap side of the screen" and has to be dragged kicking and screaming to his own bar mitzvah. Last but not least, the beloved old family dog is incontinent and has taken to whimpering every time he stands up.
In counterpoint to the Blochs' bust-up, a series of earthquakes ravages the Middle East, bringing on a humanitarian crisis. Every Muslim nation from Algeria to Yemen declares war on Israel, and the prime minister summons adult men from the worldwide Jewish diaspora to "come home" and fight. This happens during a visit to the U.S. by Jacob's Israeli cousin, Tamir—a comically hairy, muscular, and robust contrast to Jacob—who gets stranded in the Blochs' guest room after all air travel into the region shuts down. Between Tamir and Irv, Jacob suffers a steady stream of lectures about his deficiencies as a Jewish man. Jacob's self-assured Israeli relatives, he thinks enviously, "didn't seem to give a shit about anything. All Jacob's family did was give shits. They were shit-givers."
Let's not make too much of this geopolitical subplot, however. Yes, one section of the novel is titled, hyperbolically, "The Destruction of Israel," and largely consists of speeches made by the prime minister and an Iranian ayatollah. But Foer never brings this drama from background to foreground; it's ghostlike and theoretical, the undercurrent to Sam's long-delayed bar mitzvah, the ceremony by which Jewish boys enter manhood. The distant war and his crumbling marriage push Jacob to face all the ways he has failed to grow up himself. The core of the novel isn't the war but a memory from Jacob's childhood: his father removing the corpse of a decomposing squirrel from the family doorstep. "It was so gross. I couldn't have done it," the boy says. "When you're a dad, there's no one above you," his father explains. "If I don't do something that has to be done, who is going to do it?" One day, he says, Jacob will do it, too. "The more you won't want to do it, the more of a dad you'll be."
Here I Am circles and circles the paradoxical mystery of the distance between Jacob and Julia. "They loved each other's company, and would always choose it over either aloneness or the company of anyone else," Foer writes, "but the more comfort they found together, the more life they shared, the more estranged they became from their inner lives." The pair rarely have sex. He feels rejected, and she feels that responsibility for the entire functioning of family rests on her shoulders, so she daydreams by designing perfect houses for solitary occupants. He pines for the first flush of their love, when (in a suspiciously idealized memory) he was once able to bring her to orgasm by staring at her genitals, but now he can rarely get it up and broods over how seldom she touches him, praises him, or laughs at his jokes. Everything that matters goes unsaid. It's an old story, and a common one, unfolding in countless households around the world, but Foer makes it engaging, in no small part because Here I Am returns him to what worked best in Everything is Illuminated: the uncomfortable probing of his own conscience. If too much of his fiction has felt cooked, this, at least, tastes raw and true.
Nothing makes a person more unlovable than a desperate need to be loved. Jacob keeps absurd little secrets from Julia to make himself appear better in her eyes, and those secrets metastasize into big problems. Foer links Jacob's outwardly ingratiating and covertly resentful bond with Julia to the posture of any Jew of the diaspora: Irv blames Jacob's neglect of Israel and waste of his talents writing for "the epic dragon adventure of someone who isn't fit to spit shine your hemorrhoids" on "the same mistake we've been making for thousands of years… believing that if we can only be loved, we'll be safe." Jews who live on the sufferance of Gentiles can never be truly secure: "Does anyone really doubt that one day, when the conditions are right, America will decide we're noisy, and smelly, and pushy, and way too smart for anyone else's good?"
The metaphor is intriguing, but forced: Marriage isn't a nation you're born in or move to but something you build from scratch with a partner. This political gloss on a private misery can come across as an imitation of the social novels of Jonathan Franzen, just as the scattered passages of dirty talk and reveries on masturbation seem to ape Philip Roth. Here I Am is strongest when it dares to be unlikeable in its own, funny way, as in Jacob's ruthless, hapless description of negotiations with Julia: "He would have to avoid saying things that could be used against him at any further point, as everything would be entered into the permanent record. He would have to appear to yield (with gentle affirmations, and declared reversals to positions he already secretly held) without giving an inch. He would have to have the cunning of someone too cunning to read a book about the cunning of the samurai."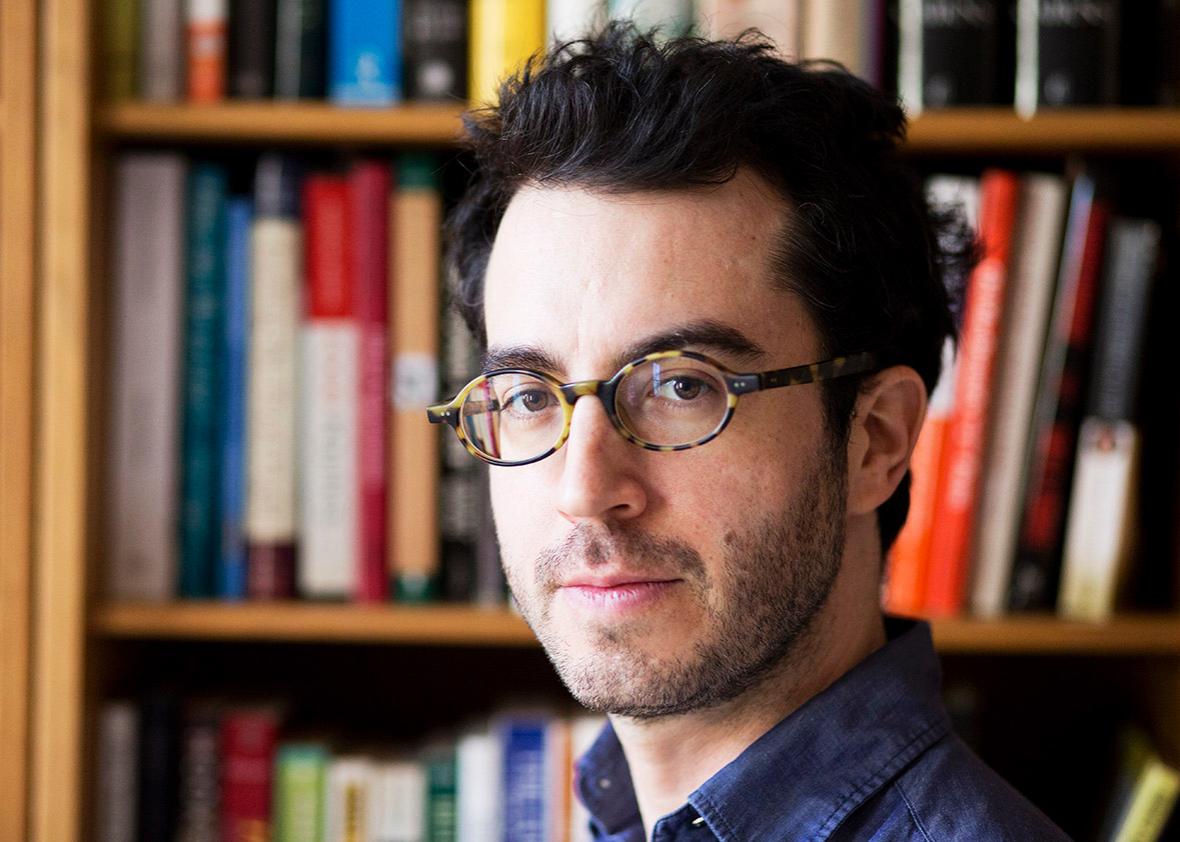 Whenever Foer isn't trying too hard, isn't avidly polishing away the particle of bitterness that gives his writing its particular, genuine charm—whenever, that is, that he ceases trying to charm—Here I Am becomes a novel well worth reading. It is, alas, too long, largely because Foer seems unable to end it without delivering at least a dozen life lessons. Jacob loves podcasts, and the final chapters reveal a fondness for those annoyingly paradoxical, uplifting homilies so often used to wrap up an episode of the artier strain of the form: "What can make religious people and parents so utterly insufferable is also what makes religion and parenthood so utterly beautiful: the all-or-nothing wager. The faith." Or "You only get to keep what you refuse to let go of." Or "Love isn't the absence of struggle. Love is struggle." And so on. These become exhausting, as if Jacob and possibly Foer were hammering away at the truth to fashion a satisfying moral to the story. A moral is what glibly appealing novelists offer their readers, and many readers have come to expect as much, but as any parent can testify, there comes a time when a grownup just has to say "no." And mean it.
—
Here I Am by Jonathan Safran Foer. Farrar, Straus and Giroux.
See all the pieces in the Slate Book Review.