If modern audiences are aware of Amos 'n' Andy, it's most likely as a shameful part of American history. With its roots planted firmly within the tradition of blackface minstrelsy (the eponymous black characters were originated by two white actors on the radio in the 1920s), the show's lack of "positive" images was always a source of contention among black audiences, even as it existed as one of the most popular forms of mass entertainment for several decades. When Amos 'n' Andy moved to the small screen in 1951 (becoming one of the earliest examples of the modern TV sitcom) and was replaced with an all-black ensemble led by Alvin Childress as Amos and Spencer Williams as Andy, its rousing success didn't last long. Within less than two years, the show was canceled, in large part due to fierce protests by the NAACP.
In the intervening decades, the sitcom's legacy has been overlooked, but Trey Ellis (the writer who is perhaps best known for his influential 1989 essay on "The New Black Aesthetic") explores the rise and swift downfall of the show and its black cast in his new unproduced screenplay Holy Mackerel! On Saturday, the night before the Emmys, the script will be performed in a live reading in Los Angeles, featuring actor and activist Jesse Williams as Alvin Childress (who played Amos), Forrest Gump actor Mykelti Williamson  as Spencer Williams (who donned the derby hat of Andy), and David Alan Grier as Tim Moore (who was famous for his role as Kingfish), as part of the series Black List Live. (In the interest of full disclosure: Franklin Leonard, the founder of the Black List—the popular annual roundup of the "most liked" unproduced screenplays—is a friend of mine.) I spoke with Ellis about the comedic genius of Amos 'n' Andy and how it paved the way for black actors today.
Tell me a little bit about how you got involved with writing this script. What was it about Amos 'n' Andy that made you want to explore that story in a narrative feature?
Professor Henry Louis Gates at Harvard and Henry Finder at the New Yorker came to me with this idea about doing a fiction film about Amos 'n' Andy. As soon as they said the name, I just kind of recoiled, like, "That seems like Stepin Fetchit, Uncle Tom." It's like, "I don't want to open that door." Because I knew nothing about it. So my line about this choice and making it: Everything I thought I knew about Amos 'n' Andy was wrong. After I dove in and started reading about them and finding out about these black actors, with an all-black cast, and how beloved it was by working-class black people and how reviled it was by upper-class black people—or at least publicly reviled, and maybe secretly they liked it. Such a rich world to explore, and so current. It's all the #OscarsSoWhite [controversy], and every season with the new TV shows, where we look to see, "How are these images? How diverse are they?" And so, the more I looked into it, it just became an irresistible story. And the cast of characters—the act of Amos and Andy and Kingfish—were some of the greatest comedians of all time.
It seems like there's been tons of analysis of this show in the past about its legacy in different books and TV specials and documentaries. But it is interesting that, as far as I can tell, there's never been a dramatic interpretation of it in the way that you are trying to do it. And based on the answer you just gave me, it seems like the reason why it hasn't been approached in this way yet is because people have looked down on it in hindsight. And it makes you nervous to approach it.
Yeah, it felt like—you know, I've always tried to buck political corrections. Even from my first book, from Platitudes; in terms of black sacred cows, if there's a sacred cow, I'll try to kill it. So this idea of just having these images and how these people acted, I just thought it would seem like the perfect time to really take a more sophisticated look at what they did with what they were allowed to do in that time.
I see definite parallels to Tyler Perry. Tyler Perry is this creator of lowbrow, low-budget TV shows that, I guess you could say to some extent, a lot of working-class blacks enjoy, just like Amos 'n' Andy. But a lot of people who consider themselves well-educated look down on it. And those parallels seem to be very fruitful for what you're drawing from here.
Yeah, it's true. But as with most black artists, though, I admire Tyler Perry as a businessman, the level of the comedy of Amos 'n' Andy—they're actually comic geniuses, and I don't see that [with Perry]. I think you can compare the positive/negative images debate, but the reason Amos 'n' Andy was so popular with blacks and whites (which was also different from Tyler Perry—it was just amazingly popular among all Americans), but what was problematic about it was that many whites were laughing at it in a different way than blacks were laughing at it. So I think that there's a real parallel, too, to Dave Chappelle and when he left his show, famously, because he witnessed that. He'd watch black and white audiences laughing at his show, and he perceived a disconnect.
How would you define the comedic genius that you see in Amos 'n' Andy?
In the beginning, comedy and radio was just vaudeville. They'd do a sketch or a joke. These guys [behind Amos 'n' Andy] had the idea of every single week telling a serialized story. They invented the sitcom in ways that just seem really self-evident to us now. So by the time you come to the '50s, these black actors—Spencer Williams was already a genius director and really amazing straight-man comedian, but he's probably the best race film director—I think better than Oscar Micheaux. He made a movie called Blood of Jesus, which is the first black film in the National Film Registry. Plus, he just did everything. He's this crazy renaissance man. Spoke Italian. I mean, amazing, amazing guy.
Kingfish—Tim Moore—was considered, from the '20s to his best in the '60s or late '50s, really one of the great comedians, on par with Lucille Ball and W.C. Fields, Groucho Marx, any of these people. … The comedy that they did, the seeds that they planted, live with us to this day: the comic bits and the timing, everything we know about black comedy, from Sanford and Son to The Cosby Show to Chappelle to Chris Rock. We see it all, sort of the birth of that, from this group of amazingly talented comedians.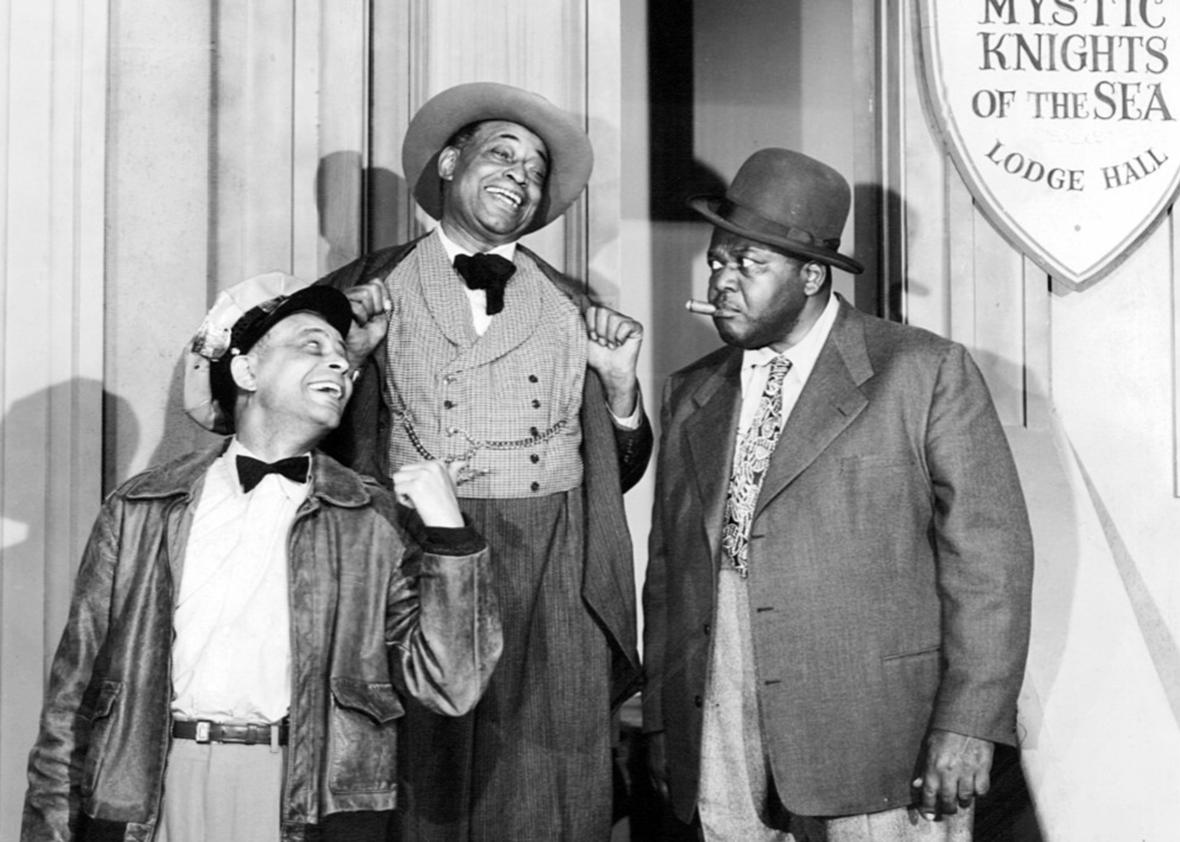 How are you approaching this script overall?
It's a comedy about tragedy. So certainly, the story is the rise and especially the fall of these three comic geniuses and this really important black television show. Just when it was about to do really great things, the NAACP came in and really shut it down.
And the cast includes David Alan Grier and Jesse Williams—
And Mykelti Williamson, Yvette Nicole Brown from Community.
What have the conversations been like in the room while you've been directing? What have you guys been talking about and mining while putting this together?
It's funny: The actors—especially comic actors—know much more about it, obviously, than I ever did and than most people did. David Alan Grier, whose father was a very famous black psychiatrist—wrote a famous book called Black Rage—tells this great story. In the '60s, [his dad] was just as red, black, and green as you can get—really a towering intellectual figure. It would come on the air, and his dad's own mother would be like, "Oh, let's watch this show!" And he'd be like, "Mom, we can't watch this show." He'd pull young David Alan Grier and his brothers and sisters away from the TV screen, so they couldn't see it. But then when he would leave, the grandmother would be like, "I know it's bad for us, but I love them so much. I can't help myself." So I think that kind of tension is dramatized in the movie—how it would even split some families, and people would almost be watching it like pornography. You know? These guilty pleasures.
The live reading is happening the night before the Emmys, which I know is a very intentional move. And this year, the Emmys are actually very diverse. I don't know if it's the most diverse it's ever been, but we've got tons of black actors and actresses nominated, including Tracee Ellis Ross, Cuba Gooding Jr., Sterling K. Brown, and several others. I'm curious as to whether you think that in some ways Amos 'n' Andy can be credited at all with helping black actors on TV get to where they are now?
Yeah, definitely. The actors have responded so well to the material because they feel indebted to them as pioneers. At the end of the script, there's a scroll: "In 1950 there were 500 African-American members of the Screen Actors Guild. … By 1960 there were 25." So black acting was absolutely decimated. Because it wasn't totally "positive," the NAACP shut it down, and Hollywood's response has been for a long time—it's either really segregated shows like Good Times or Sanford and Son featuring an all-black cast, once in awhile. What we have now, we have new black shows like Black-ish, but we have much more of them. A lot of those actors there are just integrated into the cast or a story like The People v. O.J. Simpson, which is so genius, but it also necessarily has a lot of black actors in it. But in general, if you have an all-white show, you gotta explain why you got an all-white show today, which is just something very, very new.
TV is also just progressing along much more quickly than film is.
Even from the beginning of television, advertising has always been the most positive of all stories, of all kind of representations of people. So what television did, what commercials did even in the '50s, they'd have commercials for, say, Nat King Cole with cigarettes. They knew that black people were watching these white shows, and if they were watching it, they were gonna buy stuff. So television eventually started to do a little better.
After the live reading, what's next for the script?
I owe so much to Franklin Leonard and the Black List Live—what he's done for unproduced screenplays is really extraordinary. So of course the play, for all of us, is for people to see this—for movie studios and TV networks and for everyone to look at this and think, We have to make this movie.
This interview has been edited and condensed for clarity.