If there were any remaining doubts that Michael Phelps is the greatest Olympian of all time, the American swimmer erased them Tuesday night in Rio, vanquishing his shadow-boxing South African rival Chad le Clos to win the 200-meter butterfly. With his two gold-medal performances—Phelps also anchored the victorious 4-by-200 freestyle relay—he upped his total medal count to 21 golds and 25 overall, both far and away the best marks in Olympics history. He also tied Soviet gymnast Larisa Latynina for the most individual medals in Olympic history, 14. At 31, he is the oldest man ever to win gold in an individual Olympic swimming event. He is also the oldest male swimmer to celebrate his victory in a possibly jerklike fashion.
After clinching the gold, Phelps was in no hurry to shake hands and go home. "And Phelps says 'Let's hear it,' " NBC's Dan Hicks intoned as the American champion stared down the crowd, raised his arms above his head, and motioned expectantly with his cupped fingers. "Look who's back on top in the 200 fly!" This was all very entertaining. But was it jerky?
Why his victory celebration might make him a jerk: Let's break down Phelps' post-race behavior. First, he cupped and flexed his fingers, making the universal gesture for "bring it on." Then, licking his lips, he raised his index finger: the universal gesture for "I'm No. 1." Then, he started wagging that finger, which is the universal gesture for "I am a jerk."
As Lilly King has made very clear, finger-wagging is a faux pas in Rio's Maria Lenk Aquatics Centre. It's just not good form to wag your finger after a race. And it's definitely frowned upon to follow up the finger-wagging by standing tall in the pool, flashing the crowd both of your index fingers, and inviting their applause. This was showboating of the highest order, and I can only imagine that famed unwritten-rules-of-baseball-enforcer Brian McCann is on a plane to Rio right now so he can inform Chad le Clos that he should throw a baseball at Phelps' head. There are right and wrong ways to play the swim game, after all.
Why his celebration might not make him a jerk: NBC's Rowdy Gaines said it best at the end of the race: "You don't poke the tiger." The you to whom Gaines was referring was le Clos, who on Monday night seemed to go out of his way to mean-mug Phelps prior to their 200-meter butterfly semifinal. Le Clos is no scrub: He beat out Phelps to win the 200 butterfly in London in 2012, and perhaps he thought psyching out the best Olympian ever was the best way to ensure he'd do it again.
If that was his plan, it could hardly have been more ill-conceived. Phelps did not overtly acknowledge le Clos' antics on Monday, and I thought he'd decided to take the high fjord. But Phelps, it turns out, had decided to let his swimming—and his finger, and his raised arms, and his sitting on the lane rope—do the talking. After taking gold and defeating his toughest rival, Phelps took a few moments to assert his dominance. And how did le Clos do? Well, friend, he failed to medal.
It's worth noting that, after he was done strutting his stuff, Phelps did go out of his way to acknowledge le Clos, embracing him in the pool. He also went to the stands and embraced his family. A true jerk would have set his mom, wife, and child against each other to determine which was more proud of him.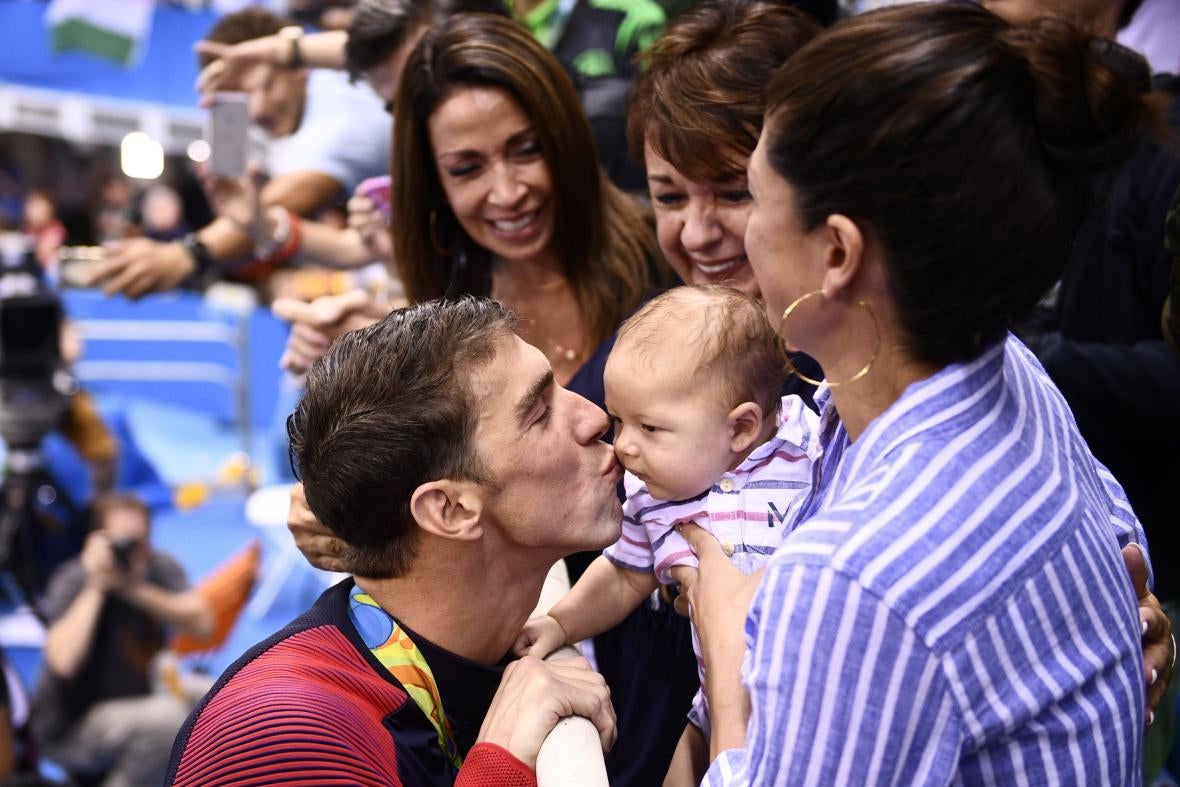 Jerk score: Zero. Phelps is the greatest swimmer of all time, and le Clos' tactics were annoying and lame. Motioning to the crowd with cupped fingers—totally warranted. For future reference, it would've also been acceptable for Michael Phelps to break in to a spirited rendition of "Whoomp! (There It Is)."
Previously in Olympics Jerk Watch: