Just in time for Wednesday's news, the creator of the original "This Is Fine" dog, K.C. Green, has published an updated version of the comic.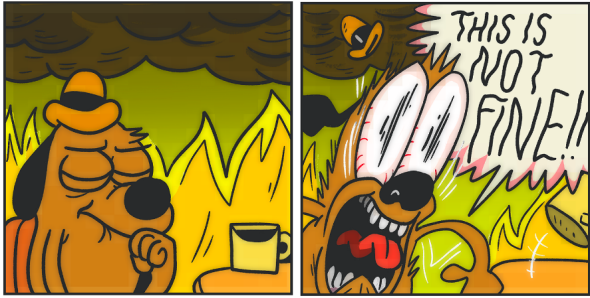 I asked Green what inspired him to draw this reimagined version:
We can't ignore it anymore. The more and more I see the news of the day, and the worse it gets, the more a person can't just stuff it down and ignore what's happening. It's really fucked out there. It's plain ridiculous. And it just starts to drive a person crazy. The same kind of person would originally ignore it at first, which I will admit I'd be that type of person. So a breaking point happens. It was very cathartic to draw those freaking out panels. I know it's not a lot, but it's something.
Read the whole comic over at the Nib. If all else fails, I guess there's always the "This Is Fine" dog plush doll?