They slice past one another's bodies, their sequined costumes reflecting sparkles of light in a thousand directions. He catches her foot and swings her, in a curved arc, around his body. There is a passionate pursuit, with grabbing and fleeing, a feigned strike to the face and a fleeting but exultant embrace. Like embattled lovers, their movements harmonize one moment and clash in discordant turbulence the next—and the audience loves it. This is not figure skating, nor is it ballet or even a tango. This is synchronized swimming mixed duets, the first-ever international-level synchronized swimming event that's open to men.
Last year, the International Swimming Federation finally reversed its decadeslong stance that synchronized swimming is for women alone. At the 2015 FINA World Championships in Kazan, Russia, American Bill May brought home the historic gold for his technical duet with Christina Jones, as well as a silver medal for his free duet with Kristina Lum.
But May, one of the greatest-ever practitioners of the sport, won't be in Rio de Janeiro. Though the decision to allow men to compete in international synchronized swimming championships is historic and long-awaited, it's time for the Olympics to provide the ultimate validation for male synchro athletes.
Men were never meant to be excluded from synchronized swimming. In 1940, Katherine Curtis, the woman who is credited with turning water ballet into a competitive sport, wrote the first synchro rulebook; it noted that competitors could be male or female. At the first synchronized swimming meet, held under her supervision at the Chicago Teachers College in 1939, the competition was between two co-ed teams. But prudes will be prudes, and in the following year, when the American Athletic Union accepted synchronized swimming into its ranks, it separated men's and women's events to mirror the structure of other AAU sports. Only a handful of men participated in the early AAU competitions, however, and "separate men's events were finally dropped for lack of competitor interest," writes Dawn Bean in Synchronized Swimming: An American History. As a result, male synchronized swimmers were left with no competitive outlets until the late 1970s, when USA Synchro took over the management of the sport and allowed men to once again compete freely in all categories.
But the victory was short-lived. When, after a decadeslong campaign to make synchronized swimming an Olympic sport, it finally made it onto the program in 1984, it was at the expense of including men. "Title IX put a great emphasis on women's sports at that time," says Chris Carver, the longtime U.S. national and Olympic team coach. "When we got to the Olympics, I think people were very much afraid that our unique status as a women's sport had helped us get there." The fight to make synchronized swimming an Olympic sport had been so uphill, and its hard-won status felt so tenuous, that even those who wanted to see men included were hesitant to push too hard.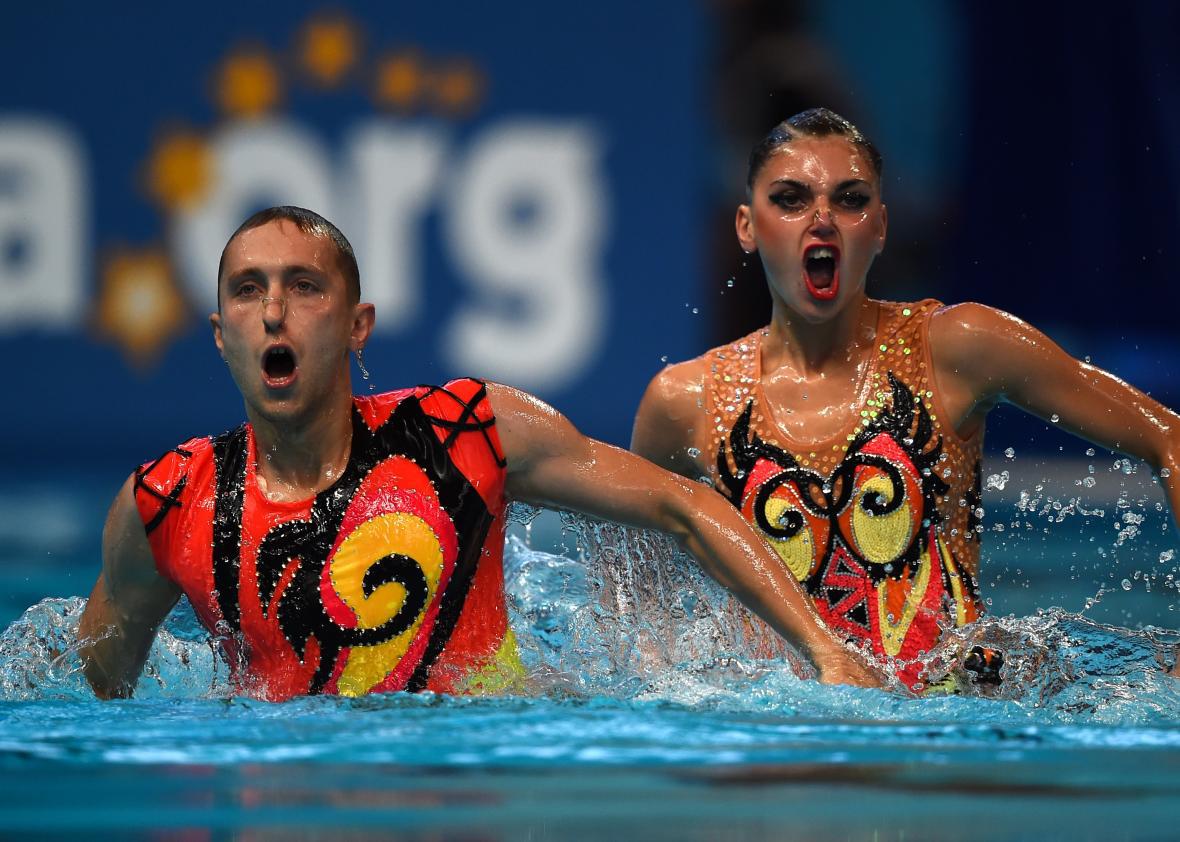 The case for men wasn't helped when Martin Short's Saturday Night Live mockumentary about male synchronized swimmers aired shortly after the 1984 Summer Games. The skit became an instant classic. It also turned men's synchro—something that, up to that point, most people didn't know existed—into a punchline.
But a lot has changed since 1984. Synchronized swimming has become a global sport, with 24 countries sending a total of 104 athletes to Rio this year. Every Olympic sport is now open to women (though men are still excluded from two—rhythmic gymnastics being the other), and gender discrimination—in either direction—is no longer considered OK. As a result, it's becoming less and less a question of if men will be allowed to compete, but when it will happen, and what that competition will look like.
Whether it will happen by Tokyo 2020 is anyone's guess, since the proposal to include men won't be deliberated on until FINA's 2017 congress. As for what it will look like, most expect that the duet event, rather than the team event, will be the first to open to men, since it was tested and proved successful in Kazan. The mixed duet mirrors pairs skating, a popular event at the Winter Games, in its potential to play off the chemistry between athletes. "Seeing two women swim together is a beautiful thing—when they are perfectly matched and move like one," says Carver, who coached May and Jones to their win last summer. "But the interplay between male and female gives the opportunity for artistry in a whole different dimension." This emphasis on interaction between swimmers rather than on strict synchronization would require tweaks to the way duets are scored. Virginia Jasontek, honorary secretary to the FINA Technical Synchronized Swimming Committee, says those tweaks might include an allowance for more interaction between the swimmers—such as lifts and throws—in the technical routine, as well as the evaluation of the "connection" between partners as part of the artistic score.
Ten countries sent a mixed duet to the world championships last year. That was a good showing for the event's international debut, but it's less than half the number of female duets going to Rio. "We would have to show greater worldwide participation [by men] in order to gain Olympic status, and that's hard to do in few years," says Jasontek. Although women's synchronized swimming is now firmly established in much of the world, she thinks men's synchro will be a "tough sell" in the Middle East, Africa, and Latin America.
As for the United States, we have Bill May, the world's most-decorated male synchronized swimmer. May, who came out of retirement for Kazan, says he would do it again for the Olympics, whenever that may be. But he's pretty much it. USA Synchro hasn't invested many of their limited resources into building a pipeline of male swimmers, as no one knows when the Olympics will open up. American boys aren't exactly knocking down their doors either, though that may change if it becomes more common to see male athletes at the highest international levels of the sport. Even if interest grows, it would likely take a generation, if not two or three, for there to be enough men in the sport to support a men's-only duet or team category, something Carver says she doesn't expect to see in her lifetime.
The next step will be for FINA to make a recommendation to the International Olympic Committee, which it would have to do next year for mixed duets to be considered for the 2020 Tokyo Games. Despite all of these obstacles, there's still a chance we could see men synching in Tokyo, especially if Japan, as host country and one of the 10 countries that entered a mixed duet in Kazan, is vocal in its support. There may also be a financial incentive. Synchronized swimming was one of the first sports programs to sell out in Rio. Tickets to mixed duets would sell quickly, especially in the event's historic first year.
When it comes to men's inclusion, the most compelling argument of all is a question: Why not?
"When you limit the ability of any individual to pursue what they want to do, you not only rob them, but you rob everyone else," says Carver. It's time for the International Olympic Committee to stop robbing male synchronized swimmers of the opportunity to compete, and the rest of us of the chance to see this great sport's full potential.