The results of the women's gymnastics competition at the Rio Games may be all but forsworn—Simone Biles will have to fall on at least two apparatuses not to win the all-around gold—but there were a few surprises during Sunday's marathon of qualifying meets, in which no medals were awarded but the rosters were set for the team, all-around, and event medal competitions. For example: Seven-time Olympian Oksana Chusovitina is a medal contender on vault—and she has a son who's older than many of her competitors. But the biggest and best surprise of all, especially for anyone tuning in to gymnastics for the first time since 2012, is that one of the top finishers on the floor exercise can actually dance. Too bad that nonsensical rules will keep her from competing in the floor exercise final anyway.
This fantastic dancer is Laurie Hernandez, she's from New Jersey, and she's taken the prevailing floor style—currently a mishmash of herky-jerky poses and awkward-pause-filled pirouettes that can barely be called "dance"—and turned it into a glorious art form. Part voguing, part old-school Olga Korbut charm, and 100 percent pure infectious joy, tuning in to Hernandez's floor routine is an excellent way to find out whether any of your Olympics-watching companions are cyborgs, for if you can get through this without breaking into a full-face grin, you are surely made of metal.
Check out that awesome pose sequence after her first tumbling run (a very good double layout, by the way). Where her competitors are vacant, Hernandez is positively vibrant, riding the series of crashes in the music as if they are physical entities out on the floor with her. And who can help but delight at the jubilant rally before her fourth pass, when she should be exhausted, but instead she pumps her arms with equal parts mania and grace?
Hernandez's routine was especially revelatory compared with the rest of Sunday's contestants in the floor exercise. Many competitors find themselves ahead of tempo and simply wait, vacantly and obediently, for the music to catch up, arms flopping listlessly, eyes staring emptily into space. As Dvora Meyers detailed four years ago, awkwardness has become the new normal in what was once the event that put the "artistic" in artistic gymnastics.
Especially depressing for gymnastics fans of a certain age—who came up watching masterpieces by Olga Strazheva and Svetlana Boginskaya—is the decline and fall of the artistry of the former Soviet Union, whose athletes' choreography and execution once rivalled the Bolshoi while still maintaining the top tumbling difficulty in their field. ("Not Soviet enough!" my coach would yell at me in the '90s.) Sunday, viewers saw Russians Daria Spiridonova and Angelina Melnikova, who, when not biffing their tumbling runs, managed to undo whatever grace was afforded them by their elegant arm movements when both fell victim to the dreaded Pirouette Pause and seemed only vaguely aware there was music playing. Watch Spiridonova and shudder.
This is what makes Laurie Hernandez's floor exercise doubly great. She's not bringing dance back to the way it was before. She doesn't do old-school Soviet-style ballet. Hernandez is the savior that floor exercise needs because she performs the new-style gymnastics dancing—pose; pose; run, run, run, leap; convoluted turn; posey-posey pose—with verve, personality, beauty, rhythm, and grace. And, you know, a relationship to her music. Moreover, and more importantly, for those who have followed the "power gymnast" versus "international gymnast" contretemps—wherein willowy, almost uniformly white Eastern European athletes were often scored higher than shorter, more muscular athletes, often including athletes of color—here's a power gymnast (of color!) who has the best artistry of these games.
Like the rest of Hernandez's fans, I am disappointed in Martha Karolyi's choice not to include her on uneven bars in the qualifying meet, which pulled her out of contention for the all-around competition. I understand the U.S. program had its reasons for favoring Aly Raisman and Gabby Douglas over the delightful high school sophomore—those reasons mostly having to do with the Olympics' idiotic rule that only two gymnasts per country can advance to the all-around final.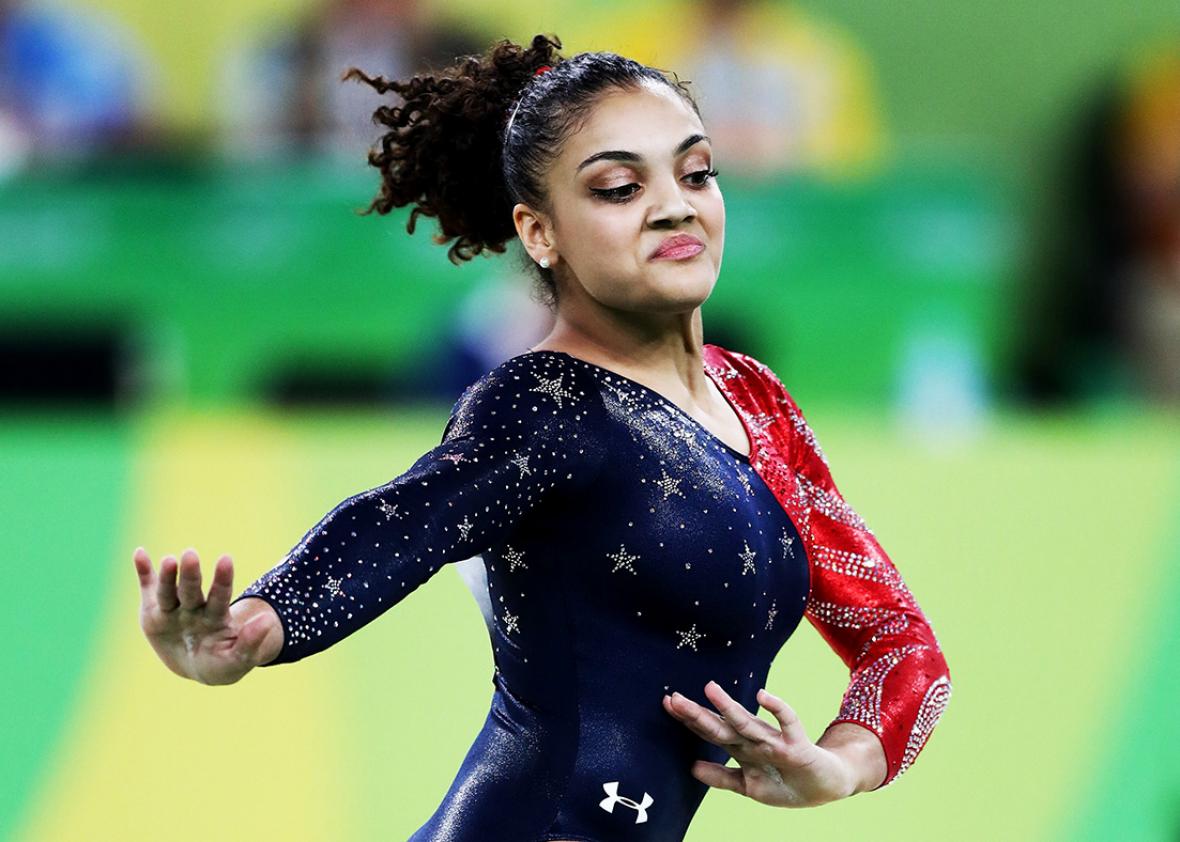 But I think Hernandez, who placed second in the all-around at the U.S. Olympic Trials, might have had a shot to medal. And, selfishly, I just wanted to see her do that routine again. Unfortunately, despite finishing in fourth place in qualifying, Hernandez didn't qualify for the floor final, as Raisman and Biles put up better scores on the floor—again, it's that dastardly two-per-country rule. (Hernandez will perform the routine during that all-but-forsworn team competition.)
Despite her artistry, Hernandez lost out because, as Meyers has explained in her great new book, the current Code of Points privileges—and will likely continue to privilege—tumbling and leaping (and those god-awful pirouettes, where the gymnasts actually wrap their arms around themselves like toddlers) at the expense of artistry. Hernandez's tumbling is great, but its difficulty is just slightly below that of her teammates'.
Biles' acrobatics are so stratospheric that she'd deserve to win the floor exercise even if she spent her time between tumbling runs texting. But no one else is Simone Biles. Mere mortal gymnasts would do well to watch Hernandez, who won't medal on floor, but is its savior. For she proves that you can soar under the new rules and still dance. Here's hoping for a slew of infectious imitators in 2020.