From the chlorinated waters of the Olympic swimming pool, there often rises an American athlete who wins not only the most medals at a given Summer Games but the bigger contest as well: the Olympic fame sweepstakes. This is the man or woman who becomes emblematic of the entire event, winning hardware and also a spot on the Wheaties box, as swimmers like gold-medal machine Michael Phelps and bubbly backstroker Missy Franklin have done in recent Olympics. Heading into the Rio Games, the pool seems primed to offer up another star: 19-year-old Katie Ledecky, who is the surest bet to be laurelled in gold in what might be an otherwise-quiet Olympics for U.S. swimming.
This is Ledecky's second Olympics. She won an unexpected gold medal in London in 2012, when, at the age of 15, she defeated hometown favorite Rebecca Adlington in the 800-meter freestyle. The British announcers on this feed, who didn't yet know Ledecky, speculate she won't be able to keep up the pace as she heads out fast in the first 200 meters.
She did, because that's what she does. By the end, the announcers were using words like "breathtaking" and "courageous."
In her Olympic debut, Ledecky announced herself authoritatively both as a rare athlete and an unassuming one. She makes waves in the water, but slides smoothly into the parameters we have set for female athletes. She's a maniac in the pool, but the girl next door on the pool deck.
There is always a bit of mystery about how world-class athletes do what they do, and the swimming pool exacerbates it: It douses their fire with a splash. Gymnasts tumble and flip and fly. Decathletes hurl and hurdle and float. Runners and sprinters do their thing out in the open, where you can see their form and their effort, their heaving chests, their pumping legs. Swimmers' exertions take place in the pool, where the beauty and the power of their strokes is lost in the spray, as is their strain. You will never see a swimmer sweat, no matter how many underwater cameras NBC installs. Swimmers are most memorable before they race—when they stand stoically by the pool, shaking out their enormous muscles, slamming on their goggles like some water mammal attending to a bit of tiresome business on land—and after they hit the wall, grip the lane line, take off their goggles, squint for their times, and smile or frown, breathing deeply.
For a female athlete especially, the water offers a certain amount of cover, a place to hide the will to win. Where other female competitors have to put on a game face— or, in the case of gymnasts, eye shadow—swimmers can just dive in. By all accounts, Ledecky is a polite, well-raised young woman, the sort of person who cheers on her teammates, asks how you're doing, and doesn't get caught up in her own hype. She is impeccable during press conferences in the manner of well-trained athletes who say "all the right things." In the pool, she is a shark, a swimmer who has no close competition. A poised, fresh-faced young woman who makes her uncanny work ethic and drive seem polite? Fiercely, unfathomably competitive on the inside and adorable on the outside? Get her that Wheaties box already.
Here are some cute things you will likely learn about Katie Ledecky as NBC does its best to make her a star. When she first started swimming, at age 6, she couldn't make it through one lap without hanging on to the lane lines. After successfully swimming the length of the pool for the first time—in a race she insisted on participating in despite an ear infection—her mother, Mary Gen Ledecky suggested they go to Panera for hot chocolate, thus establishing Ledecky's suburban bona fides. (Katie actually goes by Katie Gen, short for Genevieve.) Ledecky, who grew up in the Washington, D.C. suburbs, has opted to stay an amateur, foregoing endorsements and their attendant distractions. She has been taking classes at Georgetown University in Chinese history and politics and will attend Stanford in the fall. (Ledecky comes from an affluent family. Her father is a Harvard-educated lawyer. Her uncle is a partial owner of the New York Islanders hockey team.) She's six feet tall but looks smaller, with birdlike features; unlike Phelps, whose body was freakishly designed for swimming, she appears to have normal physical attributes. When Ledecky first started working with her current coach, he checked her overall fitness and found she could not "do three unassisted pull-ups or run a nine-minute mile."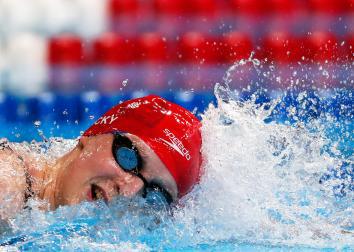 Here are some things you will likely learn about Katie Ledecky that can be plausibly packaged as cute but are actually evidence of her insane inner drive. As a kid, she kept a piece of paper by her bedside that listed her goal times. She still keeps her goal times written down somewhere, she just won't share the location. Ledecky didn't shave her legs for months because she wanted as much drag as she could get during practice; she wanted practice to be as hard as possible. At the 2015 nationals, after setting a world record in a 1,500-meter race, she hopped back in the pool 29 minutes later, muscles shaking, and somehow managed to qualify for the 200-meter finals, an event she won the next day.
Since 2012, she has been, literally, lapping her competition. Ledecky has set 11 world records, often besting herself, and is the world record–holder in the 400-meter, 800-meter, and 1,500-meter freestyle. In Rio, she is an overwhelming favorite in the 400 and 800, and a strong contender in the 200; she would destroy the field in the 1,500 if they contested that race at the Olympic level. In the 800, she owns the 10 fastest times ever recorded. She has never lost in the final of a major international meet. Ledecky's racing style—get out fast, take the lead, and never give it up—is in contravention of the standard strategy for distance swimming, which is to conserve energy for the end. Ledecky all but sprints for the whole race, which is why she can contend in both the 1,500 meters and the 200 meters. (She has even been dabbling in the 100-meter swim.) In four years, at the next Olympics, Ledecky will be just 23 years old.
Ledecky has a stroke modeled on Phelps'; he has described her, complimentarily, as a "stud." It's a loping stroke with a giddy-up—its rhythm is "long-short-long-short" instead of "same-same-same"— accompanied by a big kick that most women can't perform because they don't have the necessary core strength. Ledecky trains with men, who are the only people who can keep up with her, and has regularly beat enough of them that there is a surfeit of quotes from male swimmers attesting to the way they have been demoralized by her relentless style.