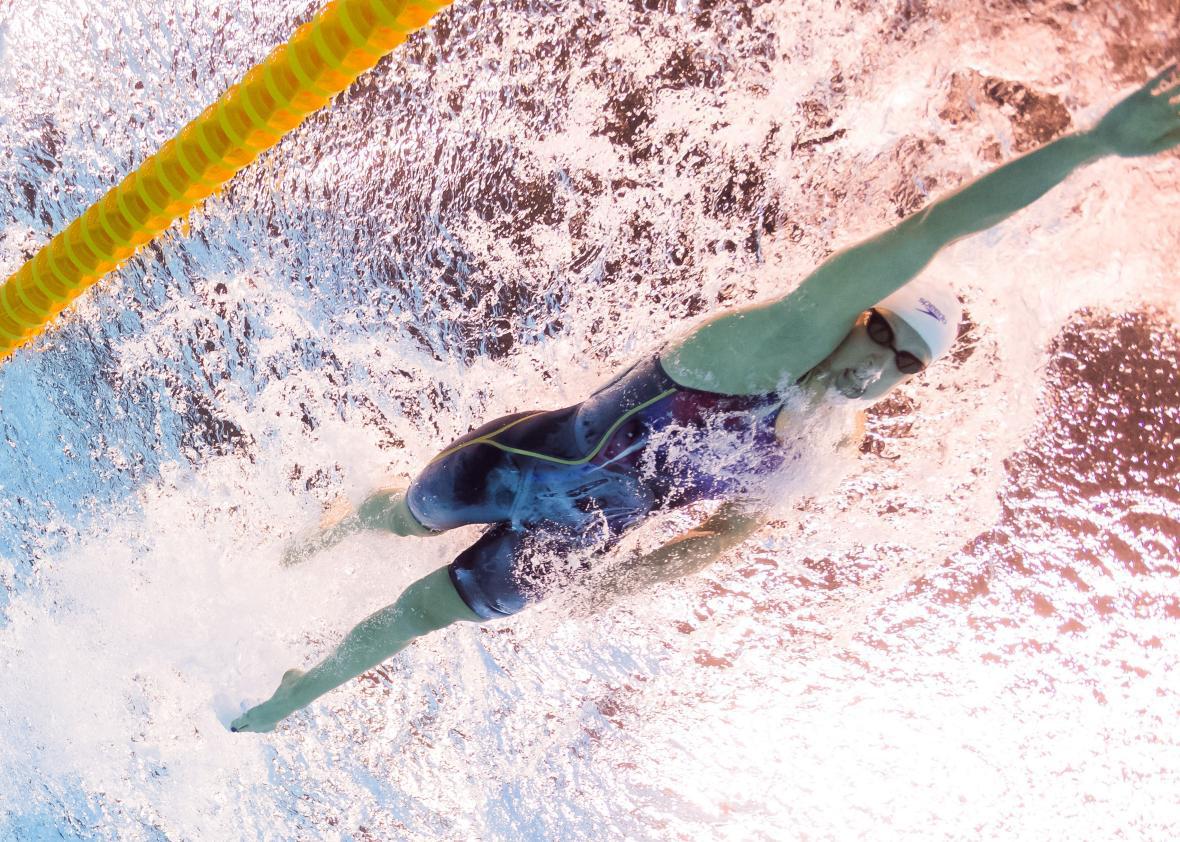 In my house, watching Katie Ledecky and Michael Phelps swim in the Olympics is on par with Game 7 of the World Series or the Super Bowl. On Tuesday, Ledecky faced her biggest challenge of these Olympics, in so much as the 200-meter freestyle was the only event in which anyone might possibly beat her. (No one did.) And Phelps in the 200-meter butterfly? He owns that race now and forever. It helped lure him out of retirement. If he won, he could retire in peace, for real this time. But would he win? (He would.)
Four finals on the night, three gold medals for the USA. (And a nice silver for Maya DiRado.) When you're a swimmer, or raising swimmers, you cherish nights like this. Your sport is a big deal once every four years. Only during the Olympics is someone like Lilly King—champion breaststroker and kick-ass Cold Warrior—a household name. Sure, friends might nod politely if you discuss Ledecky's domination of the world championships in an odd year or your trip to an Arena Pro Swim Series meet. But Katie doesn't get face time on SportsCenter. And then, for a week or so in the middle of the summer, she's no longer merely the greatest athlete in the United States. She's also the most famous and the most celebrated.
So yes, I love the Olympics beyond all reason. Many years have passed since the Soviet boycott of the 1984 Los Angeles Games meant that, after rushing home from swim practice every day, I could watch Tracy Caulkins, Mary T. Meagher, Rowdy Gaines, Rick Carey, Steve Lundquist, Carrie Steinseifer, and Tiffany Cohen rack up medals like they'd been dropped into an age-group invitational. Thirty-two years later, I'm still screaming at the television. Now my three sons, ages 7 to 12, all competitive swimmers, are screaming with me.
Watching Olympic swimming with my kids is richer and more meaningful than my attempts to make them Cleveland sports fans or Ohio State die-hards. I had to watch LeBron's title-saving Game 7 block a half-dozen times before I could explain to them how it happened. With swimming, we're all speaking the same language. I can talk with my older two kids about how Phelps' amazing flip-turn helped the American men win the 4-by-100-meter relay, or how Ledecky's stroke makes her nearly unbeatable. I can explain to my 7-year-old that yes, that pool is the same size as the one he swam in this summer. I can hug my 9-year-old when he interrupts my workday, because he paused the TV so we could watch the women's 200 individual medley semifinals and the prelims of the men's 4-by-200 meter relay.
My first chance to watch the Olympics with one of my children came in 2008. Beijing. Phelps. The eight golds. Brandon was only 5, but we let him stay up way past his bedtime. He saw Jason Lezak swim the most incredible relay leg ever. He saw Phelps edge Milorad Cavic in the closest 100 fly in history. He probably remembers little, if any, of this, but I remember how hard he worked on his strokes in our little neighborhood pool the rest of that summer. Four years later, we watched Rebecca Soni set a world record in the 200 breaststroke and became smitten with Missy Franklin.
One thing I've noticed as we've made swimming—both participating and watching—a family tradition is that my sons cheer just as hard for the women as the men. For the last week, we've been subjected to a conversation about whether it's sexist to say "Katie Ledecky swims like a man." Aside from the fact that, yes, technically, she does swim like a man, because almost no woman even attempts the uneven, loping stroke she employs to such great effect, that debate overshadows one of my favorite things about swimming: It's one of the few sports that boys and girls do together.
Swimming is not an overwhelmingly popular sport, compared with rec soccer or Little League, and there is no overabundance of swimming pools. Good coaches are hard to find. That means swim teams are big happy families: boys and girls, ages 6 to 18. You're all in it together for practices and competitions. And until age 12 or so, girls are faster. Want to make the Junior Olympics in my home state of Ohio? The qualifying times for girls are tougher than those for boys in every race but the 50-meter free.
This shared practice time and pool time, and the long car trips to meets, have taught my sons more about gender equality than anything else they've ever done. Boys know girls can and will kick their butts. Go to any age-group meet, and you'll see girls cheering for boys, boys cheering for girls, and everyone cheering for the 6-year-old who has to cling to the lane lines and take a break. (You never know—that kid might be the next Katie Ledecky.)
This parity between boys and girls is perhaps more a result of pragmatism than idealism. But no matter how that parity came about, the results are impossible to deny—I've seen them in my living room every night during the Rio Olympics. When the swimming finals come on NBC, we all get just as excited to cheer on Ledecky and Franklin and DiRado as we do for Phelps and Conor Dwyer and Ryan Murphy. My sons don't care if they're watching women or men. As far as they're concerned, all of them are swimmers, and all of them are great.
---