Nominee: Justin Gatlin
Home country: United States of America
Known for: Sprinting, alleged doping, not being Usain Bolt.
Why he might be a jerk: On Wednesday night, Gatlin, who is one of the fastest men in the world, failed to qualify for the finals of the 200-meter dash in Rio de Janeiro. Gatlin slowed down midway through his heat, like Usain Bolt sometimes does, and looked around, also like Usain Bolt does. Unfortunately for Gatlin, he is not Usain Bolt, and the other runners passed him by. Whoops! Gatlin claimed afterward that he slowed down because of an injury, which sounds to me like a convenient excuse, but who knows, really? Regardless, Gatlin's Olympics are over, and at 34 he might not make it back for another games. Should we feel sorry for him?
Gatlin, who took the silver medal in the 100-meter dash on Sunday, has long had the honor of being the second-fastest man in the world, behind Jamaica's Bolt. He has also long had the dishonor of being the poster boy for performance-enhancing drug use in track and field. In 2001, Gatlin earned a two-year suspension from track and field after testing positive for amphetamines. (He claimed the test detected prescription medication he used for his ADHD; the ban was reduced to one year.)
In 2004, he won gold in the 100-meter dash at the Athens Games and told USA Today that "I want to show character exists in track and field. … I want to prove there's likeable people in track and field." Two years later, he was banned from international competition for eight years after failing a second drug test, this time for testosterone. At the time of his second positive test, Gatlin was training with Jamaican coach Trevor Graham, a shady character who has since earned a lifetime ban from coaching. (In a Foxsports.com feature, Flinder Boyd wrote that Gatlin was "seduced by Graham's pedigree and fast-talking way," which implies that, if not a jerk, he is certainly a rube.) Graham blamed the positive drug test on a vengeful massage therapist who allegedly rubbed testosterone cream on the sprinter's legs. "Blame it on the massage therapist" is a tactic straight out of the jerk handbook. "Have your coach blame it on the massage therapist" is a creative, though no less jerky, variation.
Gatlin's suspension was later reduced to four years. During his ban, he pursued many interesting hobbies. He thought he could be an NFL wide receiver despite not playing since high school and tried out for the Houston Texans and Tampa Bay Buccaneers; he made neither team. Is it jerky to presume that because you are great at one sport, you will be similarly excellent in another, materially different sport? At the least, it indicates excessive and perhaps-unwarranted self-confidence, a trait commonly displayed by jerks.
In 2009, appearing on a Japanese game show, he ran a 9.45-second 100-meter dash. The time would have been a new world record, if not for one thing: Gatlin was aided by "a 20 mph tailwind provided by a giant fan," as the Daily Mail put it. Using performance-enhancing drugs to get stronger and faster is one thing. Using a gigantic fan is beyond the pale. That said, I am in no position to criticize anyone else for doing something stupid on a game show.
Since returning to world competition, Gatlin has earned cash as a spokesman for Tommie Copper, a sportswear brand that touted the "healing properties" of the copper strands woven into its clothes. In December 2015, Tommie Copper agreed to pay $1.35 million to settle Federal Trade Commission charges of deceptive advertising; the settlement also mandated that the company "have competent and reliable scientific evidence before making future claims about pain relief, disease treatment, or health benefits."
Now, at 34, he is running faster than 34 year olds typically run. Inevitably, people have insinuated that Gatlin is on something. (There's no evidence that he is, but you know how rumors go.) During the Rio Games, his U.S. teammate, swimmer Lilly King, told the media she thought people who had previously been banned for doping offenses shouldn't be allowed back on the U.S. team. "I don't even know who Lilly King is," Gatlin said in response. That's sort of a jerky thing to say, but, then again, King's initial remark was sort of jerky, too.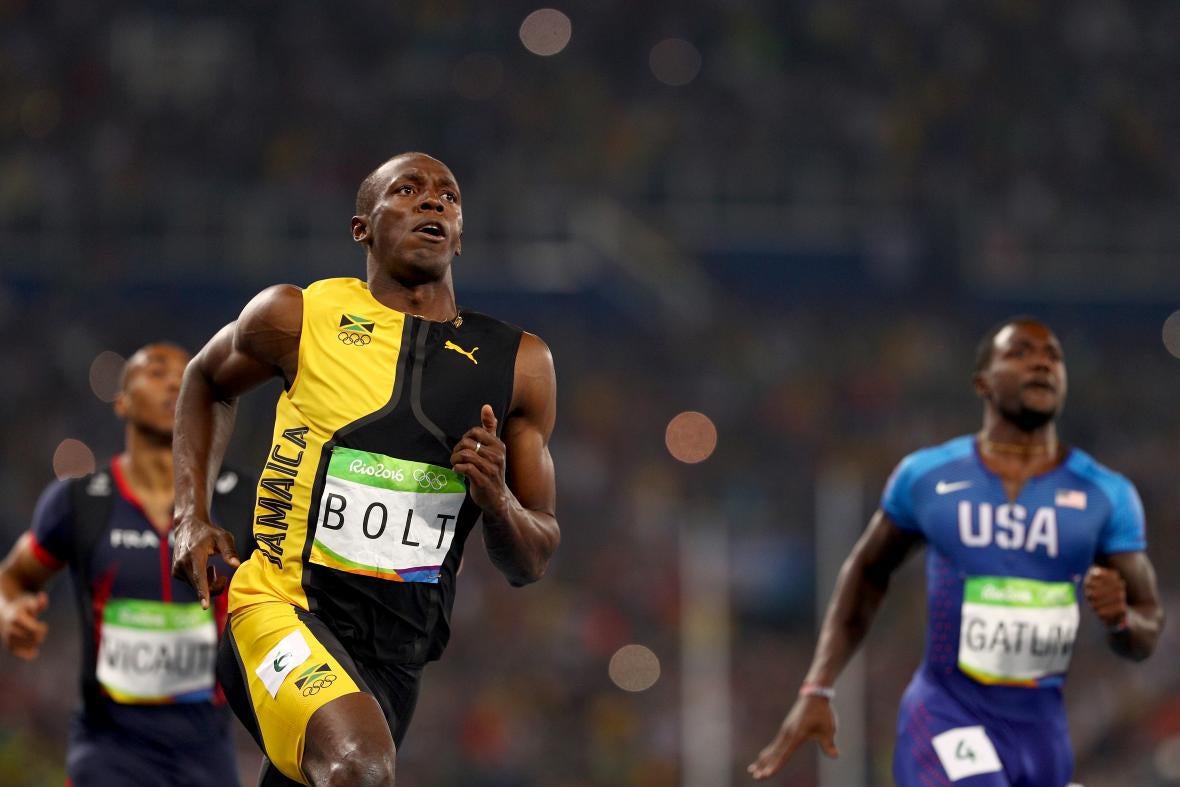 Why he might not be a jerk: Gatlin is controversial, that is undeniable, but the main sign of jerkiness here is that 10-year-old doping charge. Gatlin has stayed clean since 2006—or, at least, hasn't tested positive for anything since then—and that has to count for something. Is it suspicious to see a 34-year-old man post the times Gatlin has posted? Sure. It's impossible to separate Gatlin's present from his past, and he will always be followed by his bad reputation. But here's the thing. Gatlin's first suspension was for prescription Adderall, and, to my mind, it is very jerky to punish someone for using prescription medication. It was because of this first hit that his second failed test brought such a long punishment. If you squint, you can almost see Justin Gatlin as a victim of circumstance.
In a recent interview with Cris Collinsworth for NBC, Gatlin noted that, when he tested positive for testosterone in Kansas in 2006, he was the reigning Olympic gold medalist in the 100-meter dash. "It was nothing I needed to do to try to boost up my performance," he said. "I was the man already." Of course, the recent history of competitive sport is filled with examples of already-dominant athletes using drugs to pursue even greater dominance, so take Gatlin's words for what they're worth, which is not much. I should also note that, in the interview, Collinsworth implies that Gatlin is standing by his "the massage therapist did it" story, which is a thoroughly unconvincing one. But I can't help but have some sympathy for a guy who reached the heights of his sport, and so openly wanted to be loved for his accomplishments, only to become a complete and utter pariah.
When asked about the low point in his period of exile, Gatlin said: "When everyone acted like I didn't exist. That was the low point. When my name was never spoken anymore." With this in mind, his cameos at various NFL training camps and on that Japanese game show seem less jerky and more, I don't know, poignant—increasingly desperate attempts to get the world to acknowledge his continued existence. It's 2016, and Justin Gatlin is still here, even though most everyone in the track-and-field hierarchy would prefer that he were not. And I sort of like him for that.
Also, in 2006, he said he would volunteer as a coach for his old high school track team, which is a nice thing to do. I can't find any evidence that he actually followed through on this, though.
Jerk Score: I'll give Gatlin 1 out of 3 for style, because those Tommie Copper clothes are actually pretty ugly. 2 out of 3 for technical merit, because he should've taken that 2006 excuse to another level and gotten his trainer to blame his coach for blaming his masseuse for rubbing him down with testosterone cream. 2 out of 3 for consistency, because he is consistently not as fast as Usain Bolt. And 0 out of 1 in the category of "Has he been finger-wagged by self-righteous swimmer Lilly King?" (He has, but I count that as a point against King moreso than Gatlin.) 5 out of 10 for Justin Gatlin. Not that big of a jerk!
Previously in Olympics Jerk Watch: