Nightlight is Slate's pop-up blog about children's books, running for the month of August. Read about it here.
In 1986, Pleasant Rowland, a former elementary school teacher and children's textbook writer, introduced a line of mail-order dolls. Each had a distinct look and came packaged with a book that told the story of the doll's cultural background and the American historical era she represented. Over the three decades that followed, the American Girl brand became a cultural touchstone for teen girls across the country thanks to its many offshoots—including a popular bi-monthly magazine, a line of make-your-own dolls, and various high-end retail stores. Also, because of its puberty books.
While the multi-ethnic dolls may be the face of the American Girl universe, the company's greatest cultural contribution is even more enduring than a massive fleet of sturdily built Addys and Samanthas. For millennial women of a certain age and socioeconomic background, books such as Help! An Absolutely Indispensable Guide for Girls and Oops! The Manners Guide for Girls couldn't have arrived at a more crucial period in our young lives. In the same way that Our Bodies, Ourselves touched a nerve with the generations before us, The Care and Keeping of You provided us with accessible and nutritious comfort food to help us through the most awkward and anxiety-ridden periods of youth.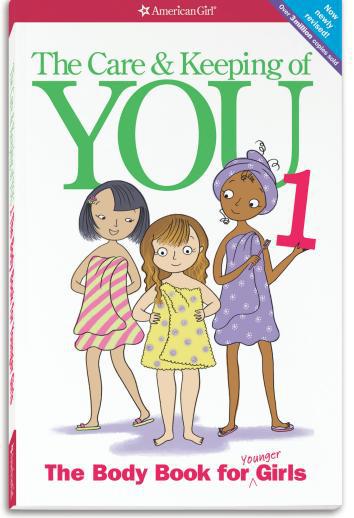 Following the launch of the American Girl magazine in 1993, the first five advice and activity books debuted in 1995: Help!, Games and Giggles, Pages and Pockets for Secrets and Stuff, Birthday Cards for Girls to Make, and Crafts for Girls. Each title was inviting, with colorful illustrations featuring active, expressive girls of different ethnicities, typically white, black, and Asian. (Occasionally, a book like Groom Your Room or Here's How—which provided tips on how to do things such as blow a bubble or eat with chopsticks—would feature real-life girls alongside or in place of illustrations.) The tone is a mixture of friendliness, warmth, and enlightenment, part patient older sister, part new-agey aunt: "Change is painful and scary," admitted The Care and Keeping of Friends on the subject of friends who move away. "But it's a part of life. You can't always know who will come or go, but you can grow from the experience."
The line of books still sells: American Girl's associate manager of public relations, Susan Jevens, notes that 37 million copies under the brand's Advice and Activity umbrella have been sold since publication began. The Care and Keeping of You (as well as the revised editions split into separate books for "younger girls" and "older girls"), regularly appears on parents' lists of recommendations for books about puberty.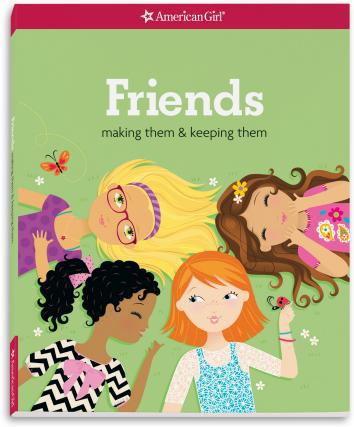 And when I asked my fellow millennial colleagues about their experiences, a flood of positive memories was unleashed. One, who described her younger self as a "devotee of multiple American Girl advice books," was particularly fond of the ones that awakened and tapped into her budding entrepreneurial spirit. Moneymakers: Good Cents for Girls and The Babysitter's Handbook: The Care and Keeping of Kids inspired her to start her own babysitting business throughout middle school and high school: "Reading it made me feel like I could be a person who did a 'thing.' " Another gushed about Room for You, in which a personality quiz revealed to its reader how best to decorate her room, calling it "so crucial in defining who I became." And the range of girls represented was especially life-changing for yet another colleague, who was "comforted" to see Asian girls who looked like her—"I still remember thinking, 'This is for me,' " she said.
For me, perusing those older books some decades later still triggers powerful emotions. I'm reminded of my 10th birthday sleepover, in which I was inspired to host a "pajama fashion show" for all of my guests, thanks to Super Slumber Parties. Flipping through the original Care and Keeping of You (courtesy of a co-worker's mom in New Jersey, who graciously shipped me a bunch of old books for this story) is a reminder of how scary my tween years were, and how crucial those books were to helping me endure them, whether explaining my self-consciousness about newly sprouted underarm hair or guiding me through the pivotal, first-time arrival of "shark week." The opening letter addressed to you, dear reader, is welcoming: "We hope the head-to-toe advice in this book will give you the words to start a conversation with your parents or other adults you trust," it reads, as signed by "Your friends at American Girl."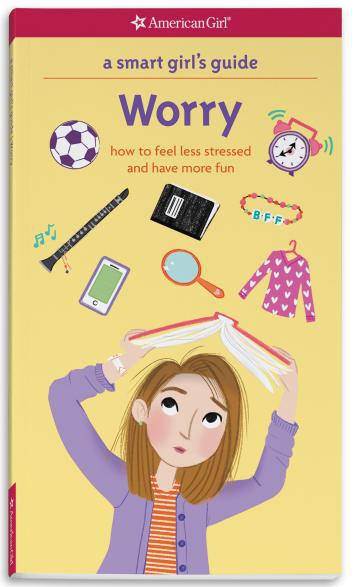 The books also made me feel as though the writers, however far removed from puberty themselves, had done their due diligence on the subject. For the original 1998 version of Care and Keeping of You, Lia Gaggino is credited as the "medical consultant." And of course, with a new generation of young girls comes a whole new crop of issues that didn't exist when I was a kid—which is the big reason why, over a decade later, Care and Keeping of You was revised and expanded into two more books, Book 1 for younger girls age 8 and up, and Book 2 for older girls age 10 and up. "There was a lot of basic information in that first book," says American Girl magazine and Advice and Activity executive editor Barbara Stretchberry. "But we were getting more and more complex letters that just had more questions."
The essence of Care and Keeping of You has remained unchanged, but in these new editions, it's obvious that the company's approach has evolved. For instance, Book 1 avoids explicit mention of eating disorders, unlike its predecessor. (The eating disorder talk is saved for Book 2, targeted at older girls; this book breaks down the definition and symptoms of bulimia and anorexia, and discusses how to get help.) Book 2 dives into even greater detail about the emotional toll of puberty, identifying for young girls what stress and anxiety is, and what form it can take. And the books cover other topics that weren't discussed previously at all, including yeast infections and properly matching your bra to your shirt. (A.G. tip: "Think about choosing bras in colors close to your own skin tone so that they don't show through your clothes.")
Reading that last bit of advice as an adult has made me aware, for the first time, of just how carefully American Girl as a brand tends to avoid engaging with the more PG-13 sides of adolescence, like sexuality. In some respects, this makes sense: Between the ages of 8 and 12, which is the main target audience of the brand, I was a lot more concerned with having friends and not feeling left out than I was with liking boys. Stretchberry points out that the medical experts that the company partners with believe it's best not to bring up these issues so early. She also adds, "I think one of the reasons the Care and Keeping of You line … has done so well, and really struck a chord with parents and girls, is that it doesn't include sex." To their credit, these new books do occasionally go a little bit further than they did when I was young in addressing what girls' changing bodies can mean to the rest of the world: In A Smart Girl's Guide: Manners, a tip on how to react when groped inappropriately by an older boy at school echoes the public's growing concern over sexual assault in schools.
But the franchise's discomfort with sexuality can sometimes feel strangely quaint. I suggested to Stretchberry that with the progress made by the LGBTQ movement over the last 20 years, and the fact that many children are coming out as queer at younger and younger ages, there could be room for addressing such issues in future books—especially since identifying as queer doesn't automatically have to do with sex. She acknowledged this, admitting that the brand doesn't have anything now or planned for the immediate future involving LGBTQ issues, "But … 15 years ago, we wouldn't have had a book about worry, or anxiety. So I'm just not sure where that's gonna take us." (For what it's worth, American Girl magazine recently upset uberconservative parents' group One Million Moms after featuring a story about a girl with two dads.)
Still, the American Girl puberty books have managed to stay relevant for two decades, so I'm hopeful that they will continue to change with the times. And it's promising to see that the series is taking baby steps toward loosening up its famously conservative brand. After all, for this tween growing up in the late '90s, these books were a guide through a wilderness of raging hormones and new social pressures. I can only imagine how life-changing they'd have been if they'd taught me how to match my bra strap to my shirt.