Two U.S. swimmers have released statements that blame Ryan Lochte for instigating the fracas at a Rio de Janeiro gas station on Sunday morning, turning a verbal altercation into a potentially dangerous encounter. Gunnar Bentz gave his first public account of last week's incident in a statement released Friday night in which he confirmed four swimmers were in a taxi back to the Olympic Village when they pulled over at around 6 a.m. to use the bathroom. "There was no restroom inside, so we foolishly relieved ourselves on the backside of the building behind some bushes," Bentz said.
According to his teammate's account, Lochte then surprised everyone by engaging in act of petty vandalism. "I am unsure why, but while we were in that area, Ryan pulled to the ground a framed metal advertisement that was loosely anchored to the brick wall," Bentz said. That was corroborated by a separate statement that another of the four swimmers present that morning, Jack Conger, also released Friday: "Ryan Lochte removed a poster from a nearby wall." Bentz, though, contradicted accounts by Brazilian police that the swimmers damaged a restroom: "There was a locked door out back and I did not witness anyone breaking it open."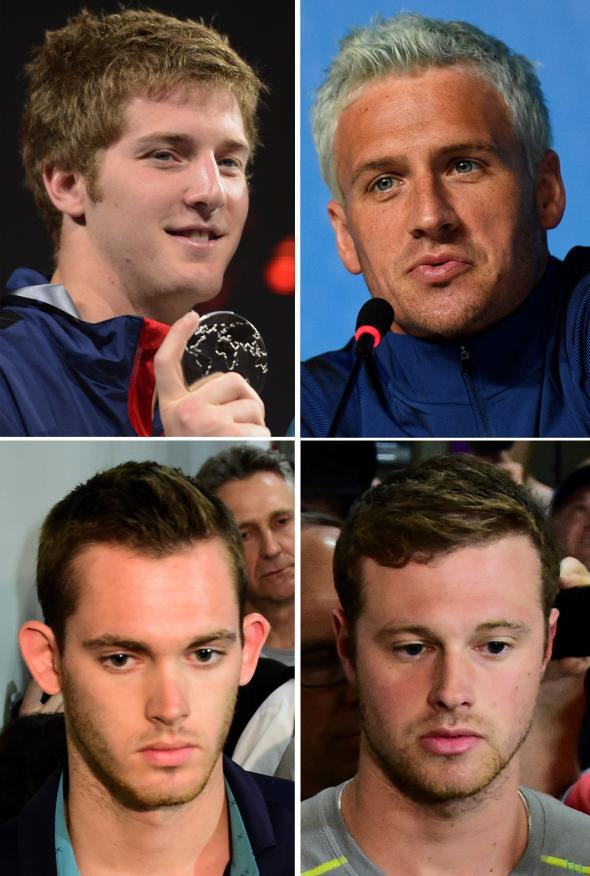 Regardless, both Bentz and Conger seem to agree it was Lochte's actions that caught the attention of gas station employees, leading the quartet to be confronted by two armed security guards.
The security guards eventually drew their guns. At that point, Lochte got in the guards' faces. "Again, I cannot speak to his actions, but Ryan stood up and began to yell at the guards. After Jack and I both tugged at him in an attempt to get him to sit back down, Ryan and the security guards had a heated verbal exchange, but no physical contact was made," Bentz said.
While Conger did not go into as much detail, his general outline is the same: "Although I cooperated with their requests while there was a heated exchange among others, at one point a weapon was pointed at me."
After a witness who spoke English offered to help, the swimmers paid some money for the torn poster and returned to the Olympic Village in a different taxi. In Bentz's account, he says he handed over a $20 bill and Jimmy Feigen gave the guards 100 reais, which is around $30. There is no mention of Lochte giving anyone any cash, though he was the one who tore down the advertisement and he later claimed to have been robbed.
Although the security footage that's been released doesn't show any guns, Bentz said he's "confident that some video angles have not been shown that would further substantiate my account."
In their statements, Bentz and Conger repeatedly expressed regret for their actions and did not try to excuse what they had done. When Lochte issued an apology on Friday through a post on Instagram he gave few details about what happened and seemed to make excuses for his behavior, saying it was "traumatic" to have a stranger pull a gun on him in a foreign country.
Feigen is the only one of the four swimmers who has yet to release a statement about what happened that night. Feigen reportedly left Brazil Friday night after he made a $10,800 donation to a Rio charity that teaches martial arts to poor children.