Should you ever need to endear yourself to a Canadian, say how sad you were to hear about Gord. Canada has fixated on Gord Downie this summer as he makes his final journey across the country, an incurable tumor growing rapidly inside his left temporal lobe. When the tour wraps up this weekend, we'll all return to our daily lives nervously watching Trump. But for Canadians anywhere in the world, Saturday night is the Gehrig speech. It's the O.J. verdict and the M.A.S.H. finale. It's every second of sudden-death overtime we've ever played against Russia.
Downie's band, the Tragically Hip, is one of those enormous entities that cannot be understood outside its homeland. In Canada, we just call them the Hip, and Downie is simply Gord. And I am betraying something sacred by attempting to explain what he means to us. Gord is the country's spirit animal in the only way a 52-year-old white man might legitimately be classified as a "spirit animal."
Gord emerged from a tradition of scrappy, sensitive Canadians, drawn to the disappearing backwaters where beer tastes like "half fart and half horse piss." He is, first and foremost, a poet. (One of his most famous songs is called "Poets.") But Gord is also a hockey player. He articulates the esoteric inner mythologies the latter has never felt comfortable saying aloud.
The Hip formed in Kingston, Ontario, in 1984, and their first three albums were made for hockey players. Their sound is ubiquitously referred to as "blues-tinged." The early hits with titles like "Small Town Bringdown," "Highway Girl," "Blow at High Dough," "Three Pistols," and "New Orleans is Sinking," became the meat and potatoes of Canadian commercial radio.
Lurking deeper in these early albums, though, were the sort of visceral narratives that made CBC listeners pay attention. The song that converted many of us was "38 Years Old," an urgent ballad about a group of prisoners who escape from Millhaven Institution, a maximum-security prison in Ontario. "They mostly came from towns with long French names," Gord sang. "But one of the dozen was a hometown shame." He then slipped into the point of view of the prisoner's younger brother, with such verisimilitude that fans would leave flowers on Downie's porch in Kingston, convinced the story was autobiographical.
As the Hip traveled deeper through Canada, playing their songs about Ontario's boonies, Gord began piecing together this bigger history hidden "on the back of hockey cards" and weird roadside plaques. For a period of time, it felt like the Hip were just always out there. "Looking for a place to happen," Gord would say, "making stops along the way."
Now that journey is running out of stops. Gord had a seizure back in December. In May, the Hip informed the country it was glioblastoma multiforme. He underwent a craniotomy, six weeks of radiation, and chemotherapy. When the final tour kicked off , nobody knew exactly how it would to turn out. We knew his prognosis was terminal. By the time he emerged onstage when I saw him in Vancouver on July 26, I rose with a sense of dread, alongside everybody else up in section 325.
He wore goofy silver pants that bunched up on his legs, which we imagine had atrophied like boreal kindling. His face was puffy from whatever corticosteroids his doctors presumably gave him to curb the swelling in his brain. At the best of times, Gord's vibrato evokes something between a trumpeter swan and a rusty weathervane. But early in the night, there were moments you could barely hear his voice over the band, like a piece of the Canadian shield was stuck in his throat. In the most immense moments, the quintet—which has never changed members since its early days playing cover songs at dive bars in Kingston—seemed to close instinctively around him like a phalanx.
Here he is early in the night:
It's a song about the hundredth meridian (where the Great Plains begin). Everybody in section 325 knew the punchline. Except this time we didn't know how it will be delivered. We mouthed the words tentatively. Two minutes into the performance, it began to happen. Gord started moving like a scarecrow jolted to life in a storm. Our voices rose alongside his:
If I die of vanity, promise me, promise me
They bury me some place I don't want to be, you'll dig me up and transport me, unceremoniously,
Away from the swollen city breeze, garbage bag trees,
Whispers of disease, and the acts of enormity,
And lower me slowly and sadly and properly,
Get Ry Cooder to sing my eulogy.
And he looked up and out. Like his gaze was being pulled up by his chin. And his eyes started to twinkle. And nobody in the building sat down again in the two hours that followed.
Other shows have turned on similar lyrics, which have taken on a new urgency this summer. Gord has always lionized the grace that dribbles out of the characters and places the universe has given up on. Glioblastoma multiforme isn't just a terminal brain tumor. It's the terminal brain tumor. Nobody appreciates more powerfully than Gord right now that he is being reincarnated in front of our eyes as a character in one of his own songs.
In Canada, we are uniquely wired for this. In fact, we have been waiting for it since the day in 1980 that an athlete named Terry Fox, suffering from osteosarcoma, quietly dipped his one remaining leg into the Atlantic Ocean and began limping 5,525 miles across the country—years before people undertook such runs for cures. In Canadians' estimation, Fox exists above Papa Trudeau and Wayne Gretzky and the rest of the characters the CBC makes us rank from time to time. The country tuned in each night to watch as Fox grimaced through snow and wind, along icy roads, in unbearable pain; the Trans Canada Highway lined with larger and larger crowds, cheering him on. It marked not just a sharp pivot in the national mythology, but created an archetype of the modern Canadian hero. Terry Fox's run is what Canadians are effectively re-enacting through Gord this summer.
The author and speaker Dan Pontefract, who has followed the Hip's last tour across the country, wrote: "I've been to well over 100 concerts since 1991, and never have I seen Downie so transparent." Onstage, Gord is known to speak in tongues. The author Joseph Boyden, who is part Métis, has likened him to a shaman. His most famous performances spiral into these streams of consciousness. He'll rub his belly, claw at his shoulders, and mumble about orcas and suicide pacts. The band jams on in D, as the thought runs its course.
Through the Tragically Hip's career, Gord would return from wherever he disappeared to in those trances with wrenching tales about the FLQ Crisis and Attawapiskat and David Milgaard, who spent 23 years in prison for a murder nobody believed he committed. As a kid, I couldn't make sense of his Canada. Naked as he was onstage, he maintained his privacy between each tour. Hectored by a CBC host in an interview in 2009, he said: "I would want no part of propagating or galvanizing or burnishing some of the stupid mythology in this country. That we're this clean pristine place. That we've got it all figured out. That we know what's best for the world."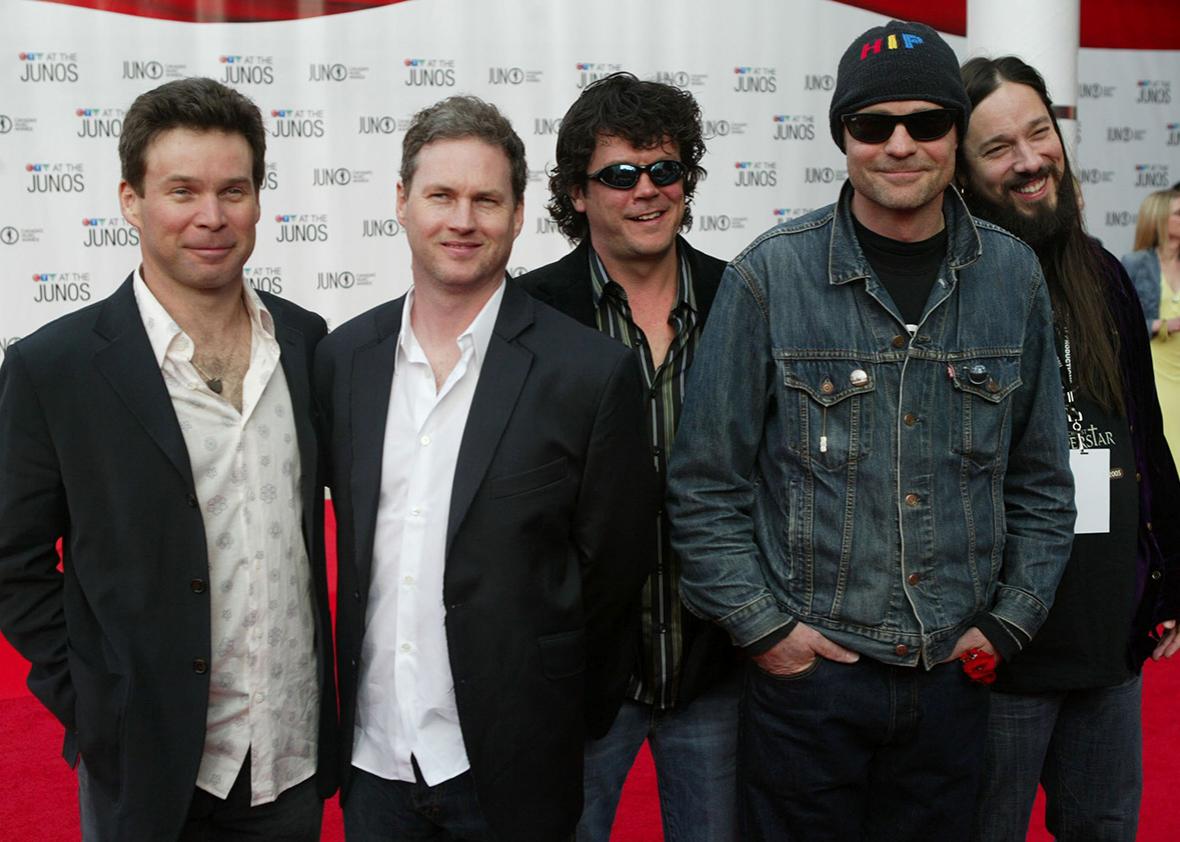 Instead, Gord synthesized a complicated sense of nationalism, which I still don't entirely understand. He fused it physically onto the country's territorial piss posts and 700 foot ceilings—the remote howling places the Group of Seven painted, which scared the bejesus out of everybody but the people who were already here. He infected overlapping generations of Canadians with this mythology, and when we're not singing his songs around campfires or dancing to them at weddings, we spend a lot of time among ourselves trying to figure out if we even understand what he means. Earlier this summer, I spent a weekend in the mountains, and none of us could agree on a single song nor sentiment about exactly how the Hip embodied Canada, nor whether it might actually be the other way around. One guy there went home and wrote that "any song looking to push maple leaf-shaped buttons in the hearts of Canadian music fans, the first stop is often geography."
Gord was able to reduce this geography without ever diminishing it. Take the Hip's third album Road Apples (1991), which is where they begin to shift from clever blues rock into something more challenging. (They were still two albums away from Day for Night, their most profound.) A road apple refers to the patties of manure that horses leave along rural roads. In the winter they freeze and kind of look like hockey pucks. I don't know how many kids have ever used a road apple as a hockey puck, but we all believe there was some golden time when hockey was played with nothing else. The road apple is the quintessential Hip motif. Gord chipped at it, stick-handled it through what we call the heritage minutes—the history that a young, sparsely populated country is forever trying to establish. And then suggested that hockey was not a real religion.
The singular importance of the Hip is that they resonate with my friends who teach post-colonial studies as deeply as they touch the right-wing hosers I still hang out with from high school, who drunkenly belt the anthems out in the parking lot after hockey games. Gord sews together the same disparate audiences that are drawn to songwriters like Matt Berninger. The audiences that worship Springsteen. Imagine, though, if Springsteen never broke outside the Mid-Atlantic, and imagine if the Mid-Atlantic had roughly 60 percent as many people and 20 times the geographical area. And imagine if, year after year, Springsteen drilled ever deeper into that terrain.
There is something to be learned from the strange consensus Gord has built. To be intensely patriotic is to juxtapose your country's tiny triumphs alongside its immense, overarching darkness. His perspective in a song will often turn sharply from victim to perpetrator, from the character locked in the trunk of a car to the one who locked the trunk. He forced us to live our history from every point of view; our victims, martyrs, demons; the geography we've annihilated. He made us confront the scared creatures we are, as he likes to say, "at the lonely end of the rink."
In the end, it's not the mythology the Hip synthesized, but the M.O. itself. The empathy. I think this is why we choke back tears when our Prime Minister greets Syrian refugees at the airport. A national identity is necessarily complex.
The Hip could have ended their tour in any concert hall or stadium in the country. (In Vancouver, where I live, they sold almost 40,000 seats in a couple of minutes.) But they're ending in a little hockey arena in Kingston, a town famous for its federal penitentiaries and Dan Aykroyd. The arena's address is 1 Tragically Hip Way. It will be broadcast live, streamed in bars and parks and community halls across the country.
Of course, some of us have already moved on to John K. Samson. Some of us are still infatuated with Rush. Some of us will finally discover Tanya Tagaq. We're happy to share them all with you. We'll share the Arcade Fire and all our poutine and Degrassi reruns. But the Hip is who we are in private.