Erin Feinberg has always been an Elvis fan, but her book of Elvis impersonators came about serendipitously. Feinberg's boyfriend was in Memphis recording an album, so she decided to join him. She didn't realize they were there during Elvis Week, an annual festival that brings together Elvis fans from around the world the week before the anniversary of his death on Aug. 16.
"Sideburns and pompadours were swarming the streets," Feinberg wrote via email. "And I just happened to be staying at the hotel where the biggest Elvis impersonator contest in the world is held every year!"
Feinberg was mesmerized by what she saw and decided to return to Memphis the following year to document the festival and to try to learn who these impersonators were. She made the pilgrimage to Memphis four times and set up a studio in the lobby of the hotel that hosted the contest. She created more than 100 portraits that eventually became the book King for a Day, published by Kehrer Verlag.
Feinberg described working on the job as exciting, easy, and a lot of fun, mostly due to the joyful nature of her subjects. She told each impersonator to do whatever he wanted in front of her camera.
"I had fun asking these contestants what their favorite songs were, and invariably they would begin singing to me and showing me poses that they use onstage in their Elvis act," she wrote. "I was always taken by surprise when one of the kids would begin singing all of these songs and knew so much of the history surrounding them."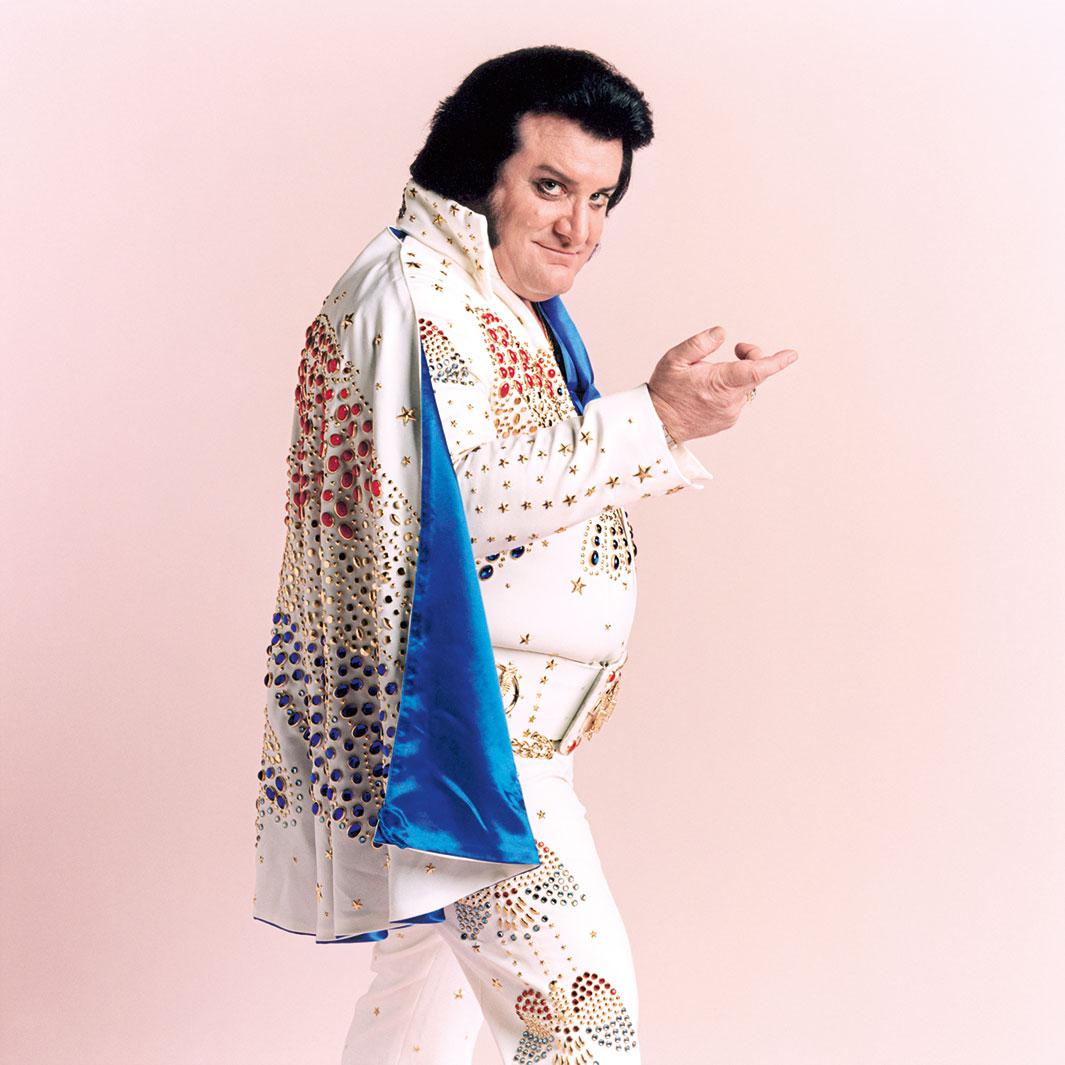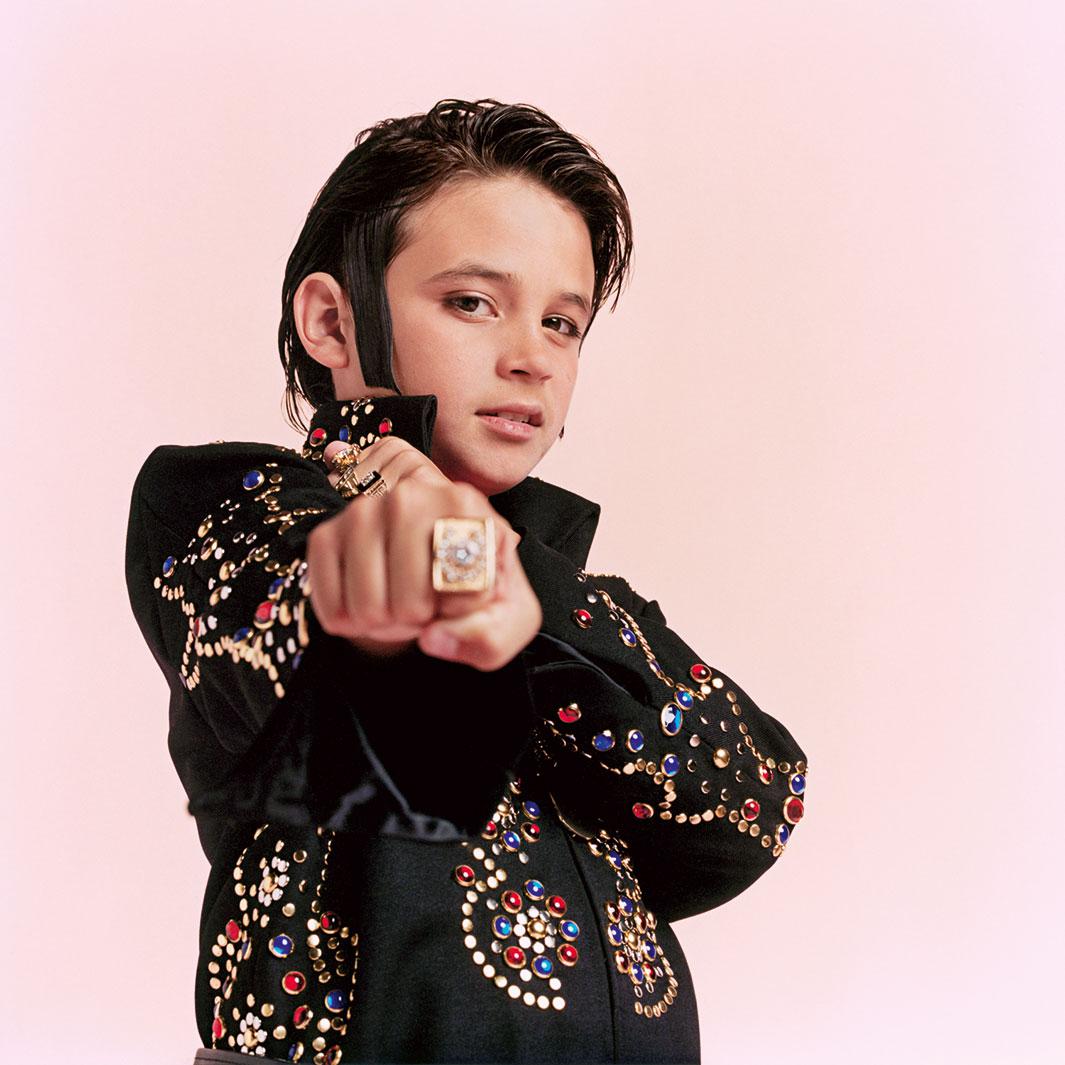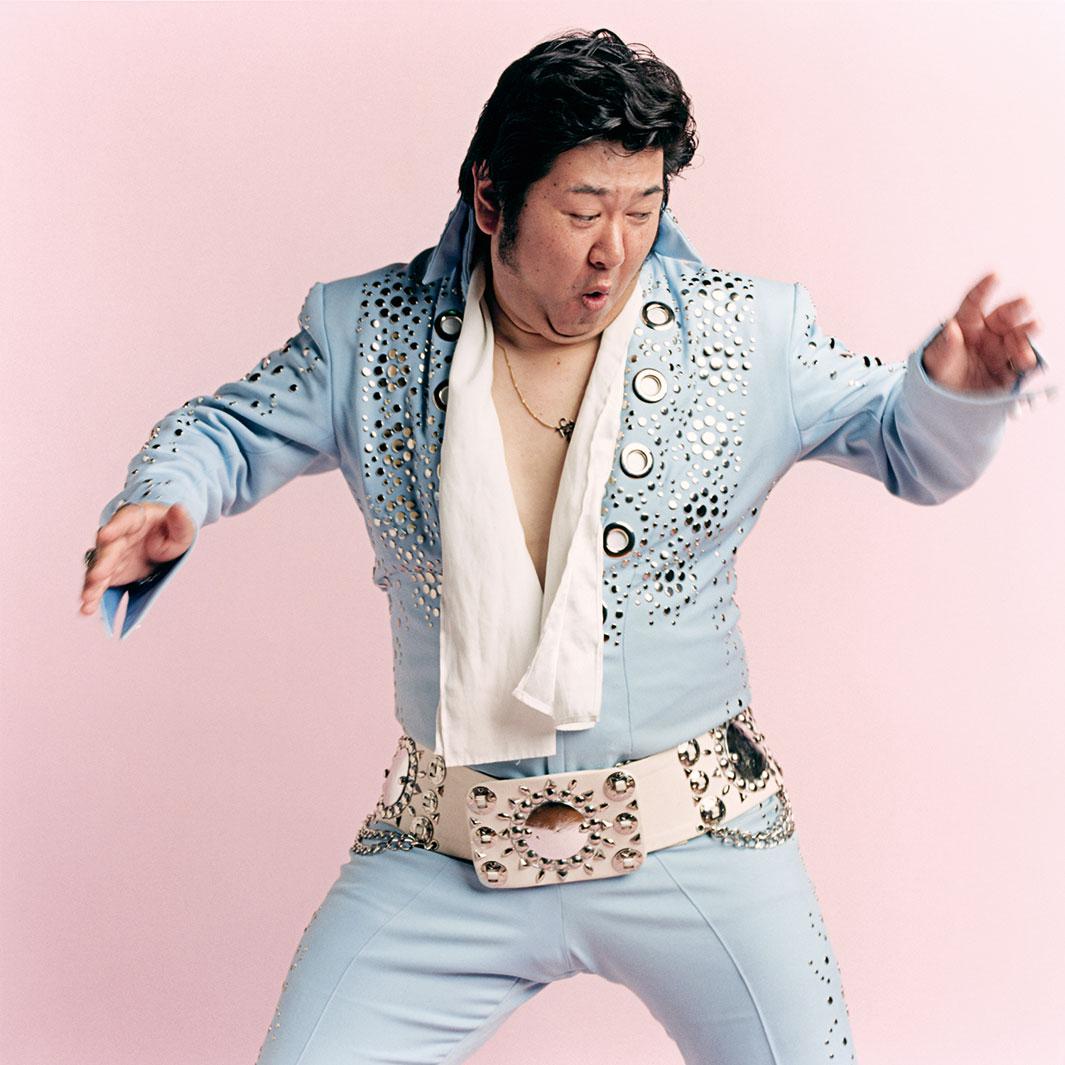 All of the subjects were photographed on a pink background, a color Feinberg chose because Elvis often wore pink in his early days. Keeping the background uniform also allows the viewer to focus on the unique personalities and wardrobes of the contestants.
Feinberg says that although the aesthetics around Elvis are fascinating, "if the music wasn't so good, the legacy wouldn't survive."
"He had an astonishing vocal range and an innate ability to sing all styles," she added. "Anyone can relate to Elvis Presley, maybe because he encompassed the entire range of humanity during his lifetime."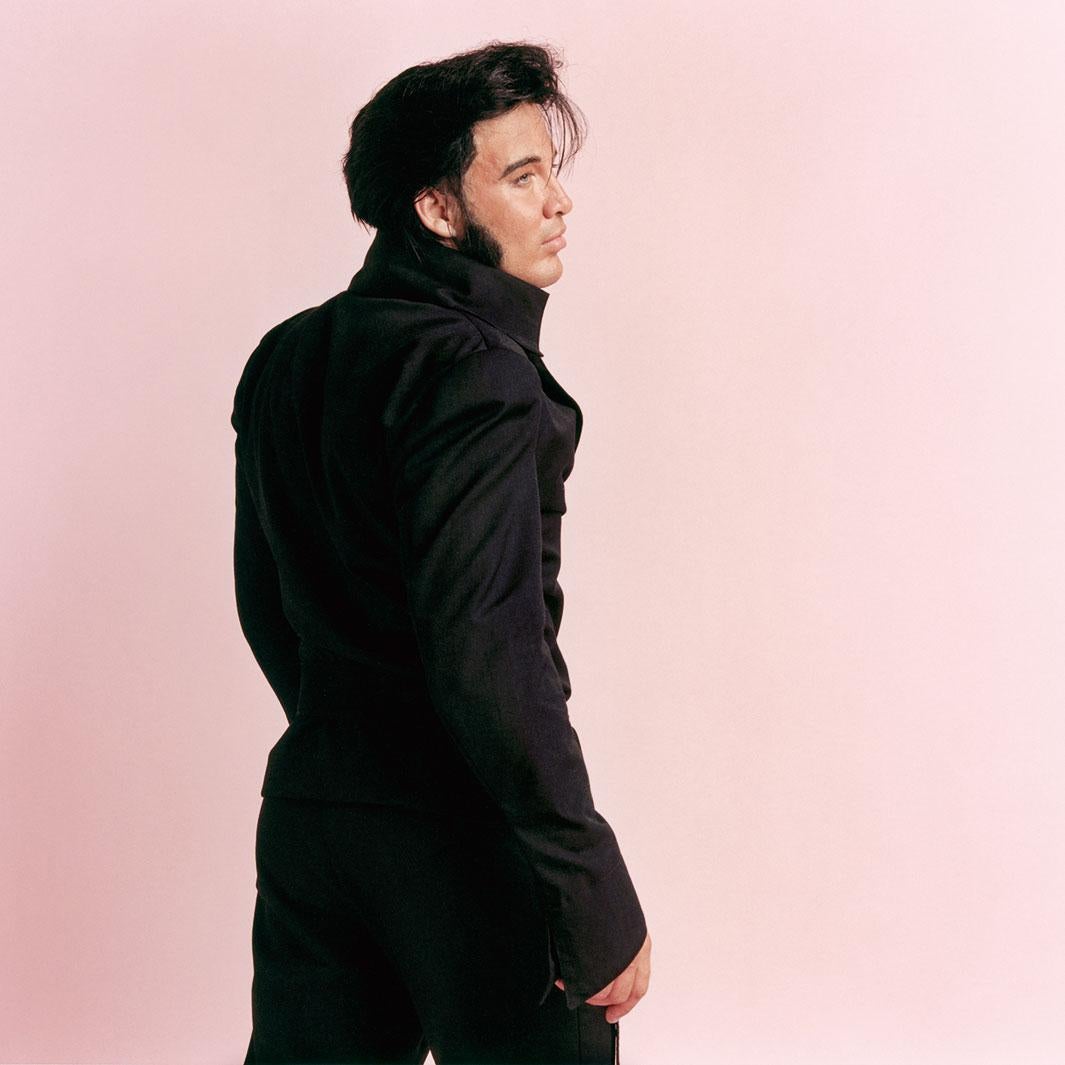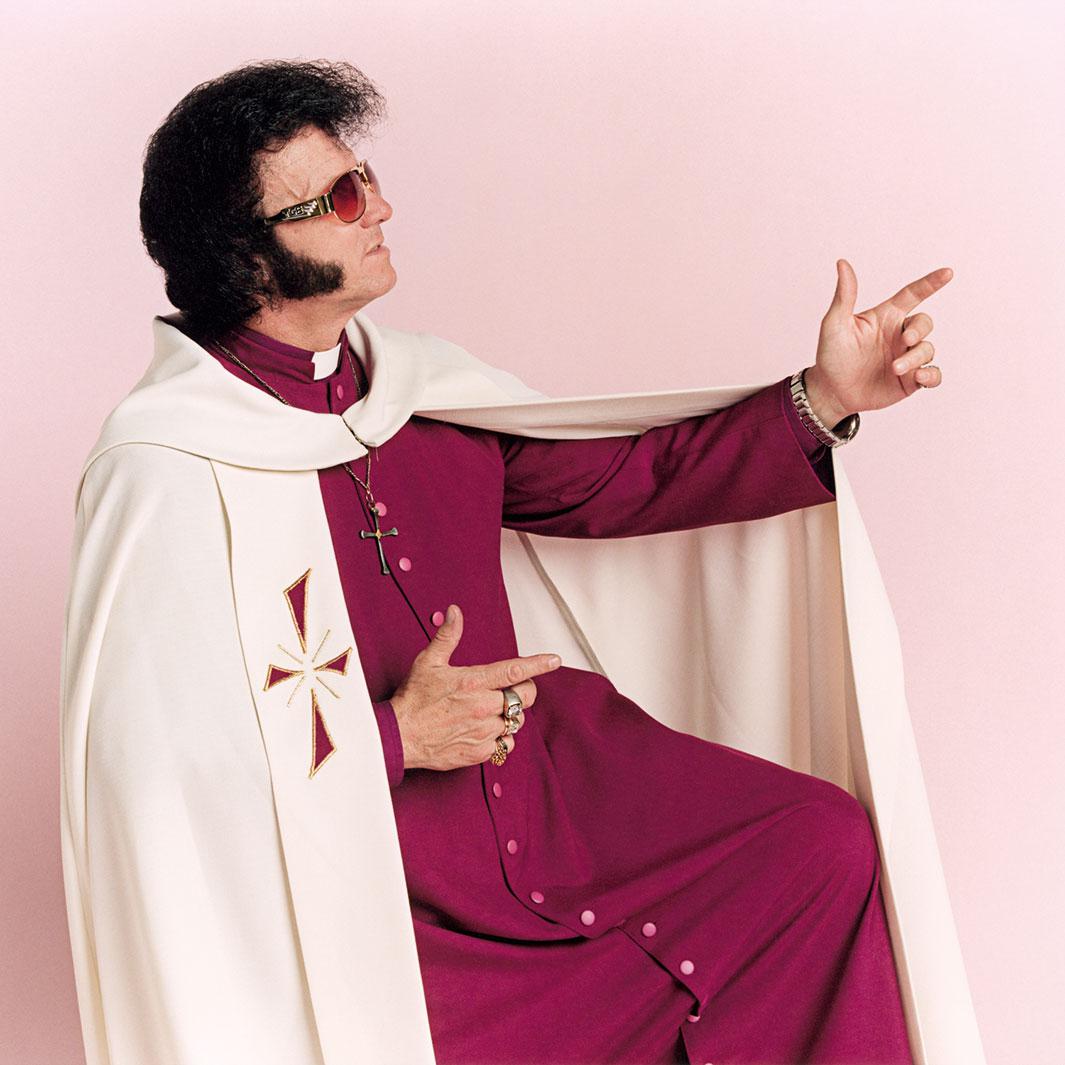 Feinberg said that when she first encountered the impersonators years ago, she laughed, but as she got to know them better, her appreciation for their craft grew.
"Behind the wigs and flashy outfits I discovered integrity and commitment," she wrote. "I also discovered that these tribute artists (as they prefer to be called) not only strive to mimic Elvis Presley's looks and music, but they are also inspired and influenced by his character. I can't think of one … who didn't talk to me about doing charity shows on a regular basis, 'Because that's what Elvis would have done.' They may have limitations—some physical and some vocal in nature—but they all have heart. And even though they are emulating someone else, there is honesty and passion in what they do—and I respect that a lot."