Did an Olympic kayaker capsize after his vessel hit a sofa in Rio de Janeiro's Rodrigo de Freitas Lagoon? Are the Olympic organizers covering up the incident to avoid embarrassment? And was the sofa in question actually more of a daybed? The #kayaksofa conspiracy theory is the biggest mystery of the young Rio Games, which have thus far been composed of equal parts athletic excellence, slapstick comedy, and garbage.
It began on Friday, when British journalist Paul Kelso posted an amusing update on Twitter:
Though vague and uncorroborated—"I heard this from a guy"—the rumor caught on, and #kayaksofa became a popular hashtag, propelled by people who desperately wanted it to be true. Based on the reports leading into the games, a waterlogged sofa seemed like one of the less objectionable things an open-water athlete might expect to encounter. Rodrigo de Freitas Lagoon and Guanabara Bay, which will host certain canoeing, kayaking, sailing, and swimming events, are notoriously filthy. The organizers of the Rio Games promised to clean the waters in advance of the Olympics, but as Martin Rogers of USA Today observed: "The bays, lagoons and marinas of Rio, just like those who insisted they would get cleaned up, are still full of (expletive)."
This assertion is quite literally true. A study commissioned by the Associated Press found that, as of Aug. 1, "the waterways of Rio de Janeiro are as filthy as ever, contaminated with raw human sewage teeming with dangerous viruses and bacteria," with the highest levels of human adenovirus near the starting and finish lines of the rowing races in Rodrigo de Freitas Lagoon. In 2015, the surface of the lagoon was covered with more than 33 tons of dead fish.
A Guanabara Bay fisherman told the New York Times that he is accustomed to catching "television sets, dead dogs and the occasional dolphin killed by ingesting plastic bags." In a different Times story about the benighted bay, an Olympic sailor who competes for Portugal remembered losing a sailing race in Guanabara Bay "after a tarp that was floating beneath the surface caught his centerboard." Two Olympic sailors from Germany told CNN they "hit a lot of plastic bags" during their training runs in the bay, and that their training partners "hit a chair." A German Paralympian informed the CBC that on windless days the bay water "smells like a toilet" and "there is lots of garbage floating around … whatever you can imagine, it's there."
Among that garbage: couches. A search of Getty Images turns up at least two at Guanabara Bay, the white-ish number at the top of this post and the patterned piece of furniture below.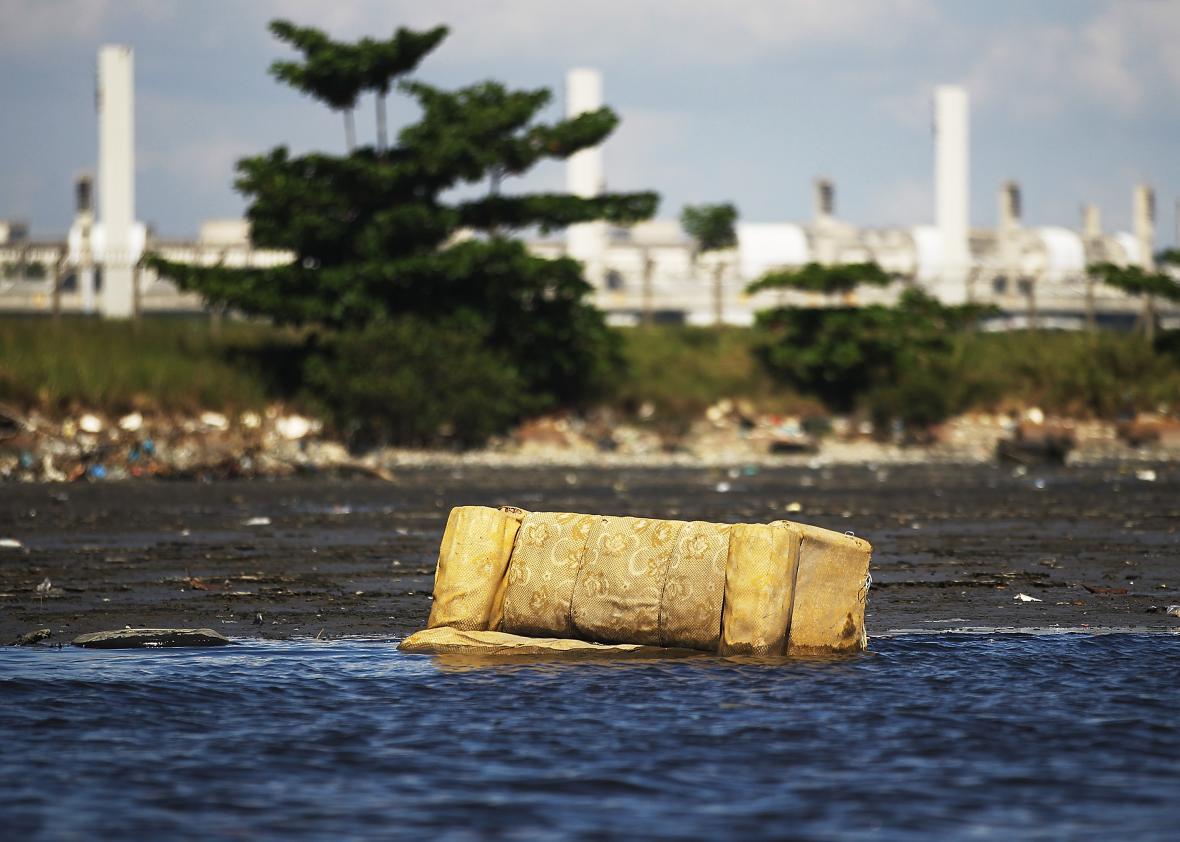 So, yeah, it's very easy to imagine a couch or two bobbing along in the lagoons of Rio, and it's easy to imagine a kayak being upturned by such a wayward sofa. But did it actually happen? On Saturday, Times of London correspondent Martyn Ziegler chimed in with an update:
Reporter Dan King soon had an update of his own:
At this point, it was still unclear whether the kayak actually hit the sofa, with some unnamed guy saying yes, the sprint canoe venue manager saying no, and the official Rio Games spokesman doing his best Admiral Stockdale impression. Whom to trust? On Sunday, Rio Games officials tried to clear things up. As Bruce Arthur of the Toronto Star wrote this morning in a tweet:
So that's your official verdict: No, a random kayaker did not hit a random sofa while practicing in the incredibly filthy Olympic lagoon. As of this writing, the lagoon remains incredibly filthy.