The new Ghostbusters was never going to appeal to the small but particularly vocal (and pathetically unrelenting) bunch of misogynistic fanboys and internet trolls who have reviled it from the start. But for the rest of us, critics included, an all-female update of the original fan favorite more than three decades later offers a potentially inspired opportunity to inject some life into the summer season, even in an era of franchise reboot fatigue.
So far the general consensus has been mostly mixed to positive—as of this morning, the movie held a 75 percent fresh rating on Rotten Tomatoes. Which means critics have been much kinder to the film overall, perhaps in part because they weren't inclined to go into it absolutely hating it. Most of the reviews don't even bother to address the outdated question of whether women are funny (with a few notable exceptions), praising instead the talented cast and Paul Feig's penchant for creating smart blockbuster comedies.
It is interesting to note, however, that among the reviews that have come out so far, the consistent difference between a rave review, and a more tepid, disappointed one hinges on one crucial question: whether the new Ghostbusters makes an effective case for its own existence as an all-female reboot of a classic. Variety's Peter Debruge doesn't think so. He writes—somewhat oddly—that, "while both funnier and scarier than Ivan Reitman's 1984 original, this otherwise over-familiar remake … doesn't do nearly enough to innovate on what has come before." Over at Vanity Fair, Richard Lawson admits that he "really want[ed] to like" the film in order to counter the terrible trolls but found that the talented cast was "wasted" on a script that defers too much to its predecessor. Ditto Eric Kohn for Indiewire: "While the new Ghostbusters successfully empowers female movie stars, that's not the movie's selling point. However, it's the only justification for its existence."
It's notable that the majority of the most prominent positive reviews of the film have, so far, been written by women. Take the reviews by Time's Stephanie Zacharek and the New York Times'  Manohla Dargis. Interestingly, Zacharek plays down the all-female casting and writes that it exists "not to score points, but only to make us laugh. For a summer comedy, there's no nobler purpose." On the other hand, Dargis advocates wholeheartedly for its existence as both a good movie and a movie that is enhanced by its gender inversion. The headline reads as a bold, declarative retort to the misogynist trolls from not just Dargis herself but the Times as an institution ("Our Ghostbusters Review: Girls Rule. Women Are Funny. Get Over It."). And that sentiment persists throughout the rest of her assessment, in which she praises the film for letting women be as "simply and uncomplicatedly funny as men." Even when she calls the casting a "gimmick," it's one that brings out great, deep comedic performances from its stars.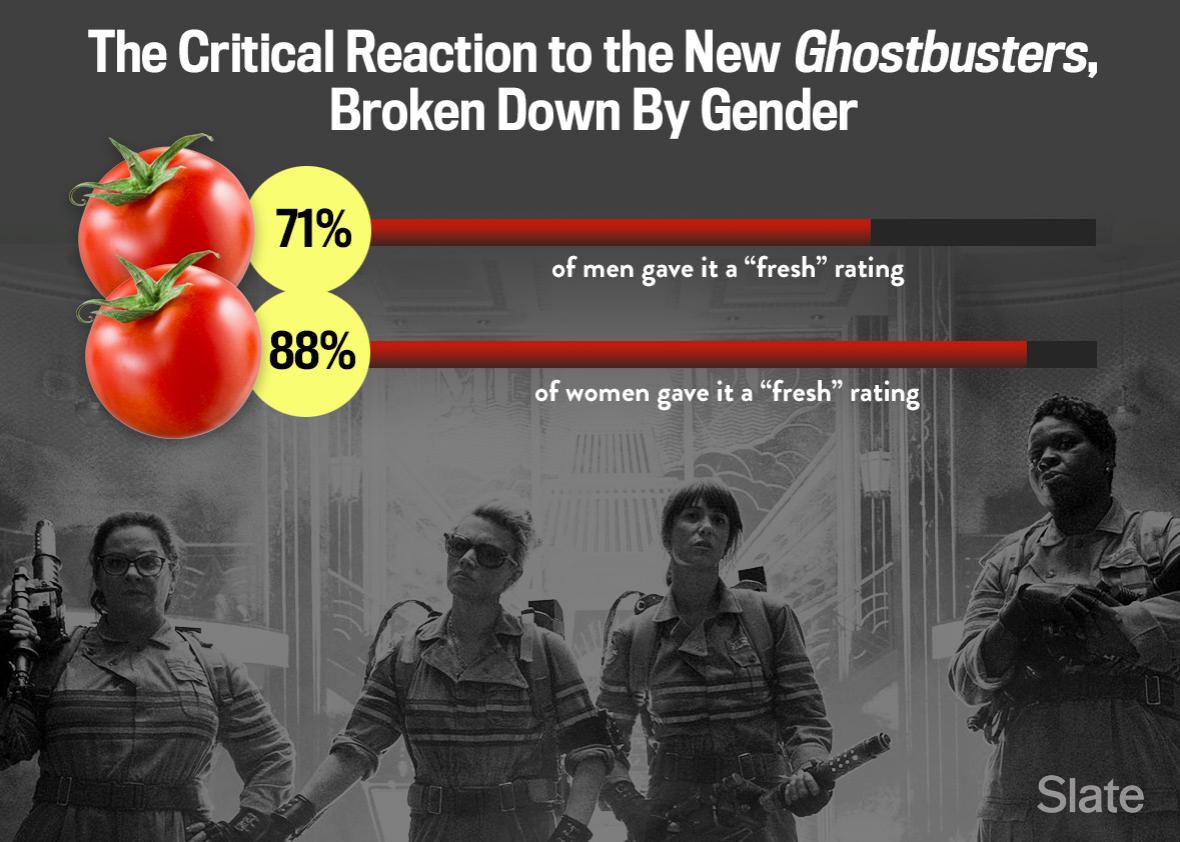 As the graph above shows, the breakdown among positive "fresh" ratings between male and female reviewers as of Tuesday morning is 71 percent and 88 percent, respectively. (It's worth noting, of course, that men still vastly outnumber women as movie critics.) Though it's clearly hard to extrapolate too broadly from this data, especially since more reviews will continue rolling in this week, it does seem to suggest that, aside from a few outliers, female critics have been more inclined to be generous toward the new Ghostbuters than male critics. Even when criticizing the somewhat jumbled third act (which pretty much all critics agree feels like a missed opportunity), they have thus far tended to appreciate more what the film could mean to a new, younger generation. ("At my screening," says the Daily Beast's Jen Yamato, "the grown man next to me enjoyed it so much he snored softly throughout the final act. But two young boys who caught an early screening told me they loved it—and loved [Kate McKinnon's] Holtzmann most of all.")
Could it be that the Bill Murray–led original isn't widely held in the same sacred regard by women as it is by men, even among critics? Maybe—but then, Dargis and other female critics spend a few sentences admiring that film in their reviews, too. It seems more likely that Feig and Dippold made a movie that will appeal more directly to women and younger kids than it will to a certain age demographic of men who are wonkishly committed to the original Ghostbusters above all. And frankly, that's OK.