Paris is silent this morning. There were some out honking and celebrating on Sunday night—fans of the Portuguese team, including members of the Franco-Portuguese community, and some French fans who chanted out "Allez les Bleus" in the streets, if a little half-heartedly. But mostly the city is in shock.
All day long the city built up to the final. Everything was in place. A massive security presence—more than 3,000 strong—ready for the celebrations on the Champs-Elysées. The bus with "European Champions" emblazoned on it. It would be a repeat of 1998, when France won the World Cup at home, in the then newly built Stade de France. Everything was in place for a victory that would heal the nation, eight months after the terrorist attacks. A new generation would get to celebrate the now mythological days of unity of July 1998.
But in football, you should never trust the script. Instead, a different story was written, full of its own symbols. Seemingly for security reasons, the Stade de France had been left illuminated all night long, with an unintended consequence. It became a beacon for moths, who swarmed among the lights, so that by the time of the match the pitch was covered with dead insects, and many live ones fluttered around it. Pitch invasions by moths are not that uncommon, notably in Africa, but the sight was an unfamiliar one in France. The moths would become some of the most interesting actors in the drama that unfolded.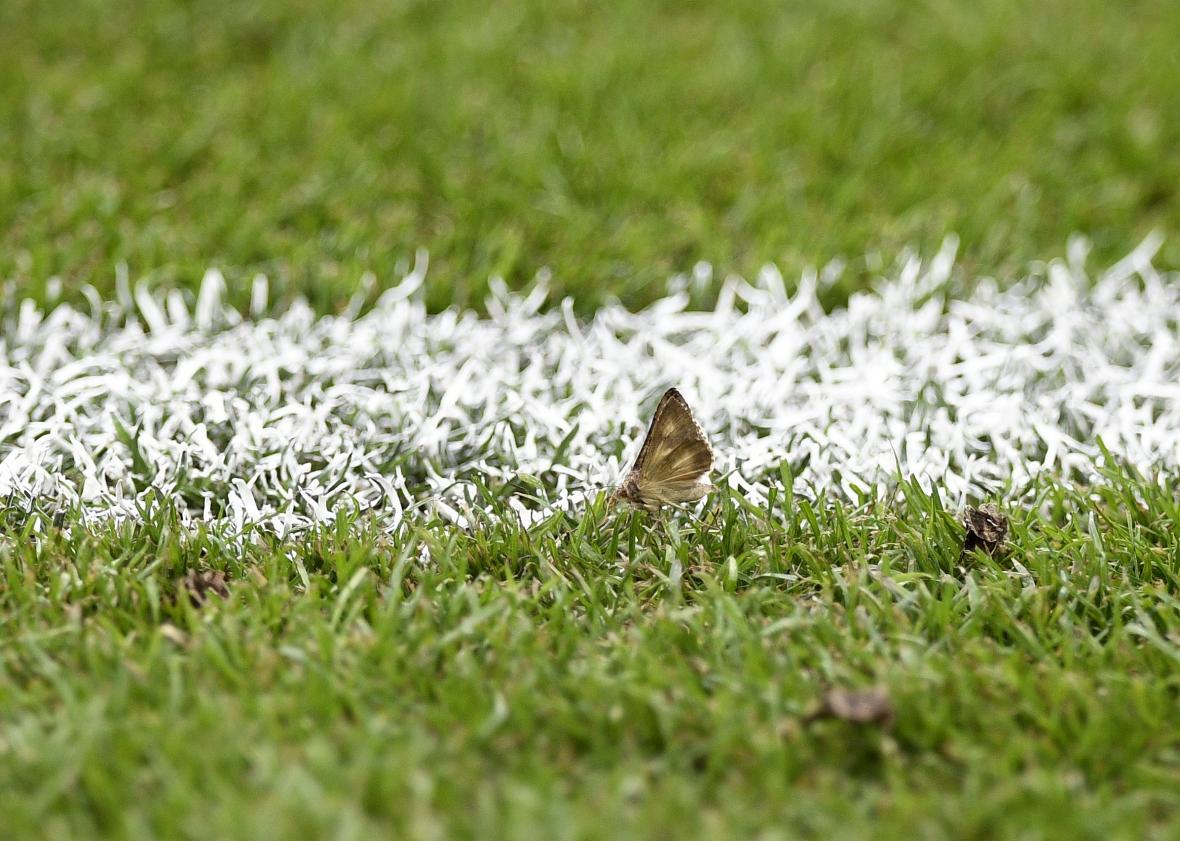 And that drama was this: Cristiano Ronaldo, the star who was meant to carry Portugal to victory, moved awkwardly on the ball under a challenge from Dimitri Payet.* His ailing knee took a blow and didn't recover. He sat crying on the pitch, and a moth briefly landed on his forehead—trying to comfort him, it seemed almost. (The image rapidly went viral). After a brave attempt to keep playing, he gave up. I was not the only one, I think, who felt an odd and unprecedented emotion: sympathy for Ronaldo.
My first thought, like that of all French fans I imagine, was: This is good for us. But it turned out not to be that at all. In fact, the Portugal team seemed stronger afterward. Compact and determined. And instead of being encouraged, the French team seemed confused. This was not the way things were supposed to go.
The Portuguese substitute Éderzito António Macedo Lopes, born in Guinea-Bissau, electrified Portugal's game. And it was he who, in the second half of extra time, scored the goal that won the nation its first major international football tournament. It was a strange reversal of what had happened in 2004, when Portugal lost to the most unlikely of teams—Greece—at home in the European Cup final. Ronaldo had cried that night, too. Now, he played his most successful role for his country by cheering from the sidelines for almost the entire match.
Is there a parable in this? The Portuguese team has long seemed, in a way, held back by the fact that it was so centered around Ronaldo. On Sunday night it was almost as if, freed of a configuration that had made them a star backed by a group of supporting characters, they truly became a team.
I wrote on Saturday of my hopes for an outpouring of celebration in France, around a joyous and unified team. Instead, football offered up a twist, or a swerve really, and a different kind of reminder: The story never turns out as you expect. And it can end up even more wondrous and strange than you imagined.
If this odd human concoction called football remains one of our most universal forms of culture, it is because it never ceases to surprise us with how much it mirrors the world—a place in which you can never predict what will happen, in which what seems like the worst thing can actually be the best thing—and a place where a moth, landing at just the right place at the right time, can write itself into human history.
*Correction, July 11, 2016: This post originally misspelled Cristiano Ronaldo's first name.