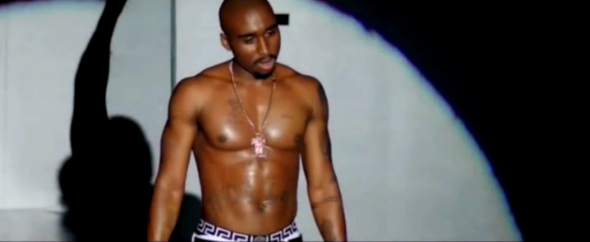 Few productions have gone through as much drama during the last few years as the biopic of Tupac Shakur. Since the movie was first announced five years ago, it was at various times connected to directors including Carl Franklin, John Singleton, and Antoine Fuqua—exactly the kind of acclaimed filmmakers whose reported involvement suggested it might be more than just the cinematic equivalent of the Tupac hologram, profiting off nostalgia without finding any more meaningful reason to exist. But after the last of these directors left the project amid reports of "major creative differences" and as the producers began to sue each other for millions, my skepticism began to return.
Now the first teaser trailer for the years-in-the-making biopic is finally here, with Benny Boom directing and newcomer Demetrius Shipp Jr. in the starring role.
The teaser is structured around the reveal of Shipp Jr. as Shakur, and when it finally finishes building to that first close-up, you understand why: He's a dead ringer for Makaveli. But the fact that they only give the actor one line makes me wonder whether he just looks the part or whether he can act it, too. On the other hand, he's joined by Jamal Woolard as Biggie Smalls, reprising the same role he played in Notorious, and though there are downsides to reminding viewers of that disappointing biopic, Woolard is also living proof that casting an unknown can pay off.
As for Benny Boom, though the filmmaker has directed a series of iconic music videos, he has had less success with his features, which include the comedy Next Day Air and the straight-to-DVD sequel S.W.A.T.: Firefight—neither of which were the kind of movie to casually quote Polonius, as Tupac's mom Afeni Shakur (played by The Walking Dead's Danai Gurira) does in this trailer. But few predicted that Straight Outta Compton would prove as riveting and relevant as it did, and though this hip-hop biopic has a less promising pedigree, I see no reason to write it off yet. In the meantime, the movie has already received at least one rave review, from the Game.


---